A mid-term review in 12 acts – Concept & Realization: Lars Fleischmann
"365 Days of Kaput" – mid-term review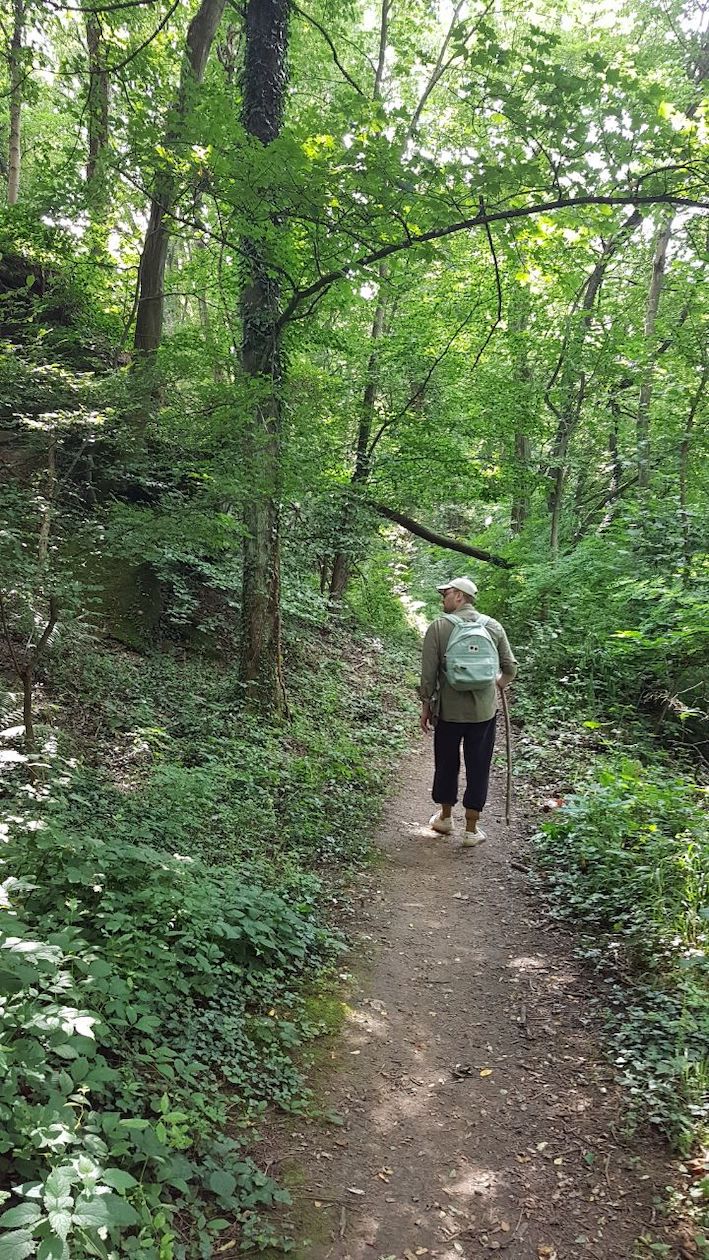 Instead of a long introduction to the "365 days kaput" project, which keeps kaput's Instagram following amused on a daily basis or descends into strange profundity, Lars Fleischmann, in his role as author and conceptualizer of this diary, briefly explains the framework – before following up with twelve highlights from 365/2 days. 
"Even for someone who produces a comparatively large amount of text, this daily work is extremely energy-sapping. But that was clear at the same time from the beginning, wasn't it?
I think it was already inscribed that I go through moments of crisis again and again. Is this different from "normal work", which many of us also do on a daily basis – I don't know.
I don't really know where this simultaneously foolish but also very cool idea came from. Certainly, reading James Acaster's "Perfect Sound Whatever" played a role. Here, the English comedian recaps 500 records he bought in 2016 that helped him get through the horror year that was 2017.
The Mental Health aspect is sometimes more obvious, then again lying more subcutaneously, in both projects an integral part of the whole.
Besides, I'm quite unpretentious, what I'm doing here isn't really revolutionary. It is then perhaps only a diary, in which one can occasionally switch on and then off again. I'd like to be so cool that I would proclaim "It can be done, but only I can do it" like the Detroit house producer Omar S; but millions of content creators in the IG universe prove the opposite.
That's why I'd rather be humble and see it merely as a craft – and as a big clog on my leg that I'm happy to drag along until 12/31, but then also relieved to put down in the best sense."
Tag 1 
Gas "Der lange Marsch"
Will 2022 be a fateful year? If so, how does one commence it in a fitting manner? If not, how can we move on to normality when there can be none? First, put on the perennial favourite: GAS. The seventh LP keeps all its promises, as always: Distant screams from the machine in a godforsaken clearing; still the best kind of ambience in capitalism. But when already in the second section of "Der lange Marsch" the pulsating turns into a striding, it startles you. Doesn't it always mean to be careful when Germans are marching? But didn't the workers of Munich march through the streets 103 years ago – for a worker's councils – during a worldwide pandemic? Besides, today the Nazi tends to creep along the streets in the evening hours. There are still chances to wrest progressiveness from this romanticism. Move ahead …
https://kompakt-gas.bandcamp.com/album/der-lange-marsch
Tag 16 
FKA twigs "Caprisongs"
There is a perverse desire to see "the rich and the famous" fail: In their tragedies, the stars seem tangible to us again; their farce is ours. Struggling child stars, reeling pop starlets….
The life – and career – of Tahlia Barnett literally lends itself to biting ridicule from stupid people: Barnett has launched as many albums as FKA twigs as relationships and break-ups have landed in the news. At the same time, despite all expectations, she did not become the face of a new generation of musicians, but was passed somewhere between vampire and thug. That should finally change again with her mixtape "Caprisongs". And maybe it will work – even if The Guardian has already said that the record lacks hit potential. Nonsense, twigs has finally achieved what she has been trying to do for years: playlist-compatible music with artistic aspirations, together on one mixtape. Of course there are a few lapses, the dancehall track "papi bones" sounds like Rihanna B-ware, but overall "Caprisongs" beats the album "Magdalene" by far.
Tag 42 / Day 42
Muslimgauze "Muhammadunize"
Is it worth adding another (short) chapter to the "Muslimgauze" file? Now that the Dutch-Berlin label Staalplaat is releasing another compilation/LP, here "Muhammadunize", one can once again point out the strange aberrations of the Mancunian Bryn Jones aka Muslimgauze. As passionate and revolutionary as much of his enormous body of work is (over 200 releases, sometimes releasing 15 records in one year), his analogue-heavy synth'n'sample approach has absolutely shaped the electronic underground of the last decade; as questionable and inscrutable is his Israel-hatred fermented into anti-Semitism, celebrating PLO, Fatah and Hamas and calling for the eradication of the Zionists. A self-proclaimed warrior in the Arab cause. An anomaly of contemporary history? Hardly, considering that in the past few years all those British (in the majority) DJs and BDS puppets justified their protests and boycotts with Netanyahu, yet even after eight months of Bennett's government have never backed away from their anti-Israel positions. What a wonder.
Tag 57 
Sevdaliza "ISON"
For the Persian Dutchwoman Sevdaliza, the improbable is just good enough. She proved this on her debut "ISON" as well as on the much acclaimed LP "Shabrang". You hardly think you have understood the musician and perhaps even defined a genre, when she always catches her listeners on the wrong foot. For this, she barely has to make an effort, according to the impression. She knows how to unite electronic and experimental production, hip-hop and "handmade" soul with great emphasis and at the same time discreetly and fleetingly. On "Raving Dahlia" (somewhere between a mini-LP and an EP), some things sound close and familiar, such as the opener "System". Then again, "Everything Is Everything" and "Oh my God" come up with insanely big trance (pop) gestures and vocal distortion. Here, too, you don't really know what you've heard – it's all kind of freaky. And we haven't even talked about the abject record cover yet. Let's let it have an effect on us …
Tag 65 
Huerco S. "Plonk"
Some sink into the same sound universe over and over again, others are chased victims of the music and their own interests.Huerco S. certainly belongs to the second group; the Midwesterner from Kansas, who has meanwhile set up his tents in Berlin, no one will be able to accuse him of having developed something like a bland "trademark sound".  On the contrary: Brian Leeds seems to be in a perpetual search movement even in the tenth year of his career. On "Plonk", his first record for Anthony Naples' & Jenny Slattery's label Incienso, there is hardly anything left from the leftfield house days of 2012 or 2013. Instead, on "Plonk", you'll find an almost volatile and graceful mix of genres, held together by the titular noises from the Plonk-Plank-Pluck universe: IDM meets baroque strumming patterns, voluntarily alienated bass foundations meet rolling beats, dreamy VR-landscapes joined by … hip-hop? Huerco S. remains a grab bag that goes its own way, even if you can't always hear it.
Tag 81 
Rosalía "Motomami"
An absolute scene insider, who also had booking experience etc., said to me in 2018: "Record bosses and big concert agencies have been longing for an artist like Rosalía like a messiah for years – and suddenly she appears and exceeds all expectations. Especially in the USA, where absurdly (for us Europeans) no distinction is made between Spain and Latin America – everything is subsumed under Hispanic culture – the Catalan has been very well received; she conveys an authentic folk music for the 21st century. For her new record "Motomami", the roadmap was clear: less authenticity, more styles, bigger arrangements and a reduction of flamenco, which threatened to become a trademark sound. You don't want to end up in a pigeonhole or even become "boring".
It all works out perfectly: "Motomami" is so incredibly revealing and boundless, samples Burial (!), sounds like a Disney star of the last century on "Hentai" (a real grungy number), bangs reggaeton, pays homage to the British rapper M.I.A., works together with The Weeknd and El Guincho, among others, switches Auto-Tune on and then off again – in other words, it's simply superstar material of the first order. Lucky – not only for record bosses!
Tag 97 
Gggolddd "This Shame Should Not Be Mine"
"Was I supposed to be special / Did I not meet your demand? / I've disappointed myself many times / But this is not me, it's on you" – Goosebumps appear in the penultimate track at the latest, when Gggolddd's singer Milena Eva realises this pop song with a distorted voice and minimal instrumental accompaniment (a few strings). She sounds like Laurie Anderson or Imogen Heap – the artificiality gives the whole thing an overwhelming intimacy at the same time. Until then, however, there were plenty of opportunities on "This Shame Should Not Be Mine" to shudder, gnash your teeth, cry – the record is a single catharsis. It is the emancipation from a toxic counterpart who is not named: Is it a partner? The family or a group?
Gggolddd use a wide range of styles to set this inner development to music. There is a lot of metal – sometimes relatively true, then again post – but also Portishead-alike gothic trip-hop, the title track even reminds of Andy Stott's Modern Love records with its drum machine and its structure. Then there are tremolo guitars and hard double bass kicks again … I don't know exactly what this is. But it's still great and cool.
Tag 112 
Diverse "Euphoria-Soundtrack"
"We Should Do Drugs," is the title of the second track on the Euphoria soundtrack, released today. As much as the kids around Zendaya – who justifies her star status here and nowhere else – follow this wish in the much-celebrated HBO series, the OST comes from the fingers of British composer and singer Labrinth. In this part of the world, the 33-year-old has so far received little attention – despite the fact that he runs the supergroup LSD with Sia and Diplo -; that may still not change. But the soundtrack does shed some light on the subject: Labrinth has been tinkering for some time with a self-sufficient, modern R'n'B design that knows a lot about grime and bass music and takes passion into the center of its narrative process.
The very scenic – of course, they are functional mini-songs – give news of it and let us hope for a new long-player.
Tag 121 
RVDS "Cosmic Diversity"
Latest music for Labor Day? Let's just turn to RVDS, which has been delivering top music for years and still slips past the big credits. There's still the group of those who got to know him as part of the stars and can't handle the fact that electronica and house are now pouring out of his synths instead of indie. "Cosmic Diversity" will once again leave these die-hards speechless.
The now clearly emerging proximity to Boards of Canada and similarly afflicted Sample-IDM is another further development to the Deep House pieces of the past – these fans are also wide-eyed. Today's electronic listening music is evidence of a maturity that knows how to tear down booths and dance the night away, but no longer has to. Please don't confuse it with Biedermeier: "Cosmic Diversity" has to be tackled in a joint deep listening. Experience sensually together – and appreciate RVDS wherever possible!
Tag 132
Charlemagne Palestine, Oren Ambarchi & Eric Thieleman
Albert Ayler Compilation "Revelations: The Complete ORTF 1970 Fondation Maeght Recordings"
I've been waiting for the release of Charlemagne Palestine, Oren Ambarchi & Eric Thieleman for days – but despite the announcement, it just won't be released on Bandcamp. So, out of defiance, I won't report on them anymore. Ha, take that. And I can't report on the Albert Ayler compilation "Revelations: The Complete ORTF 1970 Fondation Maeght Recordings" either, because the records are unaffordable but the files are not streamable. One notices: Today there is music journalism from the institution. Right borderline. I also let the Kendrick band wagon pass by: half-baked video analyzes and over-interpretations only come here when the LP is actually released. Until then, I hope you all have fun calculating why the number 5 is so important for KL…joking aside: If you spend the first warm wave at home with a toothache, then you can also be mentally absent from time to time. In that sense – off into the gutter!
Tag 173
To be honest, I'm a little overwhelmed by this record, which comes across as so simple, naive, almost childlike. Brezel Göring, here solo for the first time since the much too early death of Françoise Cactus, the old instrument tinkerer no more as sympathetic pageboy to the larger-than-life charming Frenchwoman, struggles for this reason on this record from the first to the last second. This is evident not only in the tracks "Sanfter Wahn" and "Am Ende", which without much trickery, lace the throat, but also in the many small good-natured decisions: The Bach Air sample, the simple drug party "Meine Medizin" (with yet another kitsch sample) or even the title track, which once again gives space to Long Shadow and her unmistakable voice. Yes, it's a thing with grief: while the past is poisoned and the future unimaginable, one is thrown back on the immediate present. The fact that man was not necessarily created for the present is also shown by the fact that religion, philosophy and neuroscience are looking for a definition. But this is how "Psychoanalysis 2" works: like a record for the here and now. The space between pain and more pain. A lot of vanitas and nothing for eternity, but certainly not in vain.
Tag 181 
Yesterday I discussed whether it is possible, within the form of this daily disaster, to skip days and catch up. The answer was indifferent. The problem lies in the matter at hand: Is this a diary or a record tip exchange with the occasional review to maintain and prove one's own independence and neutrality?
Actually, it should be something off the beaten track, but it is always caught up with the guidelines that the medium of Instagram gives. There are also other examples: book and reading accounts (readfluencers) with a high number of hits occasionally make meaningless posts: Between half-baked reading protocols and the typical "This book changed my life" posts, there are also those pictures with short text that reveal that one is currently working on a review. The main thing is to feed the social media machine and keep the reach at a constant level.
Is this something different? No, not really. This year has long since shown that there is no poverty of topics by any stretch of the imagination. Music, meanwhile, plays a supporting role. Between the Ukraine war; manifestations of the climate crisis all over the world; the proto-fascist actions of the EU at its external border; Turkey's state terror in Kurdish areas, which is contrary to international law; mass shootings in the USA and Europe, there is virtually no room for any larifari records that "are revolutionary" or "pant after a trend". And although, as figures from Spotify show, more music is being listened to worldwide than ever before, it's just not the place or time to shine.
Is that because of the quality? Probably not. This year 2022 does seem – an interim conclusion! – quite passable: some developments are continuing, a revival of the noughties could lead to an experimental, progressive sound, some well-worn boots are finally staggering towards their end (no one talks about EDM anymore, do they?) … unfortunately, no reason to celebrate yet. Let's see what the second half of the year offers. Maybe more avant-garde forms, here on Instagram?!
365 Tage kaput auf Instagram, täglich fresh and hot by Lars Fleischmann.