Chicks on Speed feat. Jeremiah Day "Two Songs"
"An innocent man in a living hell"
Together with Jeremiah Day Chicks on Speed wrote a song entitled "Two Songs" to support Wikileaks founder Julian Assange – after releasing in 2018 "God" together with Julian – , a song against the ongoing process of forgetting that there is a person in prison cause it helped the people of the world knowing things they should know.
In support of this Chicks on Speed have sent the song out into the work as a spark to decompress the grip. And they are inviting others to join and offer the stems of the song for people to remix and write more songs, three four eleven 65 songs (request a link phone@chicksonspeed.com )
We are happy to share a conversation between Melissa E. Logan and Alex Murray-Leslie and Angela Richter (lead reseracher in Assange case, journalist and theater director). Angela Richter made a meeting and listening session possible for Chicks on Speed with Assange while he was in the Ecuadorian Embassy. On this long evening they discussed his pet bees, the power of art and even smoked a cigar out the backroom window – observing the security guards who were observing them.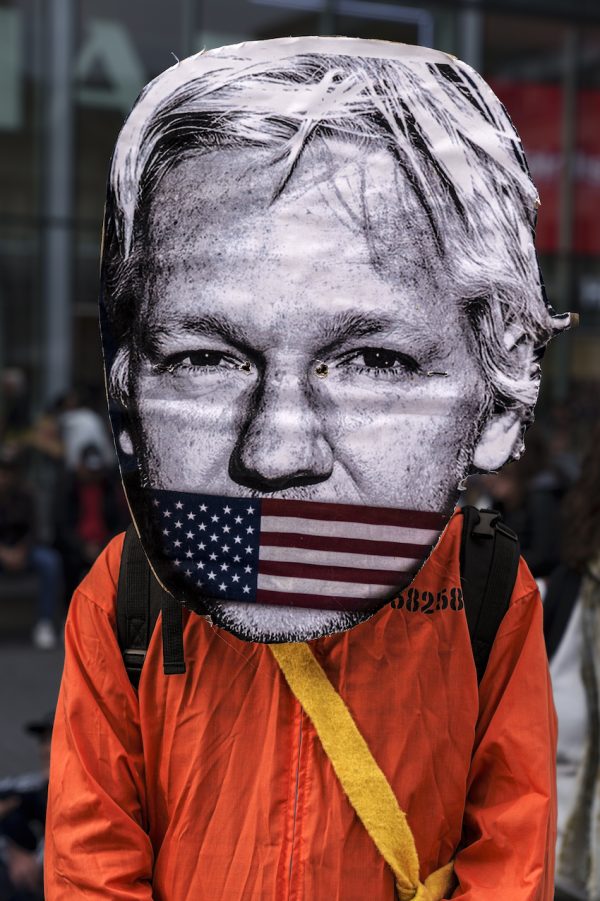 Melissa E. Logan: Dear Angela, Remember the dinner ticket you purchased in order to support Wikileaks, are you still in contact with other guests who were there?
Angela Richter: It was a four course lunch actually, we were 8 guests, 5 women and 3 men, who won a seat on ebay. Just last month I received a message from a serbian-austrian woman. I have been in touch with her sporadically. As well as a woman from Berlin, who was there too and came to see my first Wikileaks play "Assassinate Assange", but I have never heard from her since. I stayed in contact with Slavoj Zizek over the years, he was always an ardent supporter of Julian and visited him often in the embassy as well. The last play I staged before the lockdowns was Zizek's first play "The three lives of Antigone" at the national theater in Zagreb, that is when I personally met him the last time. I included the famous Video of Julians arrest, it fitted well in the context.
Melissa E. Logan: You have been to the embassy interviewing and visiting Julian over 200 times, gathering material for theater plays, and for writing articles in leading newspapers, what has been your feedback from your productions, articles and interviews?
Angela Richter: I think that art can be a powerful tool for counter propaganda. I used it to draw attention to his case and the blatant injustice that he faced for years. Also, I brought many artists as guests to the embassy over the years, like you guys, the photographers Elfie Semotan and Martin Schoeller. Sarah Lucas accompanied me a few years ago. We went together to Whole Foods, she thought he needed some healthy stuff to eat. Sarah is still supporting him to this day. Considering his situation the art support never seemed enough, so subsequently I started writing about his case, I always criticised the press, first for ruining his reputation, Julian called it "character assassination", this inspired the title of my first play about him.
Later when the media were proven wrong, instead of apologizing and making amends, they mostly wrapped themselves in silence, they only reported the minimum, in order to not lose face completely. If they did their job in the first place, there would not be a reason for Wikileaks to exist. After being on a panel after my play Jakob Augstein offered me to write about Julians case for "Der Freitag", that's how my journalistic work started. I reported live from court for Freitag and Welt.
But at the end of the day, I feel very desperate about his situation. Me and many others fought this fight for over a decade, and while surrendering is no option, it is just devastating to see him imprisoned in Belmarsh for publishing war crimes, while the war criminals were never taken to court. To loosely quote Bob Dylan:They are free to drink martinis and watch the sun rise While Julian sits like Buddha in a ten-foot cell, an innocent man in a living hell.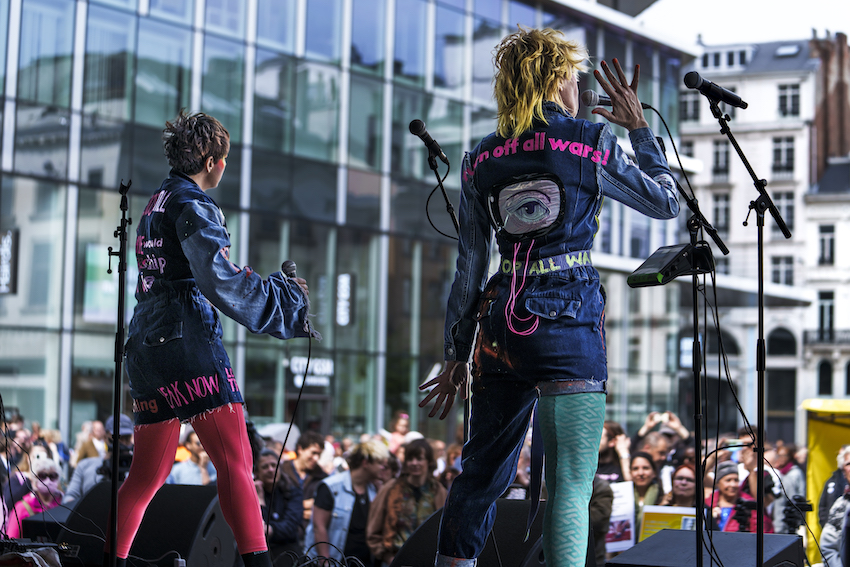 Alex Murray-Leslie: You post on the Orwell and brave new world as a parallel to the situation now, could you expand on this in relation to Julian's situation and human rights and freedom of speech?
Angela Richter: George Orwell's 1984 was THE book that Julian was quoting all the time, to explain our political situation. I must admit, that as much as I believed him, ten years ago I thought it might be a bit of an exaggeration. I still felt "free enough" to do art etc. Today I think very differently about it. I underestimated the brave new world aspect. The western world isn't as dark and sinister als the one Orwell described in 1984, we led a comfortable life and were free to choose our private "lifestyle" as long as we didn't speak truth to power, which Julian did. Speaking of Orwell: what I really experienced in the decade I knew Julian was the phenomenon of "Doublethink": I knew that the Julian that I met was very different than the picture that was painted in the media, but as I was reading everything about him that was published, there was a second Julian in my brain, that came to life by reading repetitive lies about him. Of course, I knew they were lies and yet this second abstract person came to life in my mind. That's how powerful constant lies are. You start believing them, even if you know better: "The party told you to reject the evidence of your eyes and ears. It was their final, most essential command." I think today, we are very much faced with this reality. Besides Julian's case, reality is distorted more and more to serve ideologies, other interests. It is actually very frightening.
Julian was constantly warning me about this. He really predicted many things which have now taken place. I wish he was wrong, but he was prophetic on many issues we face today. If human rights don't apply to defend a journalist who spoke truth about power, what are these laws for? other than to embellish politician popularity? If the human rights don't exist for Julian, they don't exist at all.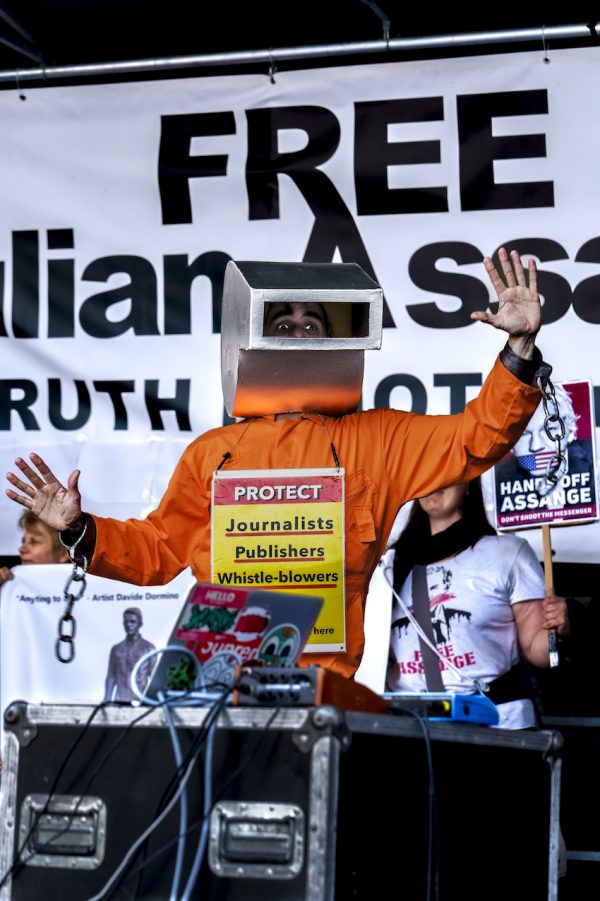 Alex Murry Lesley: Angela, I think about Julian saying "artists have the last free voice" when we were all in the embassy. Do you still believe the work of artists can make a difference?
Angela Richter: Yes, I remember that Julian said that we as artists have the last free voice. It is unfortunate many artists do not use it. The fiscally successful ones were too busy with their narcissism. The others were busy surviving. Now that we face this huge cultural backlash through lockdowns and Corona, we have to stand up and fight even more. It is not too late yet.
The First thing is honesty and facing reality, even if it might not fit one's own ideology. It takes courage as I believe Cancel Culture, Character Assassination is real. We have to free ourselves of this method of demonizing rather than listening, it is the new religion. Art should be about truth and not serving some ideological narrative or being submissive to power structures. Let's buckle up and face the truth. Julian always said: Courage is contagious!