Anushka Chkheidze – Feature
Anushka Chkheidze: "When I play, I am really free"
It all started with a Facebook post. No joke, my first contact with the music of Georgian composer and producer Anushka Chkheidze actually took place on the U.S.A.-based platform now decried as an anachronistic boomer hangout and election-rigging hotspot. Berlin-based musician Robert Lippok, known and respected for his former bands To Rococo Rot and Tarwater and most recently primarily active in the field of art-sound installations and performances, had repeatedly shared his enthusiasm for Chkheidz, with whom he himself has also collaborated. 
Followed up with a field search of Chkheidz's previous releases, a (still) manageable discography of two albums, "Halfie" and "Move 20 – 21," both, to put it bluntly, incredibly good.
"Halfie" is reminiscent of early Warp releases by Seefeel or even Aphex Twin, experimental electronic music of high accessibility, which is due to the engaging combination of striking beat patterns, spherical pads and lots of crystal-pop melodies. For Chkheidze, by the way, "Halfie" is "more than an album," as she puts it in the liner notes, namely "a precious and fragile persona about to lose its identity." An avant-garde persona that has a lot in common with its creator in terms of the degree of reflection. What sets the two apart: Chkheidz finds dialogue with the outside world easy, as becomes apparent when we meet her in Berlin. She speaks softly, but the answers come without much thought and with direct eye contact, so that you immediately get the feeling that someone is really opening up here.
Chkheidze is in Berlin to make new contacts with nine other musicians from all over the world as part of the Goethe Talent Program and for two group performances at the Pop-Kultur-Festival and a solo performance at ACUD MACHT NEU. But first a few words about "Move 20 – 21". The sophomore album was made during the pandemic – and the accompanying absence of physical movement and interaction with other people was to have a massive impact on the album. For Chkheidz, it feels like a journey through space and time, a journey that took place within herself. Which explains the more contemplative nature of the album; in order to still engage in a dialogue with the outside world, Chkheidz decided to contribute as a singer of self-written lyrics for the first time on "Move 20 – 21". A successful endeavor.
"You learn to respect the work of others."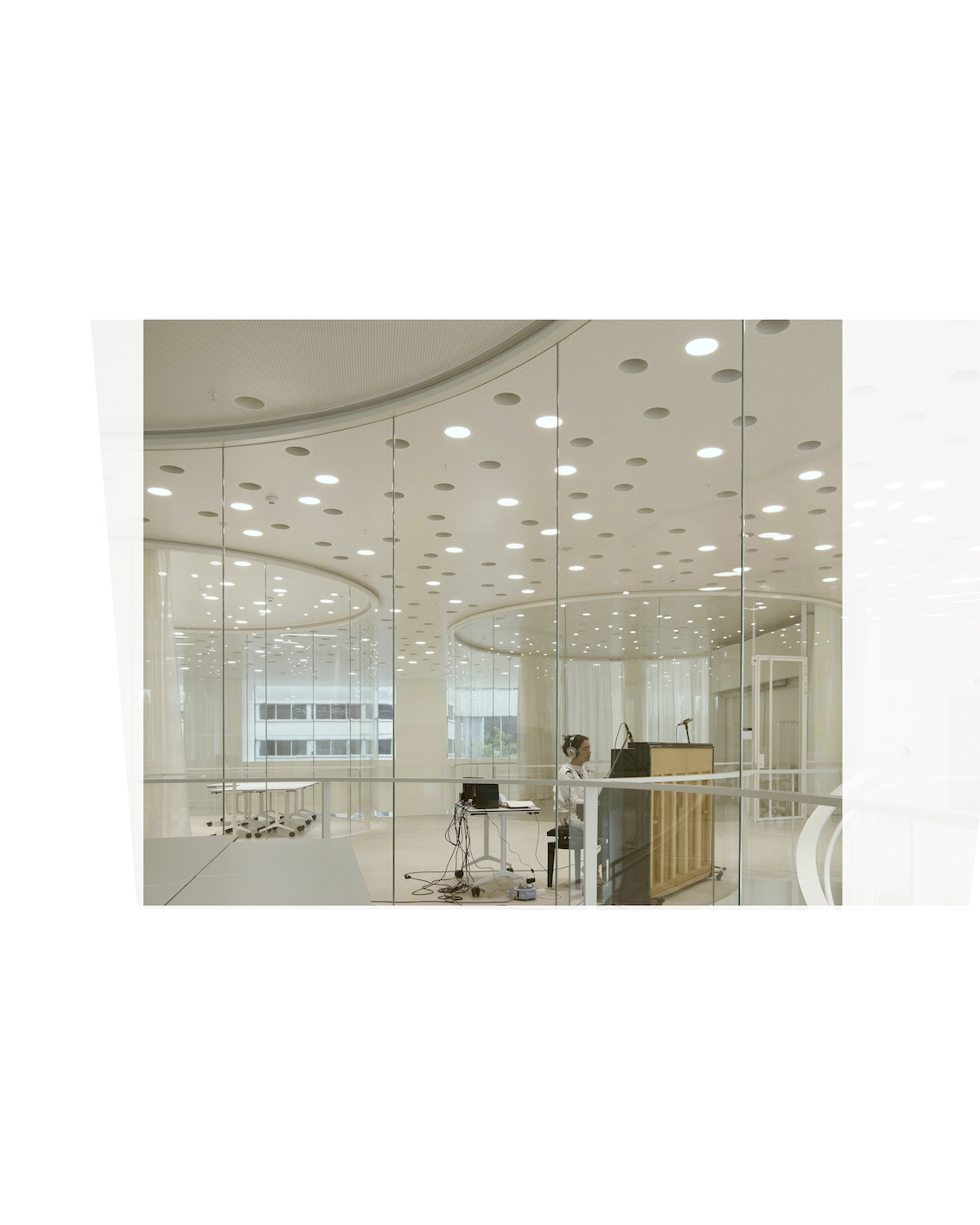 Anushka Chkheidze grew up in the small Georgian village of Kharagauli, with a population of just 2000, with her grandparents, as her parents, who were very young when she was born, worked in Tbilisi. "It may sound strange, but I think it was a good decision," she elaborates, pointing out the advantages of country life: plenty of space, hardly any traffic, short distances that can be covered by bike and on foot, and wonderful nature on the doorstep. 
She attributes her own musical talent, which became apparent at an early age, less to family influences than to the general musicality of Georgians. "Everyone at home has a good musical ear and can sing." She herself simply started playing around on the piano at home when she was three years old. It wasn't long before the local newspaper asked the "child prodigy" for her first interview – in which she confidently predicted her life path: "I want to be a composer!" Now, almost twenty years later, she herself has to laugh in the face of so much childlike courage. 
Incidentally, she recounts that this made little impression on her parents at the time. "I remember that when they came to Kharagauli, I wanted to show them my works, but no one was interested." Only her grandfather registered at some point that a real talent was beginning to develop here and encouraged professional music lessons. Like all young people, she didn't like them because of the "strict rules," but that didn't stop her from studying dutifully for years before, having reached puberty and moved to Tbilisi, she turned first to the fine arts and later to studies in social sciences, psychology and philosophy.
But the music massively resisted the neglect and prevailed. 
If you ask Anushka Chkheidze about her obviously great talent, she reacts shyly and defensively – which of course makes her even more likeable. No, others are talented. She's just been lucky enough to meet the right people and get opportunities. But just how great the talent is is evidenced not only by the albums, but also by the performances she gave with the other Goethe Talents at the Pop Culture Festival. In just a few days, the collective that was thrown together succeeded in writing a repertoire of pop songs of universal appeal that is far more than the sum of the individual protagonists – versatile, light, airy and catchy.
It's fun to see how much Anushka Chkheidze enjoys exploring terrain far removed from her own electronic sound with the others, which is because she doesn't shy away from anything more than too narrow genre boundaries anyway. "Because even though I've been producing electronic and digital music from the beginning, I've always felt that I'm not just going to go in one direction. I want to try different things. I like artists:inside who try different things in their work."
That explains her early involvement in film music and theater collaborations. "You can still tell in those that it's my sound, but I try to work differently in that," she elaborates. "In theater, people with different perspectives come together. Not just musicians:inside. So you have a really open space. In those collaborations, sometimes you have to step back because someone else is doing something good and you don't have to add to it. You learn to respect each other's work."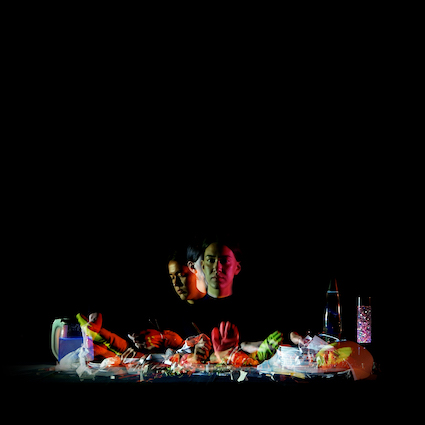 Most recently, Anushka Chkheidze's openness and drive has led her to Basel, where she has been involved in a project at the intersection of music and architecture that has resulted in her third album, "Clean, Clear and White." "It's really a crazy project," she reports. "There's this research institute in the center of Basel that took ten years to renovate. I was invited to explore it and record field recordings there to produce pieces based on them."
To this end, Chkheidze spent three weeks in the building, making piano and choir recordings in addition to field recordings on site. At the time of our Berlin conversation, the pieces that resulted have already been mastered and the album is in production. It's more experimental than anything she's released so far, she notes enthusiastically – and a first listen underscores that, Chkheidze taking us on a darkly mysterious sonic journey, giving us moments of ghostly majesty and disturbing ecstasy. 
But this fall will not only see the release of Anushka Chkheidze's new album, she will also begin studying sound studies in Utrecht. This may come as a surprise at this point in her career, but then it doesn't: Anushka Chkheidze is driven by curiosity and the search for new influences. "I want to work more with choirs and acoustic instruments in the future. Everyone can make music with computers, so electronic music composers have to work harder on themselves to really create something of value."
Now at first this sounds very disciplined – and that certainly aptly describes Anushka Chkheidze, but equally important to her is the feeling of letting herself fall into music. "I used to be a bit shy and I still am – music is a way to express myself. When I play, I'm really free."