Arya Zappa – Interview
Arya Zappa: "What is real? This question drives me and is at the center of my work."

The world of Arya Zappa brings up many references. Of course one has to think of Grace Jones, but also Ziggy Stardust, Annie Lennox, Klaus Nomi and Devine come to mind in the touching and seductive pop world that Arya Zappa is sharing with us.
Kaput talked to Arya Zappa, who is also so kind to share a 2-hour-mix of music that influenced her album "Dark Windows" with us.
Who are you, Arya Zappa?
Arya Zappa is my real self. This might sound strange since it's the status quo to hide behind a persona or mask on stage. For me the contrary is the case – I had to become myself in order to be able to sing or to perform.
What did it take to bring Arya Zappa to the stage?
Taking a closer look at the human condition, identity is at the core of our existence, while none of us gets to chose our parents, gender, name, religion, nationality, hair, eye or skin color nor the lives we would like to live. Who are we? After a long period of intense introspection, I asked myself this question and started to live who I truly was. There wasn't a point where this happened, it was a process over several years. A metamorphosis so to speak.
Arya Zappa is not only a music project, it is a piece of art in the best sense and combines performance, fashion and video works, showcased in your short film "Dark Windows", which is based on your dream diary.
The short film "Dark Windows" and the upcoming eponymous album are extracted from my dream diary, dealing with my ongoing metamorphosis and important life events, involving death, heartbreak, recovery and a new start. Some chapters of the diary deal with my life long struggle concerning my voice, which is symbolized in Part 1 through the hair inserted in my throat. My childhood as a little girl with the voice of a whiskey gargling drag queen was a very special experience.
What would you say defines Arya Zappa's sound?
My music is a direct expression from the heart, and I do my best to cut out every bit of rationalization and cerebral bullshit in order to keep my artistic decisions as visceral and real as the dreams and memories I wish to comprehend. It's a purely emotional and ever-evolving process, inviting the listener to participate.

"Dark Windows" is playing with our mostly one dimensional understanding of time and space. In your film the borders disappear. Is this a condition you can only get into through music?
Non-linear time, illogical occurrences or incoherent spaces are intentional and part of the concept. There is no narrative since this short film is a publication of extracts from my dream diary, intended to be felt and experienced rather than to be understood. I usually enter this inner world in my dreams, under hypnosis or when I meditate for example. It's a plane of existence that is accessible in Theta brain state. My music is just a tool that allows me to express this condition. It does not create it.
To me, this plane of existence is reality and not the material world or our human experience. I perceive our material world as a product of our mind, merely a projection.What is real? This question drives me and is at the center of my work.
What is stimulating your art and lyrics besides the dream diary?
Poetry, cinema, art, mythology, history, Philip Larkin, Don Van Vliet, W.H. Auden, Ted Hughes, etc.
To which degree does the status quo of the world in the year 2020 influence you and your art?
I thought a lot about the extreme times of change we're living in and believe that change isn't necessarily a bad thing. It's up to us how these extreme changes will turn out. As I already said, I believe the world is the product of our collective projection and that it's in our hands to replace a tipping point of frightening extremes with thriving transformation. But this change starts inside each of us. We have so many opinions about almost everything, but do we really know who we are? Are we the pinnacle of sophistication, and what is our relationship to our past?
Let me rephrase the last question: how political is the world of Arya Zappa to you?
Not political at all. Politics is cheap entertainment, and its sole purpose is to distract. I have bigger fish to fry.
When I watch your clip "Goodbye", a song built on the idea of life as a chain reaction of hellos, goodbyes and restarts, it is the image of a burning house that sticks in mind. A quite dark and pessimistic picture –how do you suggest to find the courage and energy for a positive new start in this case?
That's a misinterpretation. I'm asking "if life is a game, what are you going to sow?" This song is about manipulation and deception. It is about coming clean with someone who has wronged you, without passing judgment. It's also about taking responsibility for our own decisions. The house symbolizes old dysfunctional patterns that have to be replaced for a new start.
Oh, okay. Well, I understand the other two clips "Cut Grass" and "Falling" as answers to the brutality of existence, which I perceived watching "Goodbye". A new start is only possible for the individual, through radical Denialism, in order to reinvent the self. I hear this in the sentimental and cold character of the music. I'm I right?
Well, there is some misinterpretation, again. "Cut Grass" is a famous poem by the great British poet Philip Larkin. It's about life and death and implies that death is just part of the cycle of life and that conclusively, we shouldn't take ourselves seriously.
Let me put it that way, if you talk to a gardener it becomes clear that lawn care is a science in its own right, full of expectation and shared knowledge, just like most things in our life in which we invest a great deal of our energy, keeping a lawn neat is ultimately pointless. "Falling" is exactly about that. It's an inner dialogue concerning those pointless or even destructive things in which we ongoingly invest, without questioning them. Both songs suggest that everything is ephemeral and nothing ultimately means anything. Like the gardener, we moan constantly about having to cut the grass but never question the fact that we had to do it. Apparently, we find a respite in such loops.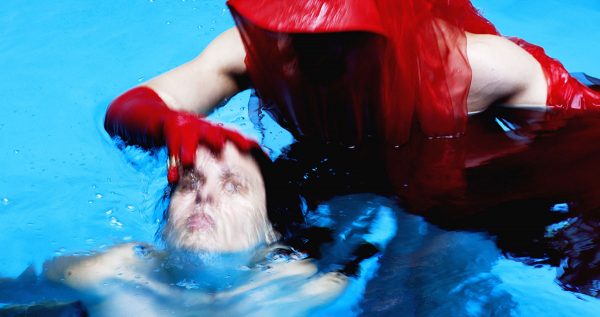 The voice is a central aspect of Arya Zappa. Is it only me who hears different tongues speaking here? And how good are those different voices for each other?
The characters in the short film for example, represent various aspects of my personality or the self. I understand and experience myself as a dynamic entity, consisting of the conscious and unconscious aspects of the self – always modifying itself and ever-changing. There are no good or bad voices, just voices that are either conscious or unconscious. Ultimately it comes down to how much we're aware of our inner voices and if we are willing to listen to them and understand them. This process is what I've described as a metamorphosis.
You were so kind to record a 2 hours mix for kaput featuring some of your musical influences. Can you say a few words concerning the track selection?
It's just a journey through my musical background plus some of my favourite contemporary artist. I hope you guys enjoy it as much as I do.
1. Talking Heads – Burning Down The House
2. Escort – Cocain Blues
3. Arcade Fire – Reflektor
4. Siouxsie And The Banshees – Israel
5. Jusice – Safe and Sound
6. Death From Above – Let's Make Love (Spank Rock Remix)
7. Wire – The 15th
9. ESG – Dance
10. Deerhunter – Greenpoint Gothic
11. Prince – When Doves Cry
12. Eurythmics – Love Is A Stranger
13. Cerrone – Supernature
14. Cristal – Phonic
15. Simple Minds – I Travel
16. The Human League – Love Action
17. Talking Heads – And She was
18. The Rapture – House Of Jealous Lovers
19. Total Coelo – I Eat Cannibals
20. Flock Of Seagulls – Space Age Love Song
21. The Human League – Darkness
22. Bauhaus – Kick In The Eye
23. Simple Minds – This Fear Of Gods
24. Tubeway Army – Are Friends Electric?
25. Tone On Tail – Real Life
26. Gary Unman – Down In The Park
27. Orchestral Manoeuvres In The Dark – Almost
28. Sonic Youth – I Dreamed I Dreamed
29. Altered Images – I Could Be Happy
30. A Flock Of Seagulls – Transfer Affection
31. Tone On Tail – Lions
32. XTC – Making Plans For Nigel
33. A Flock Of Seagulls – Modern Love Is Automatic
34. Sad Lovers and Giants – White Russians
35. Sad Lovers and Giants – Imagination
36. Sonic Youth – New Hampshire
37. Joy Division – A Means To An End
38. Mi-Sex – Computer Games
39. Thompson Twins – The Gap
40. Siouxsie and the Banshees – Dear Prudence