Danielle de Picciotto & Friends in Conversation – Marie Čtveráčková
Marie Čtveráčková: "It still surprises me how women are treated"
I met Marie Čtveráčková through the Goethe Institute Prague in 2017 when I was organizing a tour for Monika Werkstatt. We had just released an album together with ten female, electronic musicians and could not find a professional booker to organize a tour.
Instead of surrendering to the disappointing situation of not being able to perform, I decided to contact everybody I knew and organize a small tour myself. I was shocked by the fact that arranging this for a female project was so much more difficult than for bands with male musicians, which I have been doing for years. I worked non-stop for almost a year in organizing the shows and was completely exhausted at the end. Once more I was faced with the reality of how minimally the market supports female projects in spite of the growing awareness that there are a lot of impressive electronic, female musicians around today.
Non the less I was thankful to have been able to convince the Goethe Institute and a handful of venues to book us for concerts, workshops and panel talks. Interestingly it was mainly female producers that supported us in the different cities and countries. Marie Čtveráčková was one of them and she did a wonderful job. Not only did she organize our stay in Prague as comfortably as possible, but also arranged space for a workshop and coordinated our concert in one of the most prestigious venues of Prague, the Palac Akropolis together with its female promoter Petra Ludvikova.
When I met her I was surprised at how much younger she was than I had expected. The level of her professionalism was extremely high, she was quick, serious and reliable, and the amount of her energy and output is more than impressive. During our collaboration we spoke frequently on how important it is to support women, be it young ones just starting out or older ones that have experienced a lifetime of discrimination. We both agreed that there is no use in waiting for any body else to do it. Women have to become active themselves in creating their own universe. Dependencies must be eliminated. How can you expect to be taken seriously if you do not become independent?
During the workshops and panels it was interesting to see how difficult it still is for many women to speak about themselves or to promote their work and we all realized that there is much more to be learned and achieved than even we had known.
I continued watching Marie´s work after we parted ways and am astounded at her continuous output and effort. She inspires me to continue trying to pave a way as an experimental musician myself in spite of the many difficulties and hurdles and I am thankful to be able to present her here today. This way I can give her back some of the support she distributes so gracefully and help strengthen our community of brave women.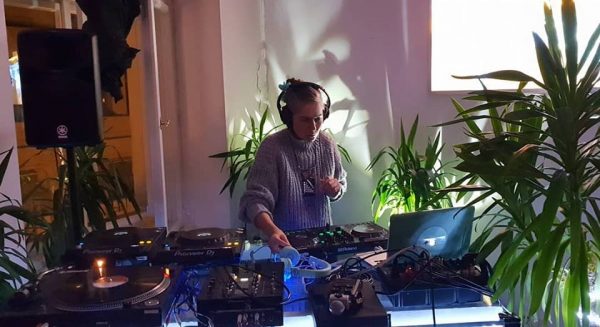 Danielle de Picciotto: Marie you are a DJ, live performer, radio host and event organizer. Is any one of these occupations your most important or are they all equally important to you?
Marie Čtveráčková: They are basically all very important to me. They all deal with listening not only to variety of music but also to variety of people and emerging realms. Non-the less recently I have found organizing, building a community and empowering others is the most important. It even seems more important than my own art. That's why I invest most of my time in curating our space ZVUK and developing The Synth Library Prague, the first sister library of the S1 Synth Library in Portland. In this way I try to produce new opportunities.
You are very active in the area of gender, music and feminism, mainly in electronic music. Is this an area where you feel much has to happen to create equality or have things changed lately?
I am always on the look out for female musicians. This began when I realized how similar their experiences are, so I decided to do something about it. It still surprises me how women are treated; so many stereotypes influence our choices and the way we think about ourselves. This influences our society in a negative way. I remember when I started organizing the club nights SHEvening at the Prague club Chapeau Rouge about 10 years ago, I didn't even want to use the word feminism because I thought that times had changed. But I was to learn quickly that reality is quite different, not only in the field of music but especially when it comes to the situation of women of color, homeless women or health care etc.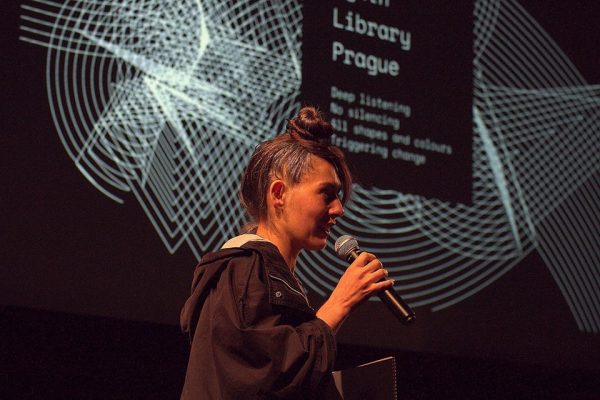 Our western world values wealth and ignorance. It seems like we have forgotten to listen. We do not even listen to ourselves. We don't care about our environment, spiritual growth or about those who do care. We need to allow more women to be heard and valued. That is why I'm glad that we as the Synth Library Prague could join the Feminist (Art) Institution, a code of conduct developed by members of tranzit.org, a network of institutions which is focused mainly on visual art and the aspect of support.
What do you look for in music?
I look for exhilarating vibrations or new worlds and usually try to listen to a lot of music. On one level I try to educate myself and explore the world through sound and on the other hand some of the music moves me so strongly that I immediately, instinctively start composing a line-up, playlist, DJ set or just dancing and singing. I hope that this shiver of excitement can actually create a whole movement.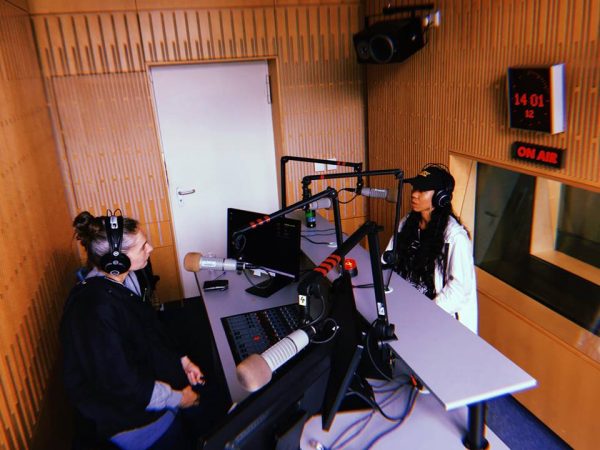 What is the project "Czeching"?
This is a music export project of The Czech Radio youth channel Radio Wave where I broadcast my own show. I have collaborated on this project for almost three years. The project was initiated by my Editor in Chief, Iva Jonasova, when promoting Czech musicians abroad was not a big topic. It grew to become a project in which Radio Wave nominates five local music acts each year and people from other European radios vote for their favorite act. The winner gets the chance to record and release an album, shoot a video and perform at Eurosonic Noorderslag, which is the biggest showcase festival in Europe. For me it was a possibility to learn more about coordinating an international project, the music industry in general, our local scene, it's dynamics and what artists need and what their expectations are.
What are your current projects?
My main project is running and preparing a program for our "open media lab" ZVUK, in which we organize various workshops and lectures all the while still working on developing the Synth Library Prague project together with the co-founder of the original S1 Synth Library Portland Alissa DeRubeis. I'm also curating other events focused on music education and electronic music like Music Ports with Goethe-Institute Prag or Synapse Knowledge with MeetFactory Club. On the 17th November we had an event called N0 1 Future, a kind of club intervention, mixing a party with lectures that will bring experimental electronic music artists and cultural initiatives and activists together in showing what the possible futures can hold. This was in collaboration with the Palac Akropolis club, Prague and Dresden CYNETART festival.
But I also am a DJ and present my weekly show focused on rap music, soul, r'n'b and experimental electronic music on Radio Wave.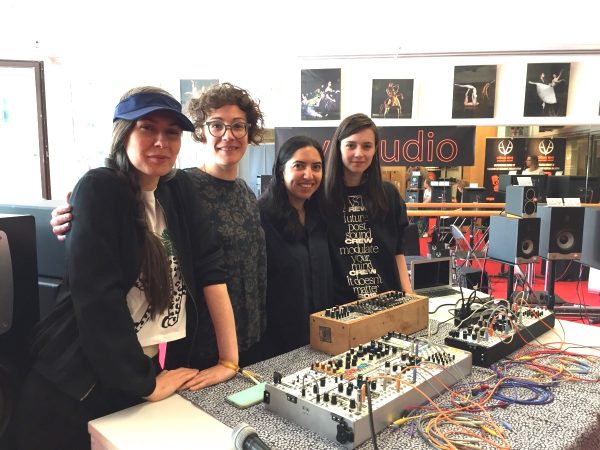 What are your plans for the future?
I have put together a group of wonderful female musicians and producers that meet regularly in our Synth Library. We learn together, discuss and collaborate. We call it Trigger. With a special program Trigger-System we were also lucky to get a small grant from a special Women Empowerment program of the U.S. Embassy, so we worked on a magazine, which was launched at our concert on the 30th November where Born in Flamez performed. I hope this group will continue growing. We plan to release a compilation. I also plan to spend more time on workshops with kids at schools and foster homes and want to continue discovering new paths for myself.
What are your favorite female DJs, musicians, artists, projects that are currently happening in Prague?
There were couple of women that strongly influenced me during my teenage years like Erykah Badu, Lauryn Hill and Sade. Later on I learned more about great women, who paved the way for us in Prague like the writer and physical education teacher Klemena Hanusova, who fought for women rights in the second half of the 19th century. The amazing female musicians who's art and various experiments and ideas have inspired me over the years are Vitezslava Kapralova, Pauline Oliveros, Delia Derbyshire, Daphne Oram, Alice Coltrane and Nina Simone. Concerning projects in Prague, I'm glad to see more women getting together and collaborating, the magazine Kink or the DJ collective Segra, queer femme music collective Meotar are good examples and the deep listening parties Phonon.