Danielle de Picciotto & Friends in Conversation w/ Kat Menschik
Kat Menschik: My ink stroke is part of my body, like my nose or the color of my eyes.
If you currently go and browse through Berlin bookstores, you cannot help but discover the illustrator Kat Menschik. It seems as if the booksellers can't get enough of her bright colors, bold calligraphy and strong lines. Her books decorate the shop windows, are presented in large window displays and there is usually an entire shelf dedicated to her. If you inspect her books closely you can discover that not only, are they beautifully illustrated but their literary content is top notch. A wonderfully bewitching red thread runs through the various titles and the intense desire to own all of them overwhelms you. After examining the books in detail, I realized that the Galiani Publishing company had entrusted her a complete series. What a gift for everyone involved, especially for the reader!
I met Kat at literature events in Berlin and discovered that her charisma is comparable to her drawings. She sparkles. I have rarely met a person whom I would call "charmed" by luck, but Kat has this aura. The first time I spoke to her I felt I was sitting across from a cheeky Astrid Lindgren figure, her blonde swinging ponytail, the small snub nose, the blue eyes and freckles. Was she Pippi Longstocking's friend Anika? The fact that she not "only" continuously illustrates books, designs calendars, beautifies porcelain and designs her own jewelry collection and also plants, paints and cooks her own garden vegetables (surrounded by beautiful flowers) reminded me of the Swedish children's books .. Kat is her own universe. A cosmos of warm colors, shapes, crayonsª and perfumes that enchant and of which we all cannot have enough of. I am very happy to introduce Kat Menschik here today.
Danielle de Picciotto: The Galiani Publishing company has offered you your own book series. Could you tell us how this came about and how you choose the writers?
Kat Menschik: It's really crazy. I am an illustrator and have been given the opportunity to publish my own book series! I suspect this is a pretty unique situation for anywhere in the world.
What all my "favorite books", as they are called, have in common is that they have the same format. So, you can place them next to each other nicely in your bookshelf. In addition, each book is embellished with a three-page color cut.
I choose the materials for each individual book, depending on the content. This can be linen or paper, which is then printed, embossed, pasted with stickers or otherwise partially thickened. The aim of the series is, amongst other things, to show what is possible in terms of manufacturing books. How beautifully and elaborately a book can be designed. Books you want to touch, that still smell of paper and paint and are that full of illustrations that fulfill the expectations of the readers. I illustrate all of them and call them illustrated literature for adults. I also chose the authors. They are obviously my favorite authors. Authors whose stories have touched and accompanied me or whom I have rediscovered and still love.
In terms of content, I would like to create as wide a range as possible. It includes classics such as Kafka, Shakespeare or Poe, but also living authors such as Dr. Mark Benecke (animal biologist) and Volker Kutscher (Berlin crime novels). I have also written a cookbook, illustrated Norwegian fairy tales, painted a kind of travel companion for the high Caucasus, and am working on a tomato book…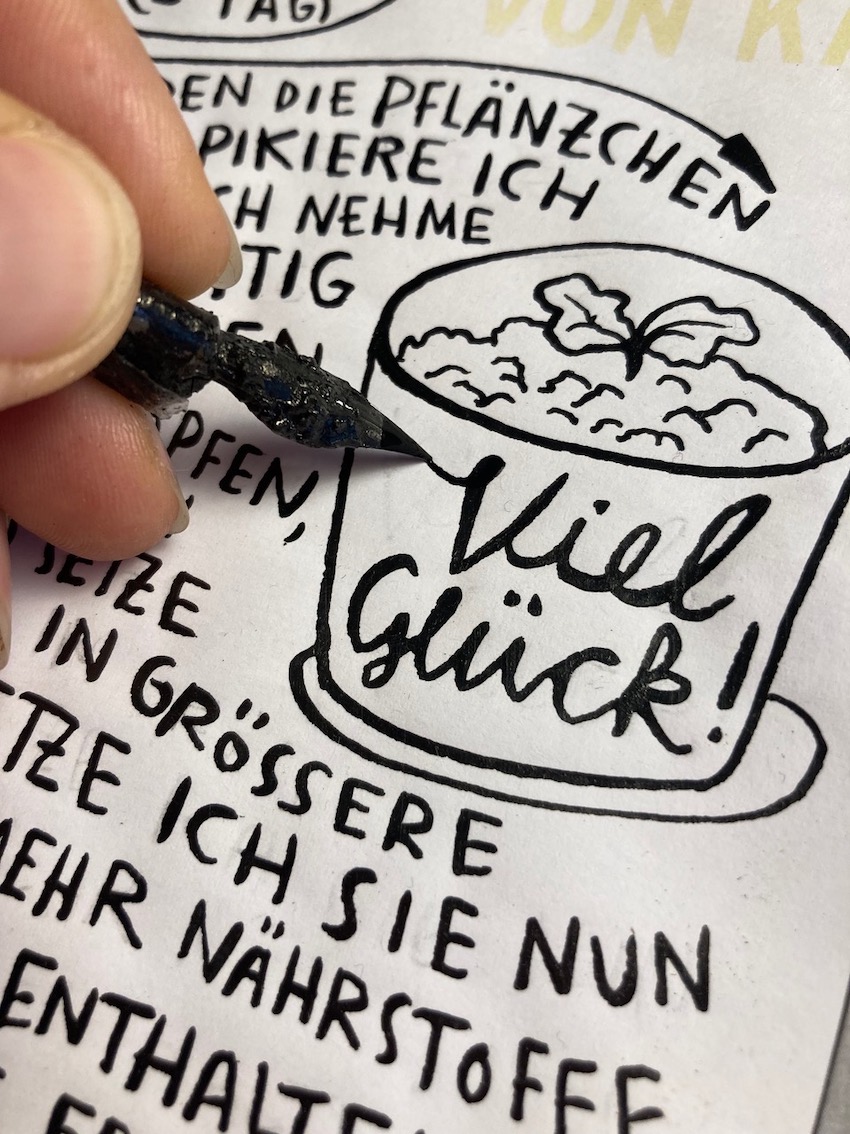 Is there a certain type of literature that you particularly like? That instantly inspires you? One that you don't like at all?
I love all kinds of stories that surprise and suck me in, that introduce new worlds and inspire my imagination. Fiction in the best sense of the word.
I do not like science fiction or thrillers. I used to devour thrillers because they were exciting. But at some point, the eternal killing totally dragged me down, and I made a conscious decision never to read bloodthirsty, nasty books again.
I'm not a comic book reader either, even if there are beautifully illustrated comics or graphic novels.
What is important to you in illustration? What are you looking for in your work and in others? Which illustrators do you like?
When I don't have to draw one or the other politician for the newspaper (FAZ), who are of course recognizable and need to be presented objectively, I always try to use my illustrations to create a second story in addition to the author's text. I try not to double the words and never draw what is already described. I try to lift the story to a new level, in which more than just the written word expresses something. Both text and images should complement and enrich each other. I consider that very important.
I think my style is recognizable. I would not be able to change it, even if I wanted to. My ink stroke is part of my body, like my nose or the color of my eyes. But I like a lot of what my colleagues have done and are doing as well. I am absolutely open to new impressions. Everything can be inspiring. Or at least spark my desire to become creative again as soon as I've seen something particularly beautiful. Some people feel frustrated when they see an impressive exhibition and feel depressed, thinking they will never be good enough for example. That is not the case with me. Good input makes me feel exhilarated and inspired.
I love Art Nouveau, Impressionism, Expressionism, but also the advertising aesthetics of the 20s, 50s, 60s and 70s. And there are more and more young, very, very good illustrators. It is fantastic to see how illustration has developed powerfully in the media landscape.

What would you consider "contemporary" illustration? What has changed over the years? Is your taste changing?
I think there are "flavors" in illustration. For example, we can precisely distinguish drawings from the 1950s or 1970s from those of today. But I find it difficult to describe what constitutes contemporary illustration. Personally, I like to use retro elements for my work and transform them into something new. I non the less believe that my drawings are "modern". I give them a certain firmness with my strong line that fits into today's time.
Are there any fundamental topics that keep inspiring you?
Yes, definitely everything that has to do with nature. I could draw botanicals non-stop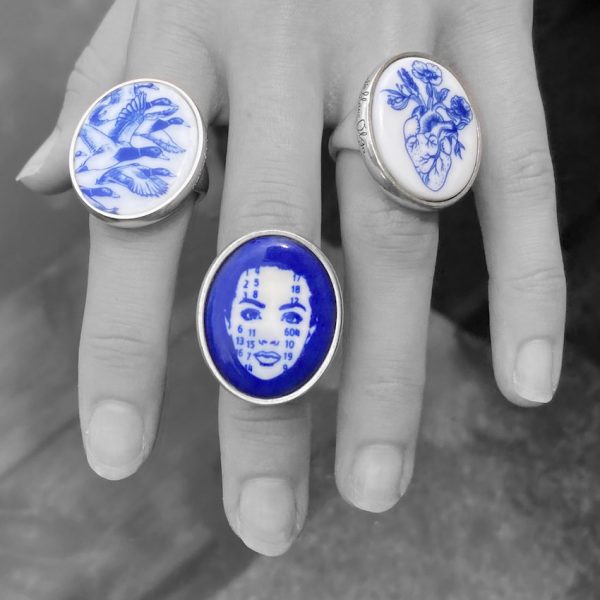 You also make jewelry, is the modification of material from paper to porcelain your motivation?
That is not the main reason. It´s just that I LOVE jewelry and when I'm not working in the garden, I could cover myself in jewels.
That is why it was very natural for me to come up with the idea of ​​making lockets and rings. I used to make silver jewelry. But what I'm doing now is better because I can combine my drawings with my jewelry.
My hobby is pottery. I have been working with porcelain for years, turning it into receptacles, designing a tiled wall, etc. At one point I discovered a process with which I can transfer my drawings onto the finest porcelain. I've been in heaven ever since. It is really beautiful to work with Delft blue on white porcelain.
My jewelry collection consists of large medallions set in silver and rings filled with my motifs in blue on white porcelain. Everything is homemade, limited and, well, not cheap, but available. (katmenschik.de
You grew up in Berlin, how did the city inspire your aesthetics?
I can't really say because I have almost never left this city. I owe everything that defines me to my parents, my youth in the GDR, my studies straight after the fall of the Wall, the occupied apartments, the punk concerts, the nights of dancing, my life in this great, wonderful city. Maybe my esthetic defines what Berlin is for me. What I draw is not soft, I have a hard line. And whenever I can, I make everything colorful. That's pretty "Berlinesque", isn't it?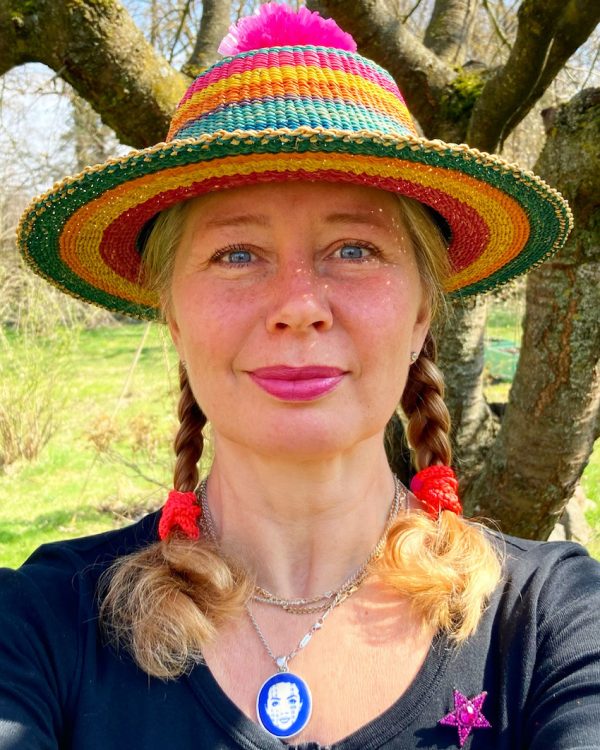 You draw, publish books, do readings, design jewelry, grow vegetables in your garden and paint wonderful cookbooks and calendars. What motivates you? Is it pure enthusiasm, irrepressible energy or a thirst for knowledge?
Oh, I'm just working and tinkering. My child has grown up and is out of the house and I probably have more time than families with children. I also work quickly and effectively, I like to write lists (I love crossing out items), I like to make plans of what needs to be done and then I am in my universe and devote myself entirely to the respective project. Of course, all of this is only possible because I absolutely love doing EVERYTHING that I do. I LOVE to work with my hands, I love handicrafts, painting, drawing. I also like cooking more than in the past, it used to be a daily chore, now I cook mainly for fun. Vegetable gardening is still new to me, I started planting seeds with the Covid lockdown and it's amazing to be able to just go into your own garden and harvest the vegetables you are about to cook with. That was what excited me the most this year. So, I decided to turn this enthusiasm into a book. The tomato book mentioned above, in which I portray tomatoes and thus celebrate the variety of colors and varieties is coming out soon. It's all about enthusiasm!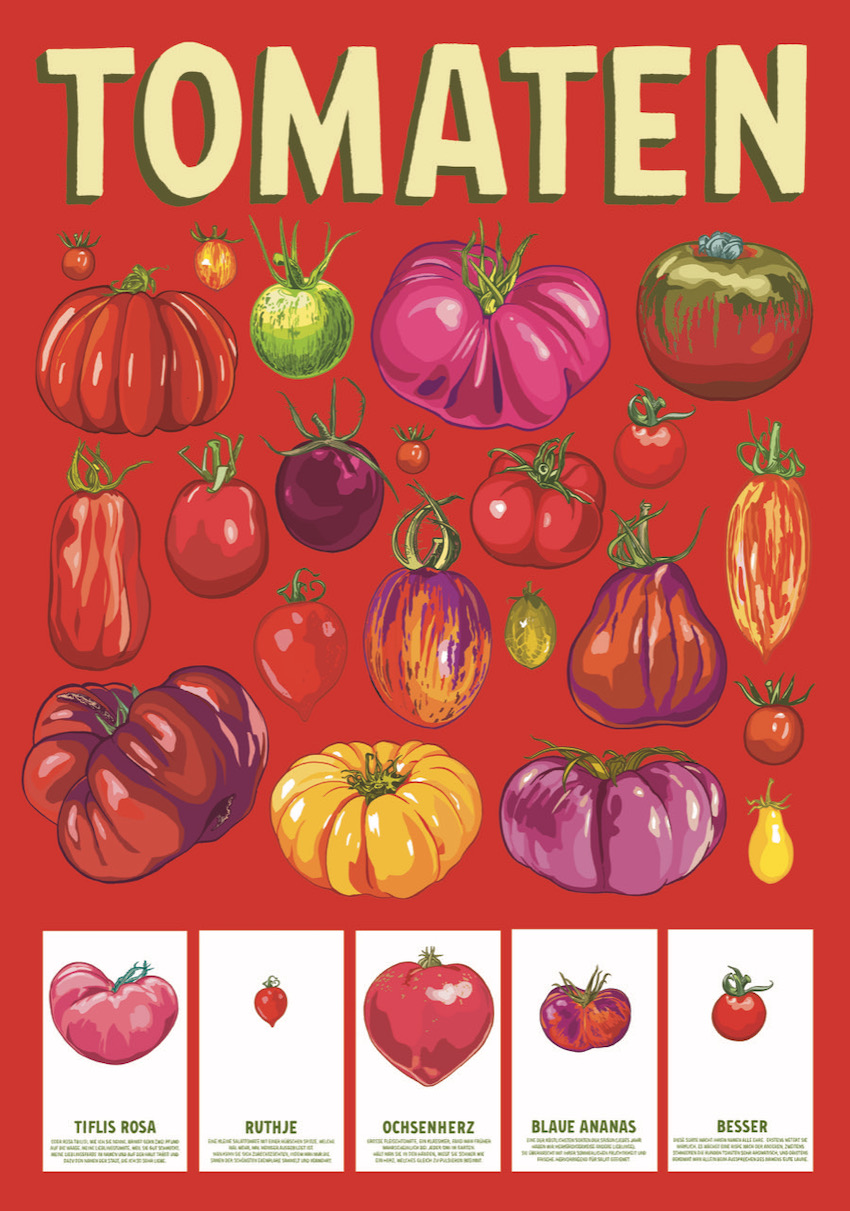 What are you working on at the moment?
Still working on the tomato book, I am currently writing all the texts for almost 80 pages by hand so that the overall picture looks nicer. That is a real tough job at the moment. I often burden myself with something like that, not because I necessarily enjoy it, but I know that the result will be all the more beautiful.
In addition, "Djamila" by Tschingis Aitmatow, is currently being prepared for printing. All the illustrations have been drawn; I just have to check everything once more to be sure that there are no more mistakes ….
What are your future plans?
Honestly? To tone down my madcap pace.