Danielle De Picciotto & Friends in conversation
Dorit Chrysler: "The community is everything to me and always creates new movement"
Dorit Chrysler has always been a musician.
Born in Graz, she moved to NYC at the age of 18 to compose experimental music with music legends such as JG Thirlwell, Elliot Sharp and Hans Joachim Roedelius – until she discovered Theremin thanks to the brilliant Lary 7.  This instrument became her passion and she has toured around the world since then and played in venues like Vienna Konzerthaus and festivals like Roskilde and Ottawa Bluesfest; she also performed 2011 at the Venice Biennale.
I met Dorit in Canada at the Electric-Eclectics Festival in Meaford, organized by Laura Kikauka and Gordon Monaham. This small but very fine festival has a wonderful outsider atmosphere and in the five days we got to know each other well.
Dorit is a very elegant, reserved person with Grazian charm and her stage performance was unusually ethereal in the otherwise somewhat coarser noise program. When she came on stage, the atmosphere changed and you forgot that you were sitting on a bale of straw on a mountain and had slept in a sultry caravan. Her music is experimental but at the same time melodic, like a fever dream floating by, intangible, seductive but also dangerous. We kept in touch and met each other at different festivals over the years. The fact that Dorit commutes continuously between Europe and the USA, gives concerts and very popular Theramin workshops for children is impressive. She is also the chair of the New York Theramin Society and was invited to co-curate the Heroines of Sound Festival in Berlin this year, before it was canceled due to the Covid virus.
I am always impressed when I meet Dorit and happy to be able to introduce a woman who is so unerringly creating her own beautiful path.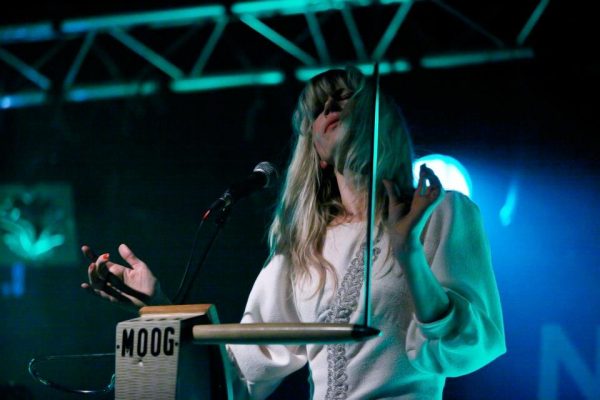 How did you start playing the Theramin? What do you like most about the instrument?
I discovered the Theremin 20 years ago in a friend's house, Mr. Lary 7 – his apartment is a treasure chest full of obscure electronic machines. I will never forget how Lary mischievously pointed to a strange box in the corner, plugged in a cable and waved his hands in the air producing strange sounds from the ether. I call it the "Houdini Effect" when you experience a Theremin for the first time; it was the ultimate challenge for me to master this instrument at that moment. I was thrilled by the dynamic potential that I found unusual for an electronic instrument, the unique timbre and dramatic style of playing. Love at first sight! It took a lot of patience from the ears of my neighbors to master the instrument to some extent over the years. At first it seemed quixotic, but I knew that a Theremin could sound wonderful and deserves more attention. Mastering this instrument is an absolute challenge compared to other musical instruments. You don't touch anything and have few references, but that is exactly what enables creative freedom in playing technique and application. After a strict classical music education as a child and seven years in a NY noise band, I finally wanted to find my own voice without compromise and the abstract Theremin with all his drama was just right.
What do you try to express with your music? Do you see yourself as an entertainer?
The music should always speak for itself not needing explanations. The Theremin offers some unique cinematic timbres, very emotional or brutal, I prefer the "veil effect" ten to 20 layers of Theremin on top of each other in harmonies.. The exciting thing about composing is the "gray zone", the indefinable, the mixture of emotion and technology, tone, color and dynamics. Each piece is like a diary page, or a snapshot of a mood, a simple expression or experimentation, empowerment with passion, to be moved and to move. Live the energy of the audience is added, because the dialogue and exchange also changes the music – Entertaining sounds too one-sided to me, but to react to each other, to feel the audience on stage and to follow the flow of energy, that's exciting.

What kind of music do you listen to? Does it inspire you or are your compositions created in a different way?
Everything is music, everything can be heard – from abstract sounds and field sounds to complex compositions, everything can inspire, I couldn't survive on an island without Morricone and Serge Gainsbourg, I would also have Kraftwerk and Mozart with me, and hopefully thousands more …
In March, just before all of our lives were interrupted, I was in the "cave" of the Cern Kollider and the sound of pure electricity (thousands of volts to cool the heavy CMS Kollider) was a terrific symphony. There is no fixed form for how music is created; mostly I feel like a butterfly catcher trying to capture a mood.
What are you currently working on? Do you get support as a female musician or are you left on your own?
The past few years have taught me to follow a vision unwaveringly, not to be "gaslightened". I am grateful to so many musician colleagues who always generously shared their knowledge and expertise, who inspired me, the community is everything to me and always creates new movement. With musical institutions it was sometimes a tedious struggle to fight for conditions in order to realize artistic visions, but in the end it is worth the effort.
At first it seemed to me that I was one of the few who believed in the potential of the Theremin in contemporary music, but in the meantime the community has grown so much that in my eyes the impossible has been made possible. At the last curated Theremin event in NY, 800 people stood around the block waiting to listen to Theremin music for three hours, something you would have dreamed of 20 years ago. Women are always in the minority at festivals, when you work with many women it feels very different, very relaxed and with unique solidarity. When I had the opportunity to curate small festivals, I was able to found "Dame Electric", which is dedicated to analog female pioneers. From an early age I would have liked to see more women assembling and making music on stage.
With covid all concerts, workshops and festivals are now canceled or postponed, a difficult challenge for all of us, but of course one can try to use the quiet time for creative work. My last project was hanging on a thread and I was very lucky to be able to make a music video in March in CERN with Marie Losier: (our team was the last to have access before everything was locked down) the Theremin100 video for the birth of electronic music (The Theremin was invented 100 years ago). I wanted to shoot it in the largest cathedral of science, Cern, the backdrop references Metropolis and for three years this project was in progress and almost didn´t work out. We do not know when the release of the video will be because it will be in connection with a festival but certainly this year. I was also invited to co-curate Heroines of Sound in Berlin this year – it is a great festival and I had already invited some Thereminists, but that is now also being postponed.
This weekend I would have had a concert for two days in the Salle Des Nymphs, where Monet's water lilies hang in the Musee D'Orsay in Paris, instead I will probably shoot a prepared number of videos on a small garden pond and maybe the Theremin will be thrown into the water at the end, like all the concerts have fallen into the water..
I guess it is time time to prepare the next record release, the soundtrack from "M – A City Searches for a Murderer". Incidentally, I think it's great that a lot of people are now ordering records to support the music scene. We released one with the NY Theremin Society earlier this year. A Compilation published for the 100th anniversary of the Theremins, THEREMIN100, a total of 50 Thereminists from 18 countries and published on Bandcamp – it is selling wonderfully, thank you people for buying and listening and supporting!
Theramin sounds very spherical, are there any spiritual connections?
The Theremin converts the most delicate movements of the body into sound. In this respect it is very direct and personal, actually your own body becomes the source of sound – intuition, touch and technology come together – but that's also the case with other musical instruments. Perhaps the great concentration and connection to your own body through the unusual way of playing could be called spiritual. If a strong wind interferes at my outdoor concerts this can be very misleading, but it's just a physical phenomenon, I cannot summon ghosts with the Theremin but the concentrated way of playing is very intense and sometimes comes close to a kind of meditation. The better you know yourself, the more fearless you can translate it into sound.
You work a lot with children and music. What have you learned in this area that did not exist in other areas?
I just started doing what I would have liked as a child: to experiment freely with nine other children and a creative instrument, without reservations, and to be able to play and listen to Kraftwerk and Brian Eno. As a child I can only remember a gruesome music education and there is still hardly any electronic music education for children so to make Theremin more popular, I thought it best to start with the younger generations. Most of the time I learn more from the children than they do from me – compared to adults they usually listen closer and are much more creative..
You commute between NYC and Graz and plan to move to Berlin. Do the places influence your music? How do you choose your city?
NYC has shaped me and it is the city of my heart – if I am not there for a few months I get withdrawal symptoms. I need the energy and cultural abundance. It is great how the art community supports each other and celebrates art.
Graz is my hometown and always a haven of peace that can then build a bridge to nature and stillness, a good place for reflection and work. These two places are the exact opposite.
My heart is bleeding for New York and I think it will take some time before the city we know can recover. I want to be where friends and like-minded people come together and are creative. Berlin has changed a lot in recent years and is getting tighter, but for me it still has the social creative spirit, a strong and warm character, space to make art in a like-minded society without the great pressure of capitalism, which constantly attacks you in NYC. I hope there is still a place for a Theremin player free there this summer.