Danielle De Picciotto & Friends – Käthe Kruse
Käthe Kruse: "Half-hearted work is worth nothing"

When I first heard of Käthe Kruse it was 1986. At that time she was already a Berlin icon. Everyone who was interested in experimental music knew her. In Cologne, where I was working in a record store back then, you knew about her dreadlock hairstyle and the fact that she was the drummer of the band "Die Tödliche Doris". The photographs of her fascinated me because they radiated an enormous power. Because of these photos I listened to the tapes of Die Tödliche Doris and found out about the band founded by Wolfgang Müller and Nikolaus Utermöhlen.
The mixture of art and music suited my taste and I was very enthusiastic about the Dadaistic approach. Although I moved to Berlin shortly afterwards and her presence was omnipresent, I only met Käthe Kruse much later when she was already successful as an interdisciplinary artist. We made friends on an evening when I performed with Gudrun Gut and since then we see each other as often as possible. I always look forward to visiting her in the studio or her next exhibition. Whether photographs, pictures or objects: her work is clear, precise and yet multi-layered. Her objects bring the unconscious, paired with unusual connections and surprising changes in perspective, to the light. Käthe goes into depth with tremendous honesty and dedication and thus touches her audience to the core.
She is currently exhibiting her latest body of work in two Berlin galleries at the same time. With the title "I see", Galerie Nord presents 80 canvas pictures that run through all rooms. In the Zwinger Gallery, the archive of the collected headings of the pictures is presented with the title "366 Days". The entire body of work is impressive in its conception and elaboration and consists of language, image and sound. The result of stringing specific words together has an astonishing, unforgettable result. I am very happy to introduce Käthe Kruse here.
Danielle De Picciotto: You have two large exhibitions in Berlin that are running at the same time. What is the exhibition about?
Käthe Kruse: Yes it is, a double exhibition. For the two bodies of works "I see" (Galerie Nord / Kunstverein Tiergarten) and "366 days" (Zwinger Galerie), I collected 25 headings a day from a German-language daily newspaper such as Taz, Tagesspiegel or Süddeutsche Zeitung for almost two years. I made no distinction between the areas of society, politics, economy, ecology, sport and culture. When choosing the headlines, I relied entirely on my own artistic and political sensitivity. Stored in a calendar, I collected a contingent of sentences and nouns – a subjective archive of the most recent contemporary history in the most concise form – which does not follow a fixed system of content, but which creates an extremely unsettling social image within the artistic transformation. Printed on individual A4 photo boards, I arranged the 366 days strictly in chronological order and designed them into an image complex that, now framed, is exhibited as a frieze in the Zwinger Gallery. In the second step of the work, I extracted all nouns from the headings, drew and painted them alphabetically word for word over four years and put them together on canvases using a thin brush. 80 black and white, encyclopaedic word images were created with a total of 3927 nouns: from "fear of descent" to a "record of immigration". The tableau with the initial letter X contains only one word: xenophobia – the rest is white image space. The dangerous power of the unreflected use of language reads almost casually in the isolation and in the monotonous, staccato-like and consequent juxtaposition of sentences and nouns as well as in the reduced spatial staging. Removing syntactic relationships and semantic dependencies between words opens up irritating new levels of meaning. The word images are also presented in the gallery Nord / Kunstverein Tiergarten as a frieze that extends over 60 meters through all rooms.
You are an interdisciplinary artist – what does it mean to work interdisciplinary?
It is important for me to work with different media, because this creates works that I cannot predict. Every idea that I can look at from different media perspective brings me to very different artistic expression. I often do not master the medias at all and need help, which has the advantage that I do not think in professional patterns, but can work with a completely unobstructed view. Such a complexity of work completes itself while working on it, new ideas keep coming up until there is a point in time when I see that everything that is needed has been made and belongs together. In my latest body of work discussed above, I deliberately avoided the visual power of photography and film. Here I use painting, music and performance to investigate the interaction of language, politics and media reporting. For this it was important for me to take the nouns from the headings which I had collected for over 366 days and to paint them meticulously with a small brush as word images and to digitally print the frames themselves sheet by sheet in the photo studio and frame them individually. A purely black and white group of work has thus been created for over five years. And since a music performance always belongs to my work, I decided to record an album this time. I wanted the music to be simple and monotonous and the 3927 words should be spoken like messages.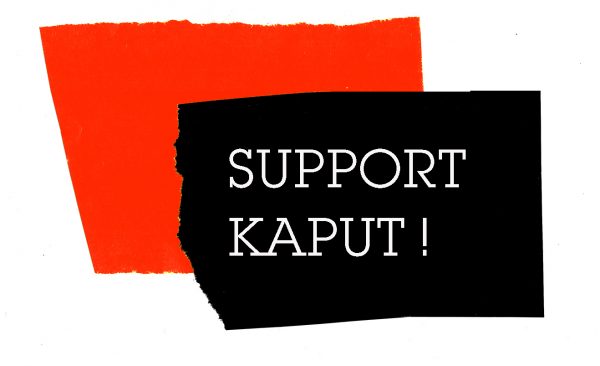 The artist and pianist Myriam El Haik fascinated me with her piano playing and so we rehearsed and immediately decided that her piano and my voice would fit together perfectly. It was previously agreed that I would record with Alexander Hacke in his Studio 65 Berlin. His professionalism as a musician and technician, but also his passion for music and improvisation helped me to record the record and to produce a rythmical, almost danceable music. He put a bass under the music from the deep sounds of the piano and integrated my sound recordings from Tbilisi, Georgia, which I had recorded with the filmmaker Tamuna Karumidze, into the music. There is a new sound on each side of the double LP, and then my daughter Edda Kruse Rosset's drumming begins. In accordance with the interdisciplinary approach, we will perform the recordings as a speech concert. The headlines are presented as a reading performance lasting for several days. An important part of the project consists of a publication that will be published to accompany the double exhibition at DISTANZ and includes the double LP, 80 picture plates, a newspaper with all headings and a booklet with installation views of the exhibitions. The numbered and signed special edition contains a scarf printed with all 3927 words.
Do your past collaborations like the group Die Tödliche Doris still have a connection to your work today?

Yes, absolutely. At Galerie Nord, for example, I am presented in the series Cross-border commuters. Here they invite artists who transcend borders and genres and expand them. Veronika Witte, artistic director of Galerie Nord and curator of the exhibition, wrote: "The third exhibition in this series is dedicated to Käthe Kruse, an artist who in the 1980s was part of the legendary West Berlin avant-garde trio Die Tödliche Doris, who, with the entanglement of music, texts, performance, video and painting, has developed new formats that cannot be classified in conventional categories. Even today, as a solo artist, Kruse conceptually combines a wide variety of media to create her own artistic approach. "
I worked with Nikolaus Utermöhlen and Wolfgang Müller every day from 1982 until our dissolution at the end of 1987. For our first concert in January 1982 in the Arsenal cinema in Berlin, we designed the natural disaster costume and developed the natural catastrophe ballet, which I set fire to the fire for the WDR Rockpalast. We later repeated this at countless concerts at home and abroad, which irritated the sound engineers enormously each time. Today this would no longer be possible for fire protection reasons. But first and foremost I played the drums, every composition of Die Tödliche Doris starts with my drums, based on that the other instruments are added. The Super 8 films embellished the often technical-looking stages. We were known for playing something different each time and not repeating a concert. I contrast we developed a stage show with costumes that was presented identically 15 times in total. Even Tabea Blumenschein, who occasionally traveled with us as a guest, has put on our cheap dresses from the Turkish market and the costumes we developed and sewed by Angie Rullkötter. She designed a lot of extravagant wardrobes for films herself and, of course, great costumes for herself. I was lucky that she also sewed me a black and gray batik dress that I didn't just wear on stage.
The three of us presented this costume show with the title "There are fifteen performances in total" outside of public appearances: On July 10, 1985 at 10 a.m. in room 140-141 at the Berlin University of the Arts (now the UdK) Professor Wolfgang Ramsbott. It was the master class of Wolfgang and Nicci in which I had to take part for completeness and which, as Wolfgang Ramsbott told me, I had also passed with flying colors. At his advice, I then began studying visual communication at the HdK in 1990 and completed the second master student examination in 1997.
How would you describe yourself as an artist / musician?
Difficult to answer. I am open and honest in a straightforward and direct way. That means I do not hide behind anything, on the contrary, I make myself vulnerable. But I also think that this is necessary, because, whether in visual art, music or performance, it makes no sense to pretend that there is more than there is, the audience and viewer will immediately feel it. It is important to me to give everything, to show myself fully and to address and maybe even reach my counterpart. But that also means that I have to overcome my fear every time I go public with a new work, music or performance. In the performance, I work with very personal texts about, for example, my own abortions or my father's alcoholism. I reveal a lot about myself and I have to be able to endure that, but the audience does as well, sometimes people cry or tell me that they had to much to think about after and couldn't drive a car, but had to walk home. If the performances continue to have an effect and are not forgotten when you have a drinkl afterwards, then that is a great success for me. Musically, I come from the group of "ingenial dilletants". Blixa Bargeld gave this movement its name. To date, I have not managed to learn an instrument or study singing, although I love to sing. I am therefore pleased that I have been able to work with my daughters Edda and Klara Kruse Rosset for ten years, who often support me musically. It is a great gift, but I am also happy to accept it. With Myriam El Haik on the piano, my latest performance has become really musical, I think that's great. But as an artist, I see myself as a conceptual artist.
I can't say where the ideas come from in detail, they often come at night and when I have them in the morning and write them down, think about them and start working on them, it becomes clear as I work, whether that's a good idea that I want to pursue or not. The last one took five years to complete. This benefits my meticulous and hardworking way of working and that I have the energy to work on something for years. I am very grateful for that. I also have a large pool of old ideas and materials that I can use if necessary. It never gets boring for me, especially since I keep turning to new and unfamiliar media and can always learn – it´s a great profession!!!
Do you think artists should get a basic income? Or could it demotivate?
Yes, I think artists should definitely have a basic income. There are certainly some who could be demotivated by that, but it's not about them. It is about supporting cultural workers so that they can work on their arts with less financial worries. It is about the diversity and freedom of the arts and that art gives food for thought and can also take a political position. This is important for an open and democratic society.
You travel a lot for your work – which trip has the greatest result?
My trips to Bhutan in 1996 and to America in 1999 were the most intensive and led to room-filling, interdisciplinary work. I conceptually edited the footage filmed there into a video-audio installation that I called "America – Germany – Bhutan". Under the keywords traffic, puberty, Bielefeld and abortion, I brought together the visual recordings of both trips with my own texts about Germany, which I presented either as a reading performance or as an audio format. I also photographed all the films on the computer, so that I have an almost endless series of alienated photographs of both countries, which are shown at the same time as the German texts splashing out of sound showers. In addition, separated by the travel destinations, city scenes, landscapes and people can be seen on two monitors. While the landscape sequences remain geographically rather unspecific, architectures, faces, poses, clothes and rituals have a say in their origins. I organized the context in the juxtaposition of metropolitan and rural structures, signs of different forms of government, images of a capitalist-media and a traditional-religious culture. It is only through my texts that I give a perspective: While I was filming the traffic in Chicago from a ring train that only shows the facades and the railway line, I focused on one policeman in Thimphu, the capital of Bhutan in the traditional style covered traffic island that regulated a single-lane roundabout. This becomes completely irrelevant in relation to the elegant rhythm in which he danced his commands with the whole body, as it were.
But only the text about a walk along the Kottbusser Damm in Neukölln exacerbates the culturally and socially different urbanity of the "foreign" cities between fascination, wishful thinking and skeptical distance and makes the principle clear, through personal observation through one's own life circumstances can one draw a picture of the world. In that way the far away comes closer and everyday life presents exotic sides. After all, the names of the snack bars and the goods of shops come from all over the world, while special offers say something about the social existence of residents.
How would you describe your music? Is it still as important to you as it was in the 80s or is it more the performing arts? Is there a focus?
I love music very much, I love listening to it and it helps me in pretty many life situations. I never understood myself as a musician, but I did see myself as a drummer. This is my instrument, I am rhythmic and can keep the beat for a long time. It is the perseverance that has made me the drummer. In the 80s I loved playing with Die Tödliche Doris and going on tour. We even went to concerts in Tokyo a year after our dissolution in November 1988 and came up with a special show in which we played ourselves: moderation of Masanori Akashi, curtain up, songs from 1982/83, curtain down again, moderation by Masanori Akashi, open the curtain, choirs & solos from 1984, close the curtain, moderation … and so on until the end of our repertoire. Later I produced and recorded the record "Elegie in March" and a DVD "Le Sexe Rouge" as a drummer and musician. After developing performances with Wolfgang Müller for many years until 2000 and having performed internationally together, I was more concerned with the visual arts as a solo artist . It was a new and very exciting field for me, because I was able to experiment, develop unexpectadly and turn to new media and printing techniques. My focus is on the visual arts. But after ten years I had the need to be on stage again. Suddenly there were invitations for performances again and I started to work with my daughters. It's mainly text-music performances. But with the new double LP 3927 words we will probably play concerts again, I'm looking forward to it

What do you advise young artists to do?
Not to give up so quickly and to not be satisfied with your own work too easily. It is often even better after questioning yourself and looking at everything from different angles. Constantly increasing and developing, crossing pain limits, getting everything out of yourself and giving everything. Half-hearted work is worth nothing. Regardless of whether an idea is to be a small piece of paper or a wall-filling painting the necessity of the work and thought behind the procedure are extremely important. The execution must be careful and perfect. Working with dedication! That the line can only be painted exactly the way you have painted it, not differently and that it is perfectly placed – the viewers can feel this intention!
Links zu Käthe Kruse:
"Ich sehe" – Katalog bei Distanz  
Ausstellung "Ich sehe" in der Galerie Nord/Kunstverein Tiergarten 
Film zur Ausstellung auf der Website des Museum der Subkulturen & Friends 
Artikel von Brigitte Werneburg in der taz: "Kunst in der Coronakrise: Nazipelz und ein Kilo Kokain"