Danielle de Picciotto & Friends in Conversation w/ Katrina Beale
Katrina Beale: "I am just beginning to feel the sense of a future and a space to plan into"
I have always been inspired by artists that are interested in more than just the façade. I´m rarely interested in the sex symbol, inebriated rock´n´roller or narcissistic extrovert. It's all too much of a cliché. I like the quiet, pensive ones that think deeply and speak in riddles. The bookworms, the dreamers, the mystics, the shape shifters and spiritual seekers. I like lyrics that sound like poetry but radically change your life or a painting with shadow and mystery.
Since the pandemic has receded for the summer, it seems that life has once more become garish and reckless, the rats race of money, power, politics and war are back blaring away and I suddenly miss the quiet, empty streets of Berlin in 2021. Where has all the tranquillity gone in which we stop to think about what is happening around us? Due to this inclination, I always feel attracted to artists that shy away from the bright glare of the public eye.
I met the artist Katrina Beale in the late 80ies and have watched her pursue her art in a fascinating, almost baroque manner. She manages to treat time languidly, dreamily soaked in afternoon sunlight and dusty bookshelves. Her studio has a concentrated work atmosphere but projects a sense of privacy. Entering almost seems disrespectful, reminiscent of Bacons studio which can only be viewed through a window. Hesitant to speak about her work she has non the less been working on her painting for years and serenely exhibited internationally. Her themes and technique are timeless, exuding equanimity and composure perfectly.
Despite this reserve, she is at the centre of Melbourne's art and music scene, was Anita Lanes best friend and has just opened a Galerie with Mick Harvey, PJ Harveys collaborator and former Bad Seed member. Katrina is a gem, and I am honoured to speak with her today.

Danielle de Picciotto: What is it that you aspire to express in your art?

Katrina Beale: I aspire to express certain things that I, personally, cannot express in communication. Things like the sensation of being in a space, a surrounding, or a time of day, how those sensations affect your impression and experience of the world. Also, sometimes I try to express the emotional history of spaces.
Do you have a general core theme, or does it vary from picture to picture?

I do wait for a theme which will fit the kind of things I am experiencing or thinking about in my life, or a question that I can think about while I am building the body of work. I keep the same theme for ages.
What motivates you? Is it more an inner feeling or outward impression?
Motivation is really reminding myself that I can either do it or stop doing it and doing is preferable.
Inspiration seems to come from an outward impression which causes a combination of curiosity, thought and feeling – even worry. Looking out the window, looking at paintings and other images, films etc. Quite often it has come from novels – ideas, little sparks and questions. Reading Rachel Kushner's "The Flamethrowers" and her references supported my using scenes from cinema for paintings.
Do you work mainly in acrylic or oil? Do you mix your paints yourself?
I work in oil – I have for a long time but in theory I am open to other paint media. Watercolour is probably the one I would like to use because of the intensity of pigment, and the transparency can recreate the feeling of air and space and impermanence. However, part of the reason I stick with oil paint is that I can feel my way into the composition of the painting without the indecisiveness showing, and then all those tries form a good base when I settle with the form. I don't think any other media is so forgiving in this way. Pictorially I am concerned with trying to simplify the shapes of figure and ground so that they press into each other and define each other. Handling the paint itself is another matter though and I struggle with it – I feel like a novice all the time, like I don't retain any technique from one studio day to the next. So, no, I don't make my own paints.
Painting is one of the longest visual art mediums existing. What interests you specifically in this approach?
Do newer technics interest you or do you prefer to concentrate on one specific genre?
I love looking at paintings and the reasons for this appeal are mysterious. I started painting seriously in my 30s and I have not reached a point of satisfaction with it – so it remains challenging. The limitation of the square canvas in western art is also something that can seem out-dated, but it is also something that creates an arena that you attend. It connects your work to other artworks, almost like a signal that you would like to be seen within the realm of other paintings and painters.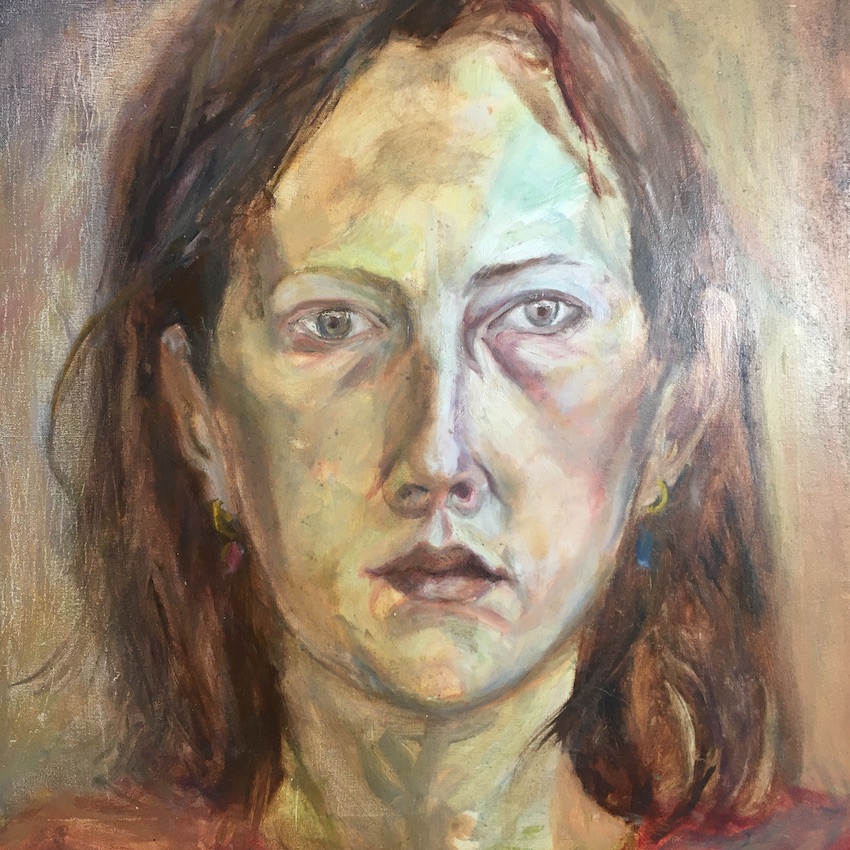 What do you think is interesting about portraits?
Have you done self-portraits?
It is very absorbing to wonder if you really tell anything about a person from looking at them, and what story the artist wants to create around that –it's a lot about them too.
I love Velazquez's portraits of Calabacillas and Francisco Lezano," Jesters" in the Spanish court. They are very sensitive, but the painter seems freer to express that openly than with the aristocratic subjects. I love some of Alice Neel' s portraits – they seem so loose but aren't.
I am timid about portraiture myself. but with the few that I have tried I really received a new appreciation of beauty, from being "allowed" to look so carefully.
In my paintings – which are mostly narrative, I tend to use animals, birds, or actors – even trees – as representatives of the human condition. My self-portraits are started for practice – a handy model. I guess that is a common thing; I notice a similar harassed glassy look in the eyes of many self-portraits. Trying to look objectively at our own bodies is a weird undertaking.
You have just opened a new Galerie in Melbourne. Could you speak about with whom you are collaborating on this and what the gallery is about?
My husband, Mick Harvey, has had the idea of running some kind of art event space. It's a generous idea, which is typical of Mick I think, but one I was a bit reluctant to commit to. Oddly, the fact that Covid started made it seem like the right time – why not, we weren't going anywhere! A really good shop-front building had come up for lease a block away. We both had no idea how, so just followed our noses, and over the last two years have managed to show art and films in between lockdowns. We collaborated with curator Mariella Del Conte for two exhibitions and hope to do more with her. I learned a lot from her, and then found that gradually artists approached us. Our style of exhibition is inspired by their work, rather than my curation. We want the space to be very changeable. Mick programms the films. We have shown quite a few by Berlin-based film makers; an Uli M Schueppel mini-festival, and short films by Guzstav Hamos and Katya Praschke and a documentary by you, Danielle. It feels special to introduce people in Melbourne to these works.
How has the pandemic affected your work? Your life? Your city? Your country?
I don't know where the real seed of inspiration comes from, but I know that it disappeared during the time of pandemic lockdowns. It must have something to do with the desire or possibility to show something to the world, even to a small part of it. It was a perfect opportunity to paint, when the gallery closed and no social stuff, but I couldn't beat the inertia. For me those times felt full of personal loss, and a curious no-future feeling, The fact that there was no use for plans was also relaxing though. I think there were lots of shared neuroses in the world, and shared revelations too. I hope Australia, having proved that things can be done and mobilised in a crisis, will stop pretending it can't be done for refugees and indigenous people and for the climate.
What are you working on at the moment?
Still my scenes from cinema. They have an overarching theme of wandering – mostly women through cities, so are "figure in landscape". There's a narrative of what's happening in the scene but that is not the only reading of it. Though they are a tribute to cinema and the actors I'd like them to be experienced as just paintings in the end, The narrative is more for me, as a starting point.
What are your future plans?
I am just beginning to feel the sense of a future and a space to plan into. I am used to the privilege of moving about in the greater world, so getting out of Australia for a little while is a plan. I can only think about the short term: try to create a body of work to exhibit next year and keep developing the gallery to be a place that people can meet and be inspired and make more art happen.
Do you listen to music when you paint? If yes, what do you listen to?
I find myself reluctant to let go of an old ghetto blaster in my studio that now won't play cassettes or CDs, so I often listen to Radio National – which airs quite a few philosophical interviews- or a couple of Melbourne FM music stations, I'm a bit frustrated that I have not mastered music apps yet or gotten around my prejudices about them. Meanwhile I like hearing music floating up from Mick's studio below.