TIMES OF HANDS – GAMIFICATION VS PLAY–  11./12.06., 2-5pm – Interview with Sam Hopkins and Hans Bernhard (UBERMORGEN)
"We have to get away from the male supremacy of Silicon Valley – it`s toxic and dangerous for everybody and anybody"

Ahead of the exhibition "Hands" (opening on 2nd of July, curated by Ala Younis und Madhusree Dutta) Cologne based Akademie der Künste der Welt is hosting a three event symposium dedicated to "Times of Hands".
The third symposium is happening upcoming weekend on 11th and 12th of June (2-5pm, cet), co-hosted by Sam Hopkins and Hans Bernhard (UBERMORGEN) – you can participate via twitch. 

Thomas Venker exchanged some questions and answers with  Sam Hopkins and Hans Bernhard, the curators of "TIMES OF HANDS – GAMIFICATION VS PLAY".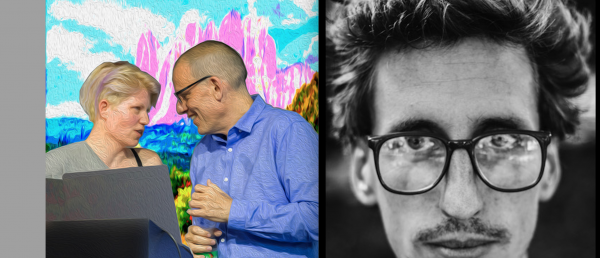 Sam Hopkins, Hans Bernhard, are you gamers yourself?
If so: what is your favorite game and why?
UBERMORGEN/UM: Online Poker and Candy Crush are my addictions and fascinations. More traditional console or PC games don't work for me since they create a feeling of plastic and schizo reality and fuck with my emotions too much. But Online Poker is immensly exciting, there are so many levels to it, psychology, math, software. Online Poker helped me more than self-help groups and psychotheraphies together in understanding myself and how i function. Candy Crush is like watching TV, addictive and mind-numbing. Beautifully stupid.
Sam Hopkins/SH: I'm not so much of a gamer. But when I do play games with friends (both digital and analog) I tend to get totally absorbed and immersed in them. So I can imagine that in a parallel existence, or perhaps if I grew up in another time and place from where I did, I might be a serious, and perhaps obsessive gamer.
Are you able to give a little insight perspective on the genesis of your symposium? How did the topic shape? Have there been aspects that did not make it into the tough selection for a two day symposium but are worth mentioning?
SH: Firstly, it's important to say that this is a symposium more about gamification, designing non-game contexts to look like games, than it is about games. I remember Hans and I were talking about the relationship between gamification and the digital, and we sort of started speculating that it's not so much the digital that gives rise to gamification, but that perhaps our innate attraction to games primes us for our digital existences. I think in some ways the symposium is trying to test and explore this hypothesis. Then as we started reading it became clear how extensive gamification strategies are in our online and digital lives, often in a manner which is perhaps not immediately recognizable to us. Can we say for example that Social Media tends to be gamified?

UM: There are the two extremes that are not really covered in the symposium. In the area of gamification we lack the hardcore gig-economy, Uber or Lyft drivers, food delivery drivers and other tough, low paid and uninsured gigs that demonstrate that capitalist logic has transposed from the owning resources and production methods to platforms which mediate and connect. On the other end of the spectrum we would have loved to present a professional gamer or streamer to discuss the professionalization of 'Play'. But we think we cover a lot of ground and are super excited to see the different positions merge into a common experience in time and digital space that we call 'symposium'.
You invited a wide range of contributors to the symposia: KAGONYA AWORI, CYNTHIA CHEPKEMOI, HYESEON JEONG, STEFFEN KÖHN + NESTOR SIRÉ, BETHUEL MUTHEE, OSCAR PEÑA
Are you able to take us by the hand and share your thoughts behind the roster of the people invited to participate and the topics placed by that?
UM: Most importantly we want to diversify viewpoints and experiences. We do this by inviting people with different backgrounds to tell us about their practice and knowledge. We let them chose what they talk about and then frame the symposium accordingly. We are not interested in a purely academic approach, since this is not helpful if you talk about practical issues such as file sharing, gig-economy and the people-places-praxis lens. We need the actual experience or truly alternative viewpoints which then synthesize into the combination of 'Hands' – which is the overall frame-work of the symposium in relation the Academy of the Arts of the World – and 'Brains', which is the connected organ where the sensory input is being processed and reality is being created in conjunction with said 'Hands'.
SH: Exactly. In addition I would also say that as Gamification seems such a widespread phenomenon, then we need a broad and heterogenous set of expertises in order to fully understand how far it has seeped so far into the (digital) fabric of our lives.
In the center of your Symposium stand the African Tech-Hub Nairobi. Can you explain why the city is of such an importance for the whole continent in that regards?
SH: As a research group (Netze, based at the Academy of Media Arts, Cologne – KHM) we are interested in inquiring into the nature and extent of Silicon Valley based technologies and ideologies. Nairobi, a city where I have personal and professional roots, counters a US tech hegemony, some examples being the Kenyan-developed platforms such as MPESA (mobile money platform) and Ushahidi (a crowd-sourcing tool). But at the same time Nairobi tech is largely dependent on US-based Venture Capital (VC) and a visit to most start ups in Nairobi will testify to the widespread use of Silicon Valley methodologies and rhetoric. Hence Nairobi evidences the complexity of locally-developed tech in a world of globalised financial capital. 

UM: All i can say is that as European, i understand that we need to both protect ourselves from US technology while opening up towards new ways of thinking, acting, living and feeling. By looking at Kenya's tech practice, and other countries such as Russia or Indonesia, we are enabling ourselves to connect to radically different forms of cultural engineering and reality production. I think it is an existentially important exercise in diversification and complexity experience. From a techno-political standpoint we simply have to get away from the male supremacy of Silicon Valley. It is toxic and dangerous for everybody and anybody.
How big is the influence of China on the status quo and the further devellopment of the Tech-Hub Nairobi (and also Africa in the bigger picture)?
UM: That is something we are trying to determine. The chinese influence has not revealed itself fully, and i think this is owed to the logic of how China operates overall. Contrary to the highly visible US American dominance that reveals itself through propaganda and narcissistic behaviour, China could be much more low-key and superficially smarter. This is not meant as a judgement on the quality and dramatic impact of the influence, but rather as a question of style and technique. So let's see what we find out. This quest is also one of the ongoing topics of the 'Networks Research Group' we are running at the Academy of Media Arts in Cologne (KHM).
SH: Exactly.
To come back to my first question: Coming from your science perspective on gamification and all the knowledge you gather by that – are you able to forget all this and enjoy a game without reflecting the wider contexts?
SH: For me it's not so much that researching gamification has affected how i play games, it has affected how i live my life. Perhaps that sounds dramatic (and paranoid?) but I've started to detect the scent of gamification techniques in all sorts of on and offline spaces, from health insurance adverts to money transfer services to wine buying apps. I have the sensation, that both subtly and obviously, my behaviour is being nudged, my trajectory is being shaped and my decisions are being influenced by strategically designed online experiences. It's a weird feeling, doubting if your decisions are really your own.
UM: I hate games, I always lost against my sister when I was a kid and since then I can't enjoy board- and computer games. But, I can get lost easily in social gaming, political games and other forms of gamified reality. Actually one of my most important experiences is sourced in Kenya, in the Masai Mara National Reserve where the Range Rover who drove us stopped in the middle of a huge flat piece of land with thousands of wild animals who were doing their 'thing', eating, walking, waiting, sleeping. It was a moment of silence that I will never forget and I became aware of the logic of this specific situation when I was in Vienna's city centre some months later, watching thousands of people crossing, walking, shopping, talking and sitting. At this moment reality turned into an overlay reality game, a kind of augmented reality, and I understood that we are all animals doing predictable and sometimes unpredictable things, some of us are like NPCs, others seem 'human'. Since then I have visions, feelings and experiences of gamification IRL. It is an amazing feature if you can just switch your brain to game-mode and experience fully immersive sound, video, tactile and olfactory inputs. Another extremely immersive experience was a motorbike-taxi ride through Shanghai in rush hour (sunset) with a very light rain in high-speed within 30 minutes from one end of the city to the next. This is so extreme that these once in a life-time experiences overlap with what we understand how digital games work and how we can imagine and expand games. Our brain is the ultimate Playstation!