Danielle De Picciotto & Friends in conversation – Andrea Wünsche (Magnet Musik)
Andrea Wünsche: "Nowadays it's often about quick money (…) the market has become more commercial"
I met Andrea Wünsche in 2010 through Khan and Kid Congo. We we thinking about putting together a tour with different acts and Kid suggested to ask Andrea to be our booker, and she was interested and acepted the job. Thanks to her I found myself touring through Europe in a chic Nightliner in 2011 together with my husband Alexander Hacke, Kid Congo Powers, Khan, Julie Cruise and Chris Hughes from Berlin to Istanbul. Despite chaotic musicians, too much alcohol and a persistent flu epidemic, the tour went smoothly thanks to Andreas's preparatory work and reliable accompaniment, and once again proved how important a good booker is.
For musicians, this is a big issue, as is finding a good manager, a cheap rehearsal room, a fair record company or a tax accountant who knows how to deal with an artist's life. You can do without them but life is much more difficult and getting ahead is almost impossible. Surprisingly, there are very little of these professionals, and a lot of them are not good. One would think that it is a popular job because there are countless bands and musicians screaming for them.
It is common for bookers and managers to get a percentage of the artist's fee, so if you do a good job you should actually getting good money. But in fact, it is not that easy and a large part of the responsibility is increasingly placed upon the shoulders of the musicians. In the US, it has been common for years for musicians to pay for their travel and accommodation expenses, and sometimes even the clubs to play there. In Europe, this attitude was frowned upon for years. Both record labels, promoters and bookers believed it would make more sense to help artists to develope and initially bore all their costs.
In many instances, this approach actually produced beautiful flowers but due to the collapse of the music industry and the rising rents, this attitude has changed radically in Europe as well. Tour support is no longer available from record companies and clubs need every visitor to cover their expenses. Now also in Europe musicians usually have to pay for their travel expenses themselves, and the lesser known bands even have to pay their hotel, the sound engineer and most of the other costs. So that after three months of touring, they arrive home broke and have to think about whether they can afford doing something like that again. For young bookers this fact is a matter of fact and they are surprised if you question it. For the more experienced it is a sad development because if only commercially successful music and art can exist on the market a lot of inovative music and variety disappears. So they try to find loopholes to save costs and help talented musicians tour non the less so that they can continue their work.
Andrea Wünsche is such a booker. To work with her was a joy. Not only was she very reliable and flexible in unusual situations, , you could always reach her (a rarity) and when she came to the concerts (which she often does and which is also unusual) you had the feeling that she not only understood the music but also loved it. This commitment is priceless. I've worked with many bookers for the past 25 years. They were mostly men except Andrea. Partly very good, partly chaotic, sometimes very bad. Many do not work on attainment of shows and instead only wait for offers, others need months to get only one show. That's why I booked a lot of my shows myself, desperateto be able to perform my music. So I am always delighted when I meet someone who really appreciates the passion and hard work of musicians. When it's not just a job, or about money but mainly about the music. Such dedication is priceless, not only for the artists but also for our cultural landscape.
I would like to thank Andrea for her tremdeous input and introduce her here to you today.
Danielle de Picciotto: When did you start working as a booker and how did you come up with the idea? It's an area where there are not many women, is that correct? When did you start your own company? What interested you?
Andrea Wünsche: After I had to give up our beloved "Intimbar", a small bar with a stage in Frankfurt / Main, in the spring of 1995, a friend of mine gave me the tip that delirium booking was looking for someone. At the beginning I worked there as an assistant, then as a booker, and after a year I founded my own agency, Magnet Booking. Many of my friends were musicians and I had a very close relationship with the Playhouse / Klang crew so I had a really good roster right away. I've always been interested in music, I played drums and went to concerts every night. It was a tempting idea to make a living with something that meant so much to me. But it took a few years to really be able to live off the agency. In the mornings I worked as a a courier, collecting urine, blood and stool samples from doctors' surgeries, and in the evening usually stood behind the bar at the St. Tropez, the Rotari, or Maxim. There were many men in the bigger agencies, but in the small techno agencies back then there were a lot of women, those clichés, women with a helper syndrome and organizational talent. But at the time I didn´t think much about that, I just started working and loved it, we were a big family in the music scene back then.
How would you describe the work of a booking agency? Is management part of this?
When I first started there were no emails, so I bought a used PC to make contracts and itineraries. On the wall I hung a large calendar in which I would note all shows, even today it still is a lot about communication and organization. In the beginning we mainly did everything by phone and we had horrendous phone bills, there were no flatrates, today every booker probably has a mouse shoulder. You sit around whole day workig on the computer, you have to switch non stop from one subject to another and I never had any free time until I had my first assistant in early 2003, I had every  every weekend SOS phone service and on vacation I had to find stores with computers, what were the shops called back then? There was hardly any WIFI anywhere. You would sit there for hours every day.
As a booker, you have to create a strategy, a plan for your artist, have to travel a lot, get to know the organizers, get the artists in line with the market, no matter where it's supposed to go, I never really wanted to put my artists into commercial spaces, I wanted to bring out good music that I was convinced of. In any case, I've also done management. Nowadays every beginner has a manager, but my artists barely do, still do not, so I often do the chores a manager would take over, making a strategic plan, connections, promo and press organization etc. As a booker, you definitely have to be very well organized, keep a good overview and be stress-resistant.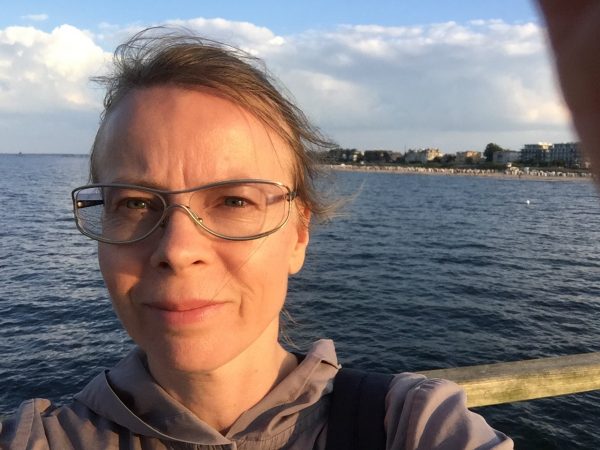 How do you see the development of concert management since the 90s? As a musician I have the feeling that it has become much tougher. People do not go out as much and organizers have to be much more accurate than 20 years ago. Do you feel the same?
I'm not from the classical concert area, I mainly work in the the electronic music scene, so DJs and some Live acts.. Yes it has changed a lot, everything has become very commercial, I do not know if people are going out less, many events are sold out. But some festivals and organizers arte having difficulties and events are canceled. And yes organizers have to check exactly what is hip and with which artist they get their venue packed. I think the competition has become big. There are so many musicians, DJs … the successful ones are handed around first but the Hype can be over quickly. There are always new young people who dare to host and provide platforms, but of course these are often small shops.
How do you see the music business compared to the musicians? Do they still fit together? Can experimental, underground music survive financially at all?
That's the big question, the organizers do not take many risks, often it is not about the music anymore, it's about what's selling. Many organizers that booked passionatly gave up, there are many organizers who admit that they do not necessarily book the acts they like, but the ones that generate money. I think a healthy mix still exists, but yes it has become extremely difficult for the non-commercial acts.
Have you ever been involved in discrimination, have you experienced discrimination with female musicians?
I have not experienced any discrimination and I can not say that my female artists have experienced anything in that direction, but yes, female artists are often judged by their looks, it plays a bigger role than In the case of male musicians – and clearly that is discrimination. Nowadays, this is openly spoken and discussed about and many organizers are working on inviting more female musicians. Some have even put up 50/50 rules, like the Primavera Festival.
Which musicians were your favorite? Which concert experience was the most outstanding?
Many concerts have impressed me, Fela Kuti in Berkely, Gil Scott Heron in the Gully Frankfurt, Henri Rollins in the SO36, Ramones, Prince, Hope Sandoval; I have seen so many… I am very grateful for all concerts in my life. Professionally it was a big moment when Ata first played Alter Egos "Rocker" before it was released. That was at the Watergate and people just went nuts. Or the rave back then in the Taunus, with Ricardo, Roman, Ata, Heiko etc. I have had so many wonderful memorable moments with my artists, musically, personally, I can not list them all. It's just a wonderful sense of community to hear the music you love, and dance to together with all the other people in a room, its very very uplifting.
Danielle: Personally, I think that a label, a booking agency or a publisher are good if they are willing to help to build a musician. I know that from the 80s and early 90s. Many of the bands that are very successful today would not have made it without their support and faith. Today, it seems that in general it is expected that artists produce immediate success in every job. I experience it in music, literature and music – if it's not a hit and attracts crowds, you'll quickly be dropped. Time for development is no longer possible. That's why there are so many "one hit wonders" that disappear quickly. Do you experience it this way? How is this attitude changing the music? Will the underground disappear?
I agree an artists booking agency, label, etc. should sustainably help to build an artist from the start. Nowadays it's often about quick money, but I do not think the underground scene will completely disappear, even though the market has become more commercial. It's getting harder and harder to get rehearsal rooms / studios. Small promoters have more problems finding rooms, but there are still a lot of motivated people with vision that represent the undergound in many directions. But a lot of young artists are very impatient and want to earn a lot of money quickly. There is jealousy, mistrust and envy among them. Its not always the case but due to the increased competition, the artists think they are not getting enough attention and put the agents under a lot of pressure..
How has electronic music developed in your eyes in the last twenty years?
Among other things, I've been listening to electronic music since the late '80s, the early' 90s, my entry was with hip-hop at the beginning, but then electronic music appeared quickly. But I listen to all kinds of music, including hits and country, all genres. In the beginning it was like a wake up call, something mischevious, everything was so new and exciting, the raves and parties were phenomenal, a hall, a resort, a bit of light and drinks or open airs, somewhere on a meadow, in the woods, legal or illegal. It was a big family, it was all very passionate. The ravers were very devoted, it did not matter what you looked like. Nowadays electronic music has become set without meaning that judgamentally. I still feel the passion, but I usually think I already know that, there are very rare new releases that knock me off my feet, everything comes in waves again and again. I also think the market releases far too many publications, I find it difficult to keep track.
 What are you doing at the moment?
I still have my agency Magnet Musik, but decided at the end of last year to shut thios down end of 2019. After almost 25 years of booking. In January, I itold my artists that they needed to look for new agents, and in some cases we jointly decided which Agents / agencies would be suitable. I have dismissed my employees and only have a freelance assistant and we will finish all the shows until the end of the year. I feel the urge to do something different in my life, maybe a task with a beginning and end.
What are your future plans?
First I want to close my agency work and then see what's coming, I have some ideas that I do not want to reveal here, it's exciting, everything is open. Initially, after my decision, I had some panic attacks, but I am now very confident and happy. I'm looking forwards to my first vacation without emails and professional phone calls next year, without SOS phone service on the weekends, on new input, new topics. But music will always play a big role in my life.