Danielle De Picciotto & Friends w/ Valerie Renay
Valerie Renay: "You need to face your own demons"

Valerie Renay is internationally known as one half of the duo Noblesse Oblige with which she released (together with Sebastian Lee Philipp) four albums until 2013. After that both began working on separate solo albums and Valerie has been performing as a solo musician ever since. Her solo shows are impressive, a mixture of electronic sounds and samples, singing and live instrumentation. Inspite of her long experience as a musician Valerie considers herself an interdisciplinary artist and actress, participating in countless performance or theater pieces.
Originally from France. Valerie has lived in London and Berlin. Her international travels can be felt in her music and art, the mixture of the different cultures give her work and performance a large landscape of possibilities which never disappoint and always feel fresh and individual. Watching her perform conveys a feeling of freedom and courage and I am very happy to be speaking with Valerie today.
Danielle De Picciotto: You are active in many fields of art: music, acting, performance and DJing. Do you feel they are all one large body in which you move around in as you please or do you see them as separate entities?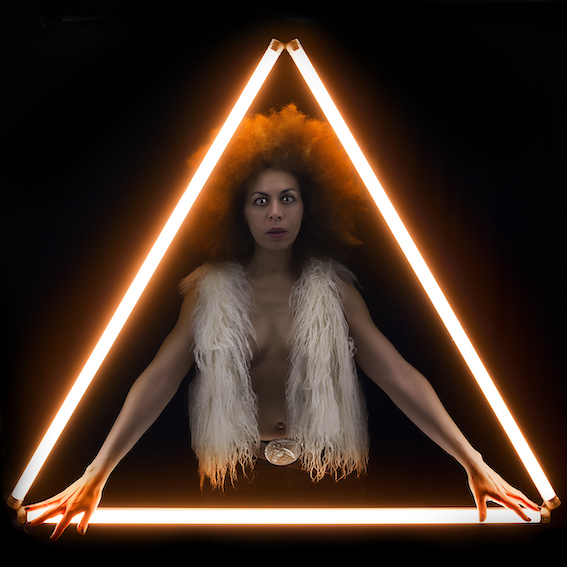 Valerie Renay: Every type of separation, border, or frontier is arbitrary. Our brain is trained from a young age to create artificial separations and organise things into different categories. It should, supposedly, help us make sense of the world we live in. Putting things in different boxes, sticking labels on them. It gives us the impression that we are in control, but it's a complete illusion. We are not organising the world; we are interrupting the natural flow, breaking down things that belong together. I cherish the idea of "oneness", even if it is not always easy to embrace fully. There are many ways to express yourself, and it's thrilling to explore as many paths as possible. Curiosity, freedom, and a sense of complete openness allow me to navigate many territories.
You were part of the Duo Noblesse Oblige for many years and now release solo albums. Has your music taste changed through the experience of being able to decide exactly how your music should sound without making compromises?
Seb (Sebastian Lee Philipp, the other half of Noblesse Oblige) and I started our band united by a vast musical common ground. We also got stimulated by introducing each other to new artists, new spices for our musical pot. We were very much on the same wavelength. I never had to compromise that much with Seb.
I am still inspired by the music he makes with his project Die Wilde Jagd.
Now, I have to take full responsibility for every decision I make and follow my instinct. It's a bit more weigh on the shoulders. My music taste was always eclectic, shaped by my dad's listening to Louis Amstrong, my mum's listening to Frederic Chopin and my big brothers' listening to Ennio Morricone, Pink Floyd and Veronique Sanson. I was taking it all in.
How would you describe your music?
Simple, Lo-fi production. Raw, visceral, passionate and melodic. Dark but uplifting. I want to tell intimate stories with soul and sensuality, because life has so many flavours to taste, brutal and tender at once.
Music: like a gentle stroke of the tip of my fingers, a whisper in your ear, a light breeze messing up your hair, the smell of a bonefire. Dark chocolate melting in your mouth.
What is it you are looking for to express?
Honesty. 'Mise a nue' exposing the vulnerable side, the truth, pure emotion.

Is there a red thread ?
The more personal, the more universal.
A general theme?
Sharing deeply private experiences through a poetic and stylised prism. But never taking yourself too seriously; life is nothing but a game, but a very good one.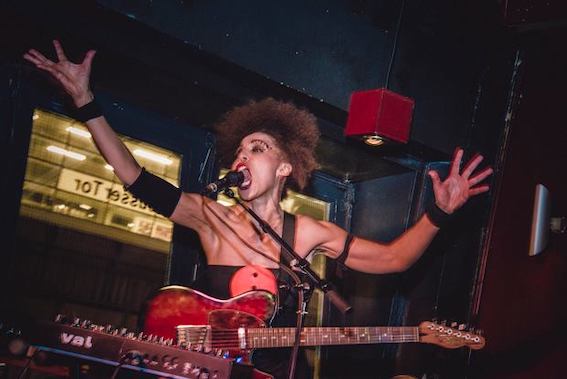 Do you feel it is more difficult to do a solo project as a woman comparable to being a duo? Do you experience discrimination as a female performer?
The way I look, everyone expects me to be a soul singer. People have strongly rooted stereotypes. But I don't mind. It's funny when they realise I am a solo artist who writes, performs, and produces her own music, ranging from acapella mediaeval inspired songs to dark electronic pop, or French spoken word riding on synth drones. Yes!! I make my own beats, I carry my guitar, my synths all alone, I even installed my kitchen sink all by myself. I always choose to see the half-full glass and laugh at situations. I never see myself as a victim. Kung Fu and Body Weather (Japanese dance) training have given me strenght and grounding: I am a happy, independent, self sufficient woman but I love it if you open the door for me. I find old fashion manners very charming.
You have been working on many projects as a performer and actress. Is it difficult to fluctuate between your own music, which expresses truisms about yourself and acting out somebody else's vision in a play?

The work I am being offered is extremely diverse but mostly allows me to create and express myself freely, mixing my musical, vocal, and acting skills.
Within the projects, I usually write my own text, choreograph my own moves, and compose my own music. People invite me to express my identity within their project. I am more or less booked to play myself, which is extremely lucky. I don't do traditional performance work. Still, there is a major difference between this kind of collaborations and making my own work where I carry the full responsibility. I work any time of day or night. It's intense. There's no separation between the "making of the work" and the "living the life". As everything gets mixed up, I listen to my heart and try to be spontaneous. The reward is precious moments in the "zone" where time doesn't exist, you forget who you are. Pure BLISS.
At some point in your career it is important to explore solo work as an artist. You need to face your own demons, and find empowerment in the whole process.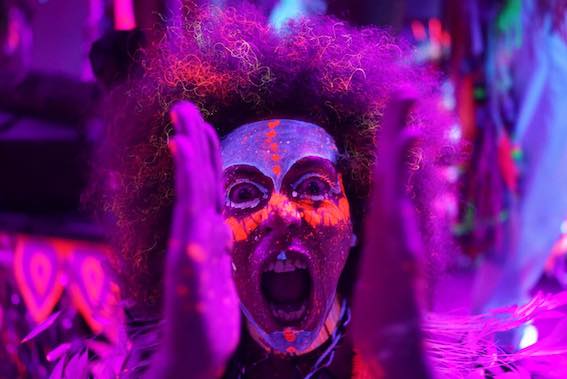 You are originally from France but have lived in London and Berlin for longer now than in your birthplace. Do you ever really feel at home anywhere or do you feel at home everywhere? What language do you dream in?

I dream in English. I don't have a strong concept of home. I moved a lot as a kid and teenager. I am happy anywhere I can be creative and surrounded by caring and supportive people. I like being by the sea. A forest. Neon lights flashing in 24 hour big cities. I like noise, I like silence.
Do you think you will ever go back to France?
For good? Probably not… But I travel there three to four times a year to visit my family.

Why did you leave?
I was obsessed with the UK music scene, cinema, sense of humour, double-deckers, and Victorian houses. I loved their wild fashion style. London was like a magnet to me. I might have been British in an other life.
What are your thoughts on how France has changed since you
left?
I don't really know how France has changed, but I know how my relationship with France has changed. Now I feel more like a tourist when I go back. I can appreciate things with some distance. I know we have good wine, good food, Alain Resnais, Marguerite Duras, Claire Denis, Serge Gainsbourg, Virginie Despentes, all the cliches are true.
Do you have contacts in the music scene there?
Not really.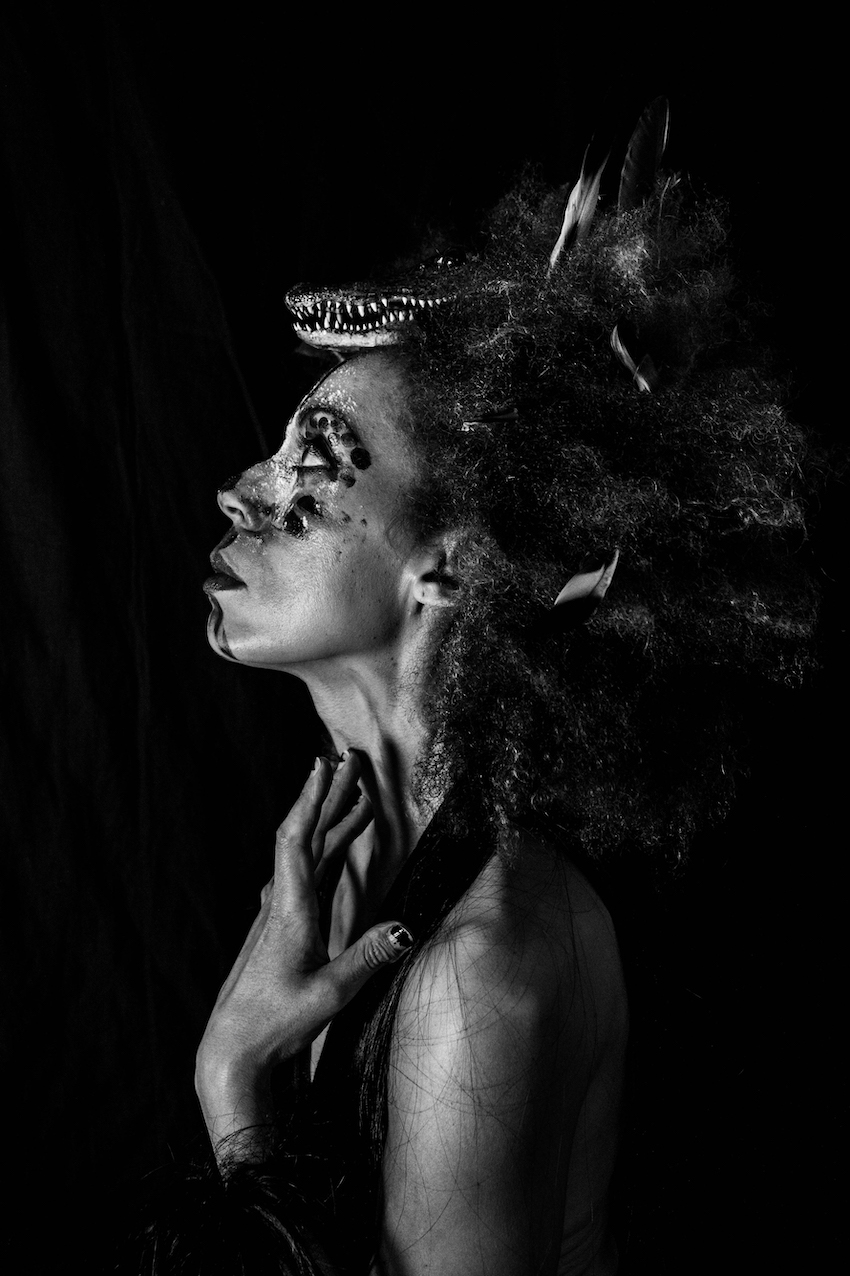 What do you like about Berlin?
The fact that it's so cosmopolitan.

What are your greatest inspirations?
In these last few years, Alan Watts has been a great inspiration. Filmmakers like Ruben Ostlund, choreographers like Damien Jalet, artists like Miranda July, opened new windows inside my head. Dostoevski, Ingmar Bergman, Terry Gilliam, Robert Lepage… They are so numerous, they shift and move in waves. I love the way Rosa Barba mixes sculpture, installation, and film to create her own language. I collaborated with Plastique Fantastique recently, who create large inflatable structures . Their work is truly inspiring, poetic, and touching.
What are you currently working on and what are your plans for the future?
I just created a one-to-one performance exploring intimacy, sensual unscripted journeys, through sound and skin. A duet for four hands and two headphones. Thomas Klein (Kreidler/ Sølyst) invited me to premiere the show outdoor in Dusseldorf last September. It can be presented in galleries, and unusual spaces. I am excited to bring it to Berlin. Thomas also invited me to be part of Week Sound Diary – limited edition (7 days, 7 artists, 7 tracks, available on audio tape only) released October 2022.
I am currently working on my second solo album. It has been delayed by my various collaborations, but I believe things happen when the time is right. People can check my cover of Christine (Siouxsie & the Banschees) on Bandcamp (see above) and my debut solo album on all the usual platform.
I am writing this from Lake Balaton, Hungary where I am having my first holiday in about five years, visiting an old friend. It's important to rest, relax, recharge, be shamelessly lazy, be good to yourself. We are NOT here to produce, consume and die, I try and remind myself as often as possible.