Astrid & Alexander – Interview
Astrid & Alexander – a mad and cinematic labour-of-love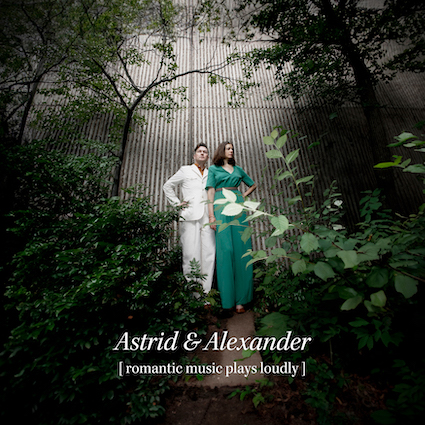 Every here and then you find one of these artistic outfits that once in your life make you wonder how you ever lived without them. Astrid & Alexander, the duo of singer Astrid Rostaing and multi instrumentalist and pop at large connoisseur Alexander Mayor, is exactly such  a little pop jewel.
Their debut lp "[ romantic music plays loudly ]" (what a genius title, right?) is inspired, let me quote the duo, "by the unintended poetry that intrudes when watching subtitled films, captures the album's themes of misunderstandings, overinterpretations and contrasts. Love, affection, disappointment, the whole sturm und drang we bring to each other. And of course, there's much more besides – from cowboy bossanova somehow relocated to the King's Road, to orchestral yearning underneath an L.A. billboard." 
The supporting players on the LP include Mike Monaghan (drums) bringing all manner of Disney percussion to the party, Harry Deacon (bass) and the inestimable Garo Nahoulahkian in the mixer's chair. 
And now listen to the two talking and play their music out loud and clear and dance to it at home and with friends. 
Looking at the charming photos of you two there are many things that pop up in my mind, the last would be "businessman" – but your debut single was exactly entitled like that: "I am a businessman". Can you roll out the idea behind this?
Astrid: I believe Alex's beautiful idea was mainly to embody a character who is most probably the furthest from his own persona. The thrilling incarnation of an opponent, which I adhere to…
Alex: Absolutely. I had noticed a few years ago that business people had become this tiresomely unavoidable new sub-set of the celebrity world. Their extremely dull opinions and insights – hey Ayn Rand! – had become something we all have to hear about the whole time. And this line popped into my head "I am a businessman (please don't take my life)" and with it the idea of a wealthy type held-up by a gang of thieves, at someone's expensive LA mansion. So it's kind of a crime story, occasioned by that-awful-man-who-ran-America. I do like a cinematic proposition when writing…
You work from London (Alex) and Berlin/Paris (Astrid). What does this mean for your working process?
Astrid: It is astonishing and somehow frightening to acknowledge that this configuration was feasible to record an album! Alex made it possible through his sublime generosity and flexibility.
Alex: Ha! Well, it sort of feels like any album project is always a mad labour-of-love undertaking at this point. Logistics and rationality be damned! That being said, the whole thing began, as many of the best things do, as a pub conversation. Astrid, if I remember rightly, you said you'd love to sing more often. Which I interpreted as a 'let's make an album of songs'. We would kick ideas back and forth about subjects a little and then bring in our pals Mike Monaghan (drums and percussion, also in Berlin) and Harry Deacon (bass, Oxford) to add some zing to what we'd put together.
And do you feel the three cities bring in different influences on your music?
Astrid As far as I'm concerned: revealing and accepting the French accent that I tried to hide during my Parisian years.. Being inspired by Berlin's melancholia that demands vibrant dancing and lightness of tone 🙂
Alex: Danceable melancholia is a good call! London feels like a concentrated madness since Brexit, a little outpost of globalist dancefloor-ready plotters and dreamers. Astrid has such a beautiful voice, precise yet unplaceable, a little French, some cut glass British notes, something of Berlin too. I was really writing for what I knew she could articulate and project: thoughtfulness, sadness and grace. My favourite song on the album is Astrid's 'Non-retour' – to these ears an angular French poem about love's seeming impossibility. Maybe we should do the next one all in French?
I like that you define your pop music mission as "brighten up". How easy / how difficult is this as a path these days?
Astrid: Oh it is more than necessary these days.. As an aim it is pretty much unreachable so why not give it a try, as a quest.
Alex: So necessary. Pop music moves our hearts and minds, perhaps because it's so brief and cartoon-like. Just a few minutes to make your point, create some emotion and leave. I've sung in a male voice choir for years and you really gain a love for how harmony works wonders – maybe we're always trying to make the melancholy a little uplifting somehow?
Do you see other artists out there you would call sisters and brothers in arms in regards to similar approaches?
Astrid: A few names I would say, Sibéri, Diane Canoby, Jo Wedin, Jaune Jaune, Stéphane Milochevitch, Julien Ribot…
Alex: Anyone who leans into the mad, paradoxical and literate possibilities of disposable pop art is a good egg in my book. The album's title is deliberately cinematic, a reference to the way subtitles often reveal more than was intended. So maybe there's a bit more vintage celluloid running through the album, than nods to current pop.
What's up next for you guys? Concerts? New studio works?
Astrid: We have pretty much been an album project to this point but I can announce we shall appear at a concert in April in Paris, our debut no less… We're also working on some more music, some of the ones-that-got-away from the initial album sessions, so definitely more to come next year!
Alex: I always thought that, beyond the tunes themselves, pop music was about who you got to meet, where you got to go. So let's see where next year takes us…
You can find out more about the duo on Instagram and Bandcamp.