Danielle de Picciotto & Friends in Conversation
Barbara Morgenstern: "Goose bumps are always great"
I think I saw Barbara Morgenstern on stage for the first time around 2000 in the Berlin club Maria am Ostbahnhof. I do not know with whom I went and I cannot remember anything about the evening except that I was very impressed by her performance and music. She seemed very fragile and innocent on stage and yet her music was astonishingly confident and singular; her vocals contained pop elements but were simultaneously experimental. She mixed classic harmonies with electronic sounds and sang in German. I liked that. Although I did not meet her until much later, I continued following her career and listening to her music. I appreciated the fact that it was not classifiable and that her lyrics had depth, they were not only about entertaining. She seemed like a beautiful lonely star in the music worlds sky that courageously managed to be heard.
Surprisingly, we only got to know each other many years later through Gudrun Gut. During the collaboration for Monika Enterprise in 2016 and the subsequent tours, she then continued to inspire me in our conversations and with her professional work attitude. Barbara pairs depth with grace and combines social commitment with serious self-realization. An artist who playfully juggles contrasts in all her projects, be it musical or communal. It's always a bliss to work with her, and her compositional talent manages to turn that exhilaration into musical goose bumps, like with the song "Grow" on Monika Werkstatt.
Her new album "Innocence And Devastation" is about "continuing in spite of it all", "not so sure exactly how", "the desire for a peace of mind even if it seems ever more impossible for us", "to finally turn the wrong into right again". I agree in that we have to continue being defiant.
I am also very happy to be able to introduce Barbara here in my small interview series. Most of you probably know her already anyway, but for the few who have not yet discovered Barbara Morgenstern: Its about time!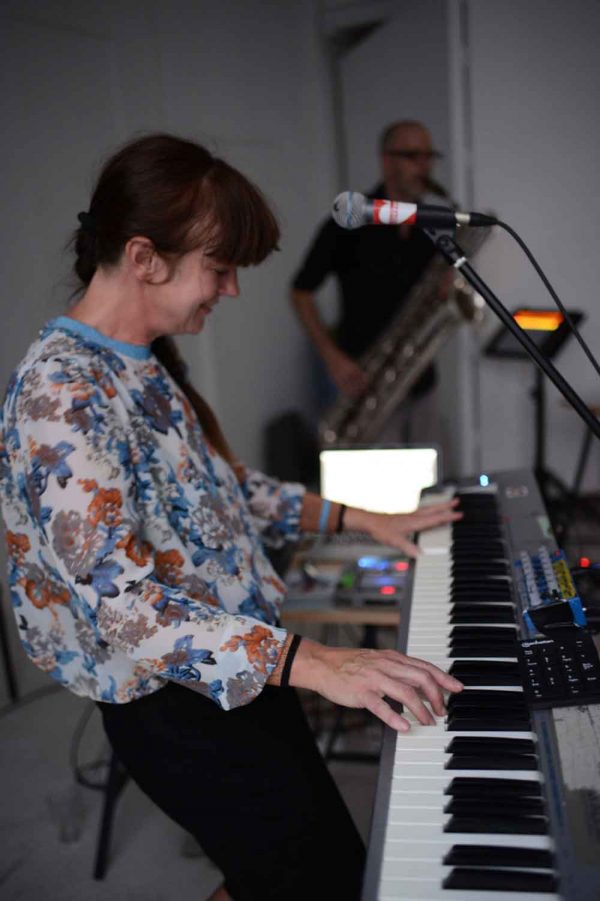 Danielle de Picciotto: What is it you look for in the music that you compose?
Barbara Morgenstern: Emotion. My main incentive is to make my music trigger something in the listener that he or she can connect to. Goose bumps are always great. In addition, immediacy and interaction are important for me, the feeling of flow that comes from composing, playing with others or performing with an audience.
Barbara, how important is language for you? Do you prefer singing in German or English?
I made an excursion into English on my second last album, but went back to German afterwards. Language is very important to me, I work a lot with meanings between the lines, ambiguity, puns and phrases, which is really only possible to do in your native tongue. However, it is more fun to sing in English because ornamental pop phrasing is more common. Because of this aspect I wrote the lyrics of my album"Sweet Silence" in English.
How do you think electronic music has developed?
It has become increasingly differentiated. Publications by Lucrecia Dalt, Robert Lippok, Sonae and Mimicof for instance are so sophisticated and composed in their sound aesthetics and sound imagination that it always impresses and excites me. The noises become virtuoso music and completely new soundscapes emerge.
"Unschuld und Verwüstung" is released on Staatsakt, besides having a new label you also have a new booker.  Is it also a new beginning for you in musical terms?
Yes + No.
YES: The album is more orchestral, a little less electronic and more acoustic. I play a lot of piano and the Berlin saxophonist and film composer Christian Biegai has recorded the baritone saxophone arrangement (we will also be touring together). This is a new direction, but not a really new beginning. It is a expansion from my last album "Doppelstern" (following my duet with Hauschka and Jascazek).
NO: I am going back to my roots harmoniously, compositionally and lyrically.
What are you listening to right now?
– Tirzah "Devotion" (I'm addicted!)
– Dirty Projectors "Lamp Lit Rose"
– Dean Blunt "The Narcicisst II"
– David Byrne "American Utopia" (best concert of recent times!)
– Anna Meredith "Varmints"
– Johann Sebastian Bach "Inventionen und Klaviersonaten"
You also lead the choir in the Berlin "Haus der Kulturen der Welt", how important are collaborations for you?
Absolutely decisive as an everlasting fresh source of inspiration and musical challenges. To be able to experience music differently, to step out of old patterns. For example, composing for others is a very separate way of working , I think more in sweeps and dynamics, a choir can sing diverse lines, develop a new dynamic, which I find exciting.
Barbara, what are your plans for the future?
An instrumental record with Christian Biegai with a joint Ableton Loop orchestra. Composing for a new Rimini Protokoll theater production in the Frankfurt Bockenheimer Depot / Premiere April 2019. As many concerts as possible. And as always: choir – choir – choir.
"Unschuld und Verwüstung" by Barbara Morgenstern is released on Staatsakt.