Danielle De Picciotto & Friends in Conversation w/ Diáne Zillmer
Diáne Zillmer: "In old age you notice how little you actually know"

I met Diáne Zillmer at a music festival in Berlin a couple of years ago. She was accompanied by Daniel Miller and Gareth Jones, both of them music legends. We sat at the table of a full ferry that took us from the festival to the mainland. Diane was silent in the confusion and noise, watching the crowd heave and roar. My niece, who has just moved to Berlin, said something interesting the other day: "Everyone here only talks about themselves". That's true and Diane is an exception. She had no ambition to speak loudly about her acheivements. On the contrary, her intense eyes and silence seemed to drown out all of the background noise.
Diane is a photographer. She mainly works on portraits, because she is interested in people, unusual characters and their ups and downs. So much so that besides photography she studied pedagogy and in 2019 founded the "miller zillmer cultural foundation" together with Daniel Miller. In it, they promote projects that are sustainable, create education and generate added value for the general public. Diane radiates a fascinating mixture of intense creativity and social awareness and I am very happy to be able to speak to her about her work and the foundation here today.

Danielle de Picciotto: Could you briefly tell me about your personal career? On the one hand you are a successful photographer, on the other hand you have always been very interested in social projects.

Diáne Zillmer: Art and theater played an important role in my life ever since I was a child. Back then as an escape from reality, today as an expression. The pedagogy and social projects came later on. I grew up in East Germany. An authoritarian school and education system prevailed there. I found my balance in literature and theater. For many, art and culture were the niches, despite all political censorship, which were an escape from everyday life. At the same time, I questioned so-called "social norms" from very early on and tried to understand our social background. After the German reunification I moved to Hamburg very quickly as a young woman. My dream of becoming an actress was not possible because of financial reasons so I ended up in law. The western world seemed even more abstract to me than East Germany. It was more by chance that I ended up in pedagogy. I took part in a training course that worked with young people in pre-trial detention. I accompanied them for over a year and the experience touched me deeply. The stories, the faces … That's when I started picking up the camera. I did not separate these worlds in the years to come. The work with children and adolescents and my camera always seeemed to belong together. Then I went abroad for a few years, commisssions started happening, I opened a gallery and at the same time coordinated social projects. Somehow I've always tried to reconcile both areas. They are dependent on each other. My main interest are people and their backgrounds.
How did it come about that you and your partner Daniel Miller founded the Miller-Zillmer Foundation?
Daniel and I come from the auditory and visual world. We had not only spoken about joint projects but also often about what would happen to our equipment in the future; films, photos, synthesizers, cameras … It turned out that we were not the only ones within our circle of friends with this question. At the time, I was working on my master's thesis on the necessity of audio and visual education in the digital age. We live in turbulent times, socially and politically. This idea was probably the cornerstone of the foundation. Our network is broad and international. We wanted to do our part in making a positive change in society.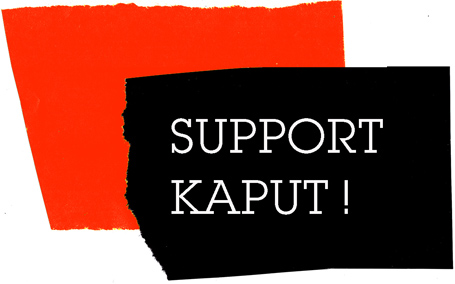 What is the goal of the foundation? What are you hoping to to achieve? According to what standards do you choose the artists?
The aim of the foundation is to convey audio and visual art internationally in the form of educational projects and to build up an accessible archive with contemporary instruments. To dissolve the elitist attitude in art and to enable access especially for those who are not in the so-called middle of society. With the construction of the archive we would like to give future generations access to contemporary and especially analog instruments. Momentarily technology is changing incredibly fast. Instruments are being replaced constantly. With our work, we address everyone who deals with current social needs in an interdisciplinary manner, questions that concern socially critical audio / visual issues and allow a greater range. I think our current projects reflect this path very well.
Do the different artists meet in Berlin or London or are the encounters more virtual?
After our founding, the pandemic broke out just a few months later. We were forced to find new ways of working together from the very beginning. Some of these were based exclusively on a digital level. It was a challenge but also an opportunity. The artists live in Italy, Great Britain, Brazil, Canada, India, Romania, to name just a few. The digital / virtual encounters cannot replace a live one, but it allows work across national borders.
Managing a foundation definitely means a lot of commitment, is there also time for your own art? Or have the different areas become one?
Art work is always a personal view of the world, an expression that probably flows into all areas that one deals with. The foundation's work takes up a lot of space and, of course, my own projects have taken a back seat for the time being. Everything needs it's own time. As long as you know why you're doing something and put your heart into it, everything is fine.
How do you experience the situation of musicians / artists during the pandemic? Do you think artists are receiving enough support during this time?
This is a difficult time for everyone without exception. However, how the art and culture industry were dealt with is a sad sign of our times. Established artists have a chance of receiving government support, but how can they go on without a perspective? How do musicians survive if they cannot go on stage and earn their living? Not to mention the not (yet) established artists, who received neither money nor a stage. To answer your question, no. But I am hopeing for a socially critical look from art world concerning the grievances of that period of time.
A lot of work against discrimination has been initiated in recent years. Age discrimination seems to be the only one that is very little spoken about. Age limits are often mentioned in advertisements. What's your opinion about this?
As Oskar Wilde said: the tragedy of old age is not that you are old, but that you are young. Age takes place inside the head. In old age you notice how little you actually know, the more knowledge you acquire. The knowledge of what you have, in the best case, can be used with calm serenity. Young people have the responsibility of combining their wealth of ideas with the wisdom of an "old" person and bringing them into the fast-moving business world. I suspect that there is a lot of pressure in that which can destroy creativity. We still live the norms of an industrial and production-oriented society, although these have already been dissolved in many of their facets. Society is so much more diverse today. If we are unable to resolve old fashioned norms, we cannot learn from each other. It doesn't work. There are no age limits for the foundation, neither in personal terms nor in the applications. Cross-generational work has great potential.
What are you working on right now?
On silence. A Book, photography and writing. After that … to resume projects that have been left idle for a long time due to the pandemic.
What are your plans for the future?
Who can make plans in these turbulent times? Long-term planning doesn't seem realistic at the moment. My dream is that our foundation will continue to grow in the coming years with its projects and network and that I will be able to continue my creative work.