Danielle de Picciotto & Friends in Conversation – Victoria Keddie
Victoria Keddie: "My work explores the cacophony of media ecologies that we operate within, both as an intimate and planetary exchange"

The NY sound artist Lary 7 introduced me to Victoria Keddie in 2014 after mentioning her many times. When I met Victoria I understood why he spoke so highly of her. She is a wonderful mixture of intellectual and experimental curiosity. At the time she organized an event in NYC for which I performed. Victoria presented some of her work there as well and it has interested me ever since. Artists that create their own universe have always fascinated me and Victoria's is spectacular. She is an artist working in varying media and broadcast transmission.

Victoria Keddie is known for co-directing E.S.P. TV, a nomadic TV studio, and episodic cable access serial, which hybridizes technologies to realize synthetic environments and deconstruct the televisual for live performance.  This project in itself is fascinating but only one realm of Victoria's multi faceted output. Personally I love her interactive video and sound work. Besides being an artist Victoria also teaches Advanced Televisual Broadcast, has written on pioneering/contemporary artists using televisual language within their work, and has lectured extensively as a guest artist, exploring topics of polymedia, identifying broadcast as a medium, and in exploring the body in tandem with tools of broadcast and transmission. The list goes on and on.. Victoria's art is always highly contemporary and inspiring and I am delighted to present her here today.

Danielle de Picciotto: Could you describe your work please – would the description interdisciplinary digital artist be precise?
Victoria Keddie: My focus is to expose the particular gestures of the body in tandem with tools of broadcast and transmission and to decipher the patterns that have become an operative language with the machines I work with. I would consider myself interdisciplinary, but not a digital artist. The media /materials I work with span both analogue and digital platforms. My work explores the cacophony of media ecologies that we operate within, both as an intimate and planetary exchange. The technologies built for transmission come from universal principles of electromagnetic energies. In our history, these tools for transmission have altered our ways of seeing, being, and communicating in the world. The overwhelming level of radiation and energy reaching to, and passing through our bodies place us in a new phase in the Anthropocene. No longer are we participating at will, rather, we are engrossed in a system that merges the animate with the inanimate in a congealed machinic exchange between the signal and the receiver.
How did you start out? Did you study art or are you self-taught?
I began what would be the start of my professional artistic practice at an art school as a painting major. I was indeed painting at the time, over large projection surfaces and on film, but the real purpose of my declared major was for the available studio space offered only to painting majors. As far as studios went, they were the best and largest spaces to physically maneuver within. I started on the east coast but then was awarded a mobility fellowship to a school in San Francisco in 1999 that influenced my work immeasurably and completely altered my sense of color. That was a good move.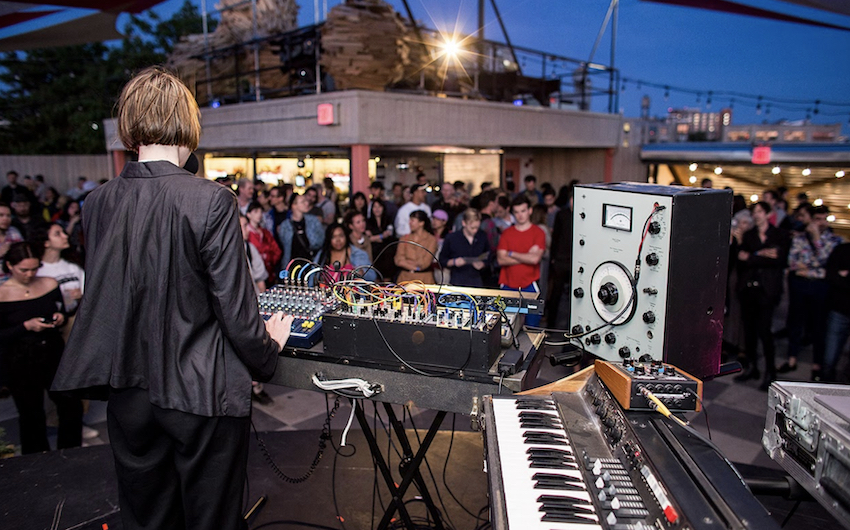 How do you survive in NYC being an artist? Are there many grants for your line of work? Is there any support or is it more of a lonely battle?
I suppose I survive in NYC as I've become acclimated to living here for nearly 20 years. Like any place we live, it becomes a bubble. Within this bubble, the collective anxiety associated with rent, income, and associative outlets are embedded within the power grid. It does feel lonely I suppose, as to struggle is indeed a lonely sensation. I think for me the aspect of travel is significant for maintaining my stay in this city. For me to exist here, I need to leave, and often. I take my leave in a rural part of New England, where I have a large barn studio, and can spend much time recording, listening, and watching (the night sky in particular). I have land out in the desert north of Joshua Tree, CA that I hope to get back out to once travel restrictions ease to realize the blueprint for a satellite studio.
Regarding systems of support, I can say that there are systems and avenues in place, but not nearly enough for artists looking to push their work and research into emerging fields, expansive media, and for those that reside between category, and outside of a collector controlled market. As such, these economic limitations can be stifling.
Danielle: Do you feel that the pandemic has changed the art world? Does it influence your work thematically or have you been able to continue exactly as before?
It's changed the art world for artists. Perhaps, one could argue, more so for performing artists. The framework in place that enabled a physical live experience has been dismantled. New platforms (mostly built for corporate interfacing) have become our outlets and our vehicles to connect. I'm still wondering why creative programmers have not yet really tackled the incessant need to bypass current interface software to build something better suited for performance.
The pandemic has influenced my work, yes. A recent project performed in September 2020 details maybe my most direct reflection on the pandemic and our changed collective ways of being. "Unidentified Persons Object" was a commissioned live-broadcast video-performance featuring movement by Mariangela Lopez. In relation to new adjustments to remote interactions with one another, I posited a set of gestures as an alternative to the five senses. Taste, sight, smell, hearing, and touch became touch, signify, suffer, play, and prepare through performed interactions with a set of associated objects. In this case, a pen stands in for a past sense of touch, activated through memory and recollection. The now-commonplace medical mask is a surrogate for signify, allowing for a renewed engagement with surrounding environments. The exercise mat becomes suffering, picking up on the superficiality of mindfulness and self-care practices in the face of a public health emergency, and the inability of these practices to truly make up for a lack of intimacy. A stone embodies a timeless symbol of play. Coin currency–a physical form of capitalist exchange—enacts prepare through its fraught potential for action and mobility. The performer, Mariangela Lopez, stands in as the living body to activate each of the sense-objects. She performs remotely, unearthing each gestural object and moving in relation to her own, mirrored image that is reflected back to her through live-mixed transmissions. "Unidentified Persons Object" presents no new object forms but accounts for the semiotic attachments that the objects already carry. The performance/video underscores the temporal relationships that are increasingly prevalent in live, remote interactions, consciously re-mixing associations between intuitive senses, meaning, and movement.
It's interesting to see institutions and organizations push to keep going and to keep supporting performance.  One big example this year for me was with the Performa Telethon held this past November. Traditionally a gala event, the organization had to think differently about how to reach out to audiences during COVID. I was enlisted to create the multi-stage set environment and directed the durational live broadcast as a kind of meta-cast. Also included was a terrific list of performing artists and commissioned works. It was an explosive idea that embodied an energy that we all miss right now.
Do the themes environmentalism, climate change or sustainability influence your work?
In short, yes. The topics concern and involve the media ecologies we operate within. The shifts in a planetary balance and our relationship to the planet and outer planetary systems are the essential part of my research and practice. The changes present within our current Anthropocene are intrinsically tied to every level and action in our existence.  I work with a particular focus on technological obsolescence and tech-trash. One recent project was building customized software to both visually map and sound space junk in real-time over host coordinates. I became obsessed with the 20,000 + identifiable objects in Lower Earth Orbit (LEO).  Much of the debris comes from rocket stages, defunct satellites, and past object-to-object collisions. In orbit, we can find everything from solar panels, a lost bag of tools, to a sea of microscopic flakes of paint. I wanted to imagine an environment where the language where the objects' voice mirrors its circumstance, moving as a disenchanted body through obstruction, then gone again into quiet entropic submission. The software became an active instrument in a recently released album, "Apsides" out with Chaiken Records.
What are you working on momentarily?
Currently, I'm working on a new album focusing on the identifying principles of particular transition metals found within the technology that I work with. I am also mapping out a performative tele- installation, incorporating live broadcast events within a customized studio set environ.