Danielle De Picciotto & Friends in conversation: Laetitia Cecile aka Sakina
Sakina: "Music is not just a way to celebrate, connect or travel; it's also an act of liberty, a step to freedom"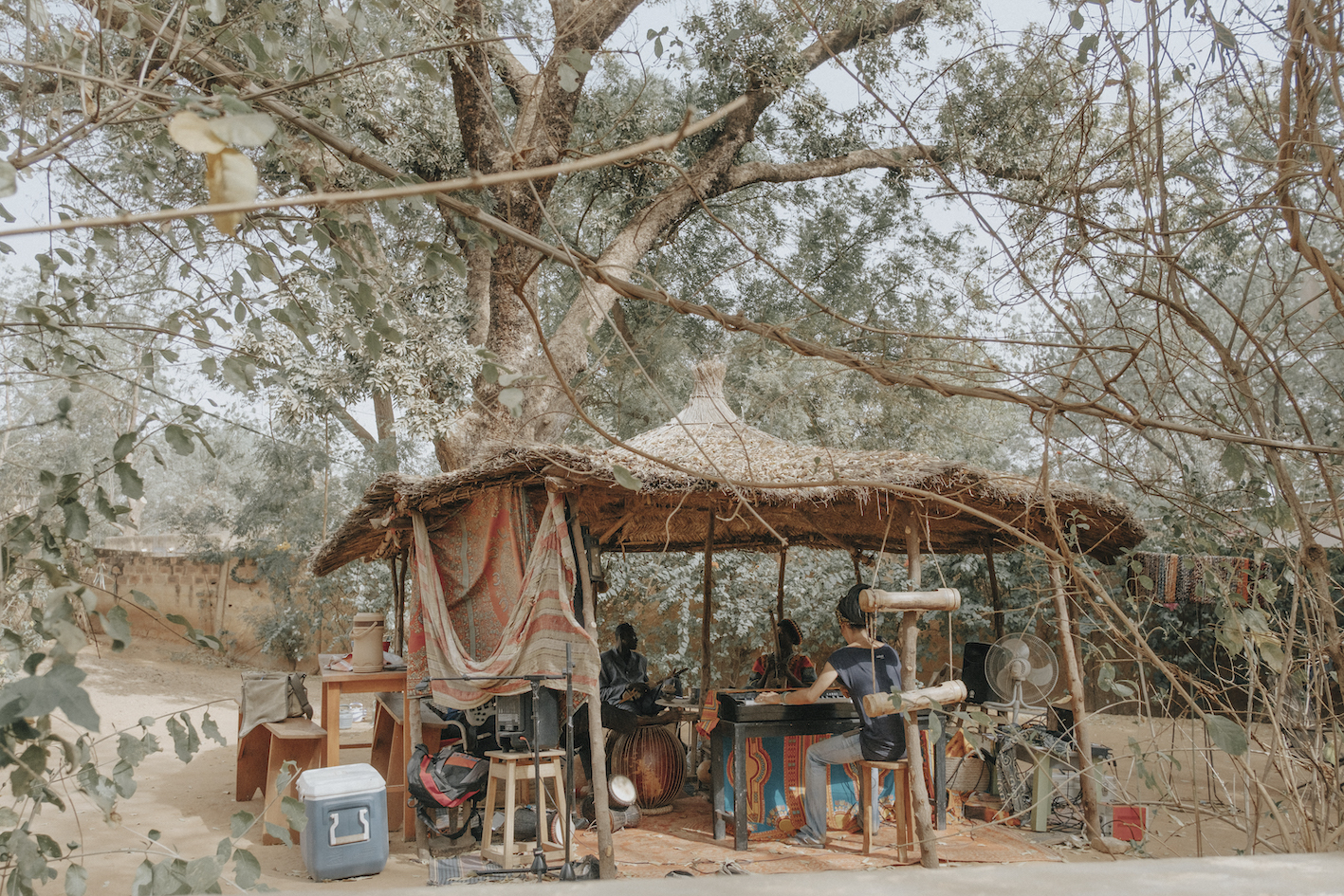 Laetitia Cecile aka Sakina is originally from the Island La Réunion but has been living in Niger for twelve years. She is part of the internationally known band "Studio Shap Shap" which mixes traditional instruments and rhythms with her electronics and field recordings.
Arndt Peltner a German journalist stationed in Oakland, USA, who has done quite a few radio documentaries in Africa, introduced me to Sakina. I spoke to her at the beginning of the pandemic on the phone, which was quite surreal because I was stuck in a dark, underground studio in rainy Berlin whilst Sakina told me about the colorful birds, flowers and nature she was surrounded by in Niamey, Niger's capitol.
She sent me pictures of the band playing outside in airy huts with plenty of sun and fresh air . It was fascinating to hear about their recording methods and to get an idea how life is in Niger. We contemplated collaborating but the pandemic has stopped international projects for the time being – so to find out more about Sakina and her life as a musician in Niamey I asked her for an interview. It has been a wonderful experience and I hope that someday we will be able to meet in person.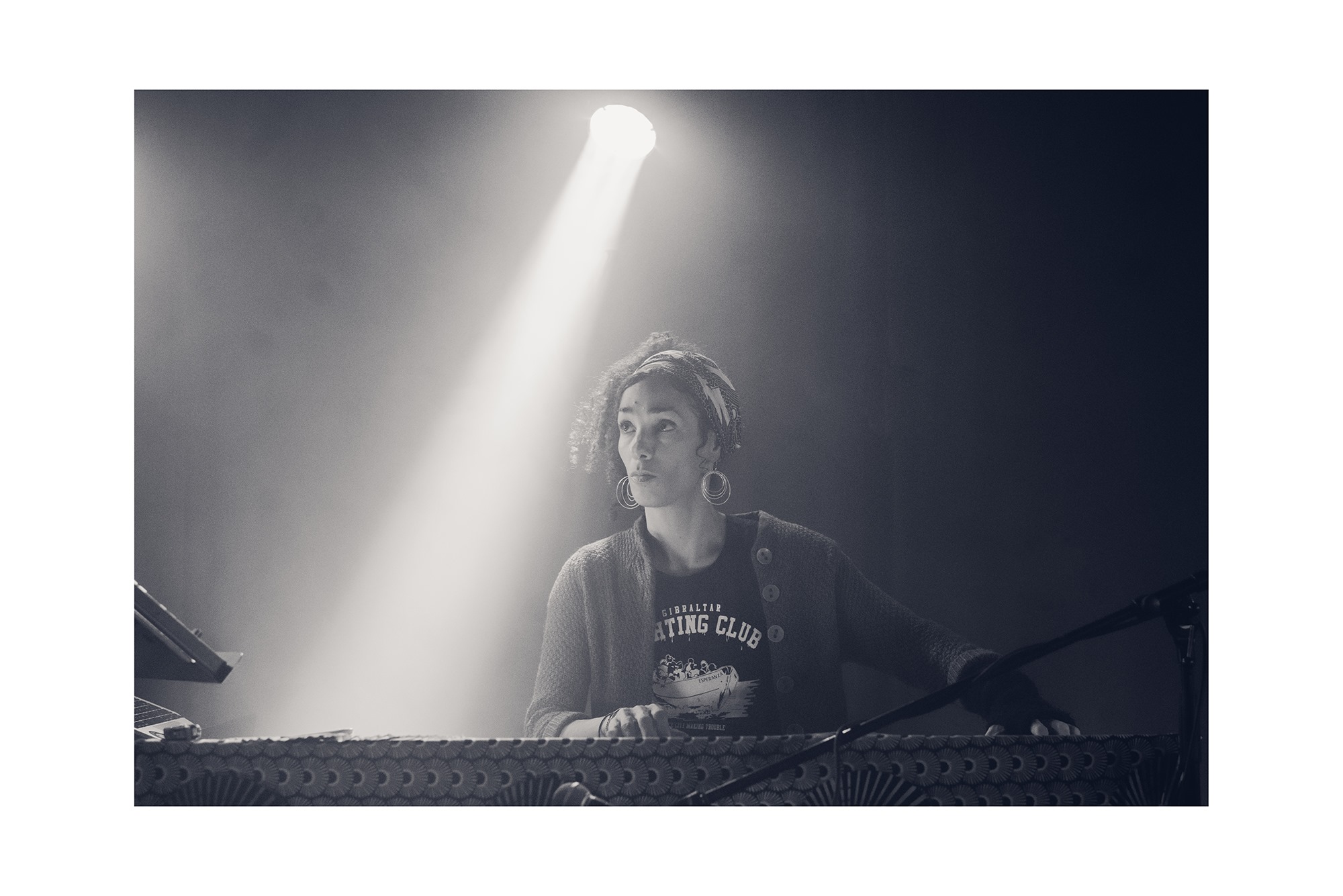 Danielle de Picciotto: Dear Sakina, how is the pandemic influencing your country, city and life?
Sakina: Niger has not been as touched by the pandemic as Europe. The country was one of the first on the continent to react and take all the measures that were possible. Borders were closed quickly and schools, mosques, cultural centers, restaurants, bars, clubs, all kinds of meetings or familial ceremonies were forbidden for as long as possible.  However, it's not possible to stop daily life in this economy as everyone's life depends on it, day after day. People here must be able to get out on a daily basis to provide for their families, the majority of the population does not have enough income to stock food and stay confined. So curfews were installed for a couple of months but total confinement was not possible, except for those who had been traveling when they arrived back in the country.
Our economy has been hard hit by the pandemic. Artists have suffered and are still suffering from the pandemic because their source of income does not stem from music sold online but mainly from the concerts or ceremonies they perform in everyday life.
Right before the pandemic, we were working outside of the capital, in a refugee center, doing music sessions with people stationed there, some of them being musicians, some not. But as soon as the government decided to close Niamey for sanitary reasons, we couldn't go to the refugee site anymore and had to stop this project. We also had a successive cancellation of tours in Europe and Africa. These tours are our main source of income. As in many countries, there is no social safety net for artists here.
After three months, locked up in the same city, without seeing each other, with no income and no support for artists we decided to start rehearsing again. We work outside, in a wide-open space under a hut. We prepared a series of tiny concerts, for 10 people at a time, around the hut. Respecting the curfew, the social distancing, and the numbers, we have been able to perform 15 concerts. Last February, houses of culture and clubs in some neighborhoods were reopened and we gave a few concerts in those places.
I hope this pandemic will end soon. This situation is difficult for musicians in Niger but we stick together, help each other and continue to work.
Did the pandemic influence your artistic output? Do you have different themes because of it?
In Niger and all over the African continent, artists wrote songs to inform the population about the pandemic, songs to help teach the pandemic barrier gestures. So a lot of artists played a very important role in helping to solve the pandemic situation in Niger. But the pandemic did not influence the themes of my bands songs; we did not change our topics when the pandemic started.
You are part of the band Studio Shap Shap with traditional instruments and electronic sounds. How would you describe the music?
Our music is a mix of Sahelian traditional instruments, the Douma the Komsa the Kindé and samples of field recordings of daily life in Niger, some electronic beats, a bass and a piano.
Do you also do solo music? What interests you in electronic music? What programs do you use?
I don't do solo music.  But I like to be alone at some stage of the creation, especially for the electronic part, and I play and practice my instrument alone. Music is a language, an expression, for me it's all about the dialogue, a way of melting, listening to one another, completing each other, being together.
My interest in electronic music started with the possibility of playing recorded sounds, words, and noises, playing with them and sharing them.  Electronic technics allow me to use field recordings and reveal their musical side. Same goes for the use of electronic beats. I use them to sublimate the traditional percussion. What I find interesting in electronic music is how it can highlight traditional instruments, and the skills of their masters.
I work with Ableton Live.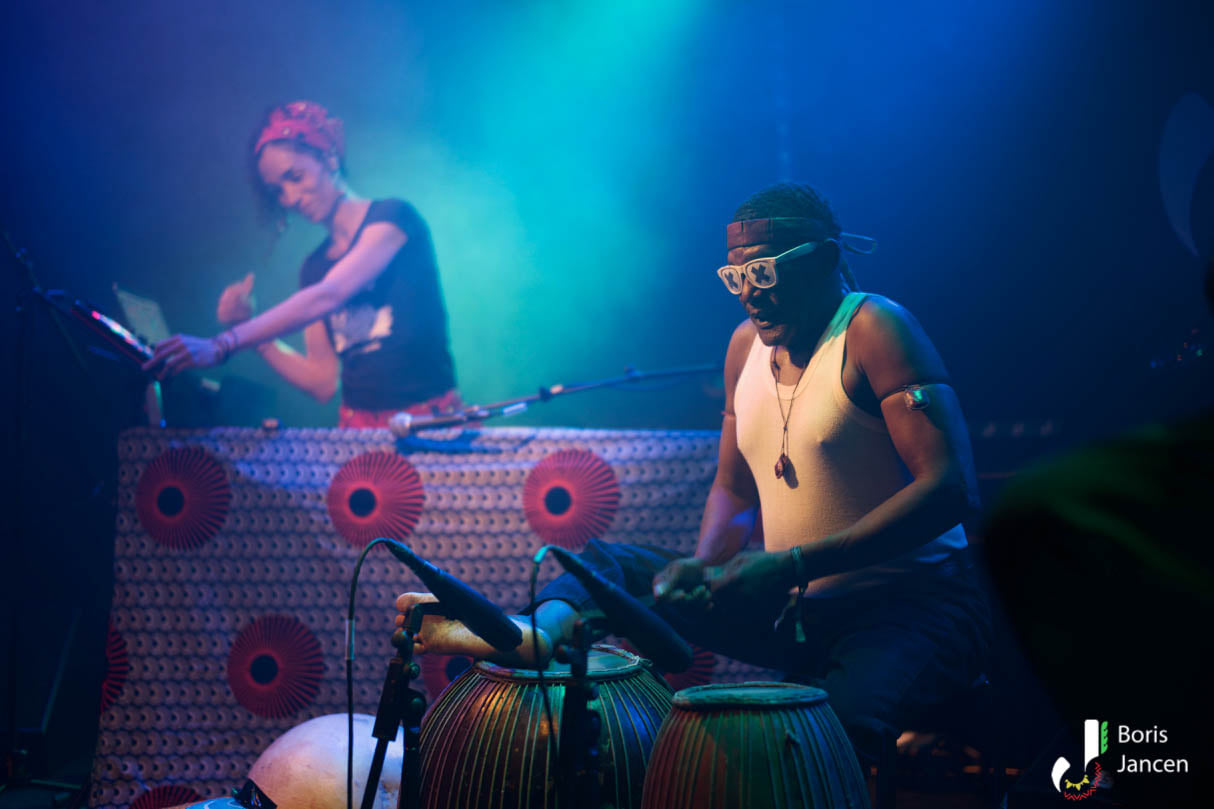 What inspires you?  How old are you? Does you age influences your art?
My main inspiration is my surrounding: Niger, Niamey, its people, streets, nature, river, markets… I hear music in everything, everywhere. Inspiration comes from a sentence, from a child laughing, from birds, from the siren of a car, from a podcast on the radio etc.  It's essential for me to play these recordings in my music. I want to share them. To do so, I always carry "ma crachouillette", I named my dictaphone that way. I record a lot, I call it: "crachouillé ". I've been recording things, animals, and people since I was a kid. I have always been amazed, by the sound and the music, in the world. I'm 40 years old, I am still contemplating the little things I hear every day. To answer your question, I would say:  My age does not really influence my art. To me, music is not about age. I love music from different genres, different centuries, and different countries. Growing up in the 80s, 90s till now gave me the chance to listen to a lot of different genres of music. Music has power over the age.  It doesn't matter how old we are, when it comes to music.
In Studio Shap Shap, we're all from different generations. Through music we join as one. In August 2019, we lost the eldest member of the band, Boubé Diallo. After every concert people amazed by his energy would ask me "How old is that man? " and I would always  answer:  20 years old, he is our youngest." That was true, he was. Music gives you wings to defy time.
Your question about age makes me want to share this cultural point of view: On the African continent age does count for something. In Niger like in most countries in Africa, there is "the right of the eldest", meaning that anyone older than you has power over you. If you are "plus petit" (younger) you do as the eldest says. When I created the band, I was 34 years old, becoming leader of a band where everyone was over 45, 50 or 65.  I'm deeply impressed by these men that I work with, in this society, on this continent, who have accepted me and respect my choices.

What is the political situation in your country? Concerning music? Do you think music should be political?
Niger is a country that is not always well understood from the outside. The country faces very complex security situations on its borders, whether with Mali, Nigeria or Libya.  In spite of all these challenges, Niger is holding on, and the thing that makes this country strong is its people. Niger has just elected their new President. The authorities have now put Cultural affairs in their program. There's a lot to do.  As mentioned before a lot of musicians here have a role in society, and are helping the population or one another.
Should music be political? It's not that simple… If it is about performing for a political party or showing your political support, I'd say music shouldn't do that.
In Reunion Island (where I come from), during the slavery time, it was forbidden for the slaves to do music. And they would hide to play and sing "Maloya" together no matter the cost. Music is not just a way to celebrate, connect or travel; it's also an act of liberty, a step to freedom. In those situations, music is being political and I think that is good. People write songs and sing to resist.  Standing up to tyranny with music.
On our new album we have 2 tracks about migration, refugees and borders questions.
On the 1st track: "45°degrés" we have recordings of migrants departing from Agadez to the desert with samples of this terrible journey.
On the last track "The Otherside" I sing " Welcome to the other side and well, come to the other side, see, there's some place you have to hide with papers, there's some place you have to keep faith and take the path /there's some place you have to show your face and get to pass, that' s for the other side. …." This human problem is political, but I didn't choose this subject to be political. Music is also a voice for those who can't be heard. Your question is not an easy one, but a very interesting one.
What are you working on momentarily?
Currently I'm working on a new musical piece, inspired by a new sound recorded in the streets of Niamey, a traditional song that children sing at night during Ramadan, playing with plastic bottles with pebbles inside and using them as shakers and hitting them with flip flops.  I'm very excited about this composition.  Additionally, we will release a new single and a new clip soon, it's called: "Merci". We are also shooting a new video clip, for a track of our new album.
Stuck here in the pandemic, we have decided to take this as a chance to share more of our music in Niger. We are starting a series of concerts in popular neighborhoods of Niamey where people don't have access to live music.
Besides that I am also currently looking for a visual artist, who could help create visuals for a story I wrote for our new album.
Have you ever been discriminated as a female musician? Do you work more with women or men?
I have never been discriminated as a female musician. I was raised in a music and dance school in France from 6 to 18 years of age.  So as a child, I was amongst girls and boys who were all musicians.  In Niger there are female musicians and a lot of famous singers are female.
I'm Métis but I'm not nigerienne. I now have been living in Niamey for 16 years and I've collaborated with many musicians, mostly with men.
But it's true that there are more men that are musicians. Some women stop being musicians when they get married.
A couple of years back, I played in a band that was exclusively female: "Les Cigales du Sahel". A man, Harobasse, the bass player of Studio Shap Shap, created this female orchestra.  He wanted to prove that: "Women are not only singers, they are also musicians playing instruments" – he would always say: "Women are mainly known as singers in Africa, that's a shame".
I'm the only female musician in my band and I, Laetitia Cecile, would not be Sakina, female composer & musician of Studio Shap Shap, if it wasn't for my friends: Oumarou Adamou, alias Mai douma, the master percussionist. He named me Sakina;  Haruna Abdou; Harobasse the bass player; Christian Koulnodji, aka Popo and his beautiful Kindé; Seyni Halidou, the shiny Ousseini with his Molo & Komsa.  And forever in my heart, the first musician I met here, my dear friend, may he rest in peace, Boubacar Siddo Diallo, aka Boubé Diallo.
What are your plans for the future?
My future plans are to keep playing, keep listening, keep composing, sharing our music live, releasing our new album in September. Going back on tour in 2022, in Europe and Africa. Meeting and working with other artists, collaboration with other musicians.  To keep learning, discovering and capturing sounds with my crachouillette, to create and play music with Studio Shap Shap.