Danielle De Picciotto & Friends in conversation - Jennifer Tull Westberg
Jennifer Tull Westberg: "Gemstones are magical to me – gifts from deep in the Earth"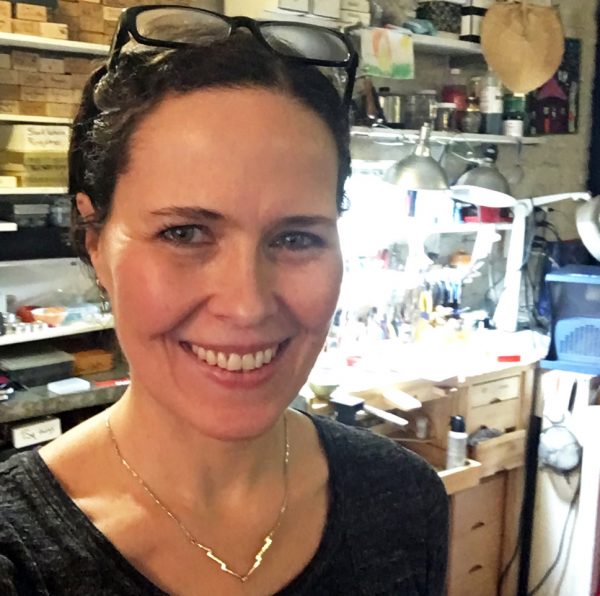 I met Jennifer Tull Westberg in the early 2000s at a New Years party in NYC. It was her first New Years party with her then boyfriend and now husband Norman Westberg–and it was also my first New Years party with my then boyfriend and now husband Alexander Hacke. This romantic coincidence brought us together in a magic way and we have kept in touch over the years, having dinners and going to many different shows together.
I have come to appreciate Jennifer Tull Westberg for many reasons and see her as an inspiration. She is one of those rare people that seem to be able to multi task in a serene, relaxed manner. I always look forwards to seeing her, speaking about similar experiences we have had or watching her cook marvelous dinners, usually with vegan self made bread, chocolate and spicy curries, shooing the curious cats away, explaining different gems she has discovered and contemplating which metals she will use for her next collection.
Jennifer has the gift of generating beauty. The fact that she is a jewelry designer seems obvious; she herself is comparable to a shining gemstone. I can easily imagine her gracefully decorating tiny silver rings with diamonds, her beautiful daughter sitting next to her in their comfy NY loft apartment, drawing pictures with the cat purring at her feet and Norman tuning his guitar. The fact that Jennifer has managed to turn her craft into a profitable business in a competitive city like NY, is not only remarkable but also in fact quite amazing because she has done it with such equanimity and style. City slickers are known to be driven and can be very pushy. But even when she was still working for a toy company to generate a steady income in the expensive city, raising their small girl, with Norman on the road touring with the Swans, trying to design her jewelry on the side, I never once experienced her anxious or oblique. This charming perseverance and thoughtfulness can be felt in her jewelry, which is fragile and resilient simultaneously. One of her rings has been with me for years and it withstands my many journeys with grace, softly radiating as only a blue sapphire ornament made by Jennifer Tull Westberg can.
Danielle De Picciotto: Jennifer, how did you start making jewelry? Are you self-taught or did you study it?
Jennifer Tull Westberg: I started making jewelry on my own in 2005. It was January and I had a bit of money that my family had given me for Christmas, so I went up to the Jewelry District in NYC, bought a very basic set up (some silver wire and sheet, a few files, a little butane torch, soldering board etc.) and a "how to" instructional textbook with lots of pictures.
The first thing I made was a ring for Norman, who was my boyfriend at the time. We married the following year and I could make our rings! Basically, I just started playing around and making things I wanted to have. At that point I was mostly making rings, but I quickly started to try new processes and techniques. I became particularly interested in cuttlefish bone casting which is an ancient casting technique in which a cuttlefish backbone is used as a mold. I find the texture on cuttlefish casts so beautiful… sometimes it looks like scales and other times like a topographical map. I got hold of a small second hand melting furnace so that I could melt/pour my own silver and gold and made quite a few cuttlefish bone cast rings, rods and shapes. I had many of these molded and cast in wax so that I could make multiple items without having to use too many cuttlefish bones. Cuttlefish are such cool creatures and I started feeling really sad about buying the bones. Although you can find cuttlefish bones washed ashore on beaches, I am pretty sure the ones I was getting were farmed commercially and it made me feel bad over time. Because of this I haven't made any original cuttlefish casts in many years.
At any rate, I started visiting the jeweler's supply stores, buying more tools and supplies pretty much every couple weeks when I'd get my paycheck. To make a living, I had been working sculpting and painting toy prototypes in midtown Manhattan. It was a quick walk up to the Jewelry District at Rockefeller Center. All the mold maker/casters, gem dealers, precious metal & tool merchants got to know me and were really nice. They all shared information and gave me lots of good advice. This is still the case. I love the people I work with in the Jewelry District. I was also very lucky to have several wonderful jeweler friends who shared their contacts and knowledge as well. I realize I approach jewelry making in a very sculptural way, and because I had been sculpting little toy prototypes (often in wax) I had a pretty easy transition to sculpting tiny wax models for jewelry. I actually have a BFA in painting, and while I was at art school I always thought about trying to take jewelry courses. It never worked out with scheduling, but it was always in my mind as something I knew I would like to explore. Better late than never!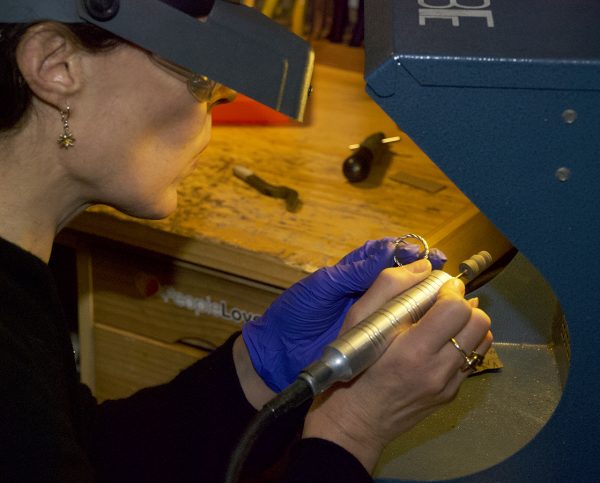 Do you have certain materials you like using?
I love working with all karats and colors of Gold. I adore the way gold looks and feels when I clean and polish it. I love its warm glow. The caster I work with has a wonderful array of different alloys and colors of gold. I also work with Silver and Platinum, but nothing beats gold for me. In general, I prefer to work with precious and semi precious gems. My favorite gemstones are diamonds. There are so many different cuts and colors of diamonds to choose from and they are so sparkly and refractive. They are also strong and not easy to break during setting. Diamonds are my favorite, but there are so many beautiful natural gemstones. I love Opal, Moonstone, Labradorite, all colors of sapphire, all colors of garnet, amethysts… too many beauties to name. I can get lost in my gem collection, just marveling at the various beautiful colors, refractive fire and luminosity. I don't mind stones with some inclusions. Not only are stones with minor inclusions more affordable, but in my opinion the inclusions give them a special identity and character and often they make for beautiful light play. Gemstones are magical to me – gifts from deep in the Earth.
Do you have certain themes for your designs? Or do you move from theme to theme from one collection to the next?
I think it's safe to say that I have themes I'll return to again and again. I dislike stagnation and boredom in my work, so I bounce around between the themes to keep my mind active and creative. I love images and symbols with meaning. I have been working a lot with Eyes and Lightning over the last several years. These are two fairly entrenched and ancient archetypal symbols, which have appeared in art and jewelry for ages, meaning different things in many different cultures. That appeals a lot to me. I know what the symbols mean to me personally, but I love that each person can imbue the symbols with their own meaning or power. I am also always awed and inspired by nature. Over the years, I have found, molded/cast then fashioned jewelry from many beautiful shells, twigs and bits of plant life. I have two collections that continue to develop and evolve as I find precious new additions every year: "Treasures from the Sea" and "Nature's Beauty". The patterns in shells and plants are incredible. I make and sell a lot of braid rings and bracelets. I also enjoy making wedding bands. I have made quite a few custom wedding rings over the years, which is fun.
I like to sculpt animals (little cat and dog charms) and I love fossil shark's teeth and vertebra. I never really lack ideas as I am constantly being inspired. My biggest problem is actually finding the time to execute my ideas while simultaneously keeping my business going
What is jewelry for you?
Jewelry is adornment of course, and can be enjoyed that way only, but for me it is definitely much more. When I decide what piece/s I personally will wear on any given day, there is always a meaning. It's never a matter of what matches my outfit, but rather a matter of how I'm feeling-what energy I need that day or what piece will make me feel strong, protected and beautiful. Every day I wear an eye (either an ear stud or a ring-usually yellow gold and diamond) and a lightning bolt (ring, bracelet or earrings). I sometimes add other pieces to those basic ones depending on how I feel, where I'm going or what I'm wearing.
You make everything yourself and in spite of it being a cottage industry have managed to make it thrive so that you can hardly keep up with the orders. What would you recommend your jewelry designers?
I do all the model making, soldering, setting, cleaning and final polishing of my jewelry. However, I work with a casting house in the Jewelry District to do all my mold making and precious metal casting. I have worked with them for more than 10 years and they're great. They know me and my work really well and it's a huge help to have this part of the process outsourced. They also use conflict free precious metals, which is important to me and many of my customers.
I do all my own photography, photo editing, website/online sales and marketing, and finances–it's a lot, I get tired and overwhelmed sometimes… BUT, I wouldn't have it any other way. I love being in control of my own work and making my own schedule.
It was a long process to get to where I am now. For the first twelve years of making jewelry I was still working my "day job" on weekdays and making my jewelry at night and on weekends. I sold my work occasionally via pop up sales or on consignment in a couple of cool shops in NYC & Brooklyn, but from 2005 until 2013 I did not really see much monetary profit from my jewelry making. It was mostly a labor of love and learning. In 2009 Norman and I were blessed by the birth of our daughter Mina. This was wonderful, and by necessity I put my jewelry making on the back burner for a couple years. Norm also started touring a lot with Swans in 2010, so while he was away on tour I was holding down the fort as a single Mama. When he was home he would take over much of the child care (he still does this) and I would focus on working on my jewelry.
A big change occurred in 2012 when Mina started preschool and I was able to really focus on my jewelry again- specifically, getting my work photographed and up online for sale. Ultimately, I found the most successful way to reach customers was via Etsy. Though I was initially hesitant to put work on Etsy, because I was under the false impression that people would not buy "fine jewelry" with somewhat higher price points, I was pleased to make a few sales within a couple weeks and surprised by the fact that one of the earliest pieces to sell was a 14k gold ring that I had put up almost as a fluke. Little by little my sales increased exponentially. Now about 70% of my sales are via Etsy. Etsy is an excellent forum for jewelry in my opinion. Granted there is some cheap and kind of of crappy stuff, but there is also a lot of really nice work for sale there too. I tried selling via my own website, but I just did not have the reach or marketing power to get potential customers there. Etsy offers many resources to their sellers and they reach a worldwide marketplace, which has been important to the growth of my business. I use my own website as an archival space now and it links to my e-commerce sites.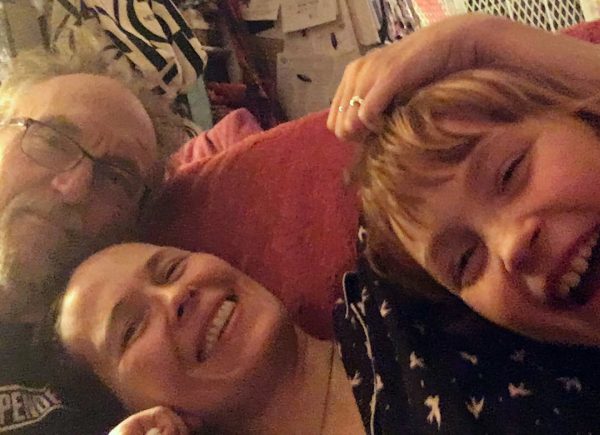 I kept going and worked hard at making more pieces and taking good pictures of those pieces (that's important). It's been exhausting sometimes, but totally worth it. At the end of 2016 I officially stopped working a "day job" and began making jewelry my full time job. At that point the income from my jewelry was equal to, if not a bit more than, my income from the toy work, plus I was seriously sleep deprived. Making that change was essential to the growth of my business and helped me so much to achieve balance in my personal life. I really needed to be able to direct my energies not in a peripheral way but rather in a very focused, healthy way on my business in order for it to grow. In the last few years my sales have increased 20-30% each year, which is good growth. Norman once told me years ago, in reference to music, that one has to be willing to make their art top priority in order for it to really go anywhere (ex: band practice every day, instead of once a week). This really stuck with me. It cannot be a side thing. You must give your art your full attention…and this has proved to be the case. While, of course, he and I still consider our daughter and our family life most important, we both put lots of time into our work. We share all the responsibilities of raising our daughter and for this I am so, so thankful. Having a partner who respects and supports you in what you do is invaluable. The beauty of being our own bosses is that we can be flexible and rearrange our time and still usually do what we need to. It is more challenging when Norman is on tour, and at times the financial insecurity of this type of life can be stressful (especially living in NYC), but it's still better for us. We are also very fortunate to both have working studio spaces in our East Village home/loft. We don't have to travel to work in our studios, and can work anytime. This can of course be a double-edged sword, because you can't escape from the work you need to do!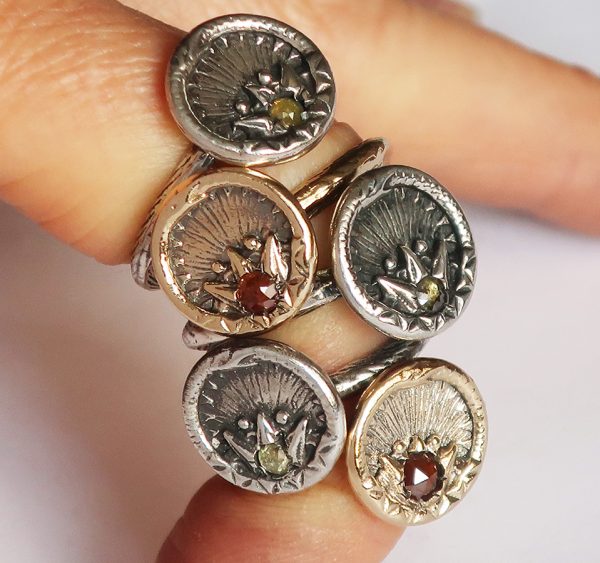 The last two years for me have been mostly about organization and preparation. Mainly, organizing my time and space so that I can work efficiently. I did a better job with this in the last year, having learned a lot from the year before. So, although I had more orders this last season, I felt a lot less crazed, and completed/shipped everything without too much trouble or panic.
I think overall the key to success is perseverance. If you want to accomplish something, you must keep at it. You cannot give up just because you have set backs or because success doesn't arrive overnight. I am so glad that my business has evolved slowly the way it did, because I understand where I am and how I got here. So, this is the best advice I can give to others: If you are interested in something (making jewelry or anything), seek those who can advise and teach you how to do the things you want to do. Be patient with and kind to yourself and allow your gifts the necessary time to come to fruition. Also be willing to work hard and make your art top priority. Respect and have faith in your work and yourself. Look for relationships that further this, that are filled with mutual love and respect. Be healthy; exercise (I do yoga and bike around town), meditate when you can and try to eat wholesome foods. Oh yes, and always make sure you have inspiring music or words to listen to while you work!
What are you working on momentarily?
I am currently working on several charm necklaces that are made from casts of antique Parisian buttons. These are new items which I will be photographing and listing online soon! A good friend of mine from college gave me a box of incredible antique Parisian buttons from his mother's extensive collection.. All sorts of different motifs. The ones I am working on at the moment are little Foxes and I have already completed a set of 7 rings from a really unusual sculpted Ouroboros Button.
Jennifer, what are your plans for the future?
I intend to keep my little business going and growing. This coming year I plan to make many more pieces from the Antique buttons and I have some new Lightning Bolt and Sewing Needle pieces in the works as well. My sewing needle rings are very popular, so I figured I would add bracelets and earrings.
I hope to work more on marketing this coming year. It is really important to keep up with Instagram/Facebook posts and so forth. They do end up generating interest and sales. This year I may finally try to get myself a part time intern. Many of my professional artist/designer friends have recommended I do this. It would probably help a lot and teach me to delegate certain tasks. We shall see. In any case, I'm excited to complete some of the unfinished pieces on my worktable.