Danielle dePicciotto & Friends: Shelley Hirsch
Shelley Hirsch: "I perform completely improvised music in concert quite often and the goal is to be as unprepared as possible"

Shelley Hirsch is known as one of the most versatile vocalists of our times in the area of improvised music, but this description does not do her enormous body of work justice. The New York Times once called her "a woman of a thousand voices". Her multimedia performances, compositions, improvisations, electronic music pieces, sound installations, collaborations and radio plays have been presented at concert halls, museums, theaters, galleries, clubs, radio and cultural venues worldwide.
I experienced one of her performances a couple of years ago at the Berlin Museum Hamburger Bahnhof and was blown away by her mercurial, sparkling cascade of words and poetry. I am a fan of Laurie Anderson and Lydia Lunch, I love their thoughts and illuminating philosophies, but Shelley adds a touch of fairy dust to her lyrics by minimizing her sentences and concentrating on the wide universe of each single word, adding helium to their content and letting them float past the enthralled audience, glowing in the dark, changing their structure, morphing their meaning and content into new connections, always elusively unreachable and gorgeous to the ear. Shelley is a natural born performer, and I am not sure if her fascination for words is ever turned off. Even having a simple coffee with her or a quick Japanese snack turns into a kaleidoscopic experience of thought snippets teasingly playing with each other and dancing a Dadaistic madrigal of ideas.
I am honored that she agreed to take the time to answer some of my questions. As with most luminaries it is impossible to ever really grasp the full magnitude of their personalities, but her answers are a wonderful possibility of being able to absorb and experience her universe more fully.

Danielle de Picciotto: What is the core-essence of your work, is a specific definition possible?
Shelley Hirsch: I use this line in my piece "States" "The body is a recorder and a storage house for memory" I feel like an antenna taking in what I see and hear, locating, embodying personas who are voiced musically.
Is it cheating if I use a quote from an essay by Anne LeBaron from her essay on Surrealism? Post Modern Music? "She weaves their reinvented essences into the maze of associations conjured by her alchemical compositions. Investigating immediate consciousness, memory consciousness, and image-making consciousness, she becomes a producer of sonic images, recycling the discarded and the strange.  Her remarkably unfettered access to the motherlode of automatism".
Your writing/texts can be abstract, poetry or story telling – there is a huge, wonderful range. What relationship do you have with words? Do you see them as an abstraction or an emotional tool? What is one of your favorite texts?
Ever since I was a child, voice, movement and writing were of one body. I wrote little plays – collaging words from books I had access to. The plays were performed by neighborhood children
Words -I love them for their meaning, I love learning how their meaning evolved, I love the sound of words, the rhythm of words strung together free associatively. I love combining words with music and allowing them to become the music. I love letting vocal sounds spin into a sentence or a story and back again to abstract sound. I want to be surprised by what comes out of me. The surrealistic images that arise while writing stream of consciousness often trigger a memory. Other times they remain in an imaginary world of sonic landscapes.
I also improvise text when performing improvised music.
Sometimes I write in a notebook onstage while speak/ singing as a way to change course, to slow down, to find other ways to interact with the musicians I perform with…
I've written memoirs and autobiographical pieces many of which I've set to music for my performances, recordings, radio projects and sound installations for decades.
In the last few years, a large part of my process has been writing to recorded music or to music that I hear in concert. I don't write as an illustration of what I hear. My writing is an intervention of sorts, I am joining the music as I write.
I've experimented with how movement affects what I write whether typing on my laptop or handwriting /drawing text in very broad strokes on large surfaces in the studio.
One of my favorite texts? Hmm
Extollin' is a text that I initially wrote/drew while listening to the music of Eliane Radique. I've performed the text in several iterations. For four singers and myself; as a solo reading; in duo with a cellist.
In the Facebook-Video you can hear part of "Extollin" which I set to music I composed.
Extollin'
Extollin' and pursuin' and lookin' at you an', watchin'
You got it inside your pockets
locked up – keep it safe, and even when you,
be rollin' down sand dunes,
It doesn't leave you
attached to your heart
A part of you is cryin' but there ain't no denying.
You was betta' at tryin' and relyin' on your sense of the good. The good in her, the good in him.
The good in them.
There it is, the wind again,
blow it down, clear the road, build a house,
A white house
Not that kind of white house
She wanted one with a picket fence
and sparkling dishes and lots of tchotchkes
She says they're precious
And they just might be.
She keeps 'em shiny, she keeps 'em clean,
The books she's readin'.
No dog earred pages.
She's got her challah in the freezer
and Breakstone Butter
for when she's hungry
and she ain't got chocolate
beside her bed or
(speak) Wise potato chips.
She so wise in her way,
she so wise in her way
She neva rolled down, any sand dunes. But she loved to swim
when she was young, but the sun.
She couldn't be in the sun
She was allergic to the sun. Her skin was too white
She loved soaking in the bathtub readin' and smokin' in the bathtub.
There was no window in the bathroom and her room was dark
But her eyes were strong.
No glasses on
when she played ….Solitaire
She's so wise in her way, She's so wise in her way
She's so wise in her way, She's so wise in her way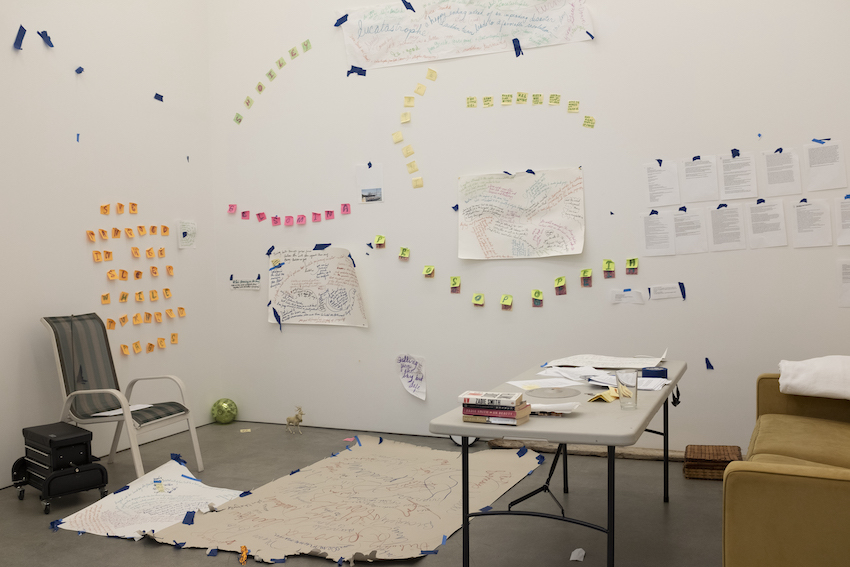 Do you mainly improvise whilst performing or do you sometimes prepare meticulously?
I perform completely improvised music in concert quite often and the goal is to be as unprepared as possible! Still I would not be happy if I weren't also composing, writing pieces. When I compose a piece, I often record my vocals and instrumental music, then collect musical snapshots and assemble and edit them. The process is almost akin to the way a film maker works. For some of my pieces I perform with a composed musical landscape.
I allow myself some flexibility as I perform within it
When improvising with my electronics, especially my harmonizer/multi effects processor, my words, the melodies I sing, the characters I embody, arise from the particular setting I've landed on. Spin the wheel, press. Voila!
The more meticulous work goes into my recordings and staged pieces and my radio plays and sound installations which are not meant to be performed.
You have worked in theater – how does improv work there? Do you prefer working in groups or solo?
One thing for certain is I didn't like playing normal girly roles in school plays. I wanted to create pieces…a way of traveling, transforming. I was often putting on performances, collaging songs from different periods, choreographing processions for neighborhood kids down the stairwell of the apartment house where I grew up, I made costumes out of tissue paper.
I naively thought that I could study Kabuki Theater. I loved the visual splendor, the music, the movement, the storytelling Even though I could not understand a word…
I was 18 when left NYC for San Francisco in hopes of finding a teacher. It was there that I learned that only men perform Kabuki.
I think it was the same day I learned that my dream of studying Kabuki was not to be, that I met a fellow hitchhiker who told me about a workshop he was going to..I joined the workshop, led by the director of an experimental theater company "The Theater of Man". The director Cecile Leneman now Cecile Pineda gave us exercises culled from the great Polish Director Jerzy Grotowski and we read text from Artaud and Bertolt Brecht. Then I auditioned to be in the company. We toured with our West Coast version of "The Serpent" a play by Jean Claude Van Itallie which had been performed by Joseph Chaiken's Open Theater in NYC. Poor theater, only our voice and bodies. Improvisation was always part of the rehearsal process. Sometimes we used our dreams as a source for text. It was so natural for me to use my voice, in and out of language. I was the youngest woman in the group, but I wound up leading the other actors in creating vocal sound environments. All of it was connected to movement. Once the work was ready to be performed, we did not improvise. The workshop and the ensemble work in the company was life changing. I sometimes long to part of an ensemble like that again. Working every day with an ensemble, creating work together.
After the season ended some members of the ensemble got busted, the group disbanded and I left San Francisco, and went back to NYC. I wound up in Robert Wilson Bird Hoffman School of Birds workshop. (He was in Iran preparing for a piece) I was a little too expressive for that work. I soon left for Amsterdam thinking I would find another experimental theater company. Alas-that did not happen. Instead, I wound up singing in a swing band and modeling at an Art Academy (for me a kind of performance art). The only real theater piece I performed in after "The Serpent" was a play called "New Jerusalem" at The Public Theater -we workshopped the play by Len Jenkins for a month and performed it for a month. We actors each played several roles. Sigourney Weaver was in the play. It was right before the Alien came out. I had some prejudice about actors being too "showy" yet the actors in the ensemble were brilliant, full of imagination and creativity.
There was a place for improvisation at least in the development of the work
Much of my solo work since has been theatrical but not really theater. I've had the good fortune to have my staged, work produced in wonderful theaters internationally, especially in Germany.
I've loved having the freedom to make the stage set as I did for my production "For Jerry" an homage and virtual duet with the late great Jerry Hunt.
Great sound people and other crew members are such an essential part of the work.
One thing I love about improvising with different musicians or with live video artists in duos, trios and larger ensembles is that the music you make is always different depending upon who you improvise with as in "real life" where a conversation develops depending upon who you are speaking with.
When improvising with other musicians and video artists the only goal is to be very present, to listen deeply. I like to surprise myself when I improvise. I often draw upon what I see in the room I perform in. I always find myself very much aware of the form the music is taking, I don't so much like performing free improvisation solo -It is the interaction with others I most enjoy.
How has the pandemic affected your work? Has it become subject of your work?
I've had the good fortune to have been commissioned to make new work which I feel very good about. And very often, I wrote stream of conscious as I listened to concerts online. In my piece "The Body Remembers" at Roulette March 2021, I sat in an armchair with my computer on my lap. A violist is sitting with me on stage and playing a haunting drone. I speak/ sing as I am typing -improvising about touch and how I hope we will soon be touching each other again. The words are projected on a screen as I type them…
But as the pandemic goes on and on it is getting more difficult. I used to derive so much inspiration going to performances and exhibitions. Between the pandemic and having had a recent knee replacement surgery those outings have been curtailed and I haven't been out of NYC since Dec 2019. Yikes!
You performed in Germany quite often, as an artist that works with language, how does working in a country that speaks a different language impact you? Do you enjoy hearing a foreign language as an abstract sound?
I always try to weave words in the language of the country I am performing in while improvising. It redirects my thinking, affects the way I construct a sentence, how I form a phrase. Actually, I sometimes weave in other languages, accents even when performing in English speaking countries. I enjoy being in environments where I don't understand the language. Then I hear people talking as an abstract soundscape. It's hard to ignore what English speaking people are saying when I am out and about.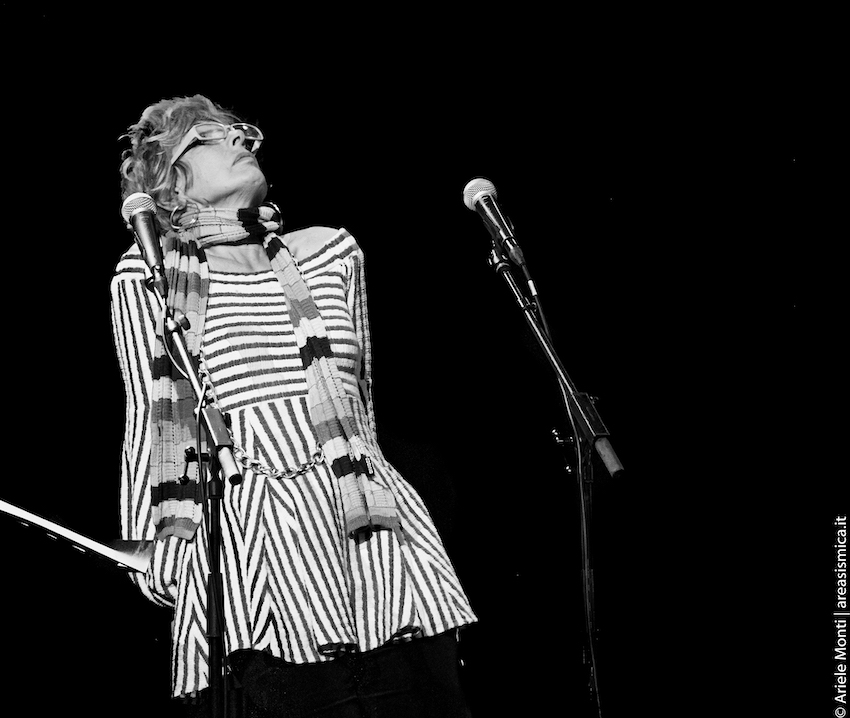 What inspires you?
I feel grateful to be inspired by many things. I can sit for a long time watching the movement of trees, clouds, water…I am inspired by learning how words originated. There are so many artists. I find interesting…
I've always been inspired by seeing visual art, film and I love being in motion. No longer fond of flying on commercial flights but being on a train or riding in a car often generates new ideas.
No, I don't drive. I think I would be too distracted by all the sights and sounds that I'd be passing by.
What are your thoughts on twisted language such as fake news, double think or alternative facts?
I read from a very broad range news from more trusted news sources to publications that sometimes horrify me. I like to form my own opinions of things. I find the headlines often distort the truth – just to get people to read. I'm no fan of advertising.
What are you working on momentarily and planning for the future
I just received a grant to create a memory stick for a project I'm working on. I'm very excited about it! It will be a sampler that takes different forms. A rain stick, walking stick, a baton, a wand. I will also be able to write with it and have the writing projected real time. I want to cover an entire space with words.
I also received a grant for a recording project. I will set several of my written texts to music. I'm hoping to have the writing published in print as well…
And in the Fall, a CD of quartet improvisations will be released. We never all played together before, but it was magical. It was recorded two months before the beloved drummer, percussionist in the group, Michael Evans died.