40 Years of Touch – Interview with Jon Wozencroft & Mike Harding
TOUCH: "We survived because there's a lot of things that we chose not to do, which has worked out really well"

During these years CTM Festival London / Los Angeles based Touch imprint was celebrating its 40th anniversary, with an evening with music by Marta De Pascalis, Ipek Gorgun, Budhaditya Chattopadhyay, Youmna Saba, crys cole and Oren Ambarchi. Under better conditions the two founders of the mixed media imperium, Jon Wozencroft and Mike Harding, would have been around on that occasion. But the current pandemic situation denied that. And so instead of sharing coffee and something else, I talked to them via Zoom on a late and cold January evening ahead of the festival.
We were already like, an hour into our two plus hours chat, when Jon Wozencroft started talking about the recent Beatles documentary "Get Back". Not sure why in the first place … but it inspired me to ask Jon and Mike about their ideas for a potential opening scene for a documentary about Touch.
After a few 'why should anyone want this?' type responses – I am by the way pretty sure many would love to see such a documentary –, Mike came up with a funny one: 

"Jon and I have a very good balancing act. Jon thinks Touch is more important than I think. And I think it's less important than Jon thinks it is. We are both wrong – it's somewhere in the middle."
Jon's pitch came right away: "We go back to 1983. There's a left-wing bookshop called Collets; Mike and I used to distribute our early cassettes by putting a box in the back of his car and driving around the West End and going to these shops with a box of 10 and asking the buyer, "will you take a few copies off us, please?" And the guy would turn around and say: "Yeah, sure. I'll take five on sale or return." So the next thing would be, we'd have to go back there a month later to see if they'd sold any."
Let's hope some film producer reads this and feels inspired, I am not spoiling too much when I say, those two Brits have a lot of stories to share. 
Until then let's keep listening to Mike and Jon here. For example about the nucleus moment of the label in 1981/1982. How do they remember those days in general? How was the vibe on the streets of London?
Jon: "The music culture was incredibly dynamic back then. We wanted to find a way of how we could engage with this by doing something that nobody else was. And that was largely down to the relationship of what was emerging through what people used to call 'mixed media' – we acted between moving images, sound, design, writing, and photography, but not specifically any one of these things. It was more about a new hybrid culture that was emerging, which was way in advance of what came to be known as multimedia in the digital era. We wanted to see how we could embrace all of these factors in a way that hadn't really been done since the 1920s with Dadaism and surrealism."
The art aspect itself was only one (of course highly important) part of the world around them, the socio-political circumstances of those wild days – in brief: Thatcherism, racial conflicts, the Falklands War, the privatisation of state industries in the United Kingdom –  also had a massive impact on the Touch philosophy Mike and Jon established and their relationships with the artists.
Jon remembers: "Mike entered the conversation when it came to the crucial aspects of the operation: publishing and distribution. There was a DIY publishing revolution going on that developed out of Punk and Post-Punk". 
In rather street tongue words that meant they confronted the established system with a clear "fuck you" and did their part in building up new independent record label and publishing structures as well as booking structures and so on. But as much as the window was open, the "music business paradigm" to "work with bands and to release records" was still on, as Jon points out.
Talking to Jon and Mike is like time traveling with one foot still planted in today's ground. There are (sometimes funny, sometimes melancholic) moments down this memory lane, but never to a degree that 2022 is not still on the clock and blinking. That said, we enjoyed talking tape culture for a bit, going back to the era of international networking by letter and post and with all the delays this brings along (quite an anti-momentum to the rapid cultural happening of those days). And we must also mention the mighty fax machine, in the mid 1990s a game changer, today only remembered by people of over 40 – but still held in high regard by Mike and Jon as a "transitional media" with "its combination of handwritten and dissolving paper and digital transfer".
But let's look back on the streets rather than in the office. "You had to be really, really quick", Jon describes the artistic street hustle back then. "You would go to see one band, the next night you would see another band, you would meet people, you would exchange ideas. There were platforms that you could use to find like-minded people. You knew that you were in a shared community of ambition, the ambition to change things."
Their office was the streets, bars, art venues and clubs. "We still don't operate in the conventional business sense of having an office", Jon rolls out – and adds "although we did have an office at one point."
An office of course, means classic working hours and meetings and something described with words like 'strategy' and – let's go there 'marketing', a concept they negate with every fibre of their bodies. 

Jon: "We don't follow the rules of marketing or record company behaviour in terms of output. We set our own rhythm and agenda and. Touch survived because we never wanted to to make it systemic."
And Mike adds: "Well, exactly. We survived because there's a lot of things that we chose not to do, which has worked out really well. I mean, I witnessed a lot of contemporary labels in the 90s really changing their outputs and what they were doing. And I never thought it was a good idea: "So, you're a dance label now?" It seemed they lost a lot of motivation and swung away from what was happening in the 80s – but we kind of stuck with it. And everything else changed around us."
And suddenly there it is, the golden question: would it be possible to start all over again and establish an institution like Touch from zero today? Mike does not hesitate a second to answer straight: "No! The independent support network just isn't there. I mean, there's, a tiny bit left, but not much."
A topic Jon definitely has to add some thoughts: "I suppose, it's in the heart of of why we're still here 40 years later, there are two things. 
The first one is the idea of the effort you make. And I'm not talking about effort in terms of a fitness centre and sweating, you know, over weights or anything like that, but effort in terms of intention.
So in the earlier conversation, we talked about changing the world, but at the same time, the world's doesn't actually respond to the agents of change in any predictable way. So you have to have a very long-term view of what you're doing. That's the first thing. 
The second thing to do with effort and intention is also to create a set of conditions that you will accept as a way of going forward. One of the things Mike and I and Gary and Andrew and all the people that we worked with always had to accept, was that we were going to have this long-term effect and we weren't going to be in the business of creating 'overnight sensations'.
 Now most media and cultural activity is still grounded in the old mentality of having a number one hit record. We've been brought up through that culture. You know, we'd been around with the Beatles and all of the rest of it. We'd been around with the Sex Pistols, punk rock, you know, then into the 80s with The Smiths, acid house and then dance culture and everything else. And we've always steadfastly stuck to our original aims, which is to actually do something over a longer period of time, and to do something which works in relation to how we can work with it. So you know, you're not going to be playing the same kind of game by this strategy. But the funny thing is, this is the really, really funny thing: through this process we created over the last 10, 20 years artists who are internationally famous. I mean, it's kind of amazing."
At this point Mike interrupts him and ask gently if he can replace the word "created" with the word "nurtured" – and by that causes Jon to speak about Chris Watson, founding member of Cabaret Voltaire and an experimental musician and sound recorder in his own right. 

Jon: "When we first started conversations with Chris Watson in the late 80s, he didn't think anyone would be interested in his wildlife sound recordings: "It's just a hobby. No, one's going to be interested." And we said: "Hang on a sec, Chris, hang on a sec, hang on a sec." And it took five years to convince him that people would be really inspired by what he was doing. Yeah. So in that sense, it's an act of faith."

That said, one has to attest: Jon Wozencroft and Mike Harding managed to create an environment in which artists feel totally at home. Why? Because they feel every second the support by them – and this enables them not to be afraid of acting on uncertain territory. Touch is a context for artists to flourish. Like all good running relationships this is nothing written in stone, it is an organic process.
We already mentioned their malaise with all the marketing fuzz, and so it does not surprise that they are just like that skeptical of all the growth talk, simply because they understand the potential of killing the artistic identity of a work corpus. Not saying this can't be possible with them, looking at the back catalogue of Touch one def sees many success stories – to name just a few: Ryuichi Sakamoto, Hildur Guðnadóttir, Jóhann Jóhannsson, Mika Vainio, Anna von Hausswolff, Philip Jeck, Richard H. Kirk, Oren Ambarchi, Sweet Exorcist, Fennesz, Biosphere, Rehberg & Bauer and Ryoji Ikeda."
I named Ikeda last in this listing as he is one example of an artist whose path separated from the one of Touch at a certain time as Mike explained: "He moved from being a musical presence to getting to the art world and going into fairly large scale (after his "+/-" release on Touch). Gallery installation work, which in itself creates an infrastructure which involves hundreds of thousands of pounds of programming necessities that we are not equipped to support. It's like you go from a lower division football team to a premier league or a top European team"
No negativity implied of course. Just a clear understanding of what they feel comfortable with on Touch, and what maybe does not fit that well. Jon Wozencroft and Mike Harding choose words very carefully when they describe the way they interact with the Touch community: words like "friendly advice", "balance between the work and the world", "ambassador" and yes, why not, "curate". They throw in that quite often in the history of Touch they had to slow down artists to help them rather concentrate on a smaller than a wider ambition and to help them select more carefully from their repertoire to publish.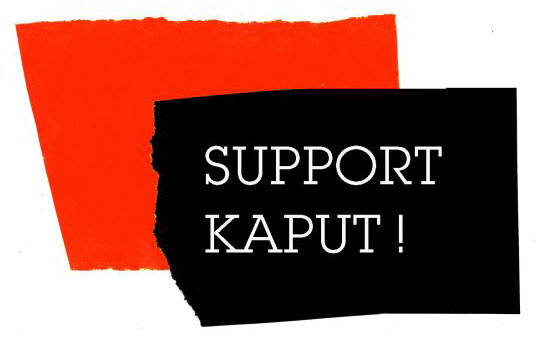 Back to that anti-marketing position. Not that Touch is acting outside any market, of course not, but they don't want the marketing to be more significant than the artists. That said it comes with not so much surprise that they are pretty absent on social media and so are most Touch recording artists. It is as they say, "all about counterbalance, work and articulation."
One maybe can say it like this: Mike and Jon emphasise a symbiotic relationship with their artists that is purely defined by the ecosystem of the artist and the Touch ecosystem.
Forty years of Touch is of course a moment of reflection and looking back on the legacy made by Jon Wozencroft, Mike Harding and their team and artists. No need to be afraid we finally – sorry, for this word play here – 'touch base' with nostalgic feelings. As much as Jon and Mike value memories and shared history they are driven by their ongoing curiosity. They still wanna explore unknown territories. Jon for example is super interested in musical developments happening in China: "What is the new music that will be coming out of China? We have not got a fucking idea because China in recent decades has had a copy culture, but what if all of a sudden there's some chemistry in the relationship between Chinese traditional music and contemporary electronica that gives us a revolution in new sound – it's mind-boggling."
Mike is rather interested in the potential of music development in the eco-activists biotop and within the grassroots environmental movements. "What music are they going to be generating? And why hasn't that gone into a more public space? Because I mean, it must be there. I don't believe they sit around campfires with guitars."
Well, not sure I share his optimism there, remembering my own encounters with the NGO world during the climate conferences in Paris, Marrakesh and Bonn – and seeing those lovely folks move to the worst of all sounds of the world.
But let's go back to business. Or not, as we confront again an aspect Jon Wozencroft and Mike Harding's resistance to the zeitgeist: public funding. Through out the pandemic one got more and more the impression that culture is not possible without government support. A very, very sad picture, isn't it?
"We're not against it", Jon starts sharing the Touch view of things. "We're not against things – we just don't choose to participate in that game – you've got to have a certain mindset and determination to make it work for you. And honestly, we'd rather not put our energy in that direction."
This comes from their analytic following of the process, but also as a result of their own experiences as Jon lays out: "I'll tell you a story.I was involved for many years in a project with stones from Stonehenge – they have sonic ringing qualities, and so we recorded them. We applied to a funding agency for quite a lot of money to further this research and provided this evidence. And we're told by the funding agency that our inquiry was essentially speculative. So in other words, research stopped being about finding out things that you didn't know already. And it has started being about proving things. That you'd already said that you were able to prove before you got ahead, prove them. Funding for artists is in the same kind of realm, because if you have a certain profile and if you can show that you've got some audience profile, then you just need to go up a little strata in the the fine line of things – then you'll get funding. If you have the most brilliant idea, but no one's ever heard of you and you're not sitting in the right category or genre, you'll be completely ignored. So we basically decided that we have better things to do with our time."
Mike adds a very important aspect: "The argument I hear all the time is, well, it wouldn't have happened without funding. And I go, well, that's bullshit because if you wanted something to happen, you find another way of doing it. If you're a creative person, surely you would try and think outside that box to do whatever it was that you wanted to to achieve. But that argument seems to be very often out of date these days."
We are approaching the end of our conversation. But not without Jon Wozencroft and Mike Harding verbalising their "simple plan to be alive at the moment" and "keep going, straight up to 80 years of Touch". Well spoken, plan is made. 

And just when the Zoom was already half closed, Jon comes up with another start to the film:
Jon: "So I bumped into Mike in a small venue in West Hampstead called the Moonlight at the beginning of March 1982, 'Academy One' were playing. Mike was managing Academy One and we discovered we had a kind of shared ambition to do something. And I decided that if I was going to do anything we had to get New Order involved in the project. So in order to do that, I did something that you would never be able to do these days: I got the Granada television company number from directory inquiries and rang them up and I said, "could you put me through to Tony Wilson please?" And the woman on the switchboard at Granada TV said, "yes, can I ask who's calling?" And so I said: "It's Jon Wozencroft." And then I got put through directly to Tony Wilson in his office at Granada television. After the conversation he gave me the number of Rob Gretton, the manager of New Order – and I got to meet them a week later.
Mike: "So it would be Tony Wilson on the phone going Jon who? Sorry, can you speak up?"
Jon: "It will be one of his assistants: "He's in a meeting, I'm sorry!"
(Marta hasn't been released on Touch so far, she was released on The Tapeworm and The Wormhole, two labels of Philip Marshall affiliated to Touch. Marta djed at the 40th anniversary night at Silent Green during CTM Festival. )
Marta, what was your first ever contact with the Touch universe?
My first "aural" contact with Touch Records was when I first listened to the remastered version of Substrata by Biosphere, a record that quickly became one of my favourite releases. I met Mike in London a few years ago when I played at the 10 years celebration of The Tapeworm, Philip Marshall's Touch affiliate imprint.
Can you name your favourite release on Touch and why?
"Substrata" by Biosphere. I love its narrative, iIt has been regular winter listening for many years. Lately I've been listening a lot to all Philip Jeck's productions, including his last one together with Faith Coloccia. I super admire his work.
What's next up for you personally as an artist?
I am working on a new record, so it's that kind of very intense, almost sacred generative moment to which I am devoting all my time and all my energy.
Budhaditya, what was your first ever contact with the Touch universe?
In 2011, I received an honorary mention at PRIX Ars Electronica, Linz, for a work titled "Eye Contact with the City". A month after the announcement, the Ars Electronica contacted me to ask if they can share my contact with Mike Harding of Touch, who is interested to get in touch with me. After that I heard from Mike in an email, and "Eye Contact with the City" became my first release with Touch. In 2012, I met Mike in Bergen for a Long Wave conversation for Resonance FM. In this hour-long conversation, we discussed growing up with sound and the process of becoming an artist while sitting in the auditory setting of Bergen rail station. At one point, my description of a childhood interest in sonic texture met with an impromptu horn of a rail engine in the Bergen station.
Any story of working together with Jon and Mike that you feel like sharing with the world as it transports to you the spirits behind Touch?
I deeply enjoy the wonderfully caring attitude of both towards their artists. In 2015, I spent a few days in Krems for the Donau Festival along with the Touch team. I performed for the Touch label showcase with Jana Winderen and Thomas Ankersmit. It was such a wonderful experience having to spend some time with them, and getting to know them better. In one evening, the Autechre duo came to our table for dinner, and I didn't realise it was them up close! I started to have free flowing discussions about contemporary music, etc. Later, Mike told me that it was Autechre, and I was quite embarrassed in my navieté! More than stories, these are experiences of growing up as an artist and slowly finding a place in this world, even though sometimes I might not be qualified enough.
Can you name your favourite release on Touch and why?
I have many favourite releases on Touch, but one I must mention: "Energy Field" (2010) by Jana Winderen. The special reason for it to be among my favourite releases on Touch is the fear I had with water since boyhood as my only uncle died of drowning in his teens, and I was told underwater is dangerous. Listening to this wonderful release many times helped me overcome my fear of the aquatic worlds. I discussed the work in my book "The Auditory Setting" (2021).
What's next up for you personally as an artist?
In 2022, I am looking forward to having my first release on cassette tape! I am also working with a new sound work, which I look forward to sharing with Mike for his helpful critical comments and consideration. At the moment, I am working on a book on sound practices across global south, to be out at the end of the year.
Youmna, what was your first ever contact with the Touch universe?
I guess my first ever contact with the Touch universe was a bit more than ten years ago. I used to work as a graphic designer at a design studio in Beirut where we shared a common music library, which contained some gems like music by Fennesz. At that time I didn't look much into the details of an album beyond the music itself. But last summer I met musician Bana Haffar in Beirut, and this is when I drew the links between the music I listened to and Touch.
Any story of working together with Jon and Mike that you feel like sharing with the world as it transports to you the spirits behind Touch?
My relationship with Touch is very new, so I don't have many stories yet to tell, but from my first encounter with Mike, I felt an ease and clarity in communication. Moreover from preparing for the event at CTM and then meeting the musicians during that evening, there was a general feeling of "bienveillance", which translates roughly to "kindness" in English.
Can you name your favourite release on Touch and why?
This is a very difficult question to answer. Most releases I listened to from Touch, inspired me in one way or another, and taught me something I didn't know.
Whats next up for you personally as an artist?
Currently I'm finishing my solo album for vocals, oud and electronics, which I presented part of it at different festivals, namely CTM, and which will hopefully be released by the end of 2022. I'm also continuing my current research on voice and resonance through different projects, collaborations and residencies.