7 party tales by Vivian Host
Vivian Host: "I Came, I Saw, I Raved"
Portrait of the artist as a young raver
As the world has come to a halt —and with it our collective weapon of choice against the cruel mediocrity of the day-to-day, nightlife—Vivian Host's new podcast Rave to the Grave has offered us glimpses of excitement and club nostalgia.
Vivian is a journalist, DJ/producer, radio host and party person who has been working in music (electronic and otherwise) for over half her life. She's also the only human we know personally who's had her face glance from a building in Manhattan. She has written and talked to people for Red Bull Music Academy, Native Instruments, VICE, XLR8R, URB, NPR and MTV, among others, and as Star Eyes, she has DJed heavy bass music around the world as part of crews like Chaos Clan, Trouble & Bass, B.A.S.S. Kru and Eklektic.
For Rave to the Grave, she chops it up with the world's most interesting party people. Here, she skims through her own photo book packed with classic rave memories.
I guess you could say my whole career has happened because of partying in one way or another. Going to raves got me interested in DJing, which helped me get my first journalism job (writing record reviews of jungle 12-inches). Because of partying I started traveling, first locally, then around the U.S., then around the world. I met a lot of people who were like me and a lot of people who weren't, and somewhere along the way transformed from a shy kid who got teased a lot to a person that can literally talk to anyone about anything. Raves and music gave me a way to express myself and an escape at times where I desperately needed them. Partying can be profound or stupid – at it's very best, it's profound and stupid at the same time. A microcosm of life, you could say.
The idea that you can learn a lot about yourself and the world living this lifestyle drives my podcast Rave to the Grave, where I interview the world's most interesting party people about electronic music history, culture, crazy times and life advice.
I guess I've spent so much time asking other people about their wild stories, Kaput wanted me to give up my own tales. So here we go.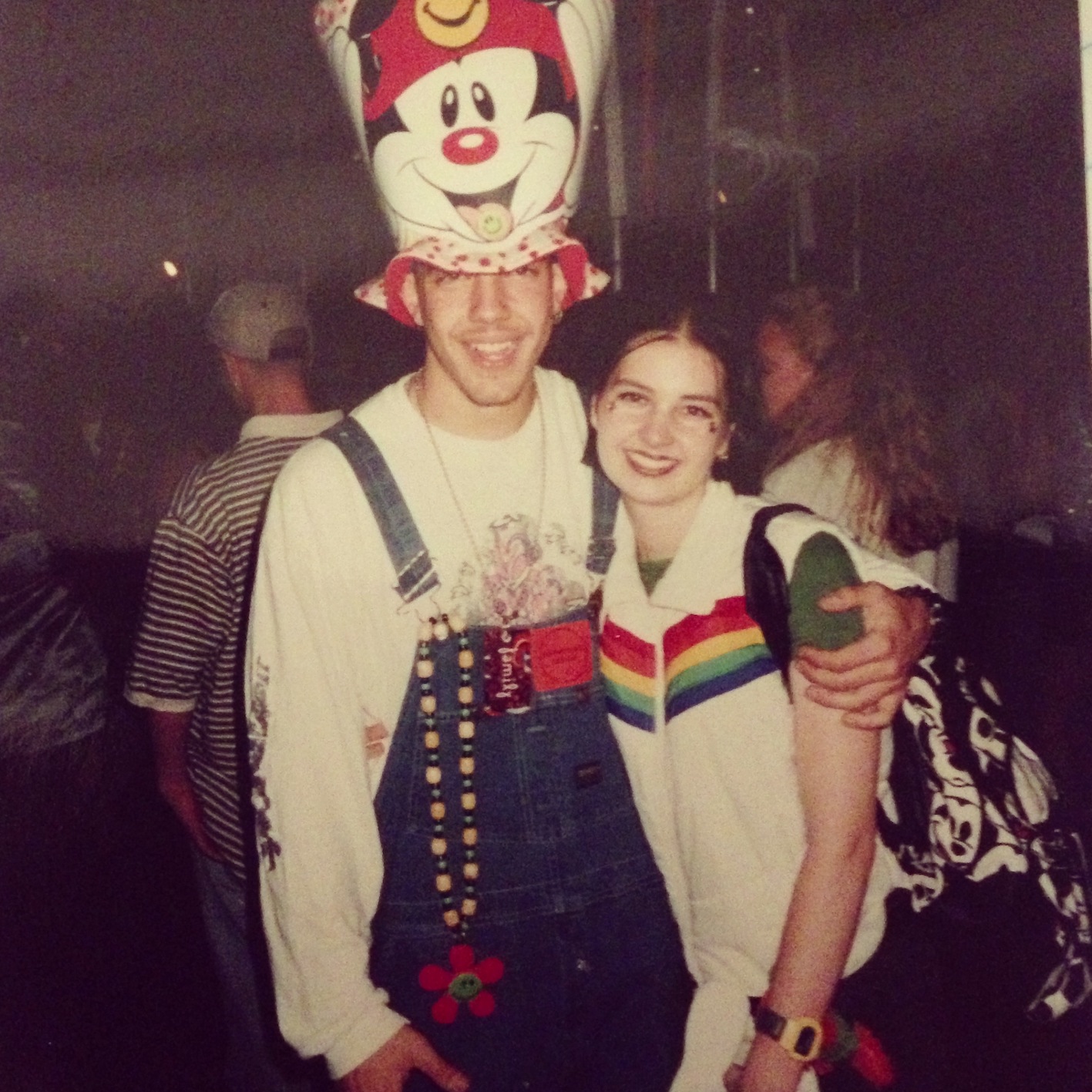 #1. Insomniac – 1-Year Anniversary Party, Shark Club, L.A. (1994) 
There were only about five ravers in my high school of 3,000 people and Nick was one of them (even though he kind of looks like an all-American baseball player). This picture was taken at the Insomniac 1-Year Anniversary party in 1994 at the Shark Club in Downtown L.A.. We are in PEAK L.A. rave style. Nick's got the Dr. Seuss hat and baggy overalls, flower necklace made out of Fimo clay, Animaniacs cardboard birthday party decoration taped to the hat and a laminated membership card to the private party Family around his neck. I've got a Mickey Mouse backpack, ski puffer vest, Mickey Mouse gloves in hand and crystal stars from the fabric store glued on next to my eyes. L.A. rave style was very influenced by us being from the land of Disney and cartoon theme parks. This also makes me think about how creative we got putting together our looks before there was a "rave outfit" you could buy at the mall or even companies selling phat pants. We had no idea at the time that 28 years later they would be selling this music as "EDM" and Insomniac would be giant festival promoters that throw 400,000 person events.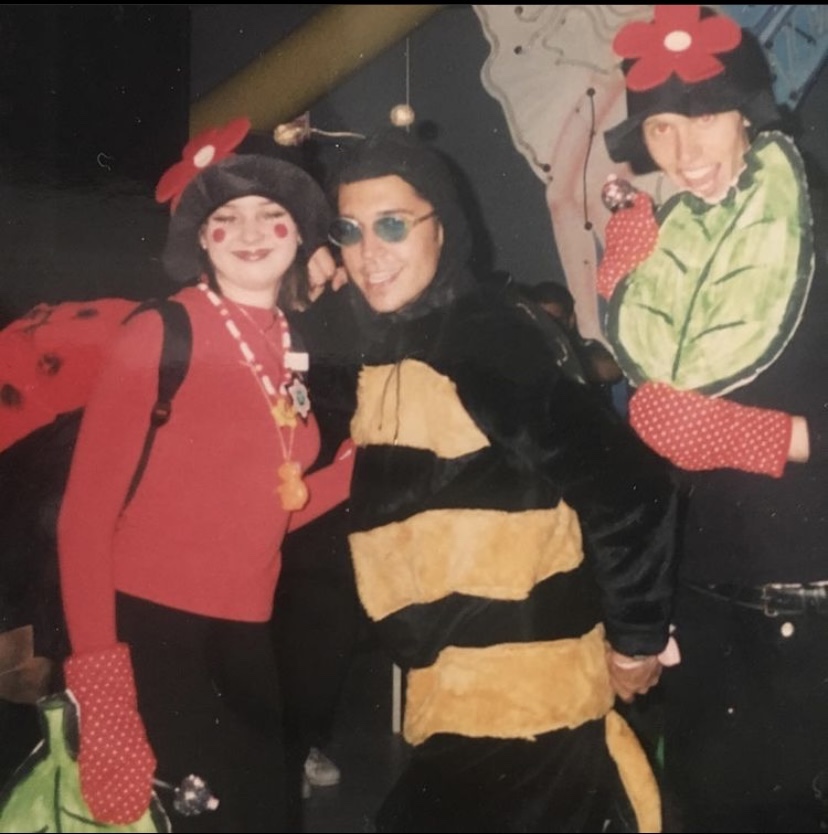 #2: Purple Panda Parade, Los Angeles (1995)  
In 1995, we went to this warehouse rave called Purple Panda Parade. (I know it was '95 because I found this video of it, I'm dancing at 17:14). The idea was that a bunch of us would dress up as fantastical characters and parade through the rave following around a purple panda (obviously). My friend Cory and I went to the 99-cents store and made our own ladybug costumes – we wore oven mitts on our hands and covered kitchen stuff with red fur and attached it to our backpacks to make ladybug wings. Our friend Charles didn't have a costume so they gave him a bumblebee outfit to change into. I guess it was hot in the bee suit because Charles stripped down to his underwear and stashed all his clothes in a private back room. There had been a naked guy running around freaking out on acid and rolling all over the floor; when we got back to the green room, we discovered that they had put the naked bad trip guy in all of Charles' clothes. We literally never saw that guy again and Charles had to wear the bee suit for two days.
#3. Mischa's Pager Code (very '90s)
My first boyfriend in high school, Mischa, was a hacker who also made rave flyers (this was when Photoshop first introduced 3-D bubbles); he put me on to stuff like Skinny Puppy, Meat Beat Manifesto and Re/Search magazine, introducing me to goth-industrial and early cyberspace culture and aesthetics at a very early age. He also scaled a 20-foot gate at my apartment complex while on acid and caused me an extremely bad trip when he neglected to tell me I should eat one pot brownie not five.
When I was 14 we drove to the Bay Area where we went to a couple dreamlike Full Moon raves: an iconic Wicked free party on the beach in Half Moon Bay and one in an armory on a cliff where I had a semi-religious experience watching the stars on E while listening to Aphex Twin's "Xtal." Mischa designed this very 90s artifact – a wallet card with pager codes; as you can see smoking kind nugz and not getting busted was a big concern. Mischa is now some sort of marijuana entrepreneur in Santa Cruz, California. Our relationship thankfully didn't last long but I gotta thank him for setting me off on a cool path.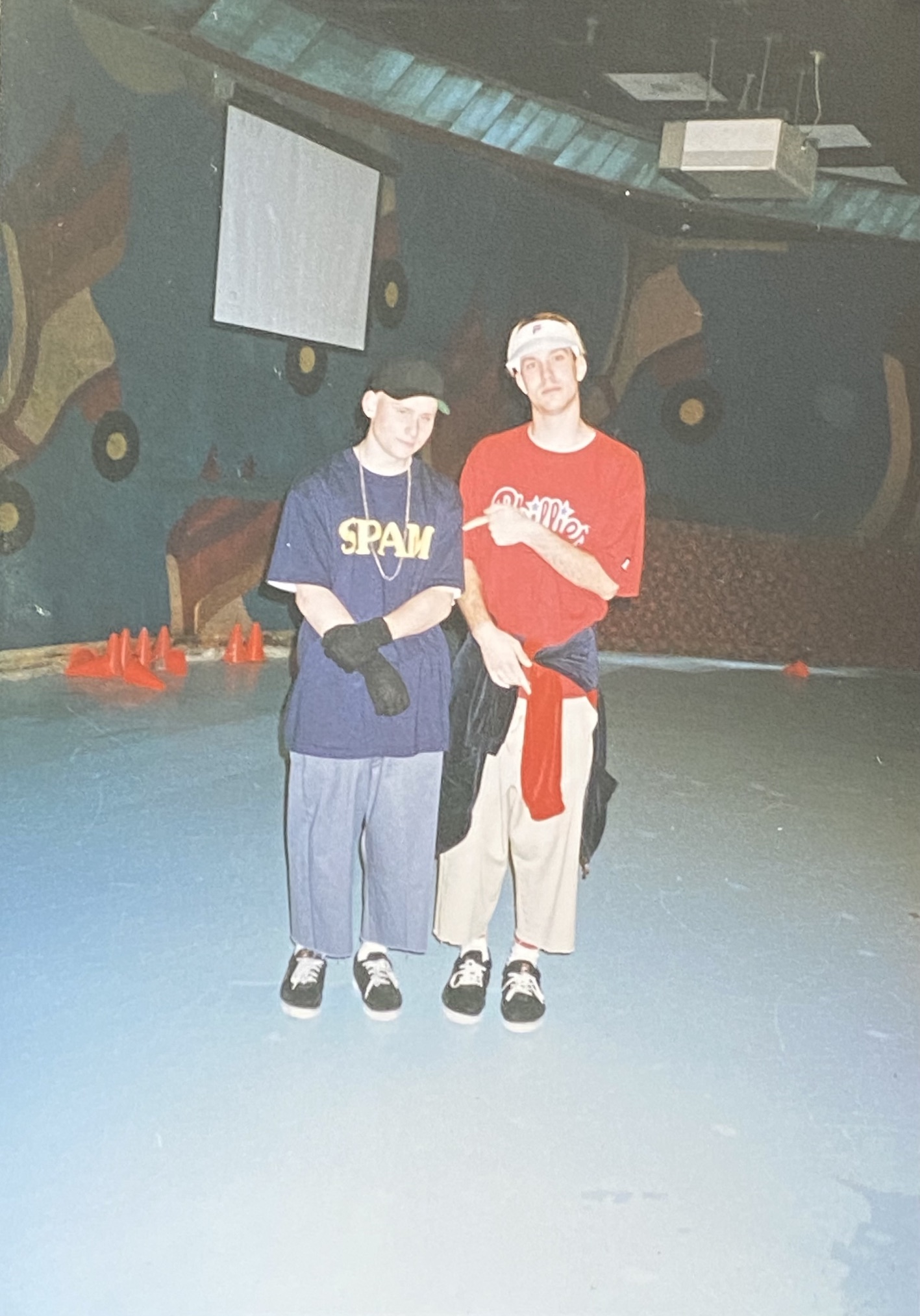 #4. World on Wheels, South Central L.A. ('90s) 
In L.A. in the 90s, we were treated to a lot of really great rave locations: water parks, mini-golf places, Knott's Berry Farm amusement park, Hollywood soundstages, not to mention all the crazy industrial warehouses and weird break-in spots. This was shot at a party at World on Wheels, the iconic South Central L.A. roller rink that played a huge role in the birth of California hip-hop. (You can read about it here). Two guys', names Noel and Jason, are dressed in a style we used to call "groovers." You can tell by the way they're wearing their pants highwater like that and those shoes (otherwise they would have on Adidas shell-toes) – groovers wore a lot more sport-related stuff and tracksuit jackets, less neon colors, and they were usually into house music. Noel, the kid in the SPAM shirt, I met at an illegal party in a warehouse next to a factory that made bacon bits. You couldn't stand outside because it smelled like dumpsters full of rotten pork. That party was the night before Thanksgiving and nearly everyone but me had taken peyote; I remember us talking about how hard it was going to be to pretend to eat turkey dinner with the whole family in a few hours. Noel worked at a Coca-Cola bottling plant. A lot of kids with no college prospects worked dead-end jobs just to move out of their parent's house, and raves were the only source of fun, joy and creativity in their lives.
#5. Labyrinth Tottenham, London ('90s) 
As a DJ, I solely played jungle/drum & bass DJ for about 10 years. When I was 18, we had a little crew of us from the US (who had met through a rave Telnet chat room called Vrave) who started making a yearly pilgrimage to London to cut dubplates at Music House in Islington and also go to drum 'n' bass clubs like Metalheadz at Blue Note, Swerve and (later) Movement at Bar Rumba. On one of these trips, I made my friends go all the way to Tottenham to check out this happy hardcore club called Labyrinth and I'm glad I did because it was probably in its final days. Also on that trip we would get very drunk and call up pirate radio stations to get shout-outs, and one of them you would call up and sing "Happy Hardcore karaoke." I'm glad I got those on cassette tape somehow, and this photo.
#6. Food Market, Williamsburg, Brooklyn, (2013)
I moved to New York City from California in 2004 and a year later, I became a part of a DJ crew called Trouble & Bass in NYC, pushing the early sounds of grime, bassline, Bmore & Jersey club, dubstep and beyond. In 2013, Red Bull Music Academy asked us to compete in the Culture Clash, a giant Jamaican-style soundclash where four teams of different music genres face-off; we filled in last minute when Fool's Gold Records dropped out, so we had two weeks to prepare instead of two months. We booked Cam'ron, Flatbush Zombies, Nina Sky, Dave Nada, Telli from Ninjasonik, go-go dancers and iconic 90s diva Robin S, who won us the Clash by singing "Show Me Love" for the finale alongside all of Roseland Ballroom (RIP). We were all given a couple hundred dollars to promote, so I came up with the idea of standing in front of a yuppie outdoor food market in Williamsburg blasting rave tapes on this boombox and handing out flyers like it was the 90s. My friend Sport Dog was supposed to play the cat but he got thrown in jail last minute so his friend Andy filled in. Sport got out of jail two days later, just in time to be the Ninja turtle we had on stage with us.
#7. The Bmore Massive (2007/2008) 
A few years later, about 2007 or 2008, we were DJing a lot of Baltimore club records in New York a lot of producers were being influenced by the genre. Turntable Lab record store stocked vinyl by Maryland cats like Rod Lee, Scottie B and Blaqstarr alongside Bmore bootlegs on labels like Hollertronix (run by Diplo and Low Budget) and T&A Records (run by Tittsworth & DJ Ayres).
This picture documents a rare moment in time. No idea where we were – looks like a shitty hotel or green room somewhere (maybe Miami Winter Music Conference) – but Unruly Records crew from Baltimore is here, including K-Swift, a dope DJ and the first lady of Baltimore Club who died unexpectedly young, just as her career was exploding. Also pictured are Tittsworth and Dave Nada (who now run Latin club label Hermanito), Wisconsin art rapper Juiceboxx and NYC producer Dre Skull, before he went on to make dancehall mega-hits for the likes of Popcaan, Vybz Kartel and Santigold. Trying to catch all these people in the same room now would be next to impossible but I'm glad we were there then.