Hiking & talking w/ Masha & Angel
Masha: "We are in this together. We want to care of each other."

This interview was conducted on 29th of December in the hills of Pacific Palisades. Originally I only planned to talk to Masha whom I know for some years now through her cultural activities in Los Angeles, organizing parties under imprints like Dusk Camp and Dig Deeper with shared friends like Lena Willikens and Jennifer Cardini. But as her partner Angel came along to the Westend of Los Angeles from their home on the East side, it kinda made sense to spontaneously open up the round.

Thomas: As I do the interview with the two of you, maybe you can start telling me how you met.

Masha: Yeah! That's an interesting story. And related to the music and cultural part of what we do. We met in New York in late 2018. I was there to do Beats in Space and some DJ gigs. I had just played at Elsewhere – and the Analog Soul Girls invited me to a party that one of them was playing after that with this Brazilian DJ Amanda Musso. I wasn't going to go, but at the end of my gig, my friends were like, come on, let's keep going! So we decided to go, check it out. The party is called Sublimate. I don't know if I can say, it is a…
Angel: It is in the Hasidic- Jewish neighborhood.
Masha: They do parties there on Fridays – but with the Hasidic Jewish culture you can't use electricity, on Fridays, I believe. Or you can't call the police. You can't report an underground party.
Angel: And then on my side, my former roommate that I lived with for four or five years in New York, he was visiting from Spain for a weekend. So we wanted to have a big night out. We were checking all the parties that were happening that night in New York – and I didn't know any of the listings, but the one that I liked the most, was this party. So we showed up there at 4am.
Masha: Yeah, it was, three, four. The place is pretty amazing. I think I'd been there once before – the music is on one floor and then upstairs there's a bar, a restroom and a big rooftop. You feel the energy there. It's a very open, queer, friendly kind of place. And yeah, we met there on the dance floor. I approached him, told him that I heard them speaking Spanish.
Angel: And then she talks about García Lorca and Almodovar right away. And that was when I thought that: Probably a good match. After that we stayed in touch. After three weeks or so I suggested – if she wanted – I could go visit her for Thanksgiving.
Masha: I'm Serbian. So for us, Thanksgiving doesn't mean anything. And I had like, no plans. So I was actually, like, yeah, why not? Like, this is actually a great time for a friend to visit.
Angel: We didn't know much about each other or anything, but why not?
Masha: Well, we were like texting and talking on the …
Angel: … phone.
Masha: Just go for it. After that I visited him in December, in New York. Then he came two weeks after to spend NYE with me – we went to Joshua Tree. His first time in the desert. That was very special. And then we kept doing that like every two or three weeks, one person would go visit on the coast
Thomas: That's a good rhythm in the beginning.
Angel: So yeah, we were bi-coastal for a year and a half. After that, we discussed which coast and who was going to move. And the position was that I was gonna move to the West Coast. So we found a place, I got another plane and sold all my stuff in New York, well, she helped me to sell all my stuff. I came here with two suitcases.
Thomas: It kinda makes sense. Cause everybody always thinks New York-LA is so close, especially when you see it in movies, like the red eye flight, but then again, it's five and a half hours, pretty the same as going from Europe to New York.
Masha: Exactly. 
New York has the reputation of being fast paced. You know: hustle, hustle, hustle – and LA has a more laid back reputation. So I see people going from New York to LA more than the other way around.
Angel: DJ and event producers are going to slow it down.
Masha: It's crazy. Yeah. Especially now with the pandemic – we're actually spending more time at home. We want outdoor space. We want easy access to nature and the beach and greenery. I think that also attracted more people. So many people left Manhattan during the pandemic.
Thomas: It's a brutal city. I don't want to live in Manhattan.
Angel: No.
Masha: Well, especially when it's cold,
Angel: We were lucky, we had just rented a really nice place in Echo Park, with a beautiful outdoor area and a separate studio.
Thomas: I saw your post the other day, the view on downtown is amazing.
Masha: Yeah. That's the new place. But the old place also had a pool and layers, it was also a great place too.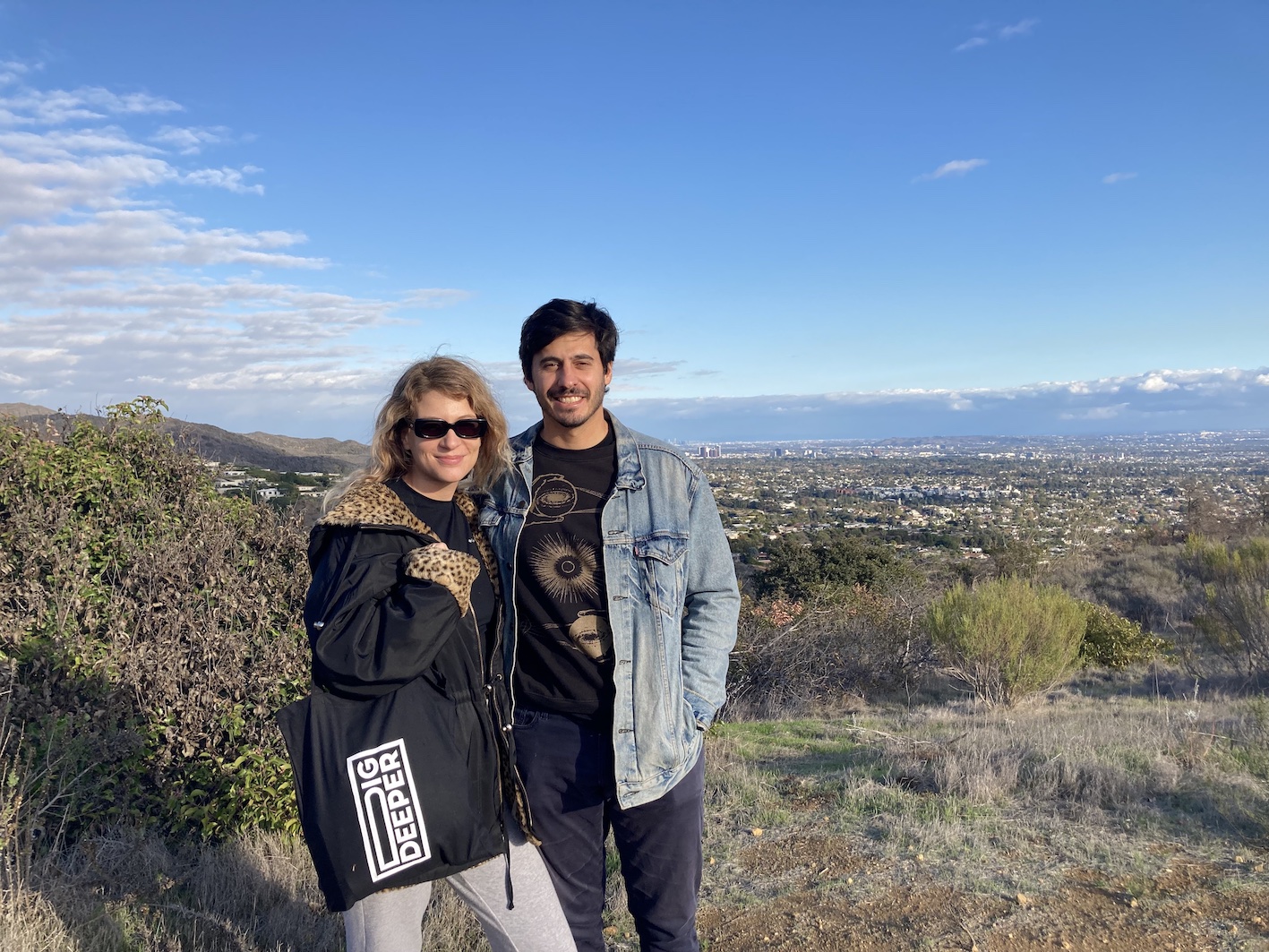 Thomas: What I wondered, did you also meet sometimes in the middle of the country? Like in a movie?
Masha: No, not really, we went once to Miami together, and San Francisco.
Thomas: Was that also connected to you deejaying or for real dates?
Masha: No, it was not for deejaying. It was just for fun those times. Yeah.
Angel: But now we do travel sometimes together when she has a gig. And whenever she can travel to Europe, we'll do a "Masha World Tour" – and I'm going to be on that.
Masha: Basically I came to the US in 2001 with my mom, right after millennium, right before 9/11 – thank God, because everything got really much more strict after that. I was 11 at that time; my three older siblings all got into university here and my mum wanted to be closer to them. So, you know, we had the visa, then we applied for residency– it was an eight year long process at which point I had basically entered college at UC Berkeley. And then we got rejected and appealed again. At that point it had been like almost a decade of living here, those were very formative years for me, California became my home.
 Luckily in 2012, Obama started the dreamers program, DACA – I've been part of that program since the year it was initiated. And that allows me to legally be here and work here. And I renew that status every two years, but it doesn't give me in and out privileges. So I have not left the US since 2007.
That's been really tough, especially with a lot of my family being in Serbia; and also with my music career – I am not able to accept gigs in like Mexico or Europe or anywhere in Asia. I've been stuck.
Thomas: Just to get it clear: You are somehow legally here, like as part of the system – you pay taxes, you travel within the US, even to Hawaii, but you are not allowed to travel outside and get back in.
Masha: Yeah, I renew it every year. I pay the fees – and mostly the fees are to be able to work here. It's a program that's oftentimes under threats, you know, Trump ended it, and then the Supreme court said, "actually you can't" – and basically that it is going to become a permanent solution for people like me who came here as children against their will.
For many, like me, this is all we know as a home. They came here as children. Oh, and I also want to add something: It's not like anyone who's now entering the United States can apply for this. The cutoff was the year. You had to have been under 16 by this year.
I think there are 700.000 of us, almost a million that have this status – and they should just give us a path to citizenship. They should allow us to apply for a green card, allow us to over time become citizens. But it's something that is being fought for every day.
Thomas: But why this no travels outside the Us rule? Just because some people in that administration think it´s more comfortable for them?
Masha: That way everybody stays in the country. I guess some people in the past have been able to do it. It just depends on everyone's status. But when I spoke to my immigration lawyer, it was very clear that if I leave the US, I'm not going to be able to come back in.
Thomas: This has drastic effects in your business. Through your work as a party organizer and DJ you made so many international contacts and could easily tour now around the world.
Masha: Yeah. Every time I get asked, I'm so flattered and honored – abut yeah, I can't, I can't do it right now.
Angel: Hopefully the day will come soon.
Masha: I can visit a lot of places then.
Thomas: Angel, you are originally from Spain. What's your status in the United States?
Angel: A permanent resident. I can apply for citizenship next year. I came to the country with a fellowship and sponsorship to do grad school in New York, they paid for my MBA. And then I started working here with the same company, an American company that I was already working for in Spain. I do business management consulting, helping companies making more money.
Thomas: And you like that?
Angel: It has given me good opportunities, like supporting me to come to the US and do grad school at Columbia University. They gave me a visa, allowed me to stay here and gave me my green card. I was able to go learn with smart kids that go to Ivy League Schools, work with a lot of interesting people, people from everywhere.
Masha: From everywhere in the world. Everyone has an accent.
Angel: it paid off so far.
But obviously, when I see you guys – you do follow your passions, you work on your art and your projects – that's another path. I never had a deep passion that was pushing me in that direction. I always went to the corporate way.
Let's try to find time and space to have a good life and meet interesting people, enjoy art, be outdoors, then do other things that I'm passionate about.
Thomas: Well, the story always goes like this, right: the grass is greener on the other side. If you do this cultural struggle for a very, very long time, you sometimes wonder why you keep going and wish to be the guy who just loves music and gets the money in from somewhere else.
Masha: And he paints, he paints beautifully. He's very modest. But it's something he does as a hobby.
Angel: Painting, like little art escapes, for pleasure.
Thomas: I just interviewed the artist Friedrich Kunath – and he pointed out that in the US he always get asked: "abstract or narrative?"
Angel: I don't know. I've done very few paintings. It is just a small hobby for me, helps me relax. 
Actually, my mom paints with oil and canvas, and my dad does a little bit of watercolor. We always traveled around the world and explored buildings, spaces, rooms. So art has always been part of my life.
Thomas: I get it. I see potential for a crossover in your life. Yeah, for sure. Angel, do you like living in the States? How is the country holding up to the expectations you had before coming here?
Angel: It feels like a movie to me. In Spain, when we were teenagers, we were watching the Simpsons. So everything seemed to be like in the Simpsons, everything is huge. 
I like it here. I like that I'm kind of living my own life and adventure, making my own choices, rather than just following a path that maybe was set for myself in Spain. I could have stayed in Spain, I would have kids or married someone from there, I would go on Sundays to my mom's place to have dinner. But I wanted to be a bit more adventurous with my life in general – my job opened that chance to me.
Thomas: Absolutely. Your job seems well fitting for what you are looking for in life. It is actually quite rare to meet someone who works outside the cultural bubble, like most of my friends are within that for sure.
Masha: It's really nice. It's also expanded my network of people. A lot of his friends have, I don't want to say more professional careers, more like structured lifes. I guess, corporate might be the word. And they're all really great people who also enjoy music and events.
Thomas: That said, Masha. Do you have the feeling that these friends of Angel sometimes ask you funny questions about work?
Masha: Like, how did you decide to become a DJ?
 Well, this is what I've been interested in my whole life since a young age. So, I can answer, I can explain how I got into it, but, you know, some people are like: "wow, how?" And I feel like, no one else who is in my field has ever asked me that.
Thomas: I can also imagine they are interested in the way you run your parties. Your events are pretty DIY, they do not feel like you are running them as a business in the first place, that you do it for money – I mean, of course you wanna earn with them, but then again, you know what I mean.
Masha: I mean, actually, with Surround, we did two really big outdoor events in the city of Los Angeles where everything was run by the city. I'm super proud of what we did this year. I mean, I feel like sometimes business has a bad connotation, but it shouldn't, you know, it's just …
Angel: … but you are not doing for the money, you do it for the music.
Masha: Exactly. That's not our goal. We're definitely not like Goldenvoice, the company that runs Coachella, they do a lot of festivals. Yeah, we are much smaller and community-based in that way. We do these events for our community.
Angel: You curate a safe and entertaining experience for everyone who wants them – instead of profiting.
Thomas: It's about eye-to-eye communication.
Masha: It's all independent, it is all self-funded, we don't have private investors.
Thomas: I realized, how you interact with the people on those events. Like the first night I came to LA and Jennifer Cardini was playing for you. There was this guy outside of the venue who was way out of his head – and your door person took care of him so patient and kind. I waited for a car, like 30 minutes, and he did not stop looking after the guy.
Masha: We are in this together. We want to care of each other. Everyone should feel safe, that is on top of mind for us – and it should be like that for everybody walking into the space. You take care of each other, it's very much a community space in that way.
Thomas: How did you experience the pandemic so far. Did it feel naturally to you to keep going? Or was their a moment or moments when you though, "oh my God, really changes everything", cause suddenly it must have felt like so much more responsibility for your crowd.
Masha: We opened up again in June 2021. I´m proud, but also exhausted from the last six months and everything we've done because we really did a lot to make up for lost time. But we also shifted our focus to outdoor events or indoor events with outdoor space. And of course, you know, we did all the necessary checking for vaccines and negative tests before everybody had to do this.
We are really blessed that we live here, the weather is beautiful. When we started our label Dusk Recordings, we had a launch event with friends and family at Elysian park, we set up a picnic. We just had a pin – and everybody who wanted to come, came. We had people who we released on the compilation play – it was a really, really nice family event.
Thomas: To me it changed so much coming over here from Europe. We can´t do this all year outside, those happenings are much more limited.
What were your two big parties you mentioned.
Masha: We had to do such big things, we would have lost a lot of money if we didn't.You know, if this many people didn't come, but luckily I think everyone was so hungry and excited for the parties to happen. Those outdoor events were with Harvey, and with Honey Dijon – Harvey was close to like 1800 people and Honey was close to 3000.
Thomas: Those are good sized parties. In Europe most outdoor stuff are festivals, they are so much bigger right on. Like 20.000 people, or even more.
Masha: Oh, no, we don't throw those big parties. Our parties are comfortable. I would never want to go that big – I think it just becomes something else at that point. And it's not something I'm interested in. Unless, like, maybe I had a stage at a bigger thing. That's our thing. I'm not interested in being a promoter and event producer of that size.
Thomas: I mean, it comes so much responsibility and logistics along with that. Just think of the recent tragic happenings at the Travis Scott show, where people died in the audience.
Masha: Oh my God. That was… that really shook me. You know, just thinking back to events I've thrown, but also events I've been at where, yeah, that's such a sad reality of what can happen when things go wrong.
Thomas: It's very difficult sometimes to understand the dynamics of this massive audience.
Masha: Cause it's getting hype.
Thomas: Masha, what I also wondered, coming from the European perspective, where the clubs got great state support in countries like Germany or UK, and by observing the brutal situation of iconic venues like Good Room in Brooklyn, who did not get any public support: did you feel supported at all in the US?
Masha: Everyone is upset at the people in charge for not taking care of the arts and especially the music venues. People who do this for a living are not taking care of them. And even the help that everyone out of work was supposed to get, oh my God, it was so hard to get it. It was just some people got lucky and then other people, it just didn't work out or it was so delayed. 
It was definitely a difficult time. We didn't know when it was going to end, when things were going to get better. It really shook us all to the core, but I think a lot of good things did also come out of it.
Thomas: Do you have the feeling that – what everybody talked about during the first months of the pandemic – that the economic system will be restarted, that the over heated fees get lower, that organizers really book more local people and not international Djs? I mean, you def book a lot of local talent.
Masha: Yeah. But that's not an outcome from the pandemic. We did Dust Camp in 2019 – and we had Harvey, Nobu, Cardini and a handful of international guests side by side with a lot of our locals, just like we do it at the parties in Los Angeles. This is where our roots are. And there's so much great talent here that doesn't get the shine they deserve just, just by nature of how this city is.
I'm super jealous of New York in that way. They have all these venues and a lot of opportunities and places for people to play, places where they don't face a lot of barriers to entry, places with a DIY spirit – it's really expensive and it's super risky in many ways.
Thomas: Also cause your nightlife is still much more controlled, there are no curfews in Germany, this makes it much easier to refinance your parties – in opposite to just have three hours in a small club to make good for your booking and the costs on top.
Masha: Absolutely. Something about the fees as you mentioned, everything got way more expensive after COVID, like sound guys charge more, venues charge more. Everyone has been increasing their prices. And, you know, with all those increased fees, you kind of have to charge more at the door, which is something that I don't like to do. We try to keep it as low as possible to make it accessible for everyone. 
We also have other opportunities for people to come for free, like sponsorship. If you're trans, it's always free, but also if you want to come help set up, or if you can't afford it and message us, we're going to figure it out. You know, that's always something that we offer. I feel like when you charge a certain amount, you attract a different kind of person. And we always want the people that are artists to attend, that might have more limited budgets – they bring all the vibes.
Thomas: Good point you are making about the increasing prices. When we talk about inflation, we talk about all the money pumped into the market. Our governments are not helping us out with their money, it´s all coming from our pockets.
Masha: Coming back to the original question: I don't see the DJ fees really having have gone up so much at all.
Angel: But you all have to push for that. The inflation came in many materials and def certain areas in 2021. So hopefully salaries will follow in 2022
Masha: Yeah. But it's just honestly so hard because when someone reaches out to do a booking, they could reach out to ten other people… so if you ask for too much more of a fee, there is that risk they are going to someone else.
I have this DJ residency, where I play on a lot of Sundays. All the residents at that location are getting paid the same that we were in before 2020, they haven't increased. Unfortunately we have no producer union or DJ union. Future goals.
Thomas: Well, the winners of such a wild west market don't want to share often.
 Angel, you mentioned before that specific night in New York when you met Masha, you didn't know any names on the bill, but still went cause the context sounded nice to you. Coming from that: how important is the internationality of the bookings to you when you go out?
Angel: Some people really want to see the big names they are familiar with. For me, already at that time, I had been many years in New York, so I had passed that phase of the bigger New York parties with the big names. I was looking for smaller clubs or underground parties with fewer, like a hundred to 200 people. It is more about the style of music.
Masha: Yeah. Cause the magic will always be in the small intimate places. You can really connect with the crowd and the crowd connect with each other.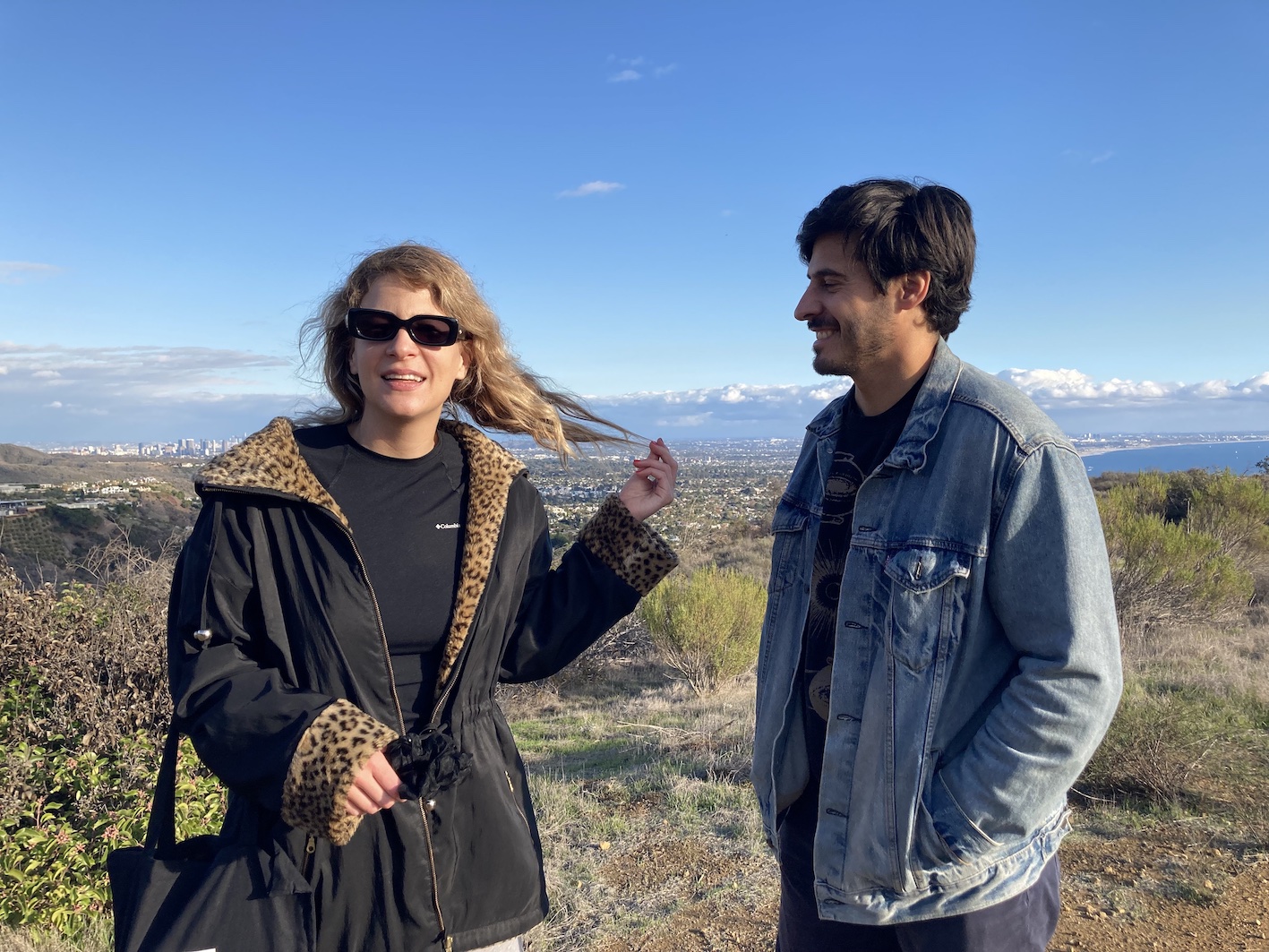 Thomas: Coming to your parties I realized right on the "End Overdose" booth, where people can get stuff to test their drugs. Cause you got this huge problem with drugs mixed up with fentanyl, something we don't see around in Europe.
Masha: Yeah. Fentanyl is one of the top causes of death in the United States. So it's a huge issue. And we're definitely doing everything on our part to have all the preventative measures in place.
Narcan is something that if somebody is overdosing, you can administer it to them and save their life.
It's really good to have around, especially at nightlife events, but also I think just in personal use, it can be helpful to just have around.
Thomas: What about the law aspects involved?
I ask cause way back in the 90s I was traveling in San Francisco and I was at the house of somebody when the person overdosed. So we called the police. And I remember the special squad came in fast, reanimated him and brought him to the hospital. But that sticked negatively with my record for some time, even tho i did not do any drugs myself nor was I involved in the situation at all – except of trying to help someone here.
Masha: Oh, you saved somebody's life"
Thomas: Yes. But I tell this to understand how the scenario works legally. Cause undercover cops see who is getting those tests and by that know who is using….
Masha: Yeah. The idea behind the test strips at our events is: you take them home. You can just take them, they're free via donations.
www.endoverdose.net
These are preventative measures. This fentanyl epidemic that's happening, it's, everywhere. It's in like Xanax, which some people take for anxiety; and if they're not buying it at the pharmacy and it's kind of off the street, it can have this in it. You just don't know why someone isn't going to a pharmacy, it might be cause of insurance healthcare issues, you know, it's expensive. So they get something they need for their mental state from … not from a doctor – and that can have it. So, yeah, it's not just like "club" drugs. It's in all kinds of medication now.
Thomas: Being in LA now for some time and reading the Los Angeles Times every day, I realized how often stories run covering the problematic situation of the health system and the negative effects of that.
Angel: Right? Their approach to healthcare in general is … the opioid crisis here is real. Healthcare companies were pushing 20, 30 years ago their opioids for chronic pain and things like that on the market. It has proven that it creates an addiction early on – but only now something is happening to those companies.The situation is so different to Europe, where you never feel that the doctor is pushing you to take a certain medication because they are also incentivized to sell you that medication. The system is just completely broken.
Thomas: We work in culture, but suddenly through the pandemic and such things like drug overdose, culture is very closely connected with our health, even more than normally. I come from an hardcore/indie background, I spend my youth in diy venues. It was always about the community feeling. With whom do I share the room? Who are those other people? How can we help each other? 
Reactivating nightlife again now is so much more than just organizing a dance. It is about bringing people together in a safe space to share their lifes.
Masha: Yeah – "we feel safe here!"; "we feel safe to express who we are!" 
There is a lot of joy that comes out of it, but sometimes also pressure. You know, especially being independently funded, being so responsible for so many people can be really stressful – but then, it's all worth it. When I hear feedback from people, also people who don't know I'm involved with this event that happened – , especially after the Honey Dijon event –, that was very big. Such LGBTQ+ event in LA felt free – and they wished they could just stay in that moment forever. Just hearing how impactful that was. I'm really just encouraging everyone to create those safe spaces for the community.
Angel: What next?
Masha: I'm really looking forward to making music in my studio, fully slowing down. The last six months were a lot. It was great, but going from being so slow in the pandemic to being back to 110%, I also got burnt out.
Thomas: I guess you have a much more steady working schedule, Angel?
Angel: For me, it's one more week of vacation – I have a friend visiting. This two week break was probably the longest break of the year. After that: back to work, work, work, work, that's it. But hey, one more, we come back to this. Keep breathing, keep being outdoors and going to Joshua Tree, which is going to be fine.
Thomas: Thanks for your time and openness here. Fingers crossed so hard, Masha, that you will be able to travel outside the US soon and I can host you two in Cologne. But what I also wanted to ask before and forgot, when the day is there: what´s the first destination?
Masha: Serbia – immediately. I mean, I have my brother there – who just had his second kid – and so much more family, also my sister, all of my cousins, uncles, everyone is there. So my first place is definitely going to be there and to meet everyone. And then Spain. And I can't wait to see Berlin, you know, it sounds like a fairytale place to me. Also Amsterdam. And some of the record shops everyone is talking about. And Asia, and, oh my God, Mexico. I mean, yeah, everywhere.
Thomas, thank you. That was so cute. Our first joint interview.