Chinese music promoter Ni Bing is trying to give his home country a good name by posting food and landscape photos
Why do we have to attack each other based on different believe systems?

Ni Bing is a world traveller in music. With his agency Martial Artists Management / Drum Rider GmbH, which also has an office in Berlin for some years, he early on brought electronic musicians like Richie Hawtin from the USA and Europe to China. He is a regular on pretty much every music festival out there, very often speaking about the scene in his home country China and the potential for western artists on this not easy market. Lately we saw Ni Bing post a lot about China as a kind of direct reaction to the Corona crisis to show the people how beautiful his home country is and how much there is to experience. 
Ni Bing, where in China are you currently located?
Right now I am on a business trip in Chengdu but most of the time I am in Beijing.
You do have flats in several towns, right? 
I have flats in Shenzhen, Beijing, Berlin and Dali.
Why so and why those cities?
As a foodie I think Cantonese food is the best in China and possibly the best in the world – after traveling globally over 20 years I think I can say so; also the warm weather makes it really good to stay in Shenzhen during the winter.
Beijing has a chill summer,dry and comfortable; and it is still the most cultural city in China, full of musicians, artists and media outlets. As long as I still work in music industry I have to spend most of my time there.
Berlin is my favorite European city, lots of friends live there and it is the best city for clubbing and meeting new creative people. Food is also getting better and the city is not that expensive to stay. My flat  has an amazing neighborhood – my neighbors include Phillippe Bober (my favorite art film producer who did "Enter The Void", "Suzhou River", "Square" and "Dau Natasha", to name just a few) and Katrin, a fashion designer for Mpmp. Our block on Karl Marx Alle is reminding me of Beijing with the socialism scheme;  even tho the broad road is a bit unhuman with not so many shops on the street, but I'm born with those sized streets and just feel at  home with them. Except of the food situation I do not feel home sick in Berlin at all.
I also bought a new house in Dali, a Chinese town know to have a Swiss alps lifestyle: clean air, never cold in winter, never hot in summer, organic food, beautiful mountains and lakes. There I have some secret Buddha temples with lovely local minority tribes and enjoy the upcoming art scene – the best place to retire one day.
Actually the reason I bought those four flats is because my idol is Huang Yong Yu ,the most famous contemporary Chinese painter – and he owns four houses in Hong Kong, Beijing, Florence and Fenghuang; I saw 15 years ago this interview with him on CCTV and thought that I would like to follow his way of enjoying life. Well, I  don't have that much money, but still I made it to four homes. With my new house in Dali – I get the key next month – my dream finally became true.

Ni Bing, I love your posts from traveling through China. It is quite rare to see somebody share so many impressions from the home country, instead most people only do post when they travel far. Like me, I rarely post from Cologne, Hamburg or Berlin, but of course from Tokyo, New York or Los Angeels.
That said: did you always travel so much through China or is this something that came by age?
Before 2018 I preferred to travel more abroad than within China. But then I visited the Tashkurgan area (which is located beside Pakistan) to meet the Tajik hiphop rapper Sar Man for an electronic music talent show funded by Tencent. We drove together around and passed by the snow capped seven Muztag peaks and the Moon River – and suddenly I realize how beautiful my country is. It is hard to see the oasis fading away and getting replaced by all the modern residency resettlement areas in the Tajik area; the local famers become less and less and also the original local minority culture is disappearing. Back in the days I studied urban planning at University, it makes me feel so helpless seeing the gentrification not only killing the street shops, cafes and restaurants inside the major cities but also changing the character of those small tribes which once used to flourish with their roots. The Chinese region of Tajik was originally embossed by Aryan-Persian culture and started to follow first Zoroastrian and now Islam. The marriage celebration in this regions were full of music – played with Eagle Flute and Afghanistan Jewaup, which is an ancient 17 strings instruments –, but when we were there joining the marriage in a village the other week, they were just playing music from a cd! So sad, but luckily they at least still keeps the beautiful way of dancing – and the food is still something else.
Berlin and London are maybe the only two cities in Europe I feel still keep changing with new urban planning projects; most of other places I visit are kinda staying the same or growing slowly – for example, when I visited Paris after 10 years lately, I did not see and fell such a big change. But if you revisit a place in China after one year, ,it's very possibly gone already. On my second last travel through China, I went to Kashgar after Tashkurgan to visit the historical Highland residency area and bought some beautiful ceramics inside – when we came back this time the place was gone.
All that said, I think it is important to documentate with my travels and posts some of the local culture in China:  the food, the music, the arts, the architecture. By showing these impressions to my international friends on facebook and instagram, I hopefully get them interested in visiting China. I love my home country and I cant' t wait to have them visiting me and showing them all those regions. I do this also of course for myself as a lot of the beauty of the country is dying sooner or later cause of the described processes.
Can you name your one most favorite place in China? And why so?
First of all: Chengdu in West China. The local nick name of Chengdu is Chengmsterdam. The subculture there is inclusive, the region is booming for the last 15 years, the result of the good work of the very open minded local government. I read the news today that the local government just announced that any small food and beverage business can have a legal open air area to serve , a  policy like this will never happen in both Beijing or Shanghai.
When Ralph Christoph (c/o pop), Harry Glass (Berlin Atonal), Mark Reeder and Heiko Hoffmann (former Groove, now Beatport) came to China for a project, I  took them to the Polycenter office building which used to be called the Magic Block –  there you used to find over a hundred small clubs and bars inside, featuring all kinds of music: techno, psytrance, hiphop, drum and bass etc. The office building corridors are on the weekend full of crazy young kids smoking, chatting, smiling where on the weekdays it's a real building for lots of other offices. At one point the landlord couldn't let out all office spaces, so the start ups were applying for the drink license to open a dance club inside– and by that created special crazy music and culture scene. Shame there is only the one techno club Tag left inside now, but in Chengdu those spots always pop up new –  it's not Polycenter any more but instead there is 339 TV tower building and Boiling Point Soho that keep the spirit going on.
Chengdu has a very special history. These days it is the capital of Sichuan province, historically it was 1800 years ago the capital of Shu during the three countries period. You find there a strong local culture, naturally it's a rich place full of fertile farms and fields surrounded by mountains so not so many wars happened in old time. The local dialect is very melodic and easy to rap with, so the hiphop scene is very unique now, the most famous hiphop group Higher Brothers from 88 Rising even sold out their all North American tours in pretty big venues.
It's also the capital of the globally famous Sichuan food. It does actually not matter if you eat at a one euro street noodle shop or a decent modern Sichuan Cuisine, its always good. The city attracts with its melting everyday life and the reasonable prices many musicians and artists moving here from Beijing and Shanghai. To give you an example, the rent of a nice 80 square meter appartement in central Chengdu is around 3000 rmb (like 400 €) a month which is only one quarter of the Beijing rent.
Around Chengdu there are thousands of lovely villages located in the near by mountains – so the weekend activities are great. One of my favorite lifestyle boutique music festivals named Chunyou is happening around Hei Long Tan area – its less than a two hours drive and comes with a beautiful lakes and hills scenario,no any big names but well balanced with good quality local and international lineups, really well done small festival.
You work in music – but it is quite rare that you post something about Chinese music on the socials, instead you are sharing photos of cities, landscapes and tons of yummy looking food.
Before we go deeper into the other fields, why do you think you do not share a lot of music thoughts and links? Or is this only my weird perception?
Honestly, I don't think China is right now ready to have musicians who can break through into international market –not within the next  two years.  That's why I didn't share that much online in the past, recently we have Stolen from Chengdu, who just finished the warmup tour with New Order and one of the artist of my label Drum Rider, JungleMico, is releasing a track on Kompakt these days.
I think I'm a natural born foodie, I can walk in an unknown restaurant in Mexico City even without any sign outside just by my basic instinct – and the details I care about for food also keeps letting me know more interesting people in the food industry.
To give you an example of my enthusiasm for food: as I was not able to book a table at the Albert Adria restaurant Tickets in Barcelona, I
called Travel & Leisure magazine in China and asked for the permission to request an interview in their name – he talked with me about the food, dessert, pastry and the city of Barcelona and made my cry. I was invited to have a 20 courses tasting menu in the end.
Another example, I went to London for a business trip to meet some labels – I booked Nobu hotel in Shoreditch, obviously just because I liked to eat at the restaurant in the basement, I don't gave a shit about the size of the room or if the hotel is far away from my business meetings. My idea is to let my tongue lead my direction and by that I will meet people.  Tasting good food is something I will never give up unless my body can't handle it anymore one day. As Confucius said, food and sex, that's life.
For somebody from Germany, China is like the USA and Russia very very big. One immediatelly understands that this country is for real several countries in one. So what I wonder, how does China feel for you as somebody born and raise?
I got the same feeling. I just came back from Inner Mongolia, for me it's like another country with a very different language. The people there are naturally born with grooves, there are so many many great local musicians – most of the Han Chinese, the majority nation in China, is lacking these talents, that's why the  techno or hiphop scene has never been that big over here in China, the pop music scene is dominated by cheesy ballads still.
The same stand for Chengdu (which is also within the  Han Chinese area) with its similar language and culture, every time I come here I still feel the special character of the region. An average store person can narrate poetry during a midnight snack  – of course he's drunk in that moment, but still he performs beautiful. Or you will see some old famous architects raving with young kids. This creates a different atmosphere in town, there are also super modern cafes with al Fresco tables, occupied by countryside ladies chatting the whole afternoon there and nobody hurries them away, this is something I can't imagine to happen in the big cities where people only go to places by different class and consuming powers.

How many significant different regions do you identify? And what are your categories for that? Landscape, the people?
I would say provincially it's different, but China can be divided in an Eastern,  Southern, a Southwest, a Northewest Central and a Northeast are – so in total you got six big areas. And Inner Mongolia, Tibet, Xinjiang – the three big minority provinces with very strong local culture.
And yes, all those regions come with different landscapes,  tribes, languages and for me most importantly: amazing and quite different food.
Ni Bing, do you also chose your travel locations cause of the local food selection?
Exactly, I never had interest to visit place with boring food. For a short trip with good music and art scene I can go, but I am not a person who travels to take pictures to show, I really want to spend time to know the local culture,so I hate short trips in fact.
What are you ten favorite Chinese dishes and what is the original regions they are from? (it would be great to get one picture to each of them too)
蛋炒饭 – Egg Fried Rice
The simplest is actually the hardest to cook.You need to use steamed rice that spend a night in the fridge, and always remember to put the spring onions only three minutes inside before shutting down the fire.
重庆小面 – Chongqing noodles
Why only noodles from Chongqing? Because in China the water makes the main sense of the noodle soap, only water from Yangtze river in Chongqing taste best, so you have to travel there to eat.
南京烤鸭 – Nanjing Roasted Duck
Most of the people abroad or even within China just know Peking Duck, actually the roasted duck from Nanjing is much better, especially the sauce to eat with is super unique. There is an article named "Not Any Duck Can Swim Over Yangtze River" which has millions of reads online – in the article a father lost the sauce on his way biking back home and when he found it he rather circle back half an hour to buy another one than eating the old.
海南鸡饭 – Hainan Chicken Rice
It's actually not from Hainan Island in China, it's invented by Singaporean – and the way to cook chicken is to use boiled water to steam it without fire.
叉烧 – Char siew
Again,the very simple one, but to make it very delicious is a big challenge.
烤罗非鱼 – Grilled Tilapia
The most favorite dish at my own restaurant Dali Courtyard in Beijing, people keep driving to town for this for over 13 years now.
客家鱼生 – Hakka Sashimi Fish
I used to be big fan of Chaozhou sashimi, and finally we found this little restaurant in Shenzhen – and I can't forget it at all.
深井烧鹅 – Sham Tseng roasted goose
Originally from Sham Tseng village (close by Canton), but  now located in a little village close to Hong Kong, the famous roasted gooses is attracting thousands of tourists driving long way to taste.
兴记煲仔饭 – Hing Kee Claypot Rice
Best claypot rice on Temple Street in Mongkok Hong Kong.
咸菜汁蒸黄鱼  – Steamed yellow croaker in pickle sauce
I have tasted the dish in the canteen of the tourism office at Ci Cheng, a suburb of Ningbo city, and I still can't believe that a common female chef working in a common office can make it so good.
A harsh break to the questions so far, but sadly one necessary as the current situation is sadly bringing up a lot of anti asian prejudices out there. How do you experience the current climate in the world in the backlash of Corona?
I don't think it's the product from a certain lab. It is not a bio-weapon against the Western World from China – but I think there was a chance that the outbreak  maybe could have been controlled from beginning. But then again, honestly, what do we know where it comes from … the bushfires of Australia and the happenings at the amazon river from Brazil, the global warming phenomenon, plastics inside the ocean and the way global farmers are feeding their animals, the potential reasons are many, it was only a question of time to see shit like this happen – and unfortunately it came from China this time. I personally think the government here controlled the situation in the end pretty well, but obviously the other countries can't use the same tracking system to manage it like we did. It was sadly unavoidable that all this generated some hate, especially less educated people are attacking Asian faces now. I only wish  that the people with their own mindsets can see the difference between Chinese people and Chinese politics. Why do we have to attack each other based on different believe systems?
All that is the reason I am sharing these days more nice landscape, food and music things on my social networks – I hope to ease a bit of the hate with them. I def cant stop everyone who thinks, talks and acts bad but at least my friends and people in the music industry should think different and don't feel it's the mistake from the Chinese people – we are suffering as much as you from the same virus.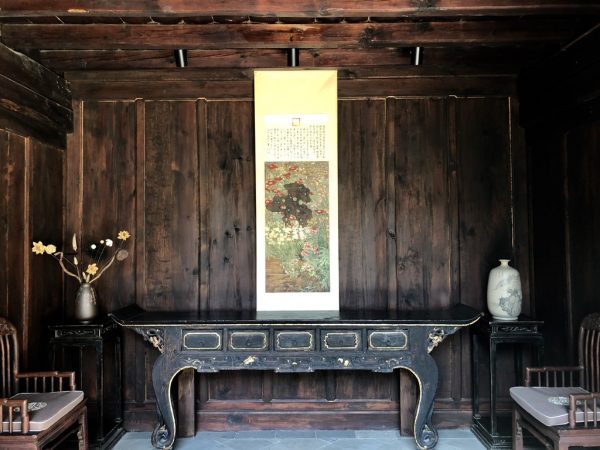 Whats your expectations for the post Corona world? How much do you think will Corona change the world in general and the art and music world particularly?
In China, we have this word Double-edged sword, I think the coronavirus situation for music industry is like that.
On one side, musicians, especially indie musicians and session musicians suffered a lot due to less shows or less income through their rights owning. But in China, almost everyday there are live concerts broadcasted online, some via music streaming platforms, some via video platforms like Tiktok and Youku, or even via e-commerce platforms – so as an example, one of our world music label was not monetized well before the corona time, but as some of their musicians are coming from an area full of nice food ingredient, they went for selling those hometown products  alongside their music and are making not  a bad income from the commission by selling these.
Another example, EDM Club TAXXX was a table service club in Shanghai, packed with rich kids who are showing off by opening dozens of champagne bottles every night – TAXXX did an online party on Tiktok and to our surprise, the rich kids found out that showing off by donating cash is more exciting as  TAXX showed their names on the top consuming charts, something not happening before in real life. Back in the normal days only tables around you know it, now one million people are watching you live drinking – don't get me wrong, it is ridiculous, but its a good business for the club and the rich people are getting satisfied
I can go on like this, look at the increasing sales of Oculus Quest with the VR concerts by  Travis Scott and Marshmello, those performances show the huge potential of the virtual world. Or take the Ready Player One film, it is getting more interactive, more fun, with infinite imagination. Another example is the dj training app Tribe XR hat shows that you can teach and learn in the virtual space, play and dance. When the internet speed is getting faster and faster – by the 5G network – people like Richie Hawtin can really stay home and plays from there in front of 10.000 people. .
When this terrible Corona crisis is over, China is def on top of my travel list. As you know, I have been there twice, but only in Hong Kong, Shanghai and Bejing. So lets say I have three weeks time, where should I def go to and what do I have to see?
I dont want to suggest you to travel too much places. So, lets concentrate on maybe only two areas.
You should land in Chengdu as it's the most international destination for most of the European airlines. Stay a few days there, then go to Yunnan area and places like Dali, Tengchong. I  think you should rent a car and drive there to enjoy more different places inside Yunnan, it has 30 minority tribes living there all the way down to Vietnam and Thailand, food, people and architecture are amazing.
The eastern area close to Shanghai is also highly recommended, but go to the south Anhui province where the Yellow Mountain is. There is a slang wording in China called 五月归来不看山,黄山归来不看岳 saying that those who return  from the five most famous mountains do not want to look at the mountains any more, when you retur from Yellow mountain you def do not wanna look at the five most famous mountains anymore. The  villages around the mountain – like Bishan or Kengshang – are a must see with the relocated artists (coming from the big cities) – this is a good example for the new down-to-earth rural gentrification plans. You should also not miss the bamboo forests aside and the old houses in Hongcun (the places Ann Lee shot his film "Crouching Tiger, Hidden Dragon"). And finally there is this suburb of Hangzhou called Tonglu, which is close to Yellow Mountain area and full of nice modern villas, bookstores, art festivals and nice nature  – and easy to access by train now.
Ni Bing, thanks so much for your time and this deep inside view on your home country.