Adam Hocker – Interview
"Everyone I knew had a friend or family member or acquaintance with a drug problem"

Adam Hocker recorded under the imprint Adam H. an enigmatic two track album with one long waltz and one long drone. Music to get lost in. And music with a huge package of world reflections on its back. Adam Hocker was so kind to share some of them with kaput.

Adam, you just moved from Brooklyn to Berlin in 2021. Why so?
Adam Hocker: Because of the pandemic and the fact that half of America now belongs to a certifiable death cult (a.k.a. the Republican Party), New York now is like how it was in the 1980s – except without the cheap rents and thriving art scene. I believe my decision to move came when I found myself being accosted on the subway by a man wielding his own prosthetic leg as a weapon while going to work at 9am on a Tuesday. I had been violently mugged years before but that moment there was a real moment of clarity.
How did it feel to arrive in a new city during the pandemic?
I arrived in September of 2021 and the severity of the pandemic had begun to lighten. Putting my bags down in Berlin honestly felt like a deep breath of mountain air after having been locked in a musty cellar somewhere. The sensation of having escaped the United States – with its religious extremism, school shootings, and worship of money … honestly, what a sensation it was and continues to be. Like being told you can put down a boulder that you have been hauling without even realizing you've been carrying it.
"Floods" was produced during the pandemic in Europe and the USA. Do you feel that this very special moment in time also had an impact on the album?
Artistically, and against all odds, the pandemic turned out to be quite valuable to me. Here's why. There was one session for "Floods" in late January 2020 with Kid Millions and Jim Sauter that was transcendent. I had booked five hours with Colin Marston at his exceptional studio Thousand Caves in Queens. We were done in two. More sessions were booked for late March – which were of course cancelled and which caused much despair on my end. However, after a month of thinking the record was dead and would never be finished, I realized that it could be done remotely if I altered my perceptions on how the music should be made. Not being in the same room as the musicians contributing to "Floods" meant that I had to abandon all visions of artistic control and instead embrace a generalized faith in collaboration and the power that can only emerge from multiple – and often conflicting – perspectives. This was a radical conceptual leap for me, whose impact is still resonating in my compositional practice. As time goes by, I believe less and less in authorship; and this idea that my work is not my own has been liberating to an extreme.
In the liner notes video to "Floods" you give some insights in the inspirational process behind the work. You talk about all those stories of heroin addictions, drug overdoses, dealer careers and prison life paths that circulated around and to you and finally leaded to "The Flood of 1997", a song about the brutal effects of the Sackler family empire (that was built on the painkiller OxyContin) that brought pain and sorrow in the lifes of so many Americans; set forth in the article by Patrick Radden Keefe for the New Yorker; and the effects are still visible today when the current fentanyl death epidemic kills way too many people.
What ultimately made you decide to take on the topic?
Rage at corporate greed. Pure uncontainable disgust at the structure of American society as well. Everyone I knew had a friend or family member or acquaintance with a drug problem; and I think this is the case with most Americans, even if it is not openly talked about. The Sackler Family and their relentless production and marketing of a highly dangerous drug is directly linked to the deaths of over 500,000 people. They are billionaire murderers and are somehow free to lead their lives normally and in the way that they please. The anger about this had to flow somewhere so it went into "Floods".
Do you also have your own history with drugs and narcotics?
Drugs, yes; narcotics, no. An artist family member once told me as a teenager that it was ok to try every drug with the exception of heroin. Wise words. I should mention that I have been straight edge for over four years now, and this also coincided and deeply influenced the making of "Floods".
How does the music reflect all this for you in an artistic / musical way?
Both pieces have very simple and open repetitive frameworks that deteriorate into chaos. One is a waltz, the other a drone. I think the repetition reflects the course of addiction quite well. Addicts generally don't realize that they are addicted until things start to fall apart, when the physical reality surrounding them starts to reflect their own physical and spiritual distress.
How did you chose the impressive list of musics to collaborate with for the record? I mean, it is quite something to finde the ones like Kid Millions (Oneida) Jim Sauter (Borbetomagus) Tim Dahl (Lydia Lunch Retrovirus, The Flying Luttenbachers) and Sarah Bernstein (Veer Quartet) on one recording.
I have known Kid for a long time through my wife, who is much cooler than I am. When I mentioned the piece to him, he sounded interested so I immediately asked him to be a part of it. Few drummers are as powerful and protean as he is and so it already felt like the piece was heading in the right direction when he said yes. Kid plays with Jim on a couple of amazing albums that came out on Astral Spirits and I thought that their sound would be perfect for "The Flood of 1997"; after all, no one is more punishing on the saxophone than Jim Sauter. When I asked Jim if he would "help me destroy a waltz" and mentioned that Kid was on board, he laughed and also immediately said yes. As for Tim, I knew his style was ideal for the album and could approach him thanks to the supergroup that was already in place (as well as the fact that he is coincidentally my cousin's closest friend). I have honestly never heard a better or more unusual bass player than Tim. I owe the great Sarah Bernstein's presence on the album once again to Kid–the nexus for good music and even better people. He put me in touch with her when I told him I needed a violinist. I owe much to Kid and sing his praises wherever I go.
The album is released on Seattle based Debacle Records. Maybe you can give me some context, like how you came in contact with them, whats your releation to the other artists on the label and so on.
I sent the album to about fifty labels. Some got back to me, most did not. I knew of Debacle through the band High Aura'd – who released a killer album with them. When I sent "Floods" as a cold submission to Debacle, they wrote back almost immediately saying that they loved it and wanted to do a full physical release. It felt right so I went for it.
I bring up the label as Seattle of course is highly associated with Sub Pop and Grunge music, a scene where heroin and other narcotics were also very present and leaded to the dearth of the ones like Kurdt Cobain, Kristen Pfaff, Shannon Hoon or lately Mark Lanegan.
Do you as a musician with a lot of insights in the topography of the US-American music scene, feel like that certain areas and communities are more likely affected by that than others, or is it more likely the sound that leads to certain patterns?
Absolutely and there were some striking artistic parallels between Louisville (near where I grew up) and Seattle in the 90s. Both had (and continue to have) an intense and very dark indie music culture that have produced some exceptional music. Both are (or were at least) ferociously independent and suspicious of mainstream consumer culture. Both are mid-sized and have junk problems. I think what creates scenes like these is a large-scale sense of isolation that is cultural, economic, and geographic. Cities are like people: if they are alone, don't know who they are, and in economic distress, you can be sure that drug problems and disturbing music are on the way.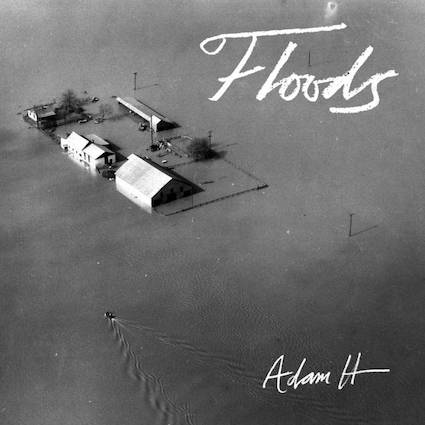 The cover artwork shows some heavily flooded house from a flood that happened in Louisville, Kentucky, caused from a rageful Ohio River. Do you have a special relationship to Louisville yourself?
I grew up on a hill across the Ohio River in southern Indiana. The skyline of Louisville was always in the distance. I went to high school in Louisville and still have friends who live there but have always naturally taken an observational stance toward the city. This is fitting for the album I suppose.
David Grubbs of Squirrel Bait Bastro, Bitch Magnet, Gastr del Sol (to just name a few) fame, who is also originally from Louisville and now lives in Brooklyn, wrote some additional liner notes for the album. How do you two know in the first place?
When Bob sent me the masters for "Floods", I jokingly said "What do I do now?"; and without missing a beat, he said, "Get it to David Grubbs". I reached out to David through a mutual acquaintance and sent him the record. I then attended a seminar he gave with Jan St. Werner on collaborative experimentation in sound that was hosted in Porto by ISCI Berkeley. As such, I consider myself a student of his and am honored he was willing to comment on the album.
I gues the the second title on the album, "The Flood of 2064", refers to he ongoing climate catastrophe that we all are part of. We all know the water is and will keep on rising – and still we aint react in the way we need to if we wanna change things to the better. What made you chose the year of 2064 for title?
The rhythm of the number is hypnotic and a pleasure to sing and speak. There is some homage to Roberto Bolaño as well with his incredible novel 2666. There is indeed the angle of climate change and our global addiction to fossil fuels; but more specifically, there is also that of meditating on the ultimate impending collapse of civilization – which people don't enjoy talking about too much for some reason.