Easterndaze x Berlin 2019 – Interview with Lucia Udvardyova & Natalie Gravenor
Berlin has a bizarre relationship to its "Eastern" neighbors
Between the 28th of November and the 1st of December the third edition of "Easterndaze x Berlin" will happen in Berlin. Kaput asked Lucia Udvardyova and Natalie Gravenor some questions about the general agenda of the happening, the first two editions and what to expect from this years lineup. 
Natalie, Lucia, let´s begin at the start: what made you come up with the idea for "Easterndaze x Berlin" in the first place?
Lucia: I let Natalie answer, as it was basically her invitation back in 2016.
Natalie: I had been following Easterndaze since around 2011 or so. I was really excited that there's finally a project devoted to mapping the diverse and simply amazing DIY musical activities throughout the "region" of Central and Eastern Europe. I also liked the intellectual approach: acknowledging (often playfully) the elephant in the room – the socialist and post-socialist legacy – while still showing the diversity of musical approaches and attempting to subvert the Cold War and transformation period clichés. This interest stems from my curatorial and research work about the rich heritage of audiovisual presentation of music (particularly music clips, experimental cinema and video art, and the intriguing overlap of those three modes, I term I prefer to "genre") in so-called CEE countries, although my focus is on pre-1989 developments.
Lucia and I met, stayed in touch. In 2015, Lucia curated an intriguing program with various labels and collectives at the OFF Biennale in Budapest. Sadly, I wasn't able to attend, so for purely selfish reasons, I suggested doing some small event in Berlin. Lucia then added the idea of including Berlin-based collectives, and from that, the project grew.
The festival highlights the Eastern Europe electronic music scene – do you feel the protagonists and the music from Eastern Europe are in general underrepresented in Berlin?
Lucia: Even though it's exactly 30 years since the fall of the Iron Curtain, and most Eastern European countries are part of the EU as well as the Schengen zone (free movement of people and labour), most festival and club lineups rarely feature Eastern European artists (see Berlin club lineups or European festival lineups). I'm not sure what is the reason – perhaps lack of networking or connections? Perhaps it is our lack of self-confidence, who knows.
Natalie: At least artists who can't be marketed within the parameters of some "Wild, Wild East" post-socialist discourse or who don't play traditional music or some derivation thereof, like the numerous Balkan Beats combos.
How are you experiences coming from the first two editions?Lucia: The reason why we still continue is that at each edition, there were these small glimpses of hope that all of this makes sense somehow.
Like when we first saw the amazing premises of the Krematorium (aka Silent Green) in Wedding, and asked Christoph de Babalon and the Polish audiovisual duo WIDT to perform together without any extensive rehearsals. The concert was hauntingly beautiful – eerie vocals, analogue projection on the backdrop of Christoph's macabre beats. The best thing about this was that they continued working after the event and created a new project called TEYAS, their debut album was subsequently released on the Polish label Bocian Records.
Last year it was great to invite the multimedia project LAND3C which mythologizes and subverts Eastern European prejudices/fetishes. There was also a split tape made on the occasion of one of the nights, compiled by the Budapest label EXILES in collaboration with Berlin's Total Black.
Natalie: Those collaborations were definitely highlights, and I hope we can encourage and facilitate more such cooperation in the future.
I just attended Week-End-Festival in Cologne, running for over five years and very carefully curated. The director Jan Lankishc is a good friend and we talk a lot about the realities of making a small festival happen. Of course he complains about rising fees, difficult audience expectations, funding…. how are you experiences all of this? How hard / easy is it to get "Easterndaze x Berlin" running?
Lucia: We are working on a shoestring budget and try to give most of it to collectives and artists. Of course it's not easy, but everyone has been so far very understanding. I'd say we are quite a fluid entity without an established name or status, and thus don't really have to comply with audience expectations.
Natalie: Recently, I had an interesting conversation with the co-owner of the venue of the first edition. She also has extensive ties to the more "overground" Berlin music scene. Her feeling was that "Easterndaze x Berlin" may have helped to open the door a bit. If that's the case, then the effort seems to be worth it.
Maybe you could pick a videoclip / sound link to one song of each artist involved and give me 2,3 sentences why you decided to invite this artist.
Lucia: The basic idea of the event is to invite collectives as a crucial agent of change in the (underground) music scene. It is labels and collectives that can mitigate change. We have invited three collectives from Berlin and paired them with three collectives from so-called Eastern Europe in order to encourage cooperation between them and let them compile their own lineups. Everyone is basically getting to work with the same budget, and the final artist selection is solely up to them.
Serious Serious – music collective/community based between Tallinn and Vienna. Hovering between music/art/concept. Their roster includes cut'n'paste master Ratkiller, one to watch performer Michaela Kisling and label boss Benzokai.
Conditional – Berlin based label run by Calum Gunn (who's an amazing producer in his own right). We released Calum's album on our sister label Baba Vanga and kept in touch since then. For the event, he's put together an amazing lineup with computer musics masters Renick Bell & Steph Horak, Daniel Katinsky and Jennifer Walton, whose album "White Nurse" takes its track names from chapter headings of the Xenofeminist Manifesto, the 'White Nurse' EP channels Jennifer Walton's frustrations as a fan of Power Electronics, a genre constantly flirting with fascist imagery.
Paradaiz – manele (a genre similar to Balkan styles like turbo folk, largely played by the Roma population in Romania) is still a controversial phenomenon in Romania. When TOMM¥ €A$H played a manele inspired song at a major festival in Romania in the summer, he was de facto publicly banned from ever performing there again.
Paradaiz aims to subvert these preconceptions and prejudices and celebrates manele for what it is: a fascinating culture of bootleg tapes, Youtube channels, amazing performers and musicians.
To our Berlin event, they will bring a rising star of manele Matteo Islandezu who will perform live with his sister Lena. Plus there's a tape DJ set by PARADAIZ Tape Mașina, a project that emerged with the interest for an unexplored cultural area in the social context of the 90s Romanian transition.
Voodoohop – The Brasil-Berlin cultural underground activists collective Voodoohop are pioneers of the Brazilian performance/music scene. Though it was started in Sao Paulo, Brazil, their party series has since expanded to a Berlin outpost with events appearing regularly around town at different venues creating a multi sensory tropical cabaret. In a world where the likes of Bolsonaro, Trump and similar are in power, it's important to push boundaries and search for (artistic) freedom.
Forbidden Planet – The Berlin via Montreal label has been releasing some very fine techno/electro recordings in the last six years, and the label manager, Giulia Valenti, is my dear friend (I find it important to work with people I know through a rhizomatic network of underground culture). Our final event – Forbidden Planet x Mechta, will take place at Tresor at an event celebrating collectives in music. Forbidden Planet invites techno legend Mono Junk, known for being one of the first Finnish electronic producers to acknowledge the Detroit and Chicago lineages in his compositions. As well as Mas569 live and Yanling on the decks.
Mechta – With Easterndaze, we pretty much travelled everywhere across Eastern Europe making interviews, meeting musicians and music activists in the last ten years. Belarus, nevertheless, we haven't managed to get yet, alas. Its music scene  in contrast to the much hyped scenes of post-Soviet countries – like Kyiv's Cxema or Georgia's Bassiani – remains largely unknown. Thus, I invited Mechta, a promoter collective and podcast series based in Minsk. Aside from two core members, Morgotika and SDS, they will also bring Gerald Donald collaborator and a great DJ Elena Sizova from Minsk.
PS: Mechta will also feature on our panel talk on 30/11, where we'll discuss the situation and scene in Belarus, among others.
"Easterndaze x Berlin" is more than just a music festival, there are talks and panels, and the festival is also talking to a wider artistic community of arts and films. Why so?
Lucia: We have a panel talk this year because we felt we should give some sort of theoretical framework to what we're doing. Some sort of explanation, why this is important in 2019. There will be a talk entitled "Subcultural Peripheries: Remapping the East" , put together by Bucharest's KAJET Journal, which is one of the most interesting endeavours in this field in the last year. There will also be a videodrome station courtesy of D'EST, a Berlin- based online audiovisual platform that reflects the post-socialist transformation along post- geographic, horizontal, and feminist focus topics.
Natalie: We discussed this extensively, as we didn't want to "tack on" a discourse program which doesn't really provide new insights, as sometimes accompanying discussions at comparable events turn out. However, the fresh approach of KAJET, which combines reportage, academic or literary writing with photography, podcasts, along with the participation of D'EST and Zonic, which has done valuable work in mapping pre-1989 punk, post-punk, underground and avantgarde scenes in Europe's "East", made the proposition worthwhile.
The festival is only one of many activities connected with Easterndaze. There is the blog easterndaze.net, founded by you, Lucia with Peter Gonda, there are radio shows, there are label activities. Is all of this the result of one gang or do the specific channels act in their own right?
Lucia: After nine years, we still operate as a non-institution, basically without any formal framework and funding. Thus, all of our activities are dependent on our time, mood, people we meet, places we work with, etc. It's basically a loose umbrella which helps us to connect to people, and connect people (labels to musicians, musicians to venues, musicians to musicians, etc). Both me, and Peter live quite chaotic, precarious lives, always on the move, and Easterndaze somehow reflects this.
Last but not least the question: how important is Berlin for Easterndaze? Could the festival also happen in other German or Western European town?
Lucia: Berlin was a kind of an obvious choice with all its advantages and disadvantages. Natalie is based there, and so is our main funder (Musicboard). On the other hand, it's probably like bringing wood to the forest, as they say. Berlin already is saturated to the point of gluttony, especially in the music field. It's hard to find venues and audiences, but on the other hand, it's a cultural melting pot where things happen and ideas are born.
Natalie: Berlin has a bizarre relationship to its "Eastern" neighbors. There's the proximity and the connection through shared history on the one hand and on the other – maybe precisely because of the complicated 20th century legacy – often a willful ignorance of what's going on in scenes a few hundred kilometers to the East or Southeast, whereas developments in North America or even other more far-flung continents are followed more eagerly. Given this, I think Berlin is a necessary choice.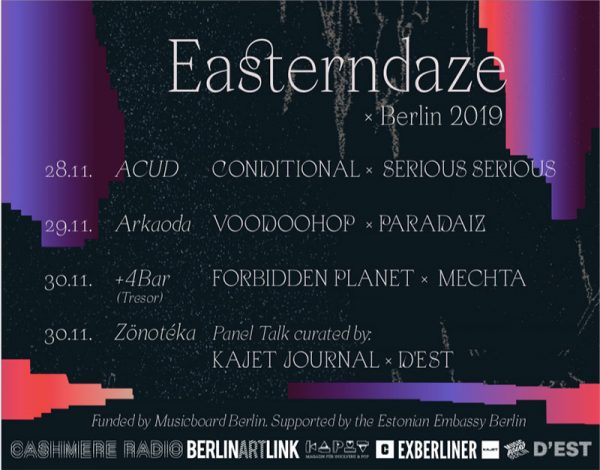 The third edition of "Easterndaze x Berlin" will happen in Berlin between the 28th of November and the 1st of December.