Innervisions 99 – "Limbo"
Cibelle Cavalli Bastos: "AR helps to pass the time in creative and socially engaging ways as well as solo inward journeying"
2020 may have been a downer in many many ways, but one truly can't say that there have not been as many many great records coming out this year. So, before we all go isolation and await 2021 fear- and hopeful at the same time in our little private castles, Berlin based Innervisions records, the label run by Steffen Berkhahn (Dixon), Kristian Rädle & Frank Wiedemann (of Âme), is handling over there 99th release to us, wisely named "Limbo".

But "Limbo" is not just about their sound vision for 2021 – it is also a playground for your very own interpretation of that as they asked Cibelle Cavalli Bastos (who released music under the imprint Cibelle in the past) to create an interactive Augmented Reality world for the Innervisions instagram account.
Kaput talked to Cibelle Cavalli Bastos about their Augmented Reality vision.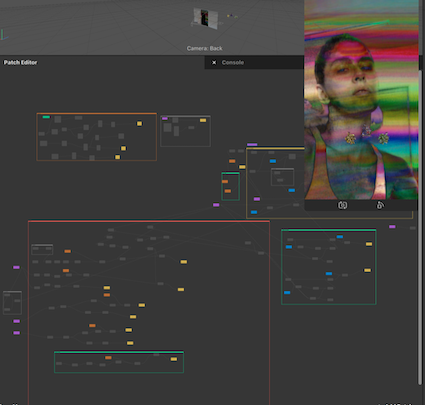 Cibelle, what is it that catched your attention about Augmented Reality in the first place?
Cibelle Cavalli Bastos: The possibilities of interaction that it brought. One being the fact that it makes access to art more democratic. Of course, not everyone in the globe has a smart phone that can handle AR, and as public AR is only in its infancy, many smart phones and similar devices are still unable to reply certain AR experiences because of internal manufacturer politics, still, it succeeds in giving access to a wide scope of art and artist expression. I really appreciate how it allows art making in a way that doesn't generate further material residue as well. I also find that it can open doors for understanding interdimensionality and challenging perception.
And what is your own specific angle of interest in working with it?
At first I was really into social sculpture potentials, such as the filters I've done for identity and self affirmation such as EveryBodyValid, which are face filters that allow for whoever is using them to display their pronouns, and depending on a facial gesture, the phrases "Gender has no specific aesthetics" and "Queerness has no specific aesthetic" appears. As people share this filter and tag me, I am able to save the videos and map a wide spectrum of gender expression.
Right now I'm really into the possibilities for music and sonic arts. I come from a musical background. I used to release albums under "Cibelle" and tour the world until I felt I needed an exit. The conversation in music industry at the time was too narrow for what I had been working with and I felt more comfortable moving into fine art. I was also at the beginning of my non-binary transition at a time when this conversation wasn't so widespread, so I felt I needed to chill and go underground for a while.
When I came across Spark AR and they released sound capabilities something sparked inside of me. All my love and existence in music felt ready to pop its head out again. I've very "material" driven, in the sense that when I work, what usually guides me is the material I have for working with, be it a type of resin, a specific sound texture, or a software. AR enabled me to bring my visual expression and musical expression together like never before. This is incredibly exciting. It is also exciting for the interactivity. For the first time we can make music and have it out there in a way that listeners can become music performers, remixers, they can choose how long a loop stays on for, how haunted a track can get. I'm deeply in love with this process and I'm looking forward to making more of these AR pieces that in essence, turn somebody's phone into a pre-loaded sampler linked to some sort of khaos pad.
The other thing is that it enables me to make my own instruments, with its limitations of course, but what we already have at hand is pretty mindblowing. I hope soon Spark AR will allow us to be able to enable users to upload their own sounds to the objects in the scene directly from their phones. The future of AR is bright.
How did the collaboration between Innervisions and you come along?
I was an artist in residence at Factory Berlin when I met Steffen. I had just made my first AR sculpture synth called ᗩTTᑌᑎE, it can be found in my @aevtarperform account. Steffen liked the principles of the filter and invited me to collaborate.
Are you able to expound a bit the process of develloping such an AR together with Steffen, Kristian and Frank?
It was a very respectful and free interaction, which I really appreciate, specially for the creative process. I basically had carte blanche to create the experience and would get interaction feedback from them. So I suggested an AR remix and remixer. I'm really into the idea of coming together, blurring the boundaries between oneself and another, so I thought it would be very interesting to be able to bring stems from each artist together and through that generate a fresh track that would then re-generate remixes by the way people using the filter would interact with it.
They sent me all the "Limbo" tracks early on and I lived with them for a while, letting specific stems call my attention. It was a difficult choice as there are so many good sounds to use in Limbo. All tracks are fab to me, so many good combinations!
I'm really thankful for this project and the interaction with everyone. It was really warm and supportive.
The idea is that the listeners are enabled to "remix" "Limbo" – what where the main challenges for you to open up this space of possibilities to them?
I appreciate how beat matching can be gameified, as well as how "mistakes" can land very interesting sound combinations, interesting Polyrhythms and all. How pitching the vocal pad when sliding one's finger can either bring comfort in the harmonic field as much as it can bring tension and dissonance, and that's all in the hands of the listener now. I'm happy that we can now live up that feeling of when we listen to a track and we wish the build up was longer? Now we can do that. It's engaged, affective and effected listening.
The decision making process about which loops out of those stems to use as a bit difficult because of technical constraints. Another factor was, how to make sure the loops easier to sync considering possible lags from the software. The software is still in beta phase, it gets constant updates and features come and go all of the sudden, so I had to focus on longstanding features and re-work tap gesture options several times. Instagram only allows for 4mb total in a filter so that a majority of people with older phones can have access to them. It's not easy to cram 3 sounds and an object within it without making the effect too heavy but we've found a way and I"m really happy with how it sounds.
Right now we experience something unique to our generation, within weeks we lost our social-cultural playgrounds. Do you think AR offers a space to absorb the deficits?
Definitely, specially as we play and share what we make of it, then our friends the same, and we comment on each other. AR also helps to pass the time in creative and socially engaging ways as well as solo inward journeying through sound and colour, which I find pretty healing, be it in catharsis or in a more meditative stance. One can literally connect the phone to a sound system and have "Limbo" in AR as loud as one can.
Last question: What is your favorite track ever released on Innervisions? And story alond with that pick?
Oooffff. This is such a difficult decision because I'm a long term fan of Innervisions and basically listen to it all day a lot. So I'll have to go with "Scala", by Agoria. I love the slow build in there. I was in Paris doing my Beaux-Arts exchange in 2013 when I met a painter that lived in Berlin at a residency. He showed me Innervisions in 2013 and I got hooked since. This track is basically imprinted with memories of walking down those streets and getting my hands on clay to make a ton of biomorphic glazed ceramic sculptures. Funnily enough, some of them look like the original "Limbo" artwork at times. Perhaps there is mood cloud transfer transposing time.
You find an additional interview also covering "Limbo" with Ame & Dixon on the German section of kaput.