Kaput x Pop-Kultur x Ian Isiah
Ian Isiah: "Ego never wins. Ego usually dies. It never goes far."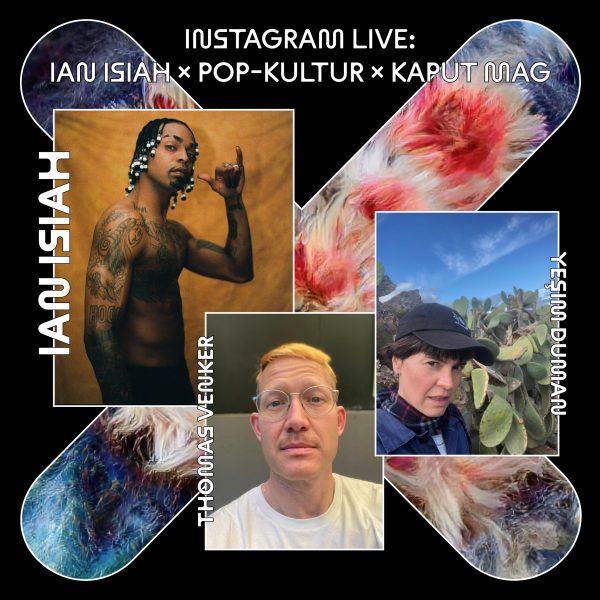 From 25th till 28th of August the next edition of Pop-Kultur-Festival will happen at Kulturbrauerei Berlin. As as little warm up Kaput and Pop-Kultur established an Instagram-Live series of conversations between the Kaput team, the Pop-Kultur curators and some of the artists of the 2021 edition.
The first chat was conducted on 14th of July between Yesim Duman, Thomas Venker and Ian Isiah, who created an exclusive video work, a so called »Pop-Kultur Digital Work«, for the festival. Here are some of the highlight quotes of Ian Isiah: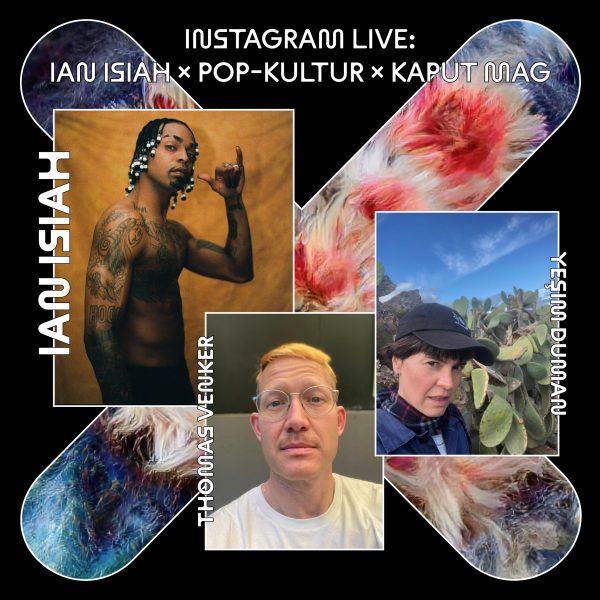 "The project that we did for Pop-Kultur – instead of doing the normal 'get crazy' on stage, we decided to go to Colonia Williamsburg in Virginia, which is one of the birth places of America, and also one of the birth places / the beginning of slavery in America for Black people. (…) We wanted to go back there and shoot some encouraging word that spoke to now and also remind people where we came from."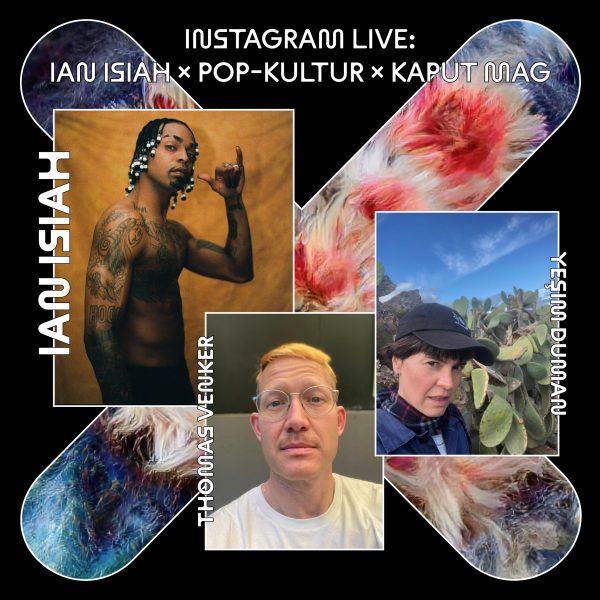 "If I wanna do something, I go to someone who's legend at it. I am not part of the 'not reaching out to someone if they are bomb'. You know, that's what makes a community. If someone is really bomb at something, I go to the source and I work with them with my talent and their talent and make something bomb. (…) Chromeo is genius at funk music, so I wanna work with geniuses."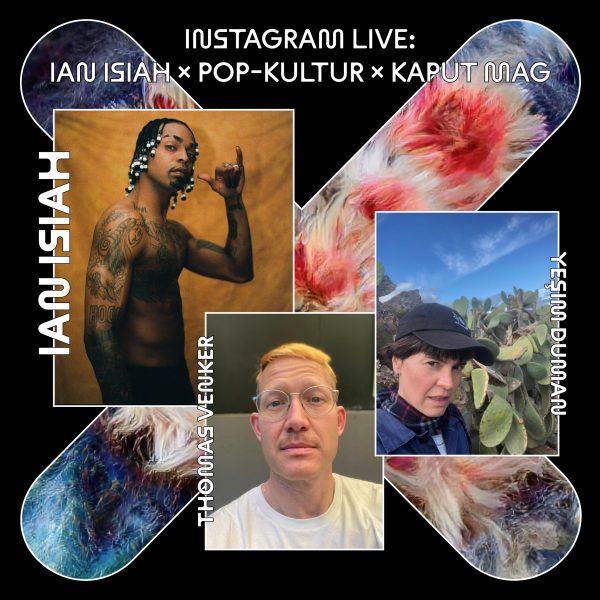 "I am pretty easy when it comes to work, and so are they. That's another reason why I work with legends only, because legends, they get it. Also: musicians, we work. A lot of people don't notice: we really work."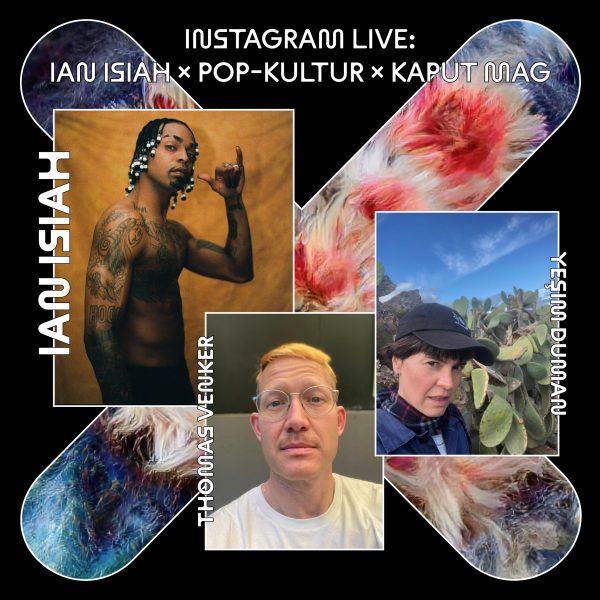 "The church is everything for me, God is everthing for me. I believe in God, I believe in Jesus. No, I did not change because the world has changed. I love God, I love Jesus – and for music, we share that through the gospel. This is my upbringing. Nothings changed. I am not confused, no idendity confusion."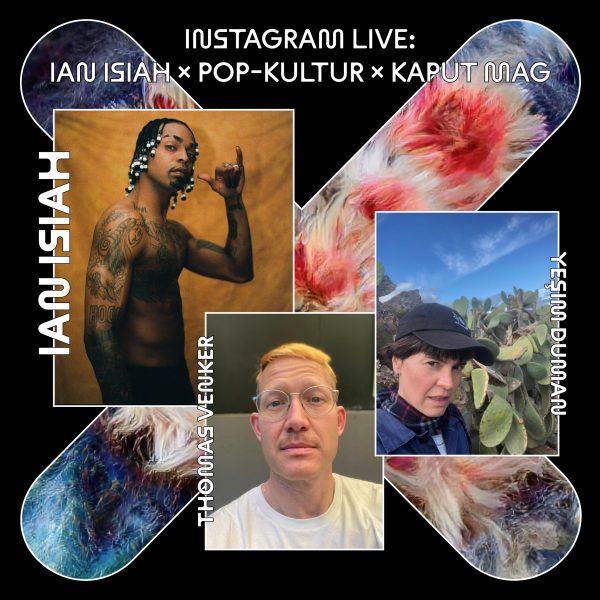 "The lockdown was great. I love it. It changed my life, it changed everything about me. It is the greatest thing I could ever ask for. The pandemic was the greatest thing I could ever ask for in my life. Why? Because I got a full reset. Everything that I am talking to you about, it sounds positive, it sounds like I am a therapist, but I wouldn't be able to say this three years ago. The pandemic allowed me to become brand new, the pandemic allowed me to see things for what it really is. Everything is clear, and I look for clarity in everything now."
Among the confirmed artists of Pop-Kultur 2021 are rap innovator LAYLA, soul and hip-hop queen Danitsa, actor and musician Alexander Scheer in the role of David Bowie, nextgeneration rapper Serious Klein, 90/00 R&B phantasm Erika de Casier, literary rioters Stefanie Sargnagel and Hengameh Yaghoobifarah, free spirit Liraz, vocal force Tara Nome Doyle, psychedelic experimental phenomenon Księżyc, theatre maker Mazlum Nergiz and sex-positive musician Preach. Ata Canani, the heart and musical voice of Turkish guest workers, is also present – as is Culk with her masterful deconstruction of language, vocal high-flyer Dan Bodan, saz player Petra Nachtmanova, flow machine Flohio and the RambaZamba Theater's »Studio 21« project. They, along with many others, crystallise an artistic programme that makes one thing clear: there's not only one form of pop music or pop culture.