Video Clip Premier, Sexy Lazer, "Mid Life Crisis"
Sexy Lazer: "When a personal spiritual crisis hits, you feel it. It's confusing, wavy, sad and bad."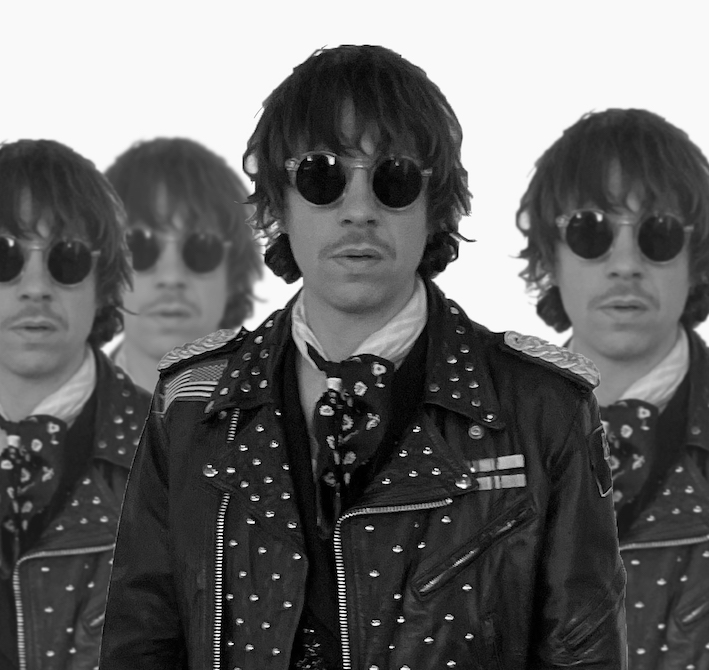 Kaput met the Icelandic Pop Music eccentric in Cologne at the performance of Hasan Poppu. It was not only his green sport car that impressed us, the whole man is quite something. No question we said yes to premier the video clip to his new single "Mid Life Crisis". 
When did you first realize you got a midlife crisis?
JAH : About a year ago. When a personal spiritual crisis hits, you feel it. It's confusing, wavy, sad and bad.
Everybody just talking about the bad aspects of such a midlife crisis, are there also good ones?
JAH : When times are changing, the pain can give energy gain. This hurricane energy was used to make "Mid Life Crisis". It is a song, a music video, a club night series – and there is also a Cider called Mid Life Cider.
In the video we see this green car that recently was parked in Cologne? Whats the story behind you driving a car that no police man willl ever overview? 
JAH : I had six gigs in different cities in Germany in ten days, a music video to make and two studio days. That's why I needed a fast car. One speeding ticket, not bad. But worse where all the other fast-cars-"bros" at the gas stations that wanted to talk to me about "how many horses" my car has. "How many WHAT? It's a car", I said.
The car is not the only siginicant style in the clip, you wear quite a rock´n´roll outfit? Who is styling you? Is there a missing statement? 
JAH : Oh, thanks. I styled myself. The awesome leather jacket I borrowed from a fashion designer Asger juel Larsen that he upcycled through his wild years.
Four questions in and we did not yet ask: who did the clip come together? Was there like a budget? 
Genius Berlin based directors duo called Caro & Kaspar. They are amazing. They get me 100%! It´s a 60/60 deal.
And last but not least: the music, and special story behnd the production? 
JAH : The moment when the crisis hit i felt like "I need to get away" .. And I did, I borrowed a summerhouse, took my guitar and a small recording set up and was there for three days alone (like a real artist, lol) .. I´ve never done this before. I´m a total social junkie. But it was great. I made a lot of stuff, almost no time to eat.
Mid Life Crisis was the first track I took further in the studio with my dear friend Rasmus Littauer (School Of X) where he co-produced the track, played drums and made it sound good in my opinion.
One more to go: the clip was shot in Berlin but you are originally from Iceland. The land was quite popular for some time, but lately we missed somehow whats going on there, how is the status quo of your motherland? 
JAH : Justin Bieber moved up there, I think. I have not been living in Iceland for the past twelve years. I'm not super updated on what is happening in the scene at the moment. But there is always some original, great real stuff going on. I miss the contrasts, the wild and the energy. Whenever I go back I get inspired.
___________________________________________________________
'About the clip: "Mid Life Crisis" is written by Sexy Lazer, co-produced and mixed by School Of X. 
The song is released on Riotvan Label 18th. August 2023. 
The video is by by Caro and Kaspar and based on a true story made by Sexy Lazer & Kaspar Lerch.
Edited and graded by Kasper Lerch. 
The club nights are currently happening monthly at Jolene Bar Copenhagen. 
"Mid Life Cider" is made by Fruktstereo and chosen by Sexy Lazer. Coming out 1st. August 2023 (Limited Edition) 
ArtWork and Merchandise by Svend Sømod