"Tresor: True Stories"
Regina Baer: "After the miracle of German reunification, everyone dreamed of making the impossible possible"

Those who have stepped into the original Tresor club – that existed between 1991 (after being discovered in the abandoned vaults of the Wertheim department store by Dimitri Hegemann, Achim Kohlberger and Johnnie Stieler) and 2005 at the Leipziger Straße 126a address – have the look and smell and all their own experiences in this very special dungeon engraved into their body and minds foreverever – even tho lot of it may lay under some golden dust as the times were made for that. That said the now published "Tresor: True Stories" is both, a trip back for the blessed ones who are old enough to have experienced it first hand as well as those who are lucky to experience their hey days of raving today and wanna dig deeper into the history of club music and one of the most vibrant original scenes and clubs and its protagonists.
"Tresor: True Stories" combines "rare photography and untold stories from the 80's and 90's" to quote the words of those who edited this incredible book for us. You will read many vibrant memories, including those of Alexandra Dröhner, Jeff Mills, Mad Mike Banks, Electric Indigo, Mark Reeder, Thomas Fehlmann and Tresor papa at large Dimitri Hegemann, as well as Carola Stoiber (who managed Tresor Records and A&Red Underground Resistance's "X 101" and the late Regina Baer (who co-founded the Kraftwerk and Tresor, which she managed from 1991 until 2005) who sadly passed away this year much too early.
In memory of Regina Baer we have chosen her very personal text for this book preview.
By Regina Baer
Berlin in the late eighties. The city is celebrating its 750th anniversary – on both sides. I've just arrived in the city, at the start of my twenties, and am feeling pretty good about my decision to move from what I considered West Germany's most boring city (Hanover) to the most exciting city in the country. I already knew East Berlin better than West Berlin before com-ing to live here. My father was the only one from his family who had fled to the West before the Berlin Wall was built. So as a child I often went over to the Soviet-controlled zone to visit in the summer holidays.
It wasn't long after my move that I realised just how long and cold the winters are in Berlin. Apartments were warmed by a tiled stove that struggled to produce enough warmth to reach a comfortable temperature. Train journeys on the U-Bahn and S-Bahn were long and bleak. The abandoned "ghost stations", which had fascinated me in their dilapidated condition as I peered through the gloom on those first few trips, soon began to blend into the everyday drudgery of city life. When driving from Wedding to Kreuzberg, the routes on my Falk map were obstructed by red border lines. So instead of driving straight, we went around, and soon enough the diversion was part of normality. In Berlin, you quickly got used to a lot of things. Because we had the flip side, too: much of what was unusual felt right and good.
I was able to visit my aunt and uncle in East Berlin just by crossing the bridge at Bornholmer Strasse. I would make a day of it by heading to Schönhauser Allee for ice cream and cake. After all, I had to get my money's worth after being obliged to exchange Deutsche Marks for East German Marks at the border crossing. In winter, East and West Berlin had a similarly desolate feel to them, with the façades of so many buildings still shot to pieces.
The absurdity of the divided city, which was close to becoming normal in my emotional world, was turned upside down on 9 November 1989. At 5.30 the next morning, my door- bell rang. It was my aunt and uncle from the East coming to visit. "The Wall is open." What a statement, what a revelation, impossible to believe or fully comprehend. For days I couldn't bring myself to clear away the coffee cups we had used that morning; for me they had become a visual expression of that historic moment.
For Berliners, the period immediately after the fall of the Wall brought all kinds of weird questions, because no one had a clue what the rules were. Is it like this for good now? What's changed? Can I go to East Berlin for the evening? Will I get back out again? Am I meant to pay with Deutsche Mark or East German marks? Each of these questions led in turn to a whole series of others. Nevertheless, we had to go on with our daily lives and find a way to earn money.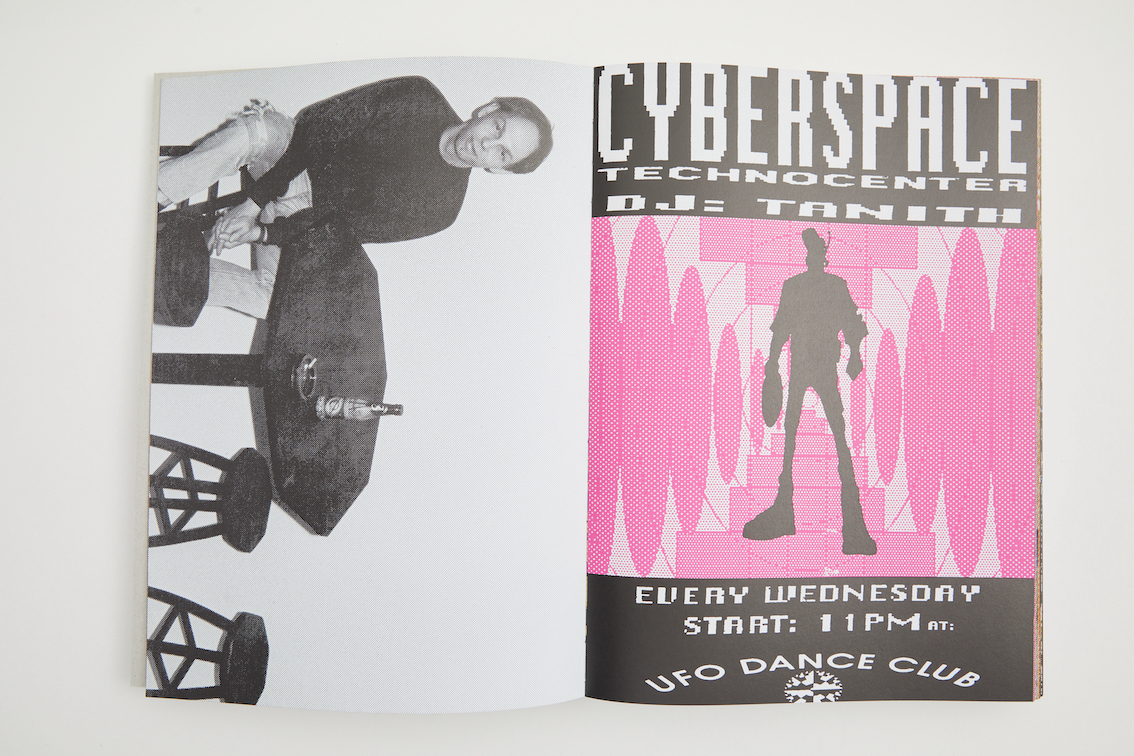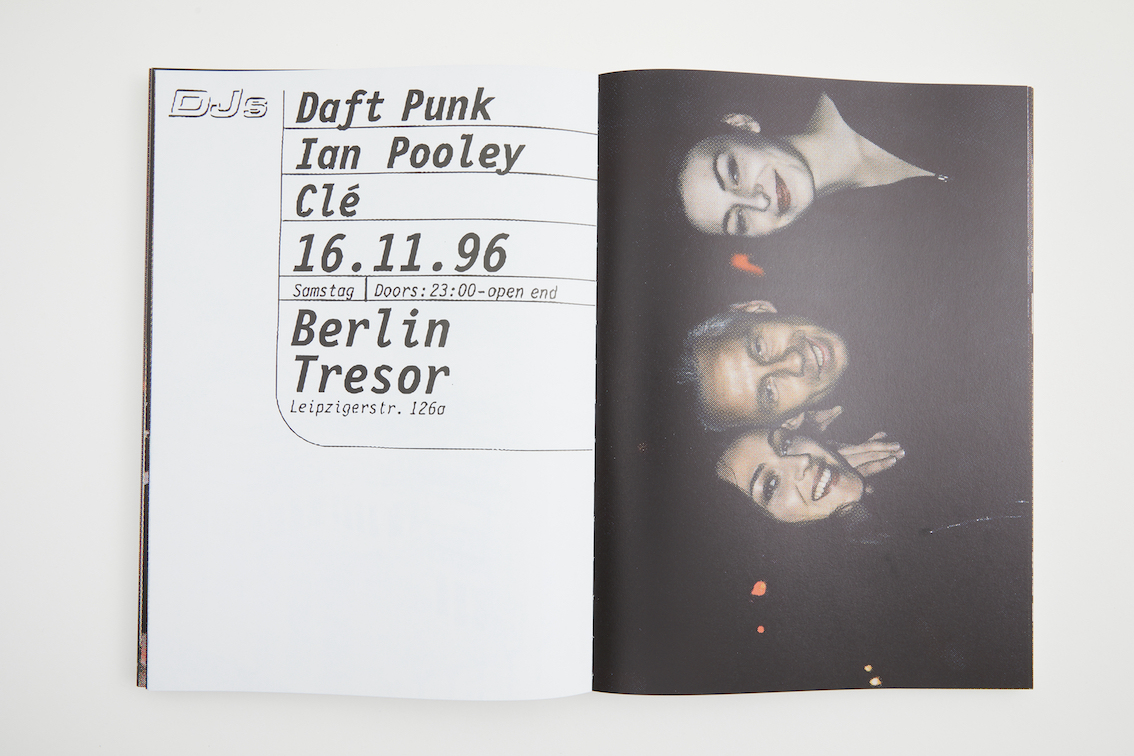 I was happy to have landed some work at the International Green Week exhibition. That's when Dimitri, Johnnie and Achim spotted me in the American hall and spontaneously invited me to this place called Fischlabor. Curious, I deci-d ded to go along with them. Dimitri then took me on a trip that weekend to discover the countryside beyond the Wall that had encircled West Berlin. As we were driving back down Leipziger Strasse, which was still an unpaved road in some places, he stopped to show me this inconspicuous building, number 126a. Once inside, we ventured into the pitch-black rooms with only cigarette lighters to guide us. Dimitri had forgotten to bring a torch. He showed me the underground vault with its safe deposit boxes. All the rubble and debris didn't matter – it was love at first sight. A club! Tresor!
I knew I was going to drop out of university and join a revolution. I took on the role of construction manager without ever having a clue what that actually entailed. It was just a matter of getting on with it. We hardly had any money, that was another issue. But I was great at thinking on my feet and I knew how to work in a team. We all wanted to create something special. The club was a base for artists who came from a world as crazy as ours. To be part of a music revolution – how could I say no! Again, everything that followed became so normal to us, but in retrospect it was extraordinary. The things that went on at Tresor and the stories of the protagonists are truly unique. Tresor was a natural meeting place for young people from the East and the West. As we danced through the night, we witnessed and enacted an intertwining of these once separate parts of the city. And in our naivety, we believed that this was happening everywhere.
Given the power vacuum that existed in Berlin in the early nineties, a sense of anarchy prevailed, and this provided a fertile breeding ground for all manner of creative people and projects. New and existing music scenes grew quickly, producing some weird and wonderful blossoms along the way. Venues didn't have a closing time. Parties went on all night long. Nightlife existed as a parallel world. The artists from Detroit, a city just as broken as ours, brought over a new kind of music. Tracks with no lyrics; the bpm count marked on the record like a certification. After the miracle of German reunification, everyone dreamed of making the impossible possible. Meanwhile, the Detroit artists and the new musical genre they had created were taking the first steps on a path to unimagined success.
Along with the success and all the fun we had, something else was growing: responsibility. Before we knew it, our passion project had become a business. There were partners, employees, tax numbers, contracts, financial and social obligations. Suddenly we had to bear these responsibilities and take calculated risks. We had to rise to all these new challenges. And rise to them we did.
Until, one day, speculation had driven the price of real estate around us to great heights. Eventually the market engulfed us too, and our fun and frolics quickly gave way to a different reality. Anarchy was no more. Time and again we were caught out by rules we didn't know and never would have suspected. In spite of all our efforts, all the tears shed in anger and despair, Tresor on Leipziger Strasse could not be saved. After 15 years, it was all over at 126a.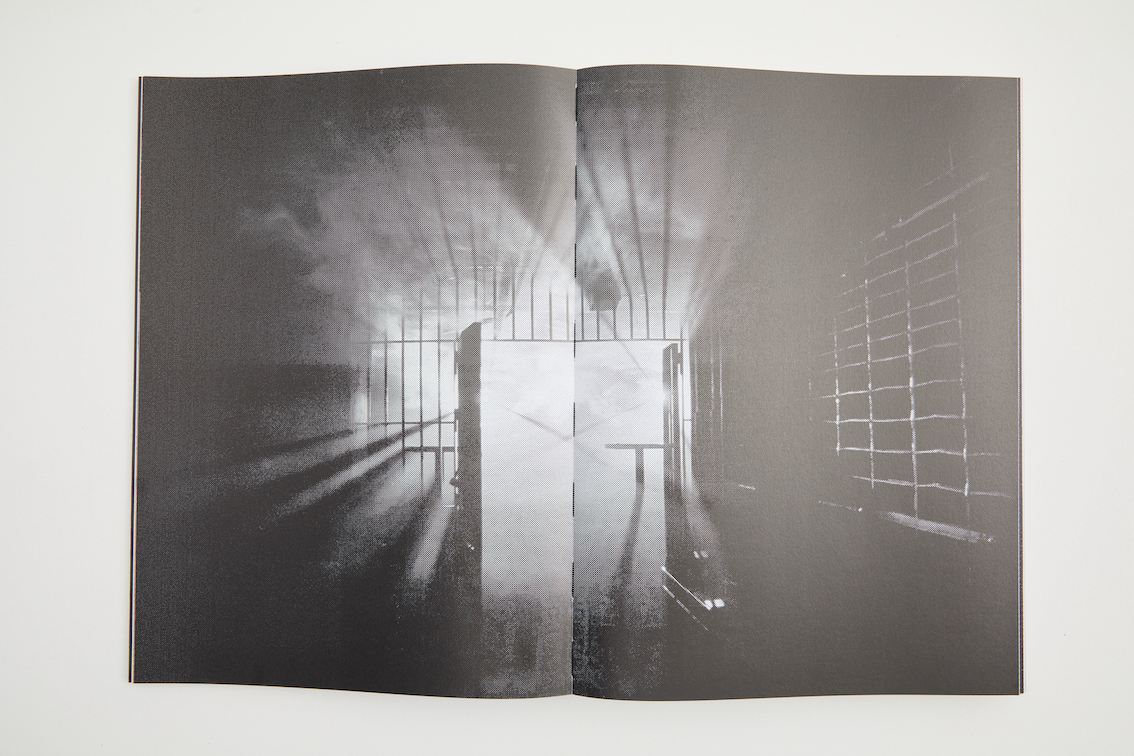 Though it's well documented today, at that time hardly anyone understood or paid heed to the ways in which underground club culture radiated throughout the world and drove economic activity. After Tresor was demolished, despite our resistance, and replaced, as I'd suspected, by a soulless office building that was sure to remain vacant, there was something missing in Berlin. People would frequently say this to policy-makers, though they were rather slow to react. After all, we weren't crackpots. We'd come to be seen as cultural entrepreneurs. How did that fit? How did we fit – into this city that no longer knew itself?
The search for a new location was difficult. Attractive spaces had already been bought and sold several times over. The only option left was to search for "non-places", buildings or spaces that were of no interest to conventional real estate investors. That's how we ended up at Kraftwerk Berlin, a former power plant at Köpenicker Strasse 70 in Mitte. It was far too big, too run-down, an unattractive prospect for inves- tors, with a myriad of restrictions that ruled out most options for use or development. So for us it was an opportunity, even though there were many obstacles in our way here, too. Not least the lack of money. But again, Dimitri would not be deterred. We'd managed without money before.
The most important thing was that the basement had the same look and feel as the underground vault of the old Tresor: the reinforced concrete, the low ceiling. We had taken the safe deposit boxes, the doors and the steel bars from the old Tresor. Now we could reinstall them here. The show could go on. But could it really, after a two-year break? Yes, it turns out it could. Again, with new difficulties and challenges. But the scene had been waiting for this. New parties, new people, new formats. Tresor quickly made its mark again.
As well as the basement, there was the large turbine hall. A huge power plant, gutted of all its machinery, like a skeleton. An industrial cathedral, that was my first impression. Imposing and immense. What could happen in this space? It wasn't right for parties, nor was that our plan. Dimitri suggested turn- ing it into a space for light art, a kind of Tate Modern in Berlin. When people heard that idea they just brushed us off. But once more, it worked. The building was painstakingly developed and repaired in between events. Every euro earned was put right back into the building. Gradually, a magnificent venue for art and culture emerged, as unique as the original Tresor in its appearance and programming.
This book traces a history of over 30 years in photos and stories: funny, thrilling, sad and highly personal impressions. In my eyes, this is the only way to piece together a picture of that incredible time – when anything seemed possible.
In memory of Regina Baer and all those other Tresor contemporaries who passed away too early.