Record of the Week: "Working Class Woman" by Marie Davidson
Marie Davidson: "The quality of your creative output does not depend on what is between your legs."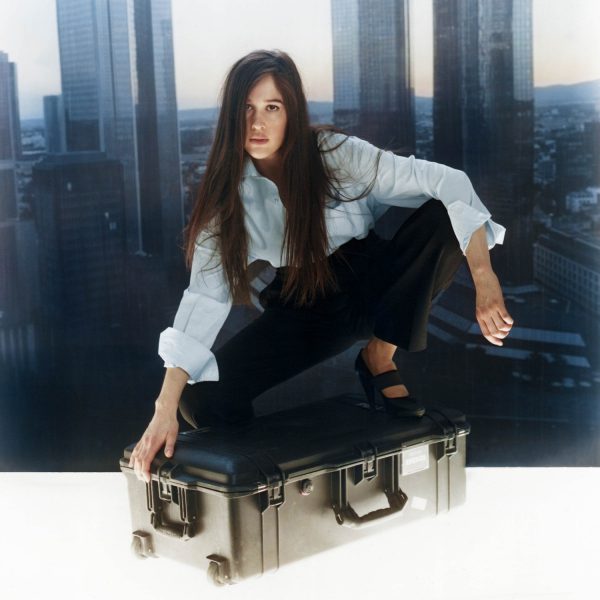 Marie Davidson
"Working Class Woman"
(Ninja Tune)

After releases on Constellation, DFA and Cititrax, Marie Davidson has now ended up with Ninja Tune. During a personal interview in her hometown Montreal, she notes that she greatly appreciates the label's cultivated openness to sound. The fact that many other female producers are under contract with them – among them Umfang, Abra, Helena Hauff, Kate Tempest, Peggy Gou and Kelis – certainly wasn't a drawback in her decision making, but she doesn't think about quotas in general. "I do not want to be booked because I am a woman, but because of my music," she states. " Although it's important that this question is being addressed, you still have to do it on your own as an artist. And I think I can say that I am the best proof that it is possible. I hail from the pop-cultural no-man's land of Montral, I'm a Franco-Canadian woman who in the beginning had neither a manager, a label, a DJ type nor any other music business contacts. I did everything on my own. And I firmly believe that any other woman can do it too. The quality of your creative output does not depend on what is between your legs."
In line with this distinctive preface, "Working Class Woman" begins with "Your Biggest Fan" "Your Biggest Fan", a moving song that knows how to convey the tension that public life demands of Marie Davidson every day. The song has its origins in "Bullshit Threshold", the intense performance exploring her own emotions and those of the audience, which she premiered at the Phenomena Festival in Montreal in the fall of 2016 and then repeated at Sonar Festival in the summer of 2017 to the confusion of many ravers. On both record and stage, Davidson succeeds in insistently instilling her own fears onto the listeners.
Her own proposed solution for dealing with the discomfort resulting from this: work. In "Work It", she spreads her life motto over a nervously monotonous framework of beats:
"You wanna know how I get away with everything?
I work, all the fucking time
From Monday to Friday, Friday to Sunday / I love it, I work
(…)
Work / Work it / Work / Work to be a winner"
As important as the lyrically driven songs on "Working Class Woman" are, they only represent half of it and practically live off the tracks which complement them, more as soundscapes than as classical songs such as " Laura" and "Workaholic Paranoid Bitch". This is Davidson as a brutalistic sound architect. It's certainly not a coincidence that these pieces were created in Berlin using headphones (quite simply due to the fact that she didn't have any speakers in her provisional apartment in Berlin). These circumstances have had a lasting impact on the music: "I feel schizophrenic with headphones on. You hear so much more intensely and lose contact with the reality outside of the music – which results in you having to think a lot".
But not all is difficult and overwhelming on "Working Class Woman", the album also bears a humorous aspect, although it must be said: Humor by Marie Davidson's definition. A remark that makes her raise her eyebrow briefly at our meeting: "It's important to me that my music is inclusive," she answers. "I don't want to be a niche artist, I'm not and never have been part of a cool clique, a gang, why would I, I don't want to be different. Humor connects you to everyone, humor makes you accessible to people. Some people understand my humor, others don't. But that's not my problem. I'm not here to teach people, my music is just an opportunity for them."
Thus, Marie Davidson doesn't want "So Right", the most catchy track on the album, to be seen as a conciliatory gesture. Ultimately, it is the Climax after everything that was stirred up in "Bullshit Treasure" and therefore closely connected to it. With its sweeping dancefloor-like quality, the piece is reminiscent of the releases of the New York house institution Strictly Rhythm, it could be said that it glows neon yellow in contrast to the other nine pieces on "Working Class Woman", which have rather dark tones.
But despite all the performative strength and self-assertion that Marie Davidson manages to embody when she is talking, there are sadly many moments in which she only wants to be alone. This is what the last song of the album "La chambre intérieure" is about, which was inspired by "The Heart Is A Lonely Hunter" by Carson McCullers.
Translation by Denise Oemcke