K-HAND: Memento Mori – ein persönlicher Nachruf von Claus Bachor
K-Hand & her music that never surrenders
WRITING AN "OBITUARY" IS NEVER A PLEASANT BUSINESS. BUT WITH MORE AND MORE ARTISTS DYING CAUSE OF THE PANDEMIC LATELY IT IS ABOUT TO GET A SAD CONSTANT REALITY.
In the past 16 months of leaming pandemic far too many important protagonists of electronic music have died. The list ranges from Andrew Weatherall to Gabi Delgado, Mike Huckaby, Pascal Feos, Mory Kante, Tony Allen, Someoneelse, Elbee Bad, Michel Baumann (Jackmate) and most recently Paul Johnson. And outside of our scene, too, many musicians have left us directly or indirectly in connection with Covid-19, for example Chick Corea, Bill Withers, Hamilton Bohannon, Manu Dibango or Little Richard. A small consolation: most of them lived and "live" – freely after Balzac – intensely in reality, and now exist in the memories of their fans and friends "4vr and one day".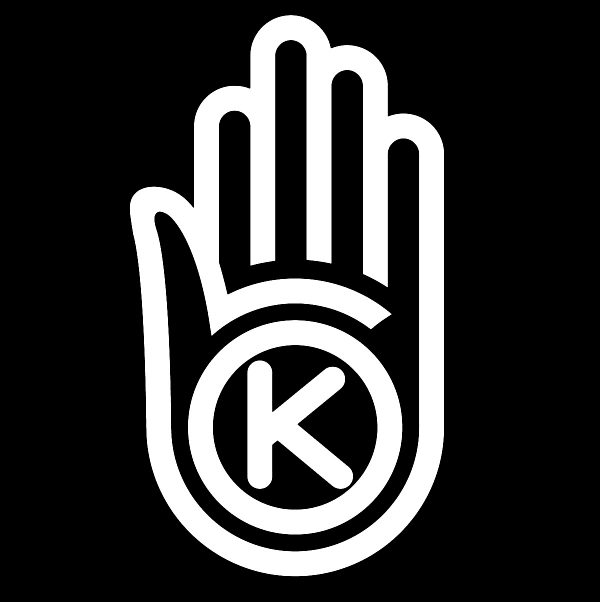 On August 3rd Kelli Maria Hand – better known as K-Hand – tragically joined the group of too early dying artists with her completely unexpected death – and left question marks of shock as to the cause of her death. Although that fits the nature of Kelli, she has always been surrounded by an aura of mystery. Along with Mike Banks, Robert Hood and Jeff Mills, Kelli was one of the most important representatives of the so-called "2nd wave" of Detroit Techno producers, who pushed vehemently onto the club floors from the beginning of the nineties.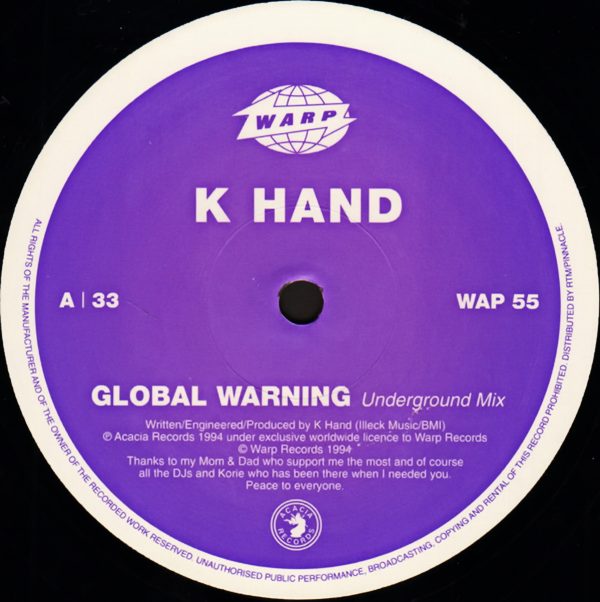 I still remember vividly how her "Global Warning (theee Underground)" track shook the Rock, Grunge, Gothic and Indie-Pop rooted Bonn "Ballhaus" club in its foundations during our Psycho Thrill Club Night. While the brave little ravers in the usual violent stroboscopic thunderstorm danced and screamed to the best of their ability, despite intense fog fluid swaths and their E-feeling souls. Even then, this track exuded a certain form of obsessively dystopian atmosphere, just like the no less gloomy "Edgewater" on the flipside of the 12-Inch (WARP UK 1994), which is more of an ominous premonition than an acutely acting force of evil wanting to reveal. A long lasting rumble of thunder of a special kind that only a few tracks become their own.
At this point in time K-Hand was no longer a newcomer and had already become conspicuous as Etat Solide and Rhythm Formation (with Claude Young) via Detroit labels such as UK House and Acacia. But not much more was known about the person behind these aliases. One must not forget that in those days without the internet one could not satisfy one's longing for information in fractions of a click in a second. So it required more intensive research – in my case via the CUT magazine editorial contacts and an extremely expensive transatlantic long-distance call with the Chicago Acid and House legend Armando Gallop (Warehouse / Muzique Rec.), who also died much too early.
The first important finding: K-Hand is a woman! That was remarkable – that made her the first female techno protagonist. And one that not only produced and played, but also ran its own label and had its records pressed on vinyl at Archers in Detroit. She def stared up the male-dominated techno business.
I was able to clarify all other open questions myself, as K-Hand was offered to me at the beginning of 1996 via a Berlin! K7 label contact for a CUT magazine interview in Cologne plus a gig at our 42dp Club Allnighter, which then took place weekly. My astonishment when I sat across from her at the obligatory dinner before the club night in a restaurant on Cologne's Hohenstaufenring "eye-2-eye" couldn't have been greater, because Kely Hunt, as she called herself at the time, was everything other in her demeanor than the dominantly impressive DJ and producer personality expected in advance. But rather a very girlish, youthful and extremely shy person. Her mischievously friendly laugh was a real icebreaker. She was downright "warm hearted", as they like to say in the States. A title that is unfortunately far too seldom found in our fast-moving business. In the conversation itself, of course, everything revolved around House, Techno and Acid – and very central to the question of where she sees herself as a young producer and DJ in terms of sound technology. Because despite the young age, a lot came together at Kelli in terms of references and reference locations. Larry Levan in the "Paradise Garage" in New York or Ron Hardy in the "Music Box" in Chicago or Ken Collier at the "Heave"n in her hometown Detroit, she had already experienced them all, along with other icons such as Loleatta Holloway or Grace Jones. For which we quietly envied her on this evening – seized by so much concentrated disco-glory history.
For Kelli – as for so many other artists of the first and second "Techno Wave" in Detroit – Ken Collier was a paternal mentor. He helped her get a DJ residency at "Zippers" early on, took her on a new track as a producer – at that time she was still working with a minimalist set-up of mixer, synthesizer, keyboard, Atari and her beloved Roland R-8 drum machine – and initiated her to found her first own label with UK House. Which led to the fact that she gladly took the advice of Mike Banks, Robert Hood, Jeff Mills and Mike "Agent X" Clark in the production of her first release "Think About It", but the offer that followed, to publish the record on "Underground Resistance", she politely refused. It was a statement that she published her debut on her own imprint, which testified to her artistic independence – which certainly not everyone in Detroit liked at the time.
UK House became ACACIA Records, named after the street in Detroit where Kelli grew up – and appropriately subtitled "Music From A Well Known Place" after two more Etat Solid Releases (the name can be traced back to one of their nicknames). Further releases like "Not Giving Up" and "Everybody" as well as the early Code3 production by Sean Deason should quickly make the label well known to real Underground Addicts. However, those were the Outer-Detroit releases on WARP Records and! K7 that helped Kelli achieve a real breakthrough as an artist beyond the haze of her hometown – not without causing some people to feel envious at home in Detroit, as she revealed to us at the time.
"This envy" also was a personal conversation's theme years later. Where K-Hand had been firmly established in the international DJ circus through further releases on Tresor, Loriz Sounds, Global Cuts, Ausfahrt, Loveslap, Radikal Fear and many other important labels. I remember vividly a dinner in the late 2000s at a chic Detroit yuppie burger diner, not far away from the now-defunct Detroit club legend THE WORKS. A memorable evening, on which we were able to talk about things without time pressure and thus not planned in advance. Which otherwise all too often get completely lost in the eternal "rush and ride" of the DJ business. Gig, billing, hotel and departure are often only superficially close.
Her youthful impartiality had long faded out by this point, the realities of the technobiz had left their marks. The fact that she had built up a protective shield was – she made no secret of it – due to the niggles in day-to-day business on the part of colleagues. She politely used the apstrophication "handicaps" and attested the scene to have a tendency to double-facedness and a lack of sensitivity to the individual fates of the artists. Which didn't stop Kelli from being true to herself, however. Because she did not embitter, nor did she get bogged down in her own actions. Instead, she continued to consistently implement her goals "step by step" against all odds. And she generated a powerful catalog with her label, not least because she recognized and used the potential of the digital market early on. Kelli rightly carried the title "1st Lady Of Detroit" and was considered the "Grand Dame of Techno".
That evening in Detroit, we also talked about the kind of damage that people can also inevitably suffer from being a DJ. But these are often hidden in discussions among colleagues because they are seen as a "sign of weakness". At that time, for example, I had two burnouts behind me, which resulted in an autoimmune disease that has persecuted me to this day. Kelli told me about her newly diagnosed diabetes in connection with a metabolic syndrome. Right now, in the face of her death, I often think of this moving encounter.
The Detroit producer and soiree Rec.Int. Label owner Derrick Thompson tenderly calls Kelli a "SISTA from another mother" in his obituary. And thus conveys a feeling that Kelli has triggered in many people. "Kelli Hand, gone much too soon. But her music and legacy will reverberate through time and space. And she will forever remain a positive influence on the many she has touched through her spirit." We are all legally getting older. "Memento Mori!" And the so-called "impacts" are inevitably getting closer – regardless of Corona.
While this text was being written, the news was making the rounds that, according to the UN world climate report, the critical threshold of global warming could be broken as early as 2030. There it is again, that special feeling: "This Is A Global Warning".
I would like to end my very personal obituary with two other, deeply emotional K-Hand "Detroit Soul" Club Classiques: "Candle Lights" and "Remember When"! Like they say in Detroit: Still "Music that never surrenders".