HAAi / Teneil Throssell – Interview
HAAi: "I'd say I'm quite serious in the studio, but I like to dance a lot!"
The first time I heard Teneil Throssell (better known under her artist imprint HAAi) dj was at the 2018 edition of Nuits Sonores in Lyon. For its day programming the festival always invites one artist a day to curate a personal dream lineup. Teneil was selected by Jennifer Cardini and played a wonderful cheerful afternoon outside area set that leaded perfectly to Lena Willikens and Dr. Rubinstein later. After that her name suddenly encountered to me all the time, often on the same bill as Daniel Avery, a close friend and a like minded raver in heart.

Teneil Throssell recently signed in with Mute Records and released so far two eps, "Systems Up Windows Down" and "Put Your Head Above The Parakeets" – and on top remixed "Lifetime", the solo debut of Romy by The xx, giving it a very special euphoric "Green Lamborghini Romix" touch.
The questions and answers for this interview were exchanged by Email.
All photos used are from the artists instagram collection.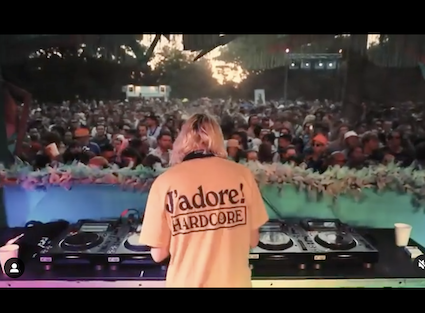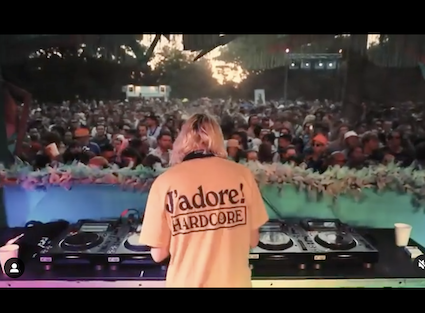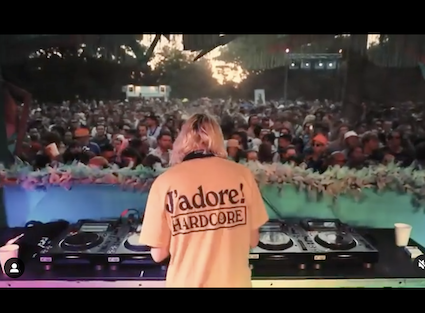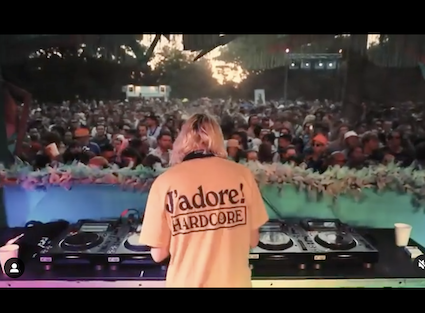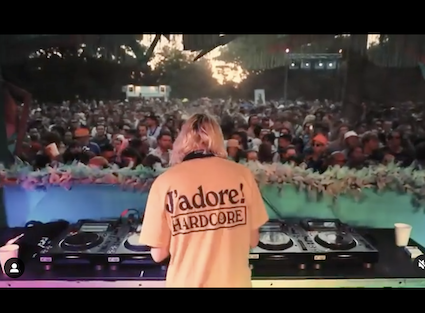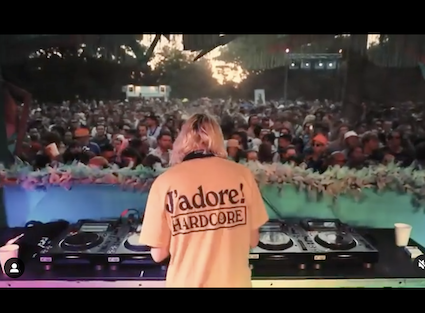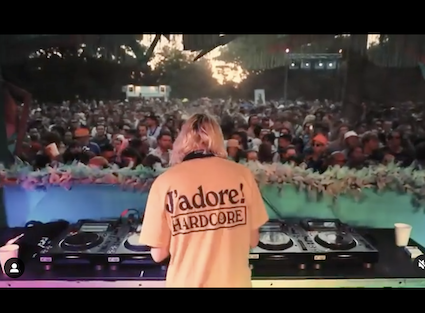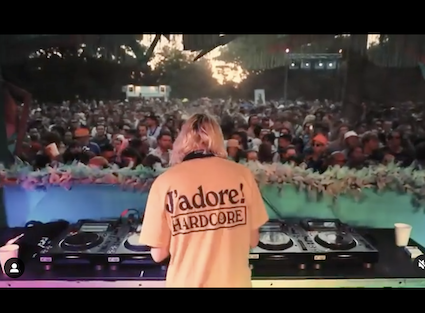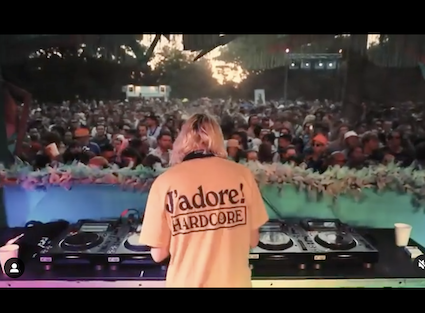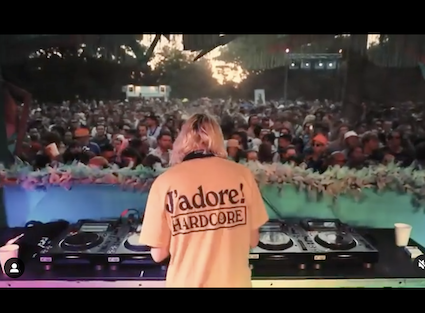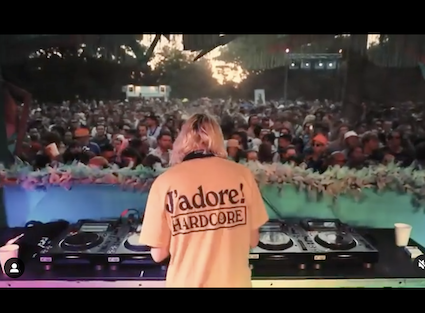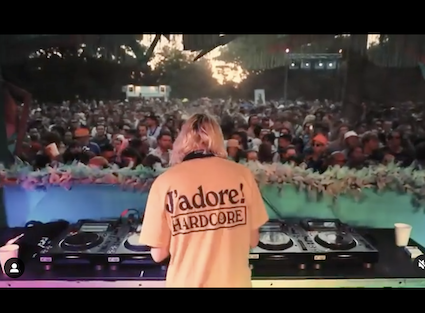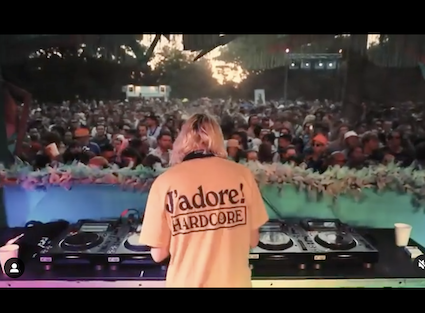 Teneil, I love both the track and the video to "Rotating In Unison". The music is melancholic without being pessimistic, it`s fragile but not defenseless. What would you say you search for in music in general? And did you recognize that this search process changed since Corona came in the lifes of all of us?
Teneil Throssell: I would say that when I'm searching for music now, it's very different to pre-pandemic. Before I was looking for something play-able, something interesting and textured beat-wise, something that would work in the club. Now I'm searching for something that makes me feel something. Music to listen to at home.
Are you challenging yourself in a different way currently? Do you search for other sounds?
I am, actually, yea. I'm making so much at the minute, so I'm listening to more sound design based music and weird textured glitchy stuff. Searching for something that feels new, and weird.
Regards the video to "Rotating In Unison". You made the clip yourself – something you did before? – out of footage from the intense world travels of the last years as a higly booked dj.  How much time did you spend going through the archives and how did it feel?
I've been fiddling around with making clips and visuals for years and years, but this is the second time I've made an actual video to a tune [first time was for 'Head Above the Parakeets']. It took days, working round the clock, to do but I had a good cache of footage that I've been collecting that was very lockdown related, as well as nostalgic. I also had some friends that I wanted to put in it, one of who is a dancer, Fin, who I really love. I wanted to add that element because I felt there was something really emotional about the way they dance. It felt like an important addition, a lot of the clips of him dancing are from over lockdown.
You created a very sensitive videoclip out of the material, a clip in which you are barely visuable, a clip saying "We" and not "I". Your clip is all about the communication with the listeners – I love the smiley flag as a massive sign of hope in the beginning, and the "thanks for watching" in the end, both direct messages to the audience. Is this something you reflected a lot about lately?
Yea, definitely. I wanted to represent a bit of hope and togetherness, but also, the reality of it all. Speaking for myself, I'm really missing my job. The flag is a bit of a nod to the rave, and how much I miss that.
Would you say you talked more than usual with others during lockdown?
I was definitely a lot more connected with friends, keeping in touch with pals via text and Zoom. I became closer with some friends: when your life slows down, there's more time to reach out and everyone wanted to check close friends were doing a-okay.
As sad as the current situation right now is, as a positive thing I take from the recent experiences: a lot of people are finally realizing  how many people are involved in our cultural daily life. With our Kaput series "Club der Ewigkeiten", referring to the DJ Koze track, we try to show for example the whole teams behind the clubs. You know what I mean? Am I to optimistic here or you share this optimism with me?
Absolutely. I think that's something that's always been clear to me, stemming from having a residency and going to the same place every week. I became really close with the people that work on the ground in the club, and that became such an important part of my job: acknowledging the people that make things work within the club environment. For what you see from the front, there's 20-30 people behind the scenes working really hard, trying to make it happen.
The live industry is on its knees at the moment, but it's not just the people at the front, the artists and promoters etc, who are suffering. There's a huge chain of people that are involved, including the people who provide refreshments to venues, security. It's had a huge knock on effect. And a lot of people who work on the door, or at the bar, are doing that to fund their studies or whatever their passions are, are affected and I find that heartbreaking. I really hope that the awareness creates more togetherness in those environments, rather than it feeling so hierarchical. I really hope people see the team effort.
You moved from your home country Australia to London (where you were actually born) a few years ago. Normally I would ask you about the difference of those two countries regards cultural practices and aesthetics and the state of the electronic music scenes – but right now in the current Corona situation I am rather interested in how you experienced the last months so far away from family and old friends and without the chances of easy travels.
It definitely has taken a lot of adjusting. I was really lucky that I had a big tour of Australia in January, so I had my fix and came back around lockdown. Obviously, it's taken a lot of adjusting to not be travelling and to be in the house a lot. But in terms of production, once I had a chance to sink my teeth into working every day, I feel like I've learnt so much and explored things I never would have done before because life is usually so busy. I've done a lot of YouTube tutorials and spent a lot of time on music geek forums.
Talking about easy travels – this is something we can`t expect to come back that fast. Coming from that a lot of people expect that the cultural landscape will change massive, that we will for example in the field of electronic music see a return of the residencies and a much higher appreciation of the local talent.
What's your position on this? Do you expect this too?
I do, and I really hope that it nurtures emerging talent. Residencies, and I speak from experience, are so important and can really shape you as an artist. Having somewhere where you understand the soundsystem, the room, and are familiar with the crowd is really good for confidence building and learning to take risks. I really hope that will be a positive step for younger artists. I was really concerned when this all happened that there was a lot of new talent that we probably weren't going to hear, I hope that no one gets left behind and residencies might combat that.
You had for a long time a weekly residency at Londons Phonox. Would you mind going back to this – not necessarily Phonox, but a weekly in London?
Yea, I would do something. At this point, I would play the opening of a cupboard if it was safe! But I would love to do another residency, and support the local community.
Teneil, in the accompanying words to your new ep  "Put Your Head Above the parakeets" you reference the title to the "feeling of risk, apprehension and being exposed in what you create". Is this your way of saying that behind the strong and funny HAAi we experience on stage and in public there is the more shy and unsecure Teneil Throssell?
That is absolutely bang on the nose, yes! Obviously, there's a really playful element and I like to include humour, in parts of what I do, but it doesn't come without anxieties. I think that's part of being creative and wanting to do something interesting, there's always a feeling that you're exposing a vulnerable part of yourself, but it's often papered over with jokes.
How easy not easy is it to get out in front of people all the time in general – untill a few weeks ago by djing, now in all those streams and other digital-public formats and of course in the endless social media stream? Is this something you are reflecting about a lot?
I have been, yes. I find that with playing in front of crowds, weirdly, the bigger they are, the more comfortable I am. The live stream stuff, I find petrifying. I did Boiler Room at the start of lockdown, and I think doing a live stream with no audience, trying to maintain a vibe and enthusiasm without having anyone to bounce off, I found really daunting. You have the energy of the room and of the crowd at a big venue or festival, but by myself in front of a camera, I find that more uncomfortable.
You streamed one show from your home in London for Boiler Rooms "Streaming from Isolation" – how did that feel. I mean, the home is the home is the private castle is something we do normally not open for the public…
It was fun to set it up, but there was an element that felt quite strange, especially because where I set up the booth, it made it feel like I was preparing a party that no one came to…
With Kaput we have been always interested in the economic situation of artists. Even before Corona virus and all the negative effects on the economics a lot of artists were struggling to make a living from their arts in cities getting more and more expensive. Do you talk a lot with friends and colleagues about a topic like this?
Yes, a lot. I think because we sit in a really funny bracket with getting any government help. A lot of friends who solely rely on live for income didn't get help, because there were a lot of blind spots. I was also very concerned about how much this is affecting people's mental health as well. I have friends who have been doing this for 10-15 years, and no one knows when we'll be back on the road.
We are currently not only seeing a lot of the infrastructure disappearing  with clubs like De School closing, we can also observe a lot of artists going back to their day jobs. Like for example the other day Josh Cheon from Dark Entries posted that he restarted working at the laboratory he used to work till two years ago. And so do others. Since when are you able to live from your music? What did you do before?
I was able to live from my music from when I started playing regularly, when I took up the residency. The week before I started playing at Phonox was my final week working behind the bar at Ridley Road. I used to DJ there as well, cutting people's hair on the side. That facilitated me being able to make music and build that side of it.
Teneil, "Put Your Head Above the parakeets" is after "Systems Up Windows Down" your second ep for Mute Records. Did you take the chance and work closer with Daniel Miller on the releases?
No, not closely but I sought out his feedback, which was really important to me. I asked for solid feedback, got it and it was all glowing!
You are not only a Dj and producer, you also produce your own radio shows on channels like Rinse FM, Worldwide and BBC radio. How important are those shows for HAAi working in the studio on new music? What do you take from the radio shows? Do they help you free your mind for the studio work?
It was good, I really enjoyed searching for music solely for the purpose of having it on the show. Especially with the Radio 1 show, I really wanted to play new, unreleased artists, and it was nice to have that mission to search for it. When you're looking for music with that in mind, you listen to it a bit differently, with an ear of how you hope other people will listen to it.
I ask this coming from the two sides of the ep, bringing together two more listening orientated tracks ("Head Above…" and "Rotating in..") and two more dancy track, the vibefull, very happy "Bon Viveur" and the dark and marshing "Bass Is The Place".
That was more of a reaction to life slowing down, and the two sides were more of a light and a dark thing.
How do you work in the studio? Are you the more playful studio person or do you try to get as fast and without turns to the targeted production goal?
Well, up until recently it's been a real solo mission so I'd say it can be borderline obsessive. I can get into a real wormhole world and not be able to stop doing it for days. I'd say I'm quite serious, but I like to dance a lot!
What's your track of 2020 so far?
Arcane "Labyrinth"

And the record that always helps against Weltschmerz?
LB aka LABAT x Mr Fries "Split your thang"

"Put Your Head Above the parakeets"
is out
on
Mute Records