Danielle De Picciotto & Friends in conversation - MAYa Hardinge
MAYa Hardinge & Fear of failing!

I met MAYa Hardinge through Jim Thirlwell aka Foetus in NYC around 2010. He brought her to a dinner I was throwing during a residency in the city and she has fascinated me ever since. In an age where sportswear and sneakers have become the norm, and tasteless influencers try to manipulate masses to dress, think and speak exactly the same, it is always refreshing to meet somebody who is completely individual. MAYa Hardinge is one of those rare beings.
Whenever we meet I feel transported into a film noir world of heroines resembling Tilda Swinton, Zelda Fitzgerald or Marlene Dietrich, floating by, wearing emeralds and low cut evening gowns whilst playing poker and smoking cigars. Maya is all three, emerging out of the haze, shrouded in a heavy robe of fascinating mystery. She is a woman who rarely speaks about herself. If at all she mentions her many travels to exotic countries but in general she tends to politely ask questions and divert the attention from herself. Not that this is possible she is just too striking, too intelligent.
In the meantime we have met multiple times on different continents and in spite of her restraint I have been able to discover that Maya is a musician, a dj, a stylist and a film director who has collaborated on a couple of gorgeous music videos for her impressive albums and a full length film in 2018. She also has her own radio show "One Of Our Girls Has Gone Missing".
I wish everybody had the chance to meet Maya, she has the magic touch of transforming our world into a sparkling universe, be it with her visual or musical talents and am happy to be able to introduce her here today.
Danielle de Picciotto: Where were you born Maya?
MAYa Hardinge: I was conceived in a caravan and born in Cambridge England.
How did it come about that you moved to NYC?
I first came to NY when I wanted to travel around South America and New York was suggested to me as a closer place to visit and make money for the trip. Originally I was going to go to Amsterdam. I fell in love with NY and stayed a year and a half. When I returned to England I had a boyfriend from NY, so I would visit as often as possible. A few years later I decided I wanted to move there permanently and applied to emigrate.
You work in the fields of music and film. Would you say you are more of a visual or audio person?
I'm not sure if I can chose… I've been obsessed with music since I was very little and obsessed with visuals and style since then too, I'm still playing dress up! But I would say I would have a hard time living without music. I have music on all day. Different formats in different rooms.
Are you an autodidact?
Definitely. Still learning!
You have a radio program in which you feature mainly women – how did that come about?
Yes, it's exclusively women, as in either a female artist or always female vocals. I kind of got obsessed with the obscure records that came out in the post-punk period before my time – 1981 being a favorite year – and started a Facebook page just posting obscure records by girls. There were so many bands forming then, all trying something new, experimenting with very limited means and this DIY aesthetic, and for the first time ever many of them were women, some maybe only releasing one 7 inch. So it kind of expanded from there. Through a friend I got a radio show and started playing rare tracks and mixing it up with what women in underground and experimental music are doing now, I am constantly doing research on female led music from all over the world. The idea being that no girl will disappear into obscurity. The name comes from the A.C Maria's Lp "One of our girls has gone missing", an LP that was released on Mute in 89. She collaborated with the band Wire. But only had one solo LP and then kind of disappeared. I actually met her recently and she's happy to be missing.
Who are your favorite female musicians at the moment?
I love what Hiro Kone, Faten Kanaan are doing currently and the voices of Nico and Catherine Ribeiro forever!
Do you mainly like electronic music?
I like a lot of different music and definitely love unusual female voices. I do tend to be attracted to electronic music but I find it interesting when mixed with acoustic elements too.
How did you start making music?
I had started a couple of music projects but nothing got released until I started writing songs with Joseph Budenholzer for his band Backworld. I learnt to play bass and sang and toured Europe and Russia with them and helped produce one of his albums. This gave me some confidence to write my own songs and Joe was a huge supportive influence at that time and came on board to produce my first two EPs, that were released on his label. When I started the project I set out to make four EPs – the other two were only ever released as videos, as I realized I preferred making videos to dealing with the logistics of manufacturing and distribution of a record. Playing live was an amazing experience but I had massive stage fright even in the background. So that became the end of my live days and I've never played live since.
You have just released an album together with Tolga Baklacioglu. How did this come about?
Tolga Baklacioglu lives in Eskisehir in Turkey and runs the only vinyl label from their called Vent. He contacted me via Social Media after coming across my music and videos online and asked to collaborate. We've actually still not met and have been communicating remotely for almost two years.
The videos you have released are beautiful and really unique. Do you do all of the styling yourself? Do you produce and direct your videos?
I have worked a lot with film director Sebastian Mlynarski and if he had time would do all my videos with him. He's super creative and always moving forward and trying new ideas. He directed and shot the latest video. The video's we've worked on together have always just been us two so we share ideas of what to shoot as we go. I also released two EP's where I made a video for each track all with different artist friends/directors. Sebastian and I did one video that artist Raul de Nieves is in, which features his work of amazing costumes and shoes. But usually I come up with the style. I collaborated on another video with musician/ filmmaker Alice Cohen that was stop animation and I suggested themes and color palettes and then helped her cut out all the little animations. I feel lucky to have so many amazing creative friends around me here, and I like collaborating.
What is your goal or dream – what do you want to achieve?
I suppose my answer could change at any time. I have discovered it's best not to think about the big picture too much as it can be overwhelming. Just be sincere and do what I feel is important in the moment.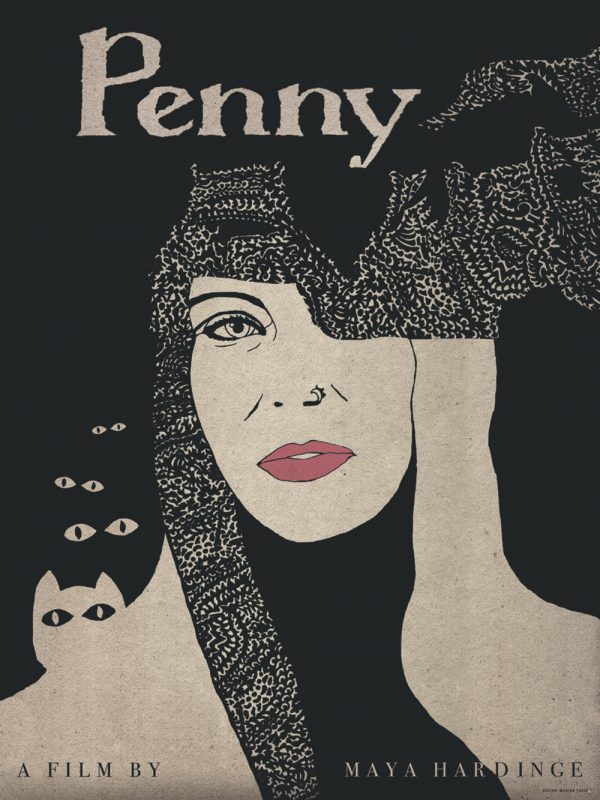 You also just released your first full-length feature film. What is it about and what was the impetus to make it?
This is a good example of not thinking about the big picture, just going on impulse. I went to England and interviewed a relative who I thought had interesting stories. I didn't know what I would do with it or how I would shoot it. I just had a desire to capture the stories. Suddenly I had my DP friend shooting it with a steadicam. I then hired a costume that became a significant symbolic part of the story telling and a year later had to be tracked down and shipped to the U.S for more filming. I wasn't sure what I would do with this footage. I then met editor David Louis Zuckerman (we collaborated on the soundtrack for the film too) and for the next 2.5 years it became the main focus of my life. Learning how to tell a story and exactly the story I wanted to tell and how to make it visually interesting. I started making collages where there were no photos and Sebastian shot the costume character in an abandoned surreal landscape with a voice over by me.
The film tells the story of 'Penny' and her life journey, from a teenager growing up in a small working class town in England at the height of the hippie movement. Then finding herself, traveling cross-country in a bus to Afghanistan at 19 with a little baby and returning to a bohemian life in England filled with loss, abuse and a new family of 32 cats. Then back full circle where she began. That's a brief version without giving too much away.
What is your main motivation in everything you do?
Fear of failing!