Shelly Quest: "Support the dreams"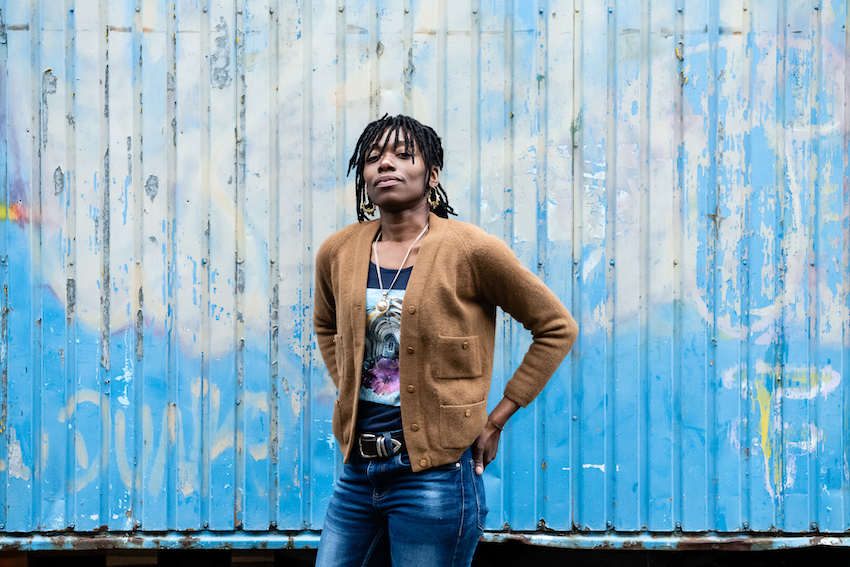 Shelly Quest (Photo: Katja Illner)

The musician, producer, painter and designer Shelly Quest currently holds an Artist-in-Residence at the Akademie der Künste der Welt.
Shelly, I like your motto: "Love and Expression through Sound – ❤️ SPREAD LOVE IT´S THE HUMAN WAY."
Shelly Quest: "Spread Love, it´s the human way" is a quote from the Notorious B.I.G: "Spread love, it's the Brooklyn way". Also if you are not from Brooklyn you are supposed to spread love.
Was it always clear to you that music is the way you want to transport your criticism of social conditions and not just language / lyrics?
No. Because a lot of my political work that should help change the world is not musical. I am working with kids, I am working with other people around me. Sometimes I hide behind the music, I guess. I think it is a little bit easier to say how I feel with music. I feel generally how I live is also an expression of resistance.
The music helps transport the message with a little bit more air, I guess?
That´s true.
Do you have role models?
When I think about my musical rode models, I take more ideas from the newer artists. There are lots of new artists these days that just pop up and are very good in marketing. Those are my role models: "Wow, they are so good at this!"
But also Gil Scott Heron, because he said a lot of critical things. Also Mariah Carey, I really like her work.
Who does not love Mariah Carey?
Exactly. 
I am interesting in people who write really clear words and don´t hide behind words.
It is interesting you also mention the marketing aspects and not just the creative influences. Do you have the feeling you have to think about marketing these days?
Yes. And I hate it. I wanna think about having a good show, about having a good time, but not bout marketing. I always forget to bring posters or other stuff to advertise things. When you do not leave a splash, no one remembers if afterwards. I need to learn from this. Even my nephew in America, who did just one, two songs that are really horrible, but they have five million plays – "wow, I have to learn it."
On a positive note: this need to learn brings us into communication with the younger folks. The students I work with at the Folkwang University of the Arts for example are often more obsessed with the marketing than with the music.
Exactly.
But they have knowledge I do not have, so I can also learn from them. Since I follow their lead I reach much more people with my posts without changing my game.

Shelly, you were born in the Bronx, New York, but now live in Cologne. Even though the people of Cologne like to think of their city as bigger and more important, it can hardly be compared to the cultural complexity of New York. How do you feel about life in Cologne?
It´s so funny, people always think there is so much happening in America – but if you go outside the big cities it is just like any place else, like Cologne. 
If I have friends and community and If I can do what I wanna do, I live anywhere.
But when you ask about the differences, I guess you have less labour on the streets in Cologne. But I like living in Cologne.
Could you imagine living in the USA?
Probably not. If so I would live in Hawai. But there are lots of drugs there, which is not so nice. I had friends living there and drugs are really a horrible problem there, like in California. Very sad. But overall the landscape of Hawai would be really nice.
You work as a musician, producer and designer. Are these three fields as important to you, or does the work on one of them lead the way for the other, so to speak. Does for example the music leads the work on the designs?
For me these are different parts of my arts that I show at different times. One moment I create words, then I make something, like I bake something. It is all kind of expressions coming out at different times.
Music is probably number one, cause I am making beats, I am also singing, and I make music with other people. I also really enjoy designing, painting, and cooking – cooking is also art.
Cooking fits the next question: Do you have any rituals or activities to reset your mind for the creative process?
I like to bake, cause I have the feeling that when I knead the dough it really releases my brain thinking. 
Also I like to smoke weed, to be honest, this is an interview.
Are you an artist that communicates a lot during the creative processes? Do you have a peer group of people you go to?
I wish. Somehow I don´t. I come up with something to my band and then we work on it or we don´t and I work on it on my own. UnfortunatelyI don´t have many people I work with creatively, I dont know why. It is mostly students. A lot of the artists I work with are very busy.
Often it is also a problem of not finding the right language between each other cause you need to be very honest with each other for such an exchange.
With my band I have this level. They tell me straight if things are not there: "Try this or that!"
But right, with others it is difficult, you have a studio session with people and they say "it´s great"  but no, it is not great!
Two weeks ago, a workshop by you with young people from the north of Cologne was supposed to take place in cooperation with the Jugendwerkstatt Chorweiler – unfortunately it had to be cancelled due to the KVB strike.
I actually gonna do this now on the 18th of April.
The district of Chorweiler is often discussed in public as a so called Problemzone. What have you planned for the workshop?
It was thought originally to be a workshop on linoleum printing. It is a bit different now, we gonna make it into an art exhibition; and there will be a comedy show. There will be a painting workshop now too. And in May we are having a big talent show.
You are not just showing the kids how to do this mechanically / practically, you also teach or let´s say help them findig their own voices. How easy / difficult is this?
It is not easy. But it is a nice experience. For instance, I have two boys there with a similar mind state, they are 16 and 15 and really good musicians, I am so impressed by them. Of course the first few times I heard them, they were just talking about garbage. It is what it is, they were talking about drugs, girls… but I let them, because it is what they wanna say, you have to let them express themselves.
The first thing is to let them do whatever they wanna do. And then you can try to bring in other stuff. But first you need to support them without criticising. That is the hardest part, people often say. "Did you hear what they say?" – who cares? Thats what they think about.
At the University I am teaching, there was one kid from kinda Chorweiler area that was already selling hiphop beats to the States while still studying – i think he made more money than me.
During the last decade it became so much easier to reach out to the world as a younger artist, but still you need to get the mindset that things are possible. The world around those kids from areas like Chorweiler is not telling them every day you can do it – the opposite is much too often the case.
Absolute. This is so true.
They often do not dream very big, it is kinda hard to convince them to do so. If you come from there and this is all you see, and then you grow up, of course it is really hard to wash this out of your brain. It does not matter where you come from, these kids are really good and trying hard.
Mentioning the size of the dreams makes really sense. I am what you can call a middle class person – as a middle class kid you do not have to try so hard but things still kinda work out. But if you come from a more problematic corner of society you need to try so much harder.
Yeah, you have to fight for the dreams. You often think its not gonna work out – and you needs to fight against these thoughts. it is so important to support the dreams.
You have been an artist-in-residence in the ADKDW's Participatory Residency Program in cooperation with the Jugendwerkstatt Chorweiler since January. With what expectations did you approach the residency and how do you experience it so far?
I like it. The biggest thing for me is to do something for the kids.
It´s good to feel the support of the Academy, get the equipment that I need, the resources. Right now the kids are getting things like guitars and tablets, cause some wanna be musicians, others are really talented video artists. Five or seven of my kids are doing crazy stuff.
Kids in the age of 15 to 17 are at this breaking point, it makes a big difference to be there.
You were a guest at Kompakt Record Store on 23rd of February as part of the Academys' "Learning to Listen" series where you presented 13 songs overall:
1 – Supastar – Group Home
2 – Gil Scott Heron – We Almost Lost Detroit
3 – Nina Simone – Baltimore
4 – Bobby Cadwell – What You Won't Do for Love
5 – Sade – Your Love is King
6 – Koryn Hawthorne – Won't He Do It
7 – McFadden & Whitehead – Ain't No Stoppin' Us Now
8 – Keni Burke – Rising to The Top
9 – Emeli Sandé – Extraordinary Being
10 – Seinabo Sey – I Owe You Nothing
11 – Shelly Quest – Protocols
12 – Shelly Quest – NJNP
13 – Shelly Quest – Remedy
Did you find the choice easy in general? What criteria did you use to put it together?
I was not sure what they wanted, songs that I listened to my whole life? Like Sade for example. So I started of with Supastar because that song represents me very well, you know. And then I went on to express how I feel about my narrative with Gil Scott Heron – cause his words are really clear. All the songs are connect by the theme of self-love.
I am not religious, but I wanted to include faith songs, about our place in the universe. And then in the end my own songs, ending with "Remedy"; because it is a lot about maintaining.
"Baltimore" by Nina Simone is one of my all-time favorites. So beautiful, so poetic – and so infinitely sad. The song develops its deep socio-political power not from extroverted rage and loud investment, but from the shaking despair that is inscribed in every note and every syllable.
I guess it can be a sad song, but to me it is such a happy song. 
It is so poetic: A beat-up little seagull … that is so true, you see those broken birds all the time. Yeah, I really like it.
I was only once in Baltimore, I talked to so friendly people there for a book project, but the inner city, it is such a mess.
Absolutely. That is what people do not understand when they ask me why I do not wanna go back to America. Why does anyone wanna be in America? 
I guess it is the same all around the world, but it is easier to fall there.
Also you have actually many more cultures here around, thats really cool, you can go to Holland, to Italy, … that is so nice bout Europe,
America is more like … there is no culture… i guess the culture of America is no culture.
You really have to search harder – and you need time to do so.
I guess so… but culture is: time, space and identity. It is also a thing, I can´t really identify with the culture there all the time.
Can you say what you are looking for in music?
I really like it when I hear a song that goes deep, word- and sound-wise. With my own songs, I love it when I hear them and like them, even if they would not be by me. Music needs something special, you hear it when its there.
You finished "Learning to Listen" session as mentioned before with three of your own pieces: "Protocols", "NJNP / RIP Breonna Taylor" and "Remedy", Songs that even in the face of the brutality of the police state still show love as the only path of life: "I'm living for love / I give to get it / Expression of the soul / And expansion of the spirit" ("Protocols") / "We don't want to start a war / Just the love increase Love increase" ("NJNP / RIP Breonna Taylor") / "Sending love and abundance / Big hearts / To you haters For real" (Remedy").
How easy / hard is that for you?
Well, "NJNP", no justice, no peace. That´s why the song goes down to just the drums. The song is until this point so brutal, sometimes I even don´t wanna sing it. It is really hardcore. After we hear this part it is important to take a second. The music in that moment kinda swells up, it makes it easier to handle your feelings, I guess. It is such a change from negative to positive and then… I didn´t want to just write a whole song about how upset we are with police brutality: no hope, no way out – that´s just complaining, but I also wanna show a way out.
What make you choose story of the death of Breonna Taylor for a text, who was brutally killed on the night of March 13, 2020 in Louisville, Kentucky by a police unit looking for her ex-partner.
It is the story of a black woman in America. A black woman killed by police, it is that simple, it happened that many times. And nothing changes. I hope the song helps that people are thinking about it at least a little bit. 
I went to a protest, I was walking – and while walking I heard the music to the song in my head, so I went home and started making the song. It came from the feeling of being there with all the people at the demo. I started to think about her and her situation. She was actually trying to make herself better and have a better life. No one cares about these people – I had to say something about it.
I read into her story while listening to your song. For an European it is really difficult to process happenings like this, cause street brutality as tough as it is, you kinda get what´s going on, but the police going to a flat and kicking the door in and shooting without knowing for sure who is inside … that is not happening here. It is unlimited brutality.
So music is a way to rewrite history, tell the story in a different way as the papers and the States Authorities do. That´s the power of an artist. Your song really touched me.
Thank you, that´s important to me. I just feel like, I don´t wanna say we have the responsibility, but at some point if you can say something that the people are listening to, it is important to do so.