Waclaw Zimpel – Interview
Waclaw Zimpel: "I lose a lot of energy in making decisions"
On the 31st of January 2020, Polish musician Waclaw Zimpel will release his new album "Massive Oscillations" on the Amsterdam label Ongehoord, followed up by an EP together with James Holden under the Holden/Zimpel imprint on Border Community, the label Holden (who also mixed "Massive Oscillations"), and an album with Shackleton. In other words: it's going to be an intense 2020 for Zimpel.
Thomas Venker exchanged some questions and answer with Waclaw Zimpel by Email.
Waclaw, to me your hometown of Poznan is of course deeply connected with all the bestial acts the Germans brought into the world during the first half of the 20th century. Besides those dark shadows, I sadly don't know much about the city. What should the world know about Poznan?
I grew up in Poznań, however for eleven years I've been based in Warsaw. So right now I feel more of a Varsovian. Poznań is a nice cozy city with more or less 600,000 inhabitants, a lot of students, and a rather liberal local government. The city has quite a few nice clubs and some very good concert halls. A lot of good people working in culture.
When I come back to Poznań these days, it is much more about memories, emotions connected with places. My parents and some of my good old friends still live in Poznań, so I am trying to see them as soon as I can be there.
And how much does the artist Waclaw Zimpel own his home town? Did the city and your friends play an important role in making you an artist? In your biography I read that your father played the piano at home. Did you also make music together (or even still do) together and talk about the arts?
Unfortunately my Dad and I don't play music together, but for some time we have had a plan to play some Mozart…
As I said before, for a long time I've lived in Warsaw so I am more of a visitor in Poznań recently. Right after my studies I moved to Warsaw as a lot of musicians who I wanted to play with already lived there. So my adult life is connected mostly with Warsaw.
Which artists are we talking about?
Bass player Wojtek Traczyk and drummer Robert Ratz, whom I had the trio The Light with. Soon after I moved to Warsaw I formed a quartet called Hera with Pawel Szpura, Ksawery Wójciński and Pawel Postaremczak, it was my main band for quite a long time. Other musicians: Raphael Roginski, an amazing guitarist, clarinetists Pawel Szamburski and Michal Górczynski and so many more…
But your first album was released by label MultiKulti from Poznań.
Those guys helped me a lot in the very early stages of my career. Lawrence Mąkinia, one of the owners, contacted me with Chicago scene, which was a big step forward for me at the time.
Who do you mean by the Chicago scene exactly?
Ken Vandermark, who invited me to join his group The Resonance Ensemble, drummer Tim Daisy, saxophonist Dave Rempis, later on Michael Zerang, Hamid Drake, Mars Williams, Keefe Jackson.
Are you able to name what you search for in music, your own as much as in the music of others?
I like to listen to music which is more transmitted than made up. I admire musicians who are like antennas and transmit information (which comes to them, no one knows where from), musicians that are able to seize the moment. Such music is extremely powerful and able to change the way we feel (hopefully for the better). Also most of the music I love has some aspects of trance, which I am also looking for in my music.
What exactly do you mean by trance music?
To me there are different kinds of trance. In the first place, it is all about our connection with rhythms, rhythms are a vehicle for a different states of mind. A good example is Gnawa music, or also Polish traditional dances as Oberek or Mazurka. Also the repetitive music of like Terry Riley, music of Alice Coltrane, James Holden, and Indian classical music fits into this category, in general, a lot of other music which has a special sense of rhythm in a central role.
The second type of trance as I understand it, is music which changes time and space by concentrating on the sound itself. For example the tradition of Japanese flute shakuhachi (especially honkyoku pieces), or the Well Tuned Piano by La Monte Young, and many examples of ambient music.
I know, the question is kind of trivial, somehow an insight into the 'sonic cosmos' of an artist makes his choices and path more understandable. Which musicians did you listen to most in your teenage days and why?
Even though I was studying classical music from a very early age, I wasn't very much connected with this music at that time. In primary school, the first music which was my true choice was probably Queen, and later on Nirvana – I was able to play the whole "Unplugged" session of Nirvana on the guitar and sing along. I really loved this album. I also loved Louis Armstrong, it was probably because of his records that I started playing jazz. I also loved old blues masters like Sonny Boy Williamson II, Howlin' Wolf, Son House, John Lee Hooker… Later in high school I discovered John Coltrane and it blew my mind! I was listening to his records on repeat. My favorites are probably "My Favourite Things", "Love Supreme", "Ascension" an "India" with Eric Dolphy…
I listened to a lot of different forms of jazz in high school. I had no idea about the music my peers where listening to, I kind of wasn't interested in it at all. I was listening to jazz and I wanted to be jazz player. So for a very long time I was hanging out with people much older than me. Somehow since I started working with electronics, there are more youngsters around me and I am discovering music which was made when I was still a teenager.
But to this day I really love the pop music of the 60s and 70s, and also rock'n roll from that time.
Are there any musicians and artists who have a deep impact on you right now? I saw that you recently played twice with Rabih Beaini (I had the pleasure to hear him again play Berghain on the 2nd of January), first without further preparations at Unsound festival in 2015 and now again last fall in Swiss. What aroused your interest in a collaboration and how did it come about? Oh and how easy is it for you to improvise with other artists like Rabih in general?
Recently my major inspiration has been my collaborations with James Holden and Shackelton. I have learned so much from them about production. They are true masters of sound. And they were both very generous to me, openly sharing their knowledge about production and mixing. I got a lot of tools from both of them which I am using now in my own way. This is really priceless for me as I come from a completely different background, playing acoustic music all my life, dealing with electronics only for the last three years more or less.
Improvising with Rabih is always a true pleasure and as well a big inspiration. He understands all the principles of free improvisation in a very similar way to me. Playing with him feels like playing with free jazz musicians, even though he doesn't use regular instruments. He has a unique way of processing sound live and building forms out of it. He is one of a kind!
Our first collaboration was very spontaneous. I was a substitute for Charles Cohen at Unsound Festival in Kraków. Charles was booked together with Rabih, but he couldn't make it to Krakow, so I was the last minute substitution. We had literally five minutes of soundcheck and we just took it from there – a really magical concert.
What immediately caught my attention while listening to "Massive Oscillations" is the homelike feeling you create on the title track. It may sound dark and kinda spooky, but one does not feel angst, on the contrary, the weird sounds and the voice – it ends up sounding friendly and approachable. How did you achieve this?
Actually all those sounds in the title track are played on an ARP 2500 and clarinets. A cohort of alto clarinets come in around the 6th minute with crazy sounds. Holly Hock sings only on "Release".
But let me thank you for this question, I have similar feelings about this track, especially the clarinet part. James Holden (who was mixing the whole album) managed to capture a specific sound of the clarinets in an amazing way. When I first heard his final mix of this track, I had a feeling that those clarinets sound like kids playing in a playground.
What I love most about the recordings, they are beyond genre limitations – without any effort, at least it seems like that. Repetitive world music flows together with jazz, ambient and minimal music and it all just happens naturally. For example the way the clarinet comes in and out in during "Sine Tapes" is such a dreamy gesture, more like a dialogue of minds than really played out loud. Would you say that this all comes easy to you in the process of music making– or is this also the part where the mixing is also of high importance?
Through my whole musical life I've been interested in so many different genres and styles that it all kind of stays in me. I love ambient music, I love rhythm, I am a clarinetist with a classical and jazz background. So what I am trying to do is to create an atmosphere by putting ideas on top of each other. Well, sometimes there are maybe too many ideas… and then I have to make a decision about what to get rid of, which is super difficult, because not everything can find space in a mix. James helped me a lot with this, as he is a mastermind in mixing and he knew how to keep most of my ideas together and keep them audible.
To be honest, I don't really think about connecting different styles, it happens kind of subconsciously. In terms of the studio process, I wouldn't say it comes easy, I lose a lot of energy making decisions. Until recently, as an improviser playing mostly acoustic music, my studio experience process was mostly this: playing live with the band in one room and in the end we decided to go for the first or second take.
Now I have the feeling that I have an endless amount of time to produce stuff in the studio, but because of this so many ideas land in the bin and it is more and more difficult to finish complicated projects, as you want it to be better and better. It is hard to say stop.
That said, James Holden mixed the album. How did this happen?
I've worked with James for some time. We met at Rewire festival in The Hague in Spring 2018, soon after I started touring with his outfit Animal Spirits. Since then we have recorded a few compositions together. As I speak a lot with James about gear and mixing/production techniques and as we like the same music, I thought that it would be great to have his input in my recordings. I am also a big fan of his productions, so I am really happy that we could work on my material together.
Holden added, I quote you, "his magic touch" to the release. What does that mean?
It is not only magic, which is hard to explain, you have to feel it, but for sure James has a lot of deep knowledge about acoustics and mixing techniques together with great taste and golden ears. But probably what I meant also is the fact that James is able to understand what this music is about and he has the tools to enhance this in the mix. For sure this music wouldn't sound like this without James' input.
And I heard you will also release soon a 12-Inch on his label. What can you tell me about this release?
It was an amazing almost mystical process making this music together. We started from scratch and recorded four tracks, one track per day. Everything felt so natural, the music just happened beyond us. Two of the tracks were recorded in a duo constellation, for the other two worked with Jakub Ziołek on acoustic guitar.
You worked on "Massive Oscillations" during your nine-day residency at the Willem Twee studio in Den Bosch, Netherlands. Does this mean all the ideas and material on the record were explored in just those days, or did you go in with a strong idea of what you wanted?
I had quite a strong idea what I wanted to do, but when I saw all the instruments in the studio, I abandoned all the plans and worked with the flow. Hans Kulk who works at the studio and who is the owner of the major part of the instruments collection, has amazing knowledge about old 'music concrete' techniques. He showed me how the studio works and I felt like a kid in a room full of toys. It was such a beautiful process working with the machines like with band members. I have to say that all those instruments taught me a lot.
How different does it feel for you to explore your sounds alone in the studio and not in interaction with others like most of the times before?
These are two completely different spaces. The biggest difference is in time perception. When you are working with other musicians, it is much easier to make decisions and keep going because you have immediate feedback from your collaborators. They might not say anything, but you can feel if some idea works for everybody or not. Especially with improvisers, music often appears in a very organic way, and sometimes the best you can do as a leader is to listen and let the music happen. So a lot of process or creation happens 'in the moment'.
In the past I would prepare ideas on the piano and then bring them with me to the studio. Very often the first takes of those ideas land on records. But all this changes completely when you are alone at the studio and responsible for everything. It felt really scary to me at the beginning…
On one hand it is such a great feeling to have your own space and equipment to produce music. It makes you think that you have an unlimited amount of time and you don't need to think about studio fees. But I realised that working without time limitations is very difficult for me, because I am much worse in making decisions in such circumstances.
What helped me a lot was understanding, that even if I am becoming more of a producer, I am an improviser in the first place. So I need to have tools which I can use in an improvisational way. I am most productive when I am creating systems of tools which allow me to record in a very organic way. So to say, I am trying to make machines react to what I do.
What I wonder, coming from the long list of collaborators in your back catalogue (Mark Tokar, Klaus Kugel, Tim Daisy, Hamid Drake, Dave Rempis, Steve Swell, Joe McPhee, Wojtek Traczyk, Robert Rasz, Ken Vandermark, Keefe Jackson, Mikołaj Trzaska …), how much of these crossed paths are still vibrating in your music? Are those experiences just momentary and passing, or did each of them change you own artistic identity a little bit?
These experiences with all those fantastic musicians you mentioned shaped me as a musician. I started playing a lot with people from the Chicago scene and European improvisers as well in the end of my studies in Poznan and Hannover (where I was studying western classical clarinet). For sure classical studies gave me a lot but at the same time I felt like suffocating with rules. Also in mainstream jazz. Free jazz gave me space to dig deep inside my emotions and find stuff which I really wanted to express. I think that during this period I build my sound on clarinet and understood who I want to be as a musician. I owe a lot to many great artists who I met over the years.
I asked the last question coming from the knowledge of your huge repertoire of instruments (khaen, violin, bass clarinet, alto clarinet, electronics, prepared upright piano, Yuri Landman guitar object…) – would you say that you play all those instruments in a very special Waclaw Zimpel way?
Well, my main instrument is clarinet, and recently alto clarinet. And I feel that I am mostly a clarinetist. This instrument is like a part of my body. After all the studies, I don't really have to think while playing on it. It is more like singing to me right now. But still from time to time I am discovering something new on the clarinet for myself. I am working right now on a new way of using overblows in a diatonic modal manner.
So because I spent so much time with the clarinet it is quite easy for me to play other wind instruments. I also used to play sax for some time, but I am not so much interested in sax anymore. I love traditional wind instruments from different parts of the world. My favourite is laotanian khaen which you have mentioned, it is designed to make you go into a trance condition.
I also like a lot folk flutes like Rajasthani algoza or Slovakian fujara.
In my childhood I played violin, piano, then later the guitar and harmonica. By the way, I took my violin out of case after 20 years while recording material with Shackelton. Quite a trip… And for some time I've been using more and more electronic instruments.
I would say that besides clarinet which I know really well, from other instruments I take only stuff which is intuitive. I don't practice for example piano like I used to practice clarinet. On piano I just sit and play wherever my fingers will take me.
Waclaw, how visual is the process of producing music for you? The trippiness of the music on "Massive Oscillations" made me close my eyes and start day-dreaming quite a lot, especially during "Sine Tapes" and "Random Odds". And as I know that you worked on film music before ("Cicha noc" by Piotr Domalewski), I wonder, do you also visit your inner landscape a lot during composing your music?
I love trance music, l love repetitive rhythms, melodic patterns and drone harmonies. Probably all that makes my music illustrative and visual. But I don't think so much about that during producing or improvising. I just follow the sound. Yes, I've worked on film. I also worked with theatres. I like to work with images, I would love to do more film scores.
What's next? Will you bring "Massive Oscillations" alone to the stages or with a band outfit?
I've already constructed the tools to play it live alone. Of course I have to use the help of machines, and I use samples. I would love to play it once with a big ensemble, that would be a cool idea! I've also been working for over a year on the third Saagara album, my band project with musicians from Bangalore, India.
Waclaw, thanks for your time.
Thanks a lot!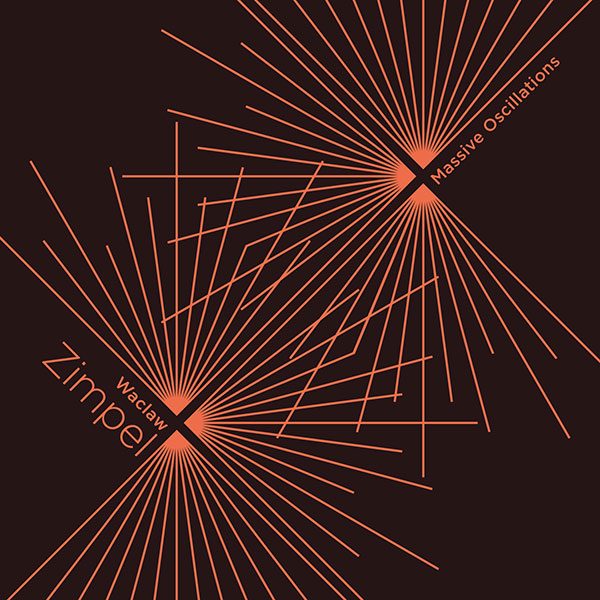 Waclaw Zimpel
"Massive Oscillations"
(Ongehoord)