Danielle De Picciotto & Friends
Yvonne Ducksworth: "I'm a survivor, and there are a lot of walls"
Not many people speak about the fact that in 1987 there was a very strong rock scene in Berlin next to the Geniale Dilletanten and Neue Deutsche Welle. When I moved to the city in the fall of that year I very quickly heard about the most notorious band in that realm "Jingo de Lunch".
Later on I would sing in the band Space Cowboys, one of the first rock/hip-hop cross-over formations which shared bills with Jingo quite often and I got a closer look at the legendary band. It quickly became apparent that they had that special magical glow that makes certain musicians stand out. The rock-punk-metal project consisted of the singer Yvonne Ducksworth, guitarists Sepp Ehrensberger and Tom Schwoll, the bassist Henning Menke and drummer Steve Hahn. Besides being a group of very charismatic people they had a more cosmopolitan approach to hardcore then the average German band back then. Instead of sticking to conventional 1234 pogo beats they combined old school guitar virtuosity with adventurous rhythmical changes and angry but soulful female vocals that soared over the music. One could feel that they had the potential to surpass underground rock culture and adapt to stadium rock audiences. I was especially mesmerized by Yvonne's stance. I had not experienced a woman in the underground scene before that seemed to be able to uphold her position so effortlessly in a group of wild men. She was as assured and proud; strutting around on stage, throwing her hair back and headbanging endlessly in between or during her vocal parts, emitting an incredible strength. She definitely wasn´t trying to be a girlie, she was a real woman and the guys loved her for it. Even today it is rare to meet a woman that is as strong and self-assured in everyday life, and I wish there were more around to be inspirations for futures generations.
Yvonne was endlessly inspiring to me, and I have often thought of her silhouette onstage over the years, a beacon of dynamism and femininity. These two attributes are wonderful together and I am honored that she took the time to answer some of my questions here.
Danielle de Picciotto: You have a long history of being the singer of heavy metal, rock, and punk bands. What interests you in this music style?
Yvonne Ducksworth: My mother had a white radio in the kitchen, which was never turned off; it just blared the local rock station (CKOC) day and night. This was in the early 1970s, Canada. I loved the hook-lines and sang with all of the hits. Later, after a move to New Orleans I discovered Casey Kasems 'American Top 40' which I adored. On the way to school around 1975/1976 our bus driver listened to Hard Rock and Metal… I remember a lot of the kids on the bus singing to Led Zeppelin, ACDC and Queen. Later I discovered Tulane University's alternative radio station which played Punk at midnight… I think I recorded most of the episodes I heard on a tape player. Punk Rock seemed so welcoming and non-judgmental at the time, so I gravitated in that direction more than most. The attitude of Punk helped me confront the world around me. Rock and Metal songs helped me escape from it.
You were the singer of Jingo de Lunch which was legendary and lasted from 1987 – 1997. I remember seeing you in the Metropol Berlin and being mesmerized. What would you say was the main characteristic that made the band so special?
Thank you! For me Jingo was a burst of energy from all sides. I was able to bring all that I loved musically into the band, hook lines, shouting, lyrics that reflected my state of mind. Having a band that was unafraid to incorporate Rock, Punk and a bit of Metal was really refreshing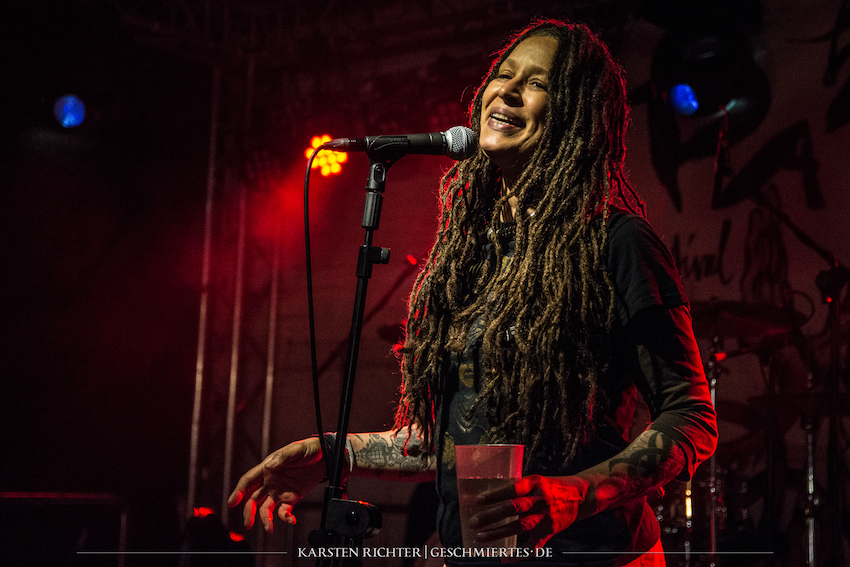 Jingo de Lunch has a history of splitting up and reforming. You are momentarily re-releasing Perpetuum Mobile. Are you planning a new formation of Jingo de Lunch as well?
Actually, the band line up was solid until 1994 when Tom left. After that we only had two extra members on Guitar: Tico Zamora and Gary Schmalzl The re-release was done by Marco von Radiation Records . It's been remastered and pressed in colored vinyl in a limited edition of 500.
But no, not planning for any new Jingo. Most of us have other bands and are very happy with that. Check out Tom's band Es War Mord.
Originally you come from Canada. Why did you move to Berlin in the 80ies?
Born in Canada, I also grew up in New York and New Orleans until my stepfather moved the family to Dietzenbach by Frankfurt. I did come to Berlin in 1983… It was not completely by choice. Family life was problematic, and I found myself living on the street in Sachsenhausen. A chance meeting with Cati, an exchange student who attended my school, Benjamin Franklin, in NOLA, was a godsend and got me to Berlin, Kreuzberg… Where I moved into Jugendwohnen im Kiez. I had just turned 16.
Did the German language influence any of your lyrics?
I've never written German lyrics!
In the nineties you moved to the US and then moved back to Berlin a couple of years later.
I left Berlin for Phoenix, Arizona, in 1997, only to return in 2007. It was a completely different life, I studied and worked in Telecommunication for 10 years. I was able to live my nerd-side life. I came back though. I was homesick for XBerg, and pretty disillusioned with the USA.
Does living in different continents or cities inspire you and
influence your music?
I've never thought of it that way, because I see music as a world language that bridges over political boundaries… However I must note that New Orleans has a musical world all of its own. I've never experienced that sort of acceptance and melding of music anywhere else that I have been. The list is long! Blues, Jazz, Zydeco, R&B, Country, Rap, Rock, Punk, Metal, Rockabilly, Gospel, Dixieland, Brass, Funk, African, Latin, Caribbean, and Folk. My friends and I were punks, but we took it all in, never thinking twice about, 'Hey I don't really listen to this, or that'… Because we did, we consumed it all… and it was in abundance day and night. NOLA is known as 'The Crescent City', 'The original city that never sleeps', The Big Easy, and 'The Birthplace of Jazz'. Check out the 'New Orleans Jazz and Heritage Festival' . I'm so very grateful to have been able to experience that musical atmosphere.
Do you think Berlin is as interesting a city for musicians as it was in the eighties and nineties?
Sure, for all arts really. Whatever happens on a financial or political level cannot erase the history and feel of this city, inspiration is everywhere… The highs and lows are fortunately or unfortunately enhanced in this city in all seasons, and sometimes it's important to get away from the city in order to not be consumed by it. The levels of 'lonely' in this City should not be confused for solitude! That's a place where art can come from, I mean, you don't have to have constant pain to have art. But that's what art is for sometimes, working through the pain. For me it's therapy. Berlin offers a need for therapy on multiple levels IMHO.
Punk and Heavy Metal are still a male dominated area. Have you ever felt discriminated against?
Yes, I have come up against some of their walls… I try to move onward anyway, do what I feel like regardless. I don't have a choice; I just find another way to make my own path. I'm a survivor, and there are a lot of walls. If you want, you can be stubborn and go around them. Use their non acceptance as fuel.
You were always an inspiration to me because you seemed so strong and self-assured but especially in the early 80ies and 90ies male musicians had the attitude: girls are either chicks or bitches. Did you experience this?
Personally I wanted to compete. I mean, as a woman, as a Black woman, I saw that I had to be better in order to get anywhere, whether that was in school, sports, music, or work. I've always been forced to be better in order to be taken seriously, and to tell you the truth, I relished that challenge. I was angry that I was constantly doubted, and taken for granted, put down and locked out. I changed gears mentally for some reason, when guys told me I 'couldn't do this, or that'. I loved that moment of realization, where someone who underestimated me had to do a double take. Fuck 'em & bring it on.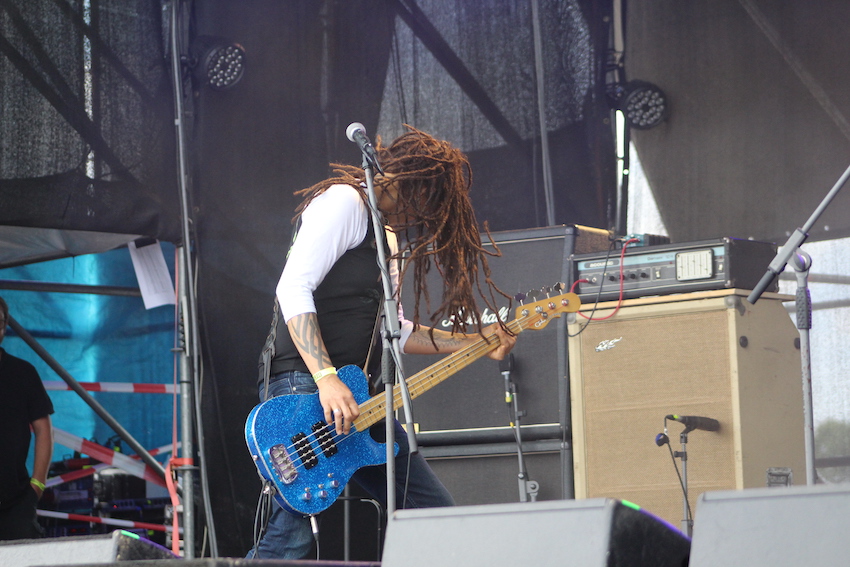 Danielle: Have you ever collaborated with women?
I can only remember playing in the film band with Francoise Cactus on Drums in the film 'Trouble' by Penelope Buitenhuis…
Can you name female singers in the areas of punk, metal or rock that have inspired you?
Hazel O'Connor, Laurie Anderson, Exene, Chrissie Hynde, Joan Jett, Suzi Quatro, Pat Benatar, Ann and Nancy Wilson, Janis Joplin, Annie Lennox, Debbie Harry, Linda Ronstadt. Can I add Nina Simone, Tina Turner, Aretha Franklin, Roberta Flack, Diana Ross, Cher in the 70's, and Grace Jones…
Do politics influence your art?
When I was in High School, I was left to my own means, (as my parents were not in my life) When Ronald Reagan became POTUS, he cut social programs that kept underprivileged students fed at least once a day; a school lunch. That was my only meal 5 days a week. I was pissed! That's when I started to see how Politics, and particularly one person can change life for millions of people. For the worst. I also realized that one must fight constantly for rights and fairness, opportunity, and equality. Music was the only medium I had to voice those concerns.
Since 2013 you have a sludge/doom metal band called Treedeon and have just released a new album. Can you give us a description of what it sounds like?
Treedeon is loud, noisy, metal-ish, sludgy and at times doom-y
The band is Arne Heesch on Guitar, Andy Schünemann on Drums and I play Bass.
Arne and I sing, and sometimes we sing on a song together.
The songs are down tuned and sometimes hypnotic.
Our version of a pop song is 'New World Hoarder.'
Some people would like to call us angry, but we see it as passionate.
What are you working on momentarily and what are your plans for the future?
New Songs for Treedeon!