Electric Lights – Women in Electronic Music
DJ MELL G: "I´m more like a silent observer than a performer"

It is not often that we introduce here a once soon to be a lawyer who last minute changed paths to become a dj and producer – but this is exactly what made Melina Gausmann become DJ MELL G; thanks of her Professor, a sensible observer of his students desires and talents. 
With her debut album "ISSUES" the Hamburg based dj and producer did not only establish herself as one of the most promising younger electro artists out there, she also put light on her own battle with a borderline personality disorder (BPD). When we say electro this of course means also nuances of industrial as well as classic techno influences and even some ghettotech.
Melina, which music was the first to touch you?

DJ MELL G: The first song which comes in my mind is "Eisbär" from Grauzone. Im born in 1997 but it was the favorite song of my uncle with whom I´ve spend a lot of time with in my childhood. I cried when friends of mine gave me the vinyl as a birthday present last year.
Have there been people whose contribution to the development of your musical identity was of special importance?

Yes, a lot of people. When I was living in Frankfurt /Marburg I´ve been part of a collective who organized HipHop/ Trap parties on the main floor and electronic music (mainly footwork, lofi house, uk garage and electro) on the other floor. All of them inspired me a lot and they showed me how many faces music can have – and also that music has no boundaries. And Im super thankful for that. On the other side. when I started producing my own music in 2017, there were a lot of people who did not believe in me and in my music what was really challenging. But it makes me stronger and gave the push I needed and now Im here.
Are you able to share the process of evolving your identity with us?
I came from HipHop and Trap mainly. That´s where I got all these cutting styles in Djing from I guess. To be honest I never really wanted to become a DJ, standing in front of people and performing. Im more this kind of women who feels comfortable in the back like a silent observer.
One day I played an opening slot at one of our partys in 2018 (?) and I really enjoyed it. But at this kind of point I wasnt even thinking about playing festivals and traveling all around the world. I studied law at this point of my life and music was a hobby for me.
One day my Prof came to me and asked me if I really want to become a lawyer because if not its time to quit right now. It was right before my final exams. He saw me playing at a student party the day before and I was working for him in the office as his assistant the morning after – and yes, I was super hangover.
After this conversation with him I was thinking about who I am, who I want to become and why the oldest and most successful Professor at my University is telling me to quit law because he feels like this is not me. After one year I moved to Hamburg to start working in an artist and label management company. So yes, I quit law.
It was so hard to tell my parents and everyone around me because I was really good in what I did before. 2020 was the year of lockdowns and one of the worst year for everyone in creative jobs I guess. So the agency I wanted to start working with had to cancel my job because there was no money. I started concentrating on music then, played HÖR in June 2020, got lots of radio requests afterwards and released one track after another on soundcloud. I got an agency and a management in the worst time ever next to hundreds of jobs I did during the week to pay my rent. It was so hard but Im so thankful that everyone I was working with at this time believed in me and also that I believed in myself.
What do you hope to find in music?

I was thinking a lot about how to answer this question because I think I found the answer almost half a year ago. The music I create and of course also the music I´m listening to are the only things that will never leave me. It´s always available and can be created everywhere. I guess this is what it gives me. Music will always support me, can never betray me and will never leave me, it does not matter whats happening.
What do you prefer, the seclusive working process in a studio or the live presentation of your music in front of the audience?
Def the seclusive working process in the studio.
And why so?
I´m more like a silent observer than a performer haha. Dont get me wrong, I love showing music to other people but I wish to play less to have more time and creativity in the studio to create more music (which I can show in the club then).
What is your ideal space to listen to music?
I love listening to music in my studio at home. Or listening to a quality set in clubs of course with a good soundsystem. But you never see me dancing haha!
Please name female artists without whose music you wouldn't be producing music?
Luz1e is one of the electronic music producers I´ve always looked up to. I hope she never stops producing music. Its so honest and real.
What do you think sets your "voice" or creative expression apart from other's?
I guess when you believe in yourself and in your art and you trust in your artsy and own process, people will feel it. I think this is what Im doing.
What empowers you or helps you to overcome obstacles and challenges in your work?
One year ago I realized that its important to take breaks and thats its okay to say "NO" to the music industry and to the business. Its always super hard for me because Im always comparing myself with others and others comparing my art with others and the other way round. But its getting better. Im not trying to pressure myself to be creative anymore. And when I need a day off or two days off or a week off, I´m not doing nothing, I gather all my energy for the next week. Im trying to think positive even if its the hardest thing for me.
Your most beautiful experience focused on your music?
People screaming in the club when they hear my own productions. The biggest compliment ever.
Which music did you buy most recently that carries a lot of value for you?
Schnull feat Newinfluenzer, "Ich und meine UBahn"
Where did you buy it and what makes it special to you?
It´s the first release of my best friend Martha and one of the biggest releases of my friend Max. I know how much love, patience and power it costed to release this one. I´m more than proud to see my friends reaching milestones.
What's a secret guilty pleasure, an idiosyncrasy of yours or something that would surprise people about you?
I did horse riding for almost 18 years. And I miss it so much!
What is your favorite app/technology/instrument to create sounds with?
Korg MS2000 (Funfact: I dont have one)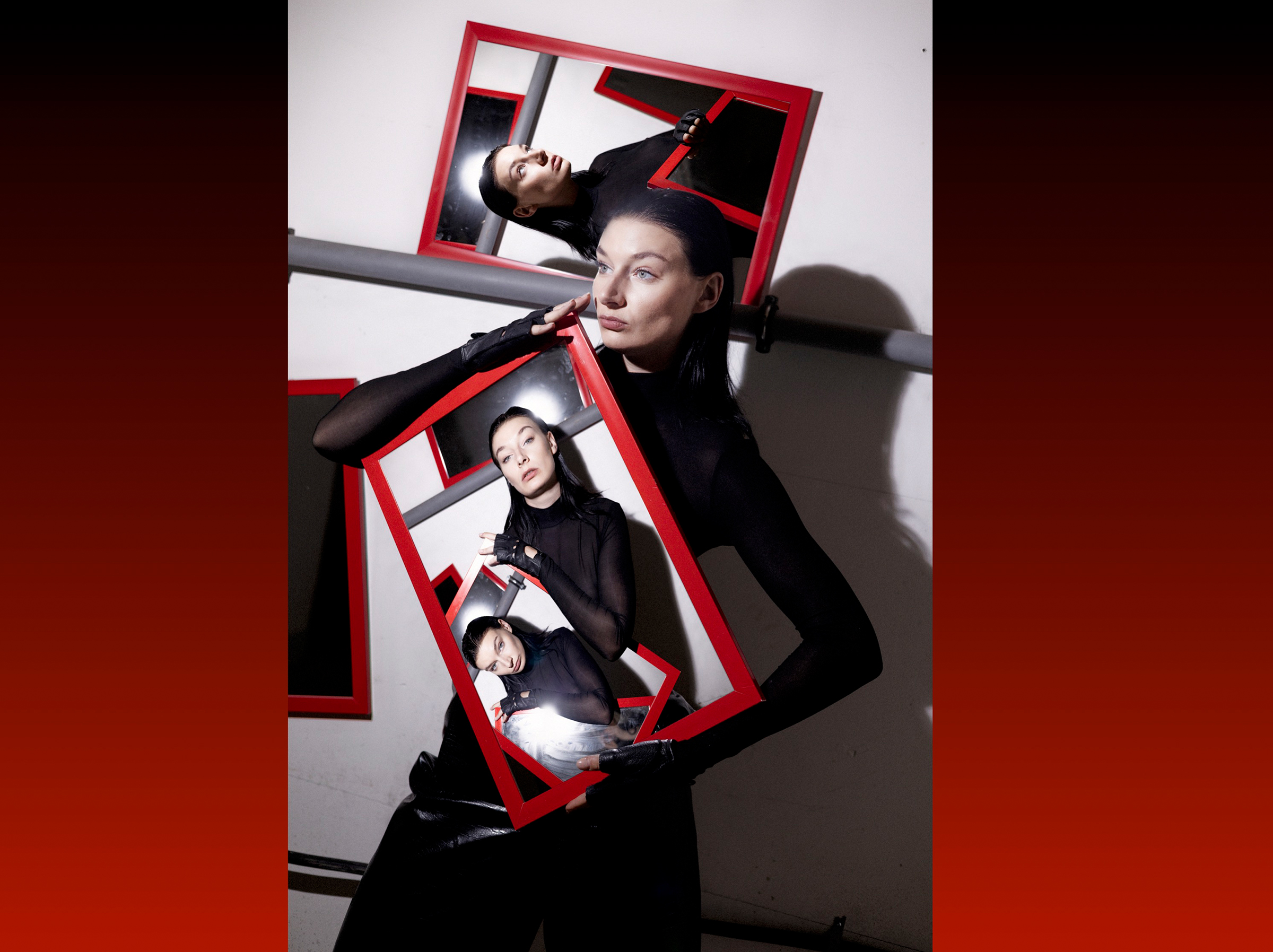 This interview with DJ MELL G is part of the ongoing photo-project "Electric Lights – Women in Electronic Music" by Hamburg based photographer Katja Ruge and Kaput co-publisher Thomas Venker focused on the role of women in electronic music.
Each photoshoot is accompanied by a short interview, based on a personalised questionnaire. The interviews will be published on the kaput website on a monthly basis, before finding their way into a book.