Youth Culture Now Part 3
The young Superqueeros are coming
Are the kids alright? And are we? In August, three authors reflect on current phenomena in youth culture – and what they mean for the present.
In the last part of the series, STEFAN HOCHGESAND deals with queerness, coming of age and outings in pop culture. Queer youth like Lil Nas X and Halsey have conquered their place in pop culture in recent years – not only in the niche but also in the middle of the mainstream. Is the rainbow world perfect now? Illustrations: RONJA SEIFERT
At the top of the charts: a gay black teenager. What sounds like a queer utopia (or optionally: like the end of the world for queerphobic racists) is a reality in the summer of 2019: Lil Nas X, born 1999 in Atlanta, Georgia, is someone you would call the singer of the hour – if his "hour" hadn't lasted for so long already. On April 5th (when Lil Nas X was just 19), the chart-surging second version of his song "Old Town Road" came out, deliberately ignoring the conventionally defined boundaries between country and hip hop. The song has been on number 1 of the US single charts from that week until today, as I am writing these words. No other song has ever been this long at the top of the US charts. On July 30th the former record holder, pop chart emperor Mariah Carey, posted a congratulatory photo to Instagram, passing the torch to Lil Nas X. Lil Nas X, a queer summer fairy tale. A sign of hope for all queer teenagers, from Harlem to Halle. The belief that everything is possible, even if they still call you "faggot" on the schoolyard.
The rise on the charts by Lil Nas X (or Montero Lamar Hill, as he is called off stage) is particularly impressive, but by no means the only example of queer youths gaining their place in pop culture in recent years – not only in the niche under "also run", but also right in the middle of the mainstream, where their reach and effect gets to a maximum: While Lil Nas X was already at the top of the charts, the third season of the style-defining Netflix mystery series "Stranger Things" saw two teenage coming-outs in July: a lesbian and a hinted at, albeit controversial, gay. Likewise, in the successful streaming series "13 Reasons Why", "Sex Education", "Élite" and "Riverdale", matter of factly feature young queers who are out at school. Not just as decoration, but in central roles.
Films featuring gay teenagers in the leading roles have won Oscars in 2017 and 2019: "Moonlight" and "Call Me By Your Name" respectively. In literature, the autobiographical novel "The End of Eddy" (fr. 2014, engl. 2018) written by Édouard Louis, about his life as a gay boy in the French provinces, became a bestseller. A similar phenomenon is currently apparent with the recently published "On Earth We Are Briefly Gorgeous" by Vietnam-born Ocean Vuong.
The non-heterosexual equivalents within the young charts-pop are: Sam Smith, who's just told the world he identifies as non-binary as far as gender is concerned and who, in 2015, even contributed the Oscar-winning title song for the traditionally, exaggeratedly heterosexual "James Bond"-movie-series; Halsey, bisexual Woman of Color, who was number 1 in the US album charts with her album "Hopeless Fountain Kingdom" in 2017; the band Years & Years (who've just released a track with the gay-iconic Pet Shop Boys) with their gay singer Olly Alexander, who reached number 1 in the UK, the motherland of pop music, in 2015 with "King"; and the Australian, Jewish singer Troye Sivan, who got millions of clicks in 2015 with his coming-out video on Youtube – and performed a duet with superstar Ariana Grande on his second album in 2018.
"So what," one could argue now, "does that even matter in our beautiful, tolerant world? So they' re queer, who cares?" But this world is only so beautifully tolerant when the queers keep their distance. This is confirmed by a recent study by the Federal Anti-Discrimination Agency in March 2019: While 83 percent of Germans (abstractly) support marriage for all, 39.8 percent (concretely) would find it "rather unpleasant" to "very unpleasant" if their own daughter were lesbian; 40.8 percent, if their own son was gay. So, while Lil Nas X is storming the charts, four out of ten young queers have parents who are embarrassed by the queer children due to their sexual identity, their quest for happiness. Suicide attempt rates among queer teenagers are more than three times higher than among their heterosexual peers. Many young queers can only dream of the super-empathetic closing monologue of Michael Stuhlbarg's father in "Call Me By Your Name". Or of the comparable speech by Jennifer Garner in "Love, Simon" (2018) as the mom of gay Simon. Or from Nicole Kidman in "The Prodigal Son" (2019), who throws a sincere "Shame on you!" at the head of the fundamentalist Christian "therapist" who wants to turn her son into a hetero using brutal psychological methods – late, but not too late, after all.
Seen in this light, the call for more representation of queer youth in pop culture cannot be dismissed as the lofty jabbering of intellectuals. The problems are substantial. The question of whether, between all the stories of Romeos and Julias, a story of Romeo and Julian is now and then considered worth telling, determines whether queer youths are allowed to feel okay the way they are. If they can find role models that inspire them to deal self-confidently with their identity. And it is also vital for heterosexuals to listen to queer songs, to read queer stories, and to see them – not only when they have queer children, relatives, friends: "A good story helps us to see the world outside ourselves," Barack Obama recently wrote on Instagram. "It helps us to feel solidarity for one another." That's the way it is.
I remember how I, twelve years old, recorded the English coming-out film "Beautiful Thing" (1997) during the night program of VOX. The film is about two boys from the same school falling in love. I also remember putting other stuff in front of the VCR, so that my parents wouldn't know I was recording something gay. Because the VCR would always glow bright when it was running. I also remember how important Jack McPhee (Kerr Smith) was to me in 2001: the shy, gay high school student in "Dawson's Creek", then the best teen series of the time. He was the first gay teenager in a network series on US television in a recurring role. It was also almost the time when I danced to the avant-pop of Patrick Wolf, who was two years older than me and not yet out at the time – but nevertheless already had this queer vibe and allure. But there weren't a lot more role models of my age in pop culture at that time.
I felt quite alone with a lot of what was going on inside of me. In retrospect, however, artists like Patrick Wolf, Perfume Genius (who released a love duet with his boyfriend in 2012) and Ezra Furman have promoted queerness into the mainstream out of their indie niche. Now we've come full circle, as indie-superqueero Ezra Furman has contributed every other song to the soundtrack of the queerNetflix series "Sex Education" in 2019.
So on June 30th, Lil Nas X wrote on Twitter: "some of y'all already know, some of y'all don't care, some of y'all not gone fwm no more. but before this month ends i want y'all to listen closely to c7osure." Followed by a rainbow emoji and a smiley with a big smile. This month of June, which is traditionally Pride Month in the USA, commemorating the Stonewall Riots in 1969, the key event of the Queer Rights Movement. The Lil NasX song "c7osure" is about living a self-determined life, but leaves a lot of room for interpretation. After the rumor had started, Lil Nas X followed it up with a second post: "deadass thought i made it obvious," this time with a close-up of the EP cover showing a cowboy with a horse – in front of a skyline illuminated in the colors of the rainbow.
The story of Lil Nas X is also so inspiring because musically he is also crossing borders: Billboard, the company responsible for the US charts, had decided in advance that Lil Nas X would not be allowed to enter the country charts with his song – because he was not enough country. Obviously, no one on the official side would admit that this could have anything to do with the color of his skin. Looking back, one can say: Why the country charts if you can climb the main charts? Some people think that a gay guy can't be hip hop, that a black guy can't be country. "Can't nobody tell me nothin'," sings the young black cowboy Lil Nas X in his super hit.
Many (young) queers are caught in a dilemma of invisibility versus hypervisibility. Either they don't talk about who they fall in love with – and thus hide a not insignificant part of their personality, which is mentally exhausting; or they do, which almost inevitably gives them an abnormal and in parts negative attention. It seems paradoxical, but if you sooner or later want a world in which coming out is no longer necessary, you should also confront yourself with the idea that such a society will never come true if you refrain from coming out now.
As long as not everyone is aware that they have beloved ones in their family and circle of friends who are queer, there will be hatred against queers. Coming-out is the most effective tool in the fight against queerphobic ignorance. And an act of self-respect anyway. The difference between "ordinary people" and celebrities is, of course, that "ordinary people" often don't just have one coming-out, but rather there are situations in which they (have to) come out again and again. In the case of celebrities, it is done once and for all, for example, with a post on social media. The fact that coming-outs are now part of mainstream pop culture is of inestimable value. And yet, as we will see, it is also controversial.
In August, Lil Nas X told Time Magazine, which put him on the cover, what made him come out: "In June, I'm seeing Pride flags everywhere and seeing couples holding hands–little stuff like that." Visibility encourages even more visibility. Art imitates reality, and reality imitates art. Lil Nas X doesn't take the backlash, which of course followed, too much to heart, he says. One even came from an unexpected direction: Remix partner Young Thug said in July: "probably shouldn't have told the world." Young Thug of all people, the darling of many indie musicians, who admire him for his highly individual rap style defying all conventions – and who even jumps spontaneously onto an haute couture catwalk to straighten the robe of a (male) model just like Karl Lagerfeld. This Young Thug of all people now says that Lil Nas X's coming out was a mistake.
This makes Young Thug kind of Philipp Lahm of rap: on the surface, football star Lahm regularly acts homo-friendly – only to stress in his next breath that he can't seriously advise any footballer to come out. Conservatism under the guise of progression. This is not the way forward. But while men's football will probably remain the last bastion of heteronormativity, pop culture has the chance to show society what this world could look like.
But that' s easier said than done. How do you do that? Coming out as a young pop star? I asked someone who should know: Olly Alexander, 29, gay singer and songwriter of the synth pop band Years & Years, who recently went into the studio with the Pet Shop Boys. As a young man, Olly Alexander also sings about loving other men. So how did he summon up the courage? "We did it without fanfares," Olly Alexander told me.He was definitely afraid of it. "Because I did internalize a little shame – about being gay," he said. "That was an obstacle. I tried not to think too much about it. And then it still became a big thing – just because still not that many people sing about same-sex love in pop music. There is a deficiency."
That's why he's now trying to send out even more queer frequencies. "And whenever I was a little afraid of it, that was exactly when I wanted it even more. That was downright pouring petrol onto the fire." It suggests itself that people in the pop business wanted to thwart him. Was it like that? "There were most certainly reservations and restraint," says Olly Alexander. "I know that some people think that only gays might understand a same-sex love story. I personally don't believe that plus: fuck them!" He laughs heartily. "I'm a songwriter, nobody could ever force me to change my lyrics."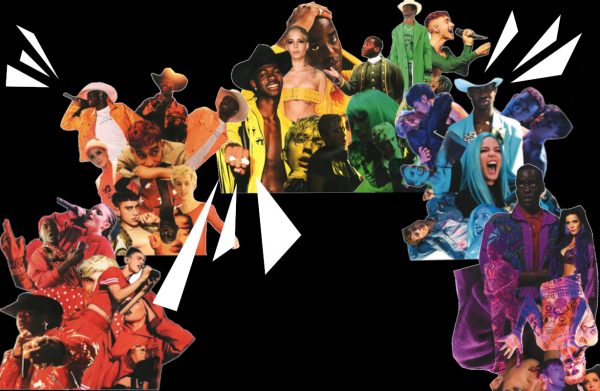 I also asked Troye Sivan, 24, how he handles singing about love for guys. "My heterosexual colleagues in the pop business are obviously allowed to kiss people of the opposite sex in their videos," Troye Sivan told me. "And sing pronouns like 'he' or 'she'. I asked myself: 'Why shouldn't I be allowed to do that? So I just did it and went ahead with it." Troye Sivan also said that it kills him if he can't liberate other young queers directly from their predicament. "All I can do is give them a glimmer of hope," he told me. "Hope that somewhere out there are people who will accept them."
He simply did it with the pronouns, just as the bisexual RnB singer Halsey, also 24, did in her song "Bad At Love" from her latest album from 2017. In it she sings in accelerated mid-tempo about why it didn't work out with this or that guy, this or that girl – and how she, as Halsey coquettes, is no good at love. One could accuse the song of not putting the being in love with a girl right at the beginning, but only moving it into the third verse.
In fact, however, this is an excellent move against Bi-Erasure, the phenomenon that bisexuality is even more invisible than homosexuality – because many heterosexual, as well as many homosexual people, don't want to believe that someone is "really" bi. On the other hand, many bisexual people prefer to remain not-out. Not Halsey. In her song the boy in verse 1, who tastes like alcohol, calls her a bitch and has crazy friends anyway, is as much a problem as the boy in verse 2, who likes to see her behind the stove, and like the girl in verse 3, who has fallen in love with lines of cocaine: "Got a girl with California eyes / And I thought that she could really be the one this time / But I never got the chance to make her mine / Because she fell in love with little thin white lines."
On the one hand: cool, that Halsey doesn't leave it to the Beach Boys to get into California Girls. She can and is allowed to do that, too. On the other hand: will every pining fanboy and every pining fan girl from Halsey come to the conclusion that Halsey is by no means "bad at love" – but she just hasn't found the right one yet. Very nice.
The fact that all this really only has become possible over the last few years only becomes apparent when you realize that the already mentioned high school drama "Love, Simon" (2018) was the first film produced by a major Hollywood studio whose main character is a gay teenager. 2018! Twelve years after Brokeback Mountain. (All the other films that would now come to mind as supposed counter-examples are indie productions, even if some of them, like "Call Me", were bought up by majors, here Sony – after they had already won prizes at the festivals.) The book for "Love, Simon" is based on a novel by Becky Albertalli, who previously worked as a psychological consultant – including queer teenagers. The movie was directed by Greg Berlanti, who was already a showrunner for the series "Dawson's Creek", which wrote queer TV history.
Franco-Canadian auteur filmmaker Xavier Dolan, 30, who has been crowned in Cannes and who is better known for his congenial arthouse images than for his applause for Mainstream films, wrote a love letter to "Love, Simon" on Instagram: "I've watched so many LGBTQ films as a kid, desperately looking for answers, locked up in my room…Most of them were brilliant and invigorating for the young artist I wanted to be, but left the young man I was with little to hope for. Suicides, heartbreaks, bullying, gay-bashing. 'Love, Simon,' in all its earnestness, in all its normalcy, shows the struggle of coming out, but with an inspiring conclusion for teenagers who will see 'Love, Simon'". The happy ending, in which Simon rides the Ferris wheel with his high school mate, who until then had only been chatting with him under the pseudonym "Blue", is a giant step. "And perhaps," Dolan continues, "this can teach us, as an industry, that it's time to stop relinquishing LGBTQ protagonists to insubstantial, typically comical supporting roles."
A wonderful example of a gay teenager starting off in a supposed supporting role, but then becoming the secret lead of the series is Eric Effiong (played by Ncuti Gatwa) in the 2019 Netflix hit series "Sex Education". In the beginning, he is just considered to be the black best friend of the official (white) main character. Eric tears up the right jokes and wears the coolest T-shirts. That's great. But in the course of the season he, rightly, gets so much attention that you get to know all sorts of things about his conflicts and how he asserts himself, even against the homophobia in his family and in the end he nevertheless, no, all the more, is a cool role model for teenagers.
But not everything is laughter: recently, in July, there was a whirlwind about one of the two unexpected coming-outs on "Stranger Things", the series that you have to see in order not to look quite stupid during the pop-cultural party gossip. The first two seasons of the subtle series, which perfectly balances horror and quiet moments, didn't give any hints of queerness. And then two teenager-coming-outs in season 3? What's happening?!
One of them happens on a drug trip. Robin (played by Maya Hawke, the daughter of Uma Thurman and Ethan Hawke) tells her charming colleague from the ice cream parlor, Steve, that she was insanely jealous of him at school – because Tammy always stared at him. She, Robin, was crying into her pillow at home because of jealousy. "But Tammy Thompson is a girl," Steve countered and didn't get it and a second later he got it all. Steve is shocked: "But she sings like a Muppet!" So, the biggest problem with the fact that a girl is in love with a girl is that one of them can't sing. Life is beautiful. Maya Hawke later spoke in an interview about how she herself had pushed towards this plot twist. Bravo! It was intended to be a classic girl-loves-boy-story.
The other coming-out of the third "Stranger Things" season, on the other hand, raised many questions: "It's not my fault you don't like girls", Mike Wheeler (Finn Wolfhard, 16, who by the way also plays in a band) hurls at Will Byers. Perhaps the single most chilling moment of the series, when Will subsequently, tearstreaked, chops up the garden shed of the once closely connected teenage gang, which contained many of his memories. In any case, Will Byers was the traumatized child of the series from the very beginning of the first season. He struggled most with the demons.
One doesn't have to, but can also interpret some of these monster stories as being afraid of coming out. After the fans had wildly speculated, Will-Byers-actor Noah Schnapp, 14, said the sentence ("It's not my fault you don't like girls") had nothing to do with the sexuality of his character. In an interview with Finn Wolfhard, on the other hand, the leading actor said that different versions of the scene had been shot. At one point, the sentence was "It's not my fault you don't like girls yet"; which would rather suggest that Will is a little behind in his development and just didn't have an interest for girls yet. In the end, however, the show creators opted for the version that instead suggests that Will wouldn't be into girls at all. The fact that Noah Schnapp was backpaddling might also have something to do with the fact that you still have to separate between a pop singer who is queer and self-confidently announces that – and an actor who still is afraid of being stuck with queer roles all his life.
https://www.youtube.com/watch?v=xRPQkW36iXI
Olly Alexander of Years & Years told me: "We are experiencing good times for queer artists in this sense. Some people have made a breakthrough. But three young, commercially successful artists don't yet form a social movement. And we are dealing with such a diverse community. A lot still has to happen in pop to adequately represent that." Representation in pop culture isn't airy talk. It's asphalt-solidly and concrete-hard (as cuddly as the schoolyard floor your cheek slams on while others scream "faggot") about whose life stories are worth telling and being heard by others. And which not.
The exorbitant success of Lil Nas X points in the right direction. Country singer Billy Ray Cyrus, who added and sang the third verse to the song for the version storming the charts, told Time Magazine last week that the song had torn down many walls: "Many artists out there can look at it and say: 'Hey man, the traffic lights are green now'." That would be the overdue lesson that a gay black teenager taught the pop industry in the summer of 2019.
Text: Stefan Hochgesand // Illustrationen: Ronja Seifert // Redaktion: Julia Lorenz