Unsound 2022 Festival
Unsound 2022: Divided in-between worlds, merged space-time continuums and the absence of any executive authority

"Do you know what was the most beautiful thing about the whole festival?" my Unsound 2022 partner-in-crime asked me quasi-rhetorically as we left the festival grounds shortly before the end of the seventh Unsound night. Rhetorically, because we both, soaking wet and wide awake and knocked out at the same time, felt the same surges inside and around us.
It's hard to put into words what it does to you when you see nothing but happy faces around you for an entire night, when you dance yourself into a state of advanced euphoria with mostly strangers. Even now, a week later, when this text can finally emerge, delayed by flushes of another kind, the C kind, the memories vibrate vividly within me.
Two and a half years ago, these romanticized snapshots of the dance floor probably wouldn't have been worth the introduction to this text for me, since we all took them for granted, but just as one is currently renegotiating and repositioning for oneself many other things from one's private and collective life, one has learned to appreciate anew, and perhaps finally in its full meaning, the gift that cultural gatherings like the Unsound Festival mean to us all.
In an environment like the festival, which this time takes place for the twentieth time in Krakow, this works especially well, because the Unsound, despite all the establishedness that has set in by now, still carries the charm of distinction – it is and remains: Unsound. 
The most noticeable thing is the absence of security. At the entrance you see a few security guards at the cash desk, but they don't look at you suspiciously, as you are used to everywhere else, and they don't search you at all. And that's it, on the festival grounds you only see paramedics, people who are supposed to help you, never someone who is there to give you the feeling of being controlled. That is remarkable, so to speak the lived utopia of a self-organized mini-society, in which everyone looks after each other and therefore there is no need for an executive.
Rewind: our kaput Unsound 2022 didn't start until Thursday (officially the fifth festival day), as a whole festival week was unfortunately not in the realm of possibility due to everyday hustle. Of course, FOMO feelings set in this way, but since the three main festival days chosen by team kaput had more gigs to offer than one can handle anyway, they primarily stimulated anticipation – definitely a lesson of the pandemic as well, less clinging to what you're missing and instead rejoicing in what you get to experience.
Generally noticeable at Unsound Booking: in contrast to most other festivals, one searches in vain for fillers, the lineup is consistently booked at the highest level, even the first slots of the evenings always know how to convince; even if the year 2022 certainly did not present the most exciting roster in festival history, but that is also understandable in view of the still tense planning and financing conditions. 2022 is not a year for great experiments.
Apropo History. Time for a confession: I have never been to the Unsound before. Yes, I know… For many years I have had watertight alibis: pandemic, trips to the USA, to Japan for other festivals, and very often also magazine productions… but just for many also not. And so the first visit to Krakow deservedly triggered massive feelings of guilt – how could this have happened to me? In addition to all the inspiring performances and the stimulating interactions with visitors inside this year, these were also strengthened by the then-narratives of all those who have been traveling to Unsound for many years, by all the reports of the magical Forum Hotel located directly on the Vistula, which until last year still served as the main location for the festival and which was now gentrified away just as I arrived – with the side effect that the night events now had to take place in a rather classic rave location fifteen minutes by cab from the center; Not dramatic, because in itself quite okay, but just no festival in this special-mystical "Shining" ambience as before, where the location multiplied the lineup again in its effect.
The kaput Unsound 2022 started with one of the talks always scheduled in the afternoon at Biuro Festiwalowe / Palac Krzysztofory: DeForrest Brown Jr. dissected the electronic music establishment in overplay time (he overran his one hour talk with mini-set by 30 minutes and in the end could not be stopped by anyone and not even by presenter Niks), attested incorrectness to everyone and everything and confronted the Polish scene with its bad taste for much too fast, commercialized Gabba-Techno – a ride he did not need, a ride he didn't need, because much of what he writes in his highly recommended book "Assembling a Black Counter Culture" is true, the history of electronic music is – like so many other cultural and economic histories of mankind – determined by the appropriation of foreign cultural values and their exploitation, the didacticism with which DeForrest Brown Jr. transported the narrative, however, left no room for a real dialogue – and that is a pity. At least it was a good starting point for further, private discussions over excellent dim sum.
A first highlight awaited us in the evening at Kino Kijow, where Kali Malone performed her drone symphony "Does Spring Hide Its Joy" together with Stephen O'Malley and Lucy Railton, accompanied by the pleasantly unobtrusive and thus all the more intense visuals by Nika Milano. If you think of grand gestures when you hear the word symphony, you're wrong, Malone and her fellow musicians put the audience in an in-between state with subtle shifts, opening a biosphere of self-reflection and re-location. One could also say: they gave us time alone with ourselves in a world that rarely grants us that.
When the doors of the cinema palace opened again, it had not only become night outside, but also strikingly cold with temperatures approaching zero. Not only for this reason it was advisable to call a car and to discard the briefly present idea of a two-hour night walk to the night location. The distances between the various venues of the Unsound are sometimes quite heavy (up to 45 minutes by car), the result of the special urbanity of Krakow with the (partly car-free) picturesque Old Town in the center and a network of classic socialist arterial roads with neighborhoods glued to them around. While in the early years it was easier to find many suitable places in the center for the festival, according to the Unsound veterans present, this is no longer the case. You can be upset about it or not and see it as a gift to see more of the city.
You shouldn't get much time to complain about things during the festival anyway. Everything was scheduled too tight for that. Hardly arrived at the night location Kamienna 12, Pole entered the stage of Room 1 to present his album "Tempus" accompanied by visuals of Rainer Kohlberger. I can't remember a Pole performance that didn't thrill me, so the anticipation was high, but I didn't expect Stefan Betke to surprise me like that. His project Pole, for all its warmth and dubby playfulness, has always been conceptually strict, but this time there was no sign of that, with clear Krautrock and jazz influences adding to the dub grounding. The result: A set that – wide awake and trippy at the same time – deserved the word sound journey.
Curatorially very fitting that the room was then deprived of all light for the set of Tom Heyes aka Blackhaine. You should know his dry, quite aggressive rap from Space Afrika`s album "Honest Labour". On this evening, he shared his own, no less gloomy future scenarios with us – everyday life in post-Brexit England gives little reason for positive storytelling.
The following set by Bangkok-based DJ and producer Wanton Witch, a founding member of the queer collective Non Non Non, was a bit too bubblegum for my taste. But a hall bouncing dancers:inside spoke for the fact that not all there were of one opinion with me.
Sieh dir diesen Beitrag auf Instagram an
The two Englishmen from Two Shell have been considered the next big thing in the UK for some time now and are shaking up the Burials, Four Tets or Jamie XX of the island. At their live performances, you never know whether they are really on stage themselves or have sent extras instead of them and are having fun in the audience themselves. Who wants to blame them, it is a nice performance to go off to their own music. The set definitely offered noticeable opportunity to do so: Rave Continuum at its best.
Friday began according to the Swabian maxim "he who drinks runs" first with a 10 kilometer run around the old town of Krakow. It's always good to sweat out everything you can – especially since you also get to know the city.
Sauna, swimming and Polish delicacies followed before we went to the performance of Marina Herlop at Teatr Laznia Nowa. Until then I knew the Spaniard only through her album "Pripyat" released on PAN Records, which somehow only half inspired me and was filed in the drawer "reminiscent of Björk"; too early, as the really impressively choreographed and musically ambitious live performance showed, where you could think of Björk and especially of St. Vincent in their multicolor pop phase.
Shygirl's performance afterwards was quite different, suffering a bit from the let's call it "hip hop dilemma" that the sounds came from the tape and she had to create the show as a performer alone. She succeeded quite respectably, but compared to the album "Nymph", for which she cooperated with producers like Sega Bodega, Arca or Bloodpop, the jump into risky realms was missing a bit.
The first set in Room 1 at Kamienna 12 on Friday night was completely different: Loraine James made the genres and influences just dance with each other, on the one hand highly complex and with an academic touch, on the other warm, pulsating and inviting. It's rare to think of IDM and R'n'B at the same time – and it's even rarer that the space-time contours of ambient and house become one so unpretentiously. The set could have happily been much much longer than just an hour.
The same goes for the long-awaited live performance by Eris Drew – with visuals by Jeisson Drenth. Drew, who runs the label T4T LUV NRG together with her partner:in Octa Octa, presented her debut album "Quivering in Time" that night, a psychdelic-housy, tender-hedonistic coming of age story that takes us into the utopia of a dance floor where everyone is equally welcome.
Sieh dir diesen Beitrag auf Instagram an
Yung Singh gratefully took Eris Drew's template for his set and enchanted the dance floor with garage, R'n'B and rave anthems.
So good that we only made it briefly in between to Room 2 to Amazondotcom, and instead preferred to quickly return to the so wonderfully pre-warmed main floor to Dj Swisha. Quite honestly a big dilemma: because the second room would have deserved to be visited on all festival evenings.
Saturday finally gave me the opportunity to visit the legendary ICE Krakow, one of the original places of Unsound. That evening, the all-start project Osmium by Hildur Guðnadóttir, Sam Slater, James Ginzberg and Rully Shabara premiered there. An impressive concert hall – only unfortunately a rather archaic composition, which somehow – I apologize for the drasticness of my criticism – seemed like a mix of B-repertoire by Swans and Einstürzende Neubauten. But most people seem to have liked it, it should be added.
At Kamienna 12, Kode9 then brought his latest album "Astro-Darien" to the stage, with which he tried his hand at nothing less than the sonic reappraisal of a fictional (or not, see current political events on the island) collapse of the Great Empire of Great Britain. His axiom: What if Scotland had once not attempted to take Panama and, weakened by failure, had merged into the United Kingdom chosen by England? An exciting thesis, political-game-theoretically speaking, the music remained (especially in the live presentation) but unfortunately behind this thought experiment.
Less drop height and thus risk exposed themselves afterwards Camae Ayawa (aka Moor Mother) and Zubeyda Muzeyyen (aka DJ Haram), who routinely performed their meanwhile proven 700 Bliss project – whereby the tracks of the currently on Hyperdub released album "Nothing to Declare" provided for a certain Novelity feeling on the proven terrain.

Had the Pandemic not straddled the timelines of us all so vehemently, Timedance label owner Batu would be much better known today than he already is. Bristol native Omar McCutcheon is what you'd call an exceptional talent, easily navigating his varied sets through audacious narratives, playing a lot with expectations, delaying and postponing – yet always keeping redemption in mind. During his Unsound set, not even the three house technicians, who feverishly tried to fix the technology and thus the sound for the first few minutes of his set, upset him – in general, this should be mentioned briefly at this point: especially in Room 1, the sound was partly subterranean and did not do justice to a festival of the importance of Unsound; this may have been due to a rather rockist PA, or else to unmotivated mixers, in any case, there is still a lot of room for improvement for next year. 
But back to Batu, who after his improvisational ballet with the technicians quickly found the set rhythm, skillfully played with tempos and aggregation states and thus effortlessly pulled all the dancers in with a light hand. Another set that, at one and a half hours, was far too short.
Sieh dir diesen Beitrag auf Instagram an
But in the flow of the festival there was no more time. With the lineup of one night you could have played two. And so we could unfortunately only take a quarter of an hour of the set of Daria Lourd (aka Bored Lord) b2b Ariel Zetina, because we were magically drawn to Tim Reaper b2b Kode9 over to Room 2, knowing that exactly that colossal Jungle set should be waiting for us that would perfectly complete the kaput Unsound 2022. 
Well, and then we stood soaking wet and happy in front of the Kamienna 12.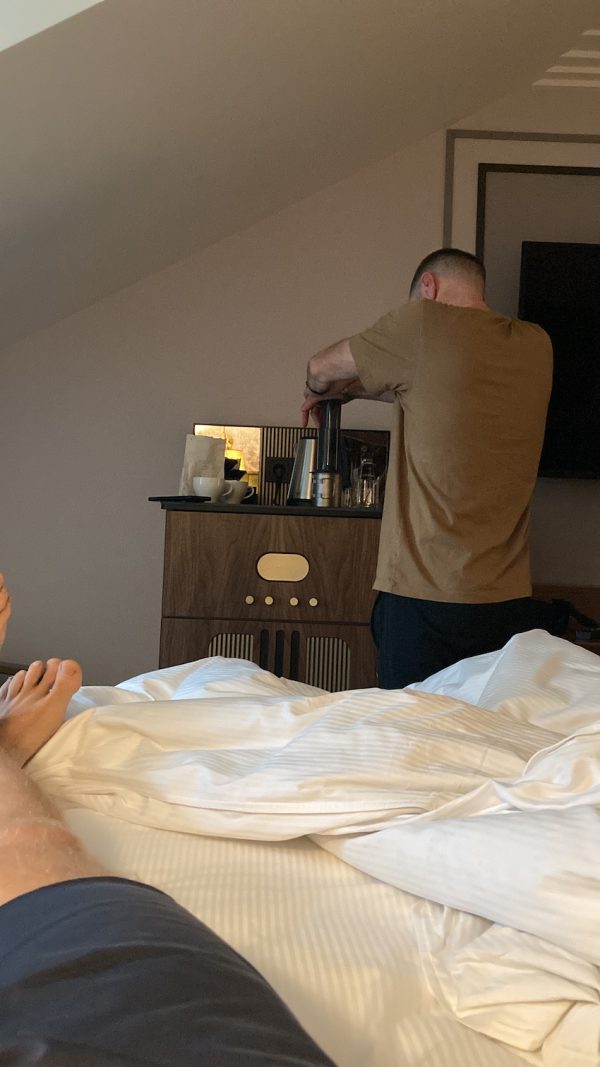 PS: Big shoutout to my man Oli for the best possible festival coffee. Highly appreciated.
PSS: Unsound 2023, no excuse from me may be accepted.