"Electric Lights – Women in Electronic Music" w/ Louisa Pillot
Louisahhh: "This life is lonely, and it's amazing to get to make stuff with people I love and respect"

For the latest installment of our "Electronic Lights – Women in Electronic Music" series, we met up with Louisa Pillot aka Louisahhh.
Louuisa, you are nicknamed by DJ Mag as "queen of techno" – how does this feel?
'Queen of Techno' is a little silly for a number of reasons, the first being that I think I only got on the cover of DJ mag (with this moniker) because I tormented them online for not having enough femme representation/diversity in their 2015 'Top 100'.
The second reason is once you're 'queen of anything', especially techno (which I don't explicitly define myself by), where do you go from there? Did I peak at age 30? I guess moral of this story is something like «before 'queen of techno', chop wood, carry water, harass the press about inclusion. After 'queen of techno', chop wood, carry water, harass the press about inclusion.»
You are looking back on a long history of drug and alcohol addiction. But you are sober for many years. This is something you talk open about. Cause this is helping yourself to keep going on your new healthy path? Or to motivate others and show that it is possible even tho you work in an industry where drugs are omnipresent?
I mean, this path is not so new for me. I've been sober now far longer than I was in active addiction. For me, it's important to be vocal about the idea that recovery is possible and because I do believe that I've been given freedom from the bondage of addiction (one day at a time) in order to use my platform to carry a message of hope to the addict or alcoholic still surfing from this heartbreaking disease, which as you note, is very prévalant in this industry.

Do you have a special track that you always listen to when you aint feeling good? 
I don't necessarily have go-to tracks when I am feeling low but I do use music to be able to feel and process whatever is happening emotionally. I think a lot about the value of music for this purpose in the streaming economy. There are certain songs that I only play a couple of times a year because they are so emotionally powerful; in spotify money this is around .008 cents (at best), but the value of the music for being a life raft or an access point or a container in that moment is immeasurable. I wish we could value music (and pay artists) more for this than for 'streamability', or the 'ease of playing in a shopping mall or hairdresser'.
I was just thinking about the debt of gratitude that I owe Danny Daze. I think I initially was drawn to collaboration because I was creatively insecure as a producer and because I always wanted to be in a band. Now I feel like my creatively collaborative partnerships are some of the most valuable relationships in my life, both musically and emotionally. This life is lonely, and it's amazing to get to make stuff with people I love and respect.
Any other artists that you would love to work with in the future and why so? 
Oh, there is quite a list. I'm obsessed with Nine Inch Nails and would be really thrilled to work with Trent Reznor and Atticus Ross, obviously. Thinking about more emerging talents, I think Jlin is unbelievably gifted (and a dear friend) and I'd be so happy to work on anything with her.
There is a long history of American artists moving to Paris – was your move over from New York inspired by any specific one? And how do you experience your life in Paris in opposite to the American towns you lived in before? 
It wasn't really my idea to move to Paris but I came for work and stuck around and I'm so grateful for the cultural infrastructures that France offers that make a life as a musician possible.
On your Resident Advisor page we found the following sentence that catched our attention: "RAW COAL THROWN AT A WALL STILL BURNING"? What is this about? 
Biographies are so wonky and self-aggrandizing. I wanted a short poem or something to articulate what I want my work to feel like, instead of a masturbatory list of things I've accomplished. I think 'RAW COAL THROWN AT A WALL STILL BURNING' is pretty accurate.

Which music was the first to touch/inspire/move you? What made it so special and standing out to you?
The first music that really gave me a slap in the face and that I recall loving so much it hurt was Garbage. I think it was the first time I saw and heard a front-woman that I really identified with, and the production of their music was so slick and massive and also rocking and aggressive. It acted as a portal to discover artists like Nine Inch Nails, of course, but also feminine archetypes that felt more vital and resonant than the bubblegum pop princesses that dominated the mainstream music scene at that moment. It was from Shirley Manson that I discovered Siouxie Sioux and Patti Smith and Chrissie Hynde and found a musical niche as a young person that felt like my own, something special and kind of secret. It changed my life.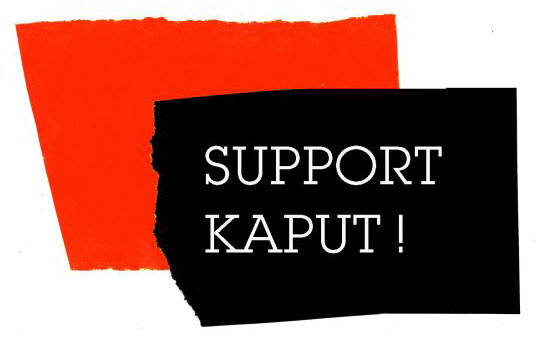 Have there been people whose contribution to the development of your musical identity was of special importance? 
As you mentioned earlier, I am a frequent collaborator and the most important collaborations in my life have been with Maelstrom, with whom I co-founded our label, RAAR in 2015, and Vice Cooler, who produced my debut album and with whom I'm working on a second solo LP at present.
Because of the consistency and intimacy of these working relationships, there is a lot of trust involved and I couldn't be more grateful to get to grow alongside (and often because of) these ridiculously talented, kind geniuses.
On the more negative side, I was also told by a past collaborator that 'all I did was talk on a Brodinski track', and the desire to be more than that and prove that person wrong is also a strong motivator.

Are you able to share the process of evolving your identity with us?
Not at all.
What do you hope to find in music? (both your own music and the ones of others?)
Truth and Freedom, or ways to access these things.
What do you prefer, the seclusive working process in a studio or the live presentation of your music in front of the audience?
And why so?

The actual practice of performance is more fun for me and I prefer it (it's very new, we've only been preparing this live show since 2019, and then it was derailed for covid, so the process is still quite fresh). Alas, the performance necessitates the studio, it doesn't happen without it – so the live show is the carrot on the string for the grueling months in the studio trying to make something worth performing.

What is your ideal space/place to listen to music?
I love listening to music while I train, so it's embodied. This is how I know if tracks work. Otherwise, driving the car and doing the dishes are my favorite listening environments.
Please name female artists without whose music you wouldn't be producing music?
As I mentioned, Shirley Manson, Chrissie Hynde, Siousie Sioux, Patti Smith and Debbie Harry have been seminal for my education as a woman in music; outside of that I feel like it's important to mention Karen O and Le Tigre and Peaches and Miss Kittin. Without all of these powerful, tough, awesome geniuses I don't think I would have seen the path into doing what I do, or thought it was possible. I am forever indebted. I hope that I get to be to some kid what these women were to me, or to kick down the door further for future femme musicians and producers. This would be the highest honor
What do you think sets your "voice" or creative expression apart from other's?
I can't really speak to what sets me a part, but I try to cultivate something that feels as authentic and unflinching as possible, even when exploring that which is challenging or dark. Music that has done this for me has saved my life and taught me how to be in the world, so if I can do this for others, I am carrying on a legacy of healing and it makes me feel very humbled and grateful to get to do that .
Your most beautiful experience focused on your music?
There have been a lot, but this most recent was this last weekend at Sonar in Barcelona. It was the first time the band got to play to such a large audience that felt like they had a quality of attention, like they were there and present for us and that we got to flex in a way that kind of demanded more, like in order to hold that space we had to really be IN it, and it was amazing, one of the happiest moments of my life.
Which music did you buy most recently that carries a lot of value/meaning for you?
I love buying music. Hooray for bandcamp. My most favorite recent purchase is 'Skeleton Convention' by Michael O'Neill because it's a perfect song.
What's a secret guilty pleasure, an idiosyncrasy of yours or something that would surprise people about you?
I am crazed for structure. Every day requires (no matter what): working out, practicing French, meditating, doing 'morning pages'. After that, all can run smoothly. I will get up before 5 am if I need to in order to be able to do my obsessive behaviors. I love it. It makes me feel safe and grounded.
What would be a fantasy venue or event to dj or play live at?
ALL I WANT BEFORE I DIE IS TO OPEN FOR NINE INCH NAILS.
Do you see a connection between your femininity and your work? And if so what is it?
A lot of my work is about the female experience, about feminine sexuality and rage and power. I feel like the more direct or brave my work is, the less i have to shroud what I'm actually talking about behind cute metaphor in order to make it palatable, the more i feel free to name (my) feminine experience and to embody it in an absolutely unhinged way on stage.
What is your favorite app/technology/instrument to create sounds with?
My voice.
This interview with Louisa Pillot is part of the ongoing photo-project "Electric Lights – Women in Electronic Music" by Hamburg based photographer Katja Ruge and Kaput co-publisher Thomas Venker focused on the role of women in electronic music.
Each photoshoot is accompanied by a short interview, based on a personalised questionnaire. The interviews will be published on the kaput website on a monthly basis, before finding their way into a book.