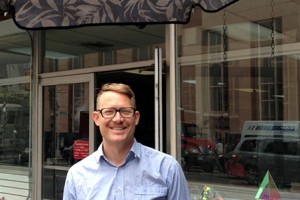 Publisher & Editor-in-Chief
Thomas Venker
Thomas Venker is the co-founder and co-editor in chief of Kaput – Magazin für Insolvenz & Pop (Insolvency & Pop) and co-curator of the Köln ist Kaput concert series of the magazine; before starting Kaput in 2014 he was for 14 years Editor in Chief of Intro Magazine – Intro was in 2008 awarded with the Grimme Online Award for its (back then) futuristic webpage.
 Kaput was in 2015 awarded with the Rocco Clein award as best music magazine, followed in 2016 with the award as "best experiment" by Verband Unabhängiger Tonträgerhersteller VUT and three Anchors for outstanding music editorials works by the Reeperbahnfestival Hamburg in 2018, 2019 and 2020. 
Currently Thomas is also part of the editorial team of Chart – Notes to consider magazine and writes frequently for a portfolio of magazines and daily newspapers – and moderates panels and symposia for cultural institutions.  Besides his journalistic work Thomas Venker teaches music journalism and artist marketing (coming from an sociologic perspective – he studied Politicial Sciences and Sociology in Stuttgart) at the Folkwang University of the Arts in Bochum / Essen, the Heinrich Heine University in Düsseldorf and the University of Paderborn.  Thomas Venker is managing the techno dj and producer Phillip Sollmann (Efdemin) as well as the audiovisual art performance project Phantom Kino Ballett (Sarah Szczesny & Lena Willikens). He lives and works in Cologne.